Do you often see MKV but need to learn MKA that well or have a problem when playing MKA files? This is not surprising, for MKA is an unusual audio format. For people who want to divide an audio file into chapters or slip lyrics into songs, MKA is very practical, but not all devices and platforms support it. In this post, we will offer a comprehensive introduction to it and guide you to convert between MKA and other file formats smoothly.
Part 1. What is MKA
MKA (Matroska Audio), developed by Matroska in 2002, is an extension of the Matroska container format. Matroska is derived from the Russian word "nesting doll" because MKA files can "nest" several multimedia files into one single file. It can be applied in downloading audio to storing an entire music album in one file. MKA supports several audio compression algorithms, such as MP3, AAC, and Vorbis. Also, it can save multimedia content such as TV shows and comes with a .mkv for video files. MKA files are saved with the .mka extension. MKA supports dividing audio tracks into chapters and embedding lyrics in SRT format. However, MKA files have poor compatibility. They can only be played on a few devices and platforms. You may need to install specific players or convert MKA to other formats to solve this problem.
Part 2. Compare MKA with Other File Formats
MKA VS AAC
AAC, also written as Advanced Audio Coding, was developed by Bell Labs, Fraunhofer Institute, Dolby Labs, Sony, and Nokia. It is a standard audio container format for compressed digital audio and music data. AAC files can achieve better sound quality than MP3 files when they have similar sound quality. For MKA, it supports diverse codecs, including MP3, AAC, and Vorbis. MKA is usually used to save songs or save whole albums in one file while ensuring high sound quality.
MKA VS MP3
MP3 is the most common audio format developed by the Moving Pictures Experts Group, and it applies MPEG-1 and MPEG-2. It is compatible with almost all of the mainstream devices and platforms. But MP3 uses lossy data compression, which makes it loses quality sometimes. MKA contains high-quality multi-channel music while supporting different audio compression algorithms. The audio data inside an MKA file is usually encoded with a higher-quality codec than what you would find in an MP3 file. But MKA has a compatibility problem and only supports very few devices and players. While both guarantee high audio quality, the file size of each depends on the bit rate.
MKA VS FLAC
FLAC, also known as Free Lossless Audio Codec, is an open-source lossless audio compression format. After compressing by the algorithm of FLAC, digital audio can typically be reduced to 50-60% of its original size. FLAC has the fastest speed and the highest efficiency compared to other formats. MKA is an open standard free container format. It can hold unlimited video, audio, images, or subtitle tracks in one file. Such characteristics also make it mainly suitable for storing common multimedia content.
Part 3. How to Play MKA Files
Several audio players can be applied to play MKA files. You can open MKA files in Windows with Microsoft Groove Music and Microsoft Windows Media Player. In Mac and Linux, you can use the MPlayer and VLC Media Player to play MKA files. Otherwise, if you do not want to install new software on your device or you want to play MKA files on other platforms, you may need to convert them to other formats as you need.
Part 4. How to Convert an MKA File
ArkThinker Video Converter Ultimate is the best MKA converter. It is an all-in-one tool that has all the necessary functions you need together. A user-friendly interface can guide you to do your conversions smoothly and guarantee you can edit your work freely. Not only the conversion between audio this tool also supports the conversion between video, as well as the conversion between audio and video formats without losing quality. You just need to download and install it on your computer. It is compatible with Windows and Mac.
Quick Steps to Convert Format
Step 1
Add your MKA file
You can drag your MKA files and drop them to the central place or click Add Files to add your file.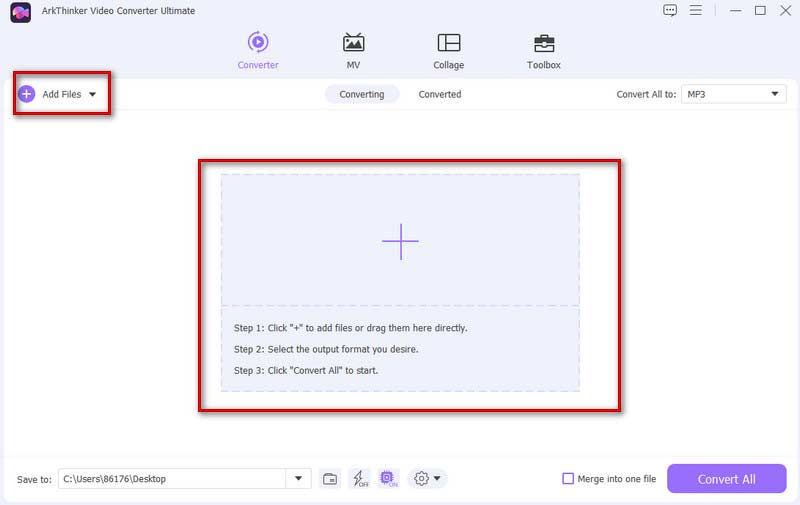 Step 2
Choose your ideal format
Press the arrow next to the Convert All to box and go through the options on the Video, Audio, and Device column. Choose your target format.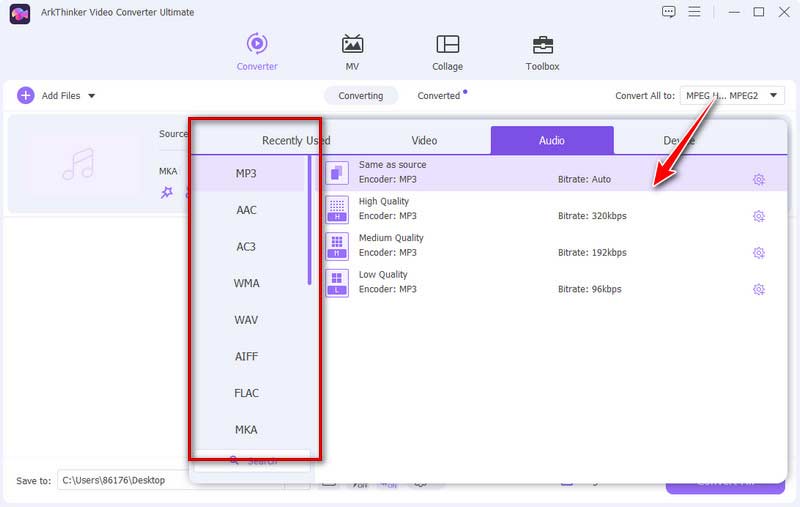 Step 3
Converting your MKA file
Choose a folder at the bottom to save your file, and click the Convert All button to get your edited audio.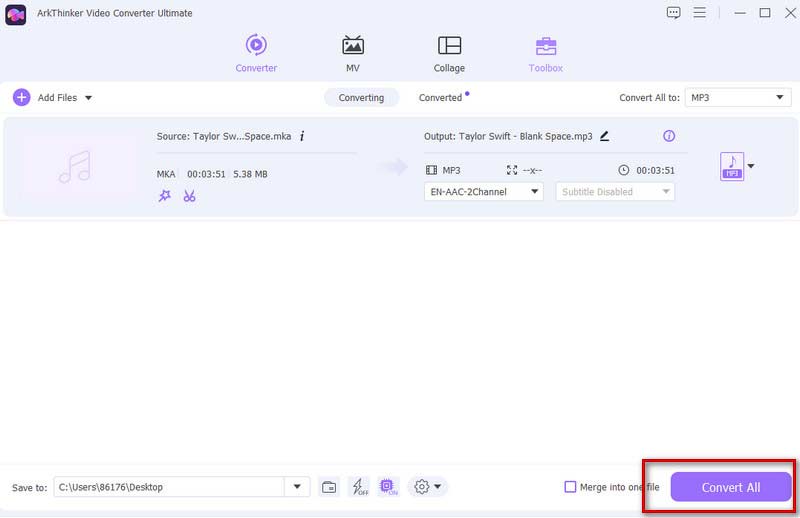 Convert MKA to Other File
MKA to MP4

MKA to MP3

MKA to MP2

MKA to AIFF

MKA to WAV

MKA to MKA

MKA to AVI

MKA to AAC

MKA to MKV

MKA to FLAC

MKA to DTS
Convert Other File to MKA
MP4 to MKA

AIFF to MKA

FLAC to MKA

MP3 to MKA

WAV to MKA

MKA to MKA

MP2 to MKA

DTS to MKA

MKV to MKA

AVI to MKA

AAC to MKA
Part 5. FAQs About MKA
What is the difference between MKV and MKA?

MKV is used for files that contain no less than one video track and optionally with subtitle tracks. MKA is only used for audio files. It can contain and support audio compression formats, such as MP2, MP3, AAC, or MKA.

Why are MKA files useful?

MKA files are usually created using the Matroska container format. That feature allows multiple audio tracks and subtitles to be included in a single file. MKA format preserves all the information, like surround sound and lossless compression from the original material.

Is MKV better than MP4?

These two formats have their advantages in different aspects. MKV is better for converting DVDs and Blu-Ray discs into video files. MP4 is more popular for watching content online, and more platforms and devices support it. The quality and size of them depend on the codecs they use.
Convert File Formats Lossless
Convert your video or audio files instantly with Video Converter Ultimate maintaining original quality.
Convert File Now