An Overview For Picture-in-Picture Video Effect and Editing Tool
Do you want to share videos that can be played simultaneously through just one screen? Either you want to upload your travel experiences, create content vlogs, or share your gaming stream. It is possible to input video in separate screens, but once done editing, it can be watched using only one screen. One way to create this type of video is through a Picture-in-Picture video.
In this article, we will talk about how to make a picture-in-picture video. You will now learn the process of doing this. Therefore, you can create and share your picture-in-picture video on your social media platforms.

GUIDE LIST
Part 1. What is a Picture-in-Picture Video
Picture-in-Picture (PiP) usually has a small aspect ratio of the video being watched. It is usually positioned at the top and edge of the screen. While watching, you can use other applications or browse content using your main screen.
It is often used today in video conference set-ups. Usually, while the speaker is discussing, there is a larger screen displaying the content. It is also often used by streamers, such as players of online games. The gameplay can be seen on the screen, and the streamer can be watched too while playing. It is possible through picture-in-picture video editing. You can watch separate videos using one screen.
Picture-in-Picture (PiP) is popularly used today to create content that we often see on social media platforms. It has been used to entice viewers and followers.
Part 2. How to Make a PiP Video
Suppose you want to share your travel videos through Picture in Picture editing. If you wish to upload it on your social media account, ArkThinker Video Converter Ultimate is ideal. As a beginner, it is given that you don't have extensive ideas or editing skills yet. Therefore, it is advisable that you only use a tool with a user-friendly interface.
Using this program, you do not need to think if it works on your device because it is compatible with Mac and Windows. This program allows you to put together your videos and watch them on one screen through collage maker. Through this feature, you can add different videos that can be seen on separate screens. From the applied list of collage maker, you are able to edit, add filters and music. Also, you are allow to convert audio and video formats as fast as possible. You can make it happen if you want to create a music video that includes your pictures and video clips. In addition, you can also cut and crop your video if you choose to. This program offers a video editor for picture-in-picture. You can produce an eye-catching video, and viewers will surely like it. To start, follow the process provided below.
Step 1
Download and Install
Download and Install the program, and finish the installation process to launch the application.
Step 2
Load your videos
From the interface, click the Collage tab. On the lower part, choose one Template you want to use in your picture-in-picture video editing process. After that, click the Plus icon to pick different videos from your folder.
Step 3
Adjust the screen size
Once your videos are placed on separate screens, you can freely adjust the screen size of your videos. Place your cursor from one of the video screens and the size adjustment will appear. You can make the screen smaller or bigger depending on your preference.
Step 4
Edit your videos
Alongside the template, you can apply filters to your videos. You can also adjust your videos' contrast, saturation, brightness, and hue. Right click one from your video screens. After that, you will see Effect & Filter, and click that button. From there, you can now apply the basic effect to your video.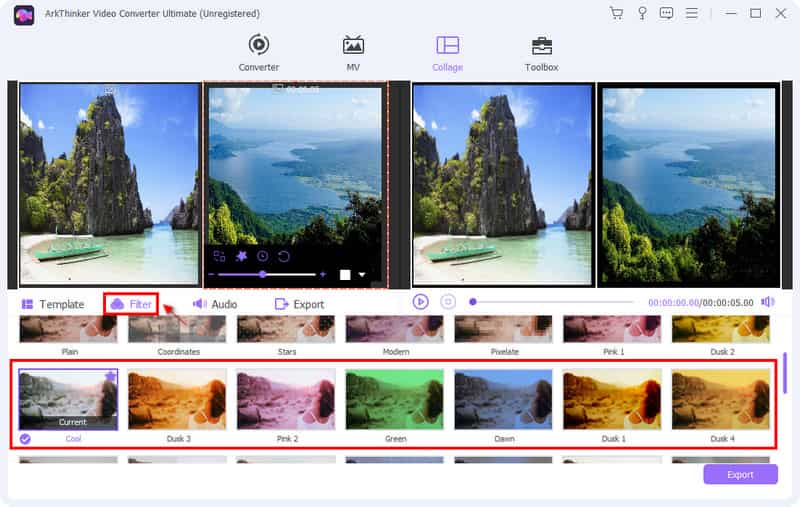 In addition, click Audio if you want to retain the sound or add background music for your videos. Mark a check on the box and click the (+) icon. You can also adjust the volume of the background music based on your preference.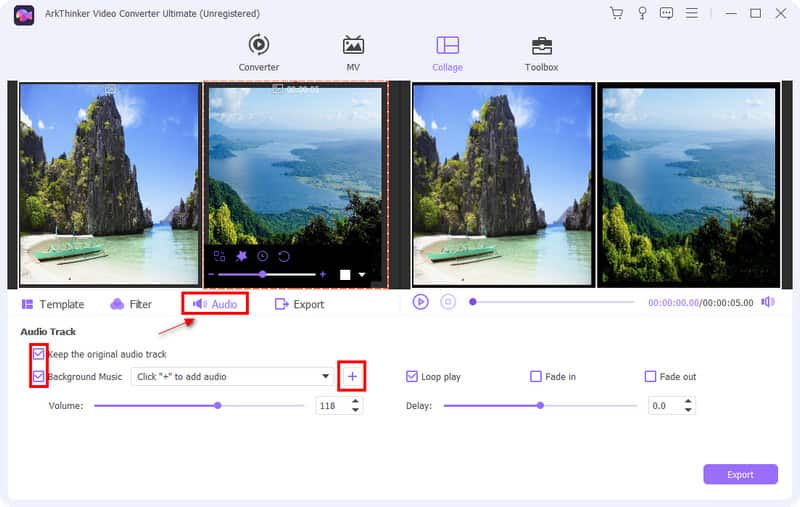 Step 5
Export your picture-in-picture Video
After the editing you have made, you can now click Export to make changes regarding the name, format, frame rate, resolution, and quality of your video.
Once you are satisfied with the changes you made to your video, you can save and Start Export your output.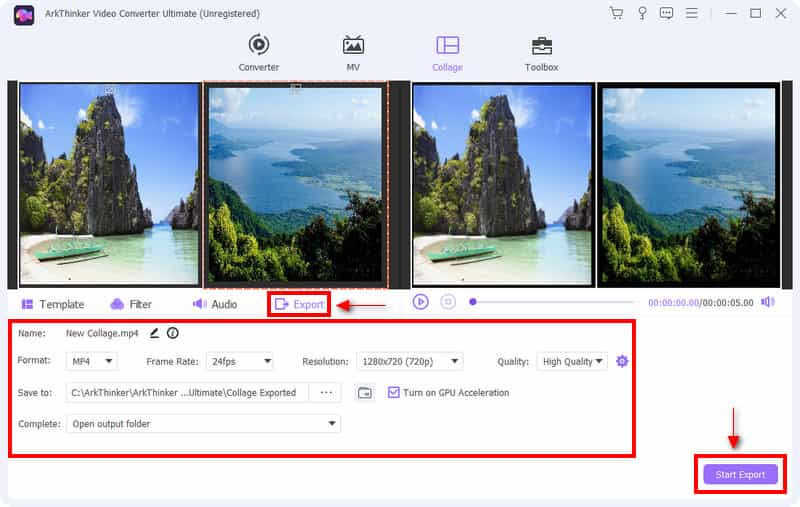 Part 3. What are Picture-in-Picture Videos Used For
Nowadays, there are a lot of contents you can see and watch through online platforms. Picture-in-picture is one of widely used content by many. It is commonly used by content creators as a content to share with their target viewers. For instance, you can create a picture-in-picture video by making a reaction video. You can create educational content like your lesson is displayed on the screen while you are discussing. Also, it can show your image and narration while you are playing the game. You can surely do a lot more on picture-in-picture editing.
Part 4. FAQs about Picture-in-Picture Video Editing
What is the difference between picture-in-picture and picture by picture?
Picture-in-Picture (PIP) displays the primary video source on the main screen, and the secondary source is displayed in a sub-window. On the other hand, Picture-by-Picture (PBP) displays different displays on different sources.
How do I play YouTube in PiP mode?
To play Picture-in-Picture mode on Youtube, you need to go to your phone's settings, look for Apps, and click Youtube. From youtube, look for picture-in-picture, and choose to allow. From your Youtube profile, go to settings, look for general and allow the picture-in-picture option.
Why is Picture-in-Picture mode not working?
Restart your phone if picture-in-picture is not working on its normal mode even if you enable it.
Conclusion
Being a content creator is popular nowadays. They are known for uploading contents on various social media platforms. It is a fact that there is a huge opportunity for them in online settings. In order to gain viewers and followers, it is necessary to think of content that fits the taste of the masses. Picture in Picture video editing has been used to create content nowadays. If you wish to showcase your videos and only display them on one screen, you can use this way to share your creative output.
What do you think of this post? Click to rate this post.
Excellent
Rating: 4.9 / 5 (based on 366 votes)