How to Split Screen in iMovie with Side-by-Side Effect
iMovie's split-screen feature allows you to put your videos next to each other and play them together at the same time. Many of you may hear of this feature but need help finding where the button. In this guide, you will learn the complete steps on how to split screen in iMovie, not just on your Mac but also on your iPhone. Once equipped with this side-by-side effect, you can create an interesting effect during video editing.
GUIDE LIST
Part 1: How to Split Screen in iMovie on Mac and iPhone
As a pre-installed software on your Apple devices, iMovie offers free services and powerful features, including the side-by-side screen feature. That's why you can quickly learn how to split screen in iMovie. Whether using a Mac or iPhone, you will find the exact steps below to split your screen and connect your videos.
1.1 How to Split Screen in iMovie [Mac]
Step 1
Launch iMovie on your Mac and create an iMovie project with the video clips you want to connect. Choose the clip you want to show next to another video.
Step 2
You can also choose a duration of a clip. Then, drag it to the timeline and drop it over another video clip until you see the green Add icon on your clip.
Step 3
Next, you may click the Video Overlay Settings button to open the controls. Above the viewer, you may choose Split Screen from the first drop-down option.
Step 4
This effect will also appear on your timeline, and you can adjust its length. Meanwhile, if you want to adjust your video position, you can do this through the Position dropdown button above.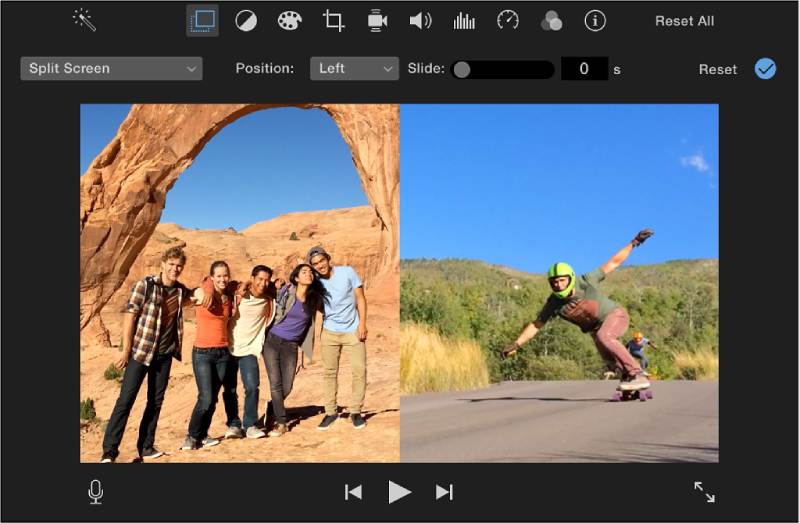 1.2 How to Split Screen in iMovie [iPhone]
Step 1
Unlock your iPhone and open the iMovie app. If you accidentally deleted it before, you could go to the App Store to install it again.
Step 2
Tap Movie to create a new project and add a video. After importing the video, move the playback line to the position where you want the split-screen feature to begin.
Step 3
Then tap the plus icon above to add a new clip. You can then choose the clip from the Video category and tap that video. Next, tap the three-dot icon that shows up.
Step 4
From the pop-up menu, choose Split Screen to apply the feature and add the new clip.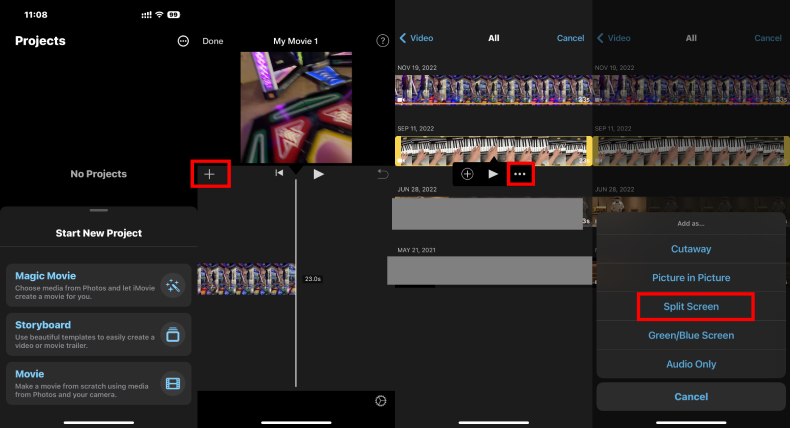 Tip: Except for splitting the screen in iMovie, you can also do other editing like flipping video, rotating video, or cropping it. You can also find many other features in iMovie waiting for your exploration.
Part 2: Alternative Software with iMovie Split-Screen Feature
The biggest highlight of iMovie is its easiness and quick speed. You can easily connect your two videos in iMovie with a few taps. However, the iMovie's split-screen feature only divides your screen into two parts and is unsuitable if you have more videos. You will need an additional program, and ArkThinker Video Converter Ultimate can be your efficient helper. Being a converter means the program accepts almost all video formats, solving most compatibility issues. Besides, you will get more templates for split-screen in Video Converter Ultimate than in iMovie.
ArkThinker Video Converter Ultimate
Offer different sets of split-screen templates.
Choose a suitable aspect ratio for your video.
Upload up to 13 videos to split the screen.
Make a colorful video collage with different backgrounds.
How to Split Screen in iMovie Alternative
Step 1
After you free download and install this program, launch it on your computer. On the main interface, click the Collage button to see the split-screen feature. Before you import the video, you may choose a template and the aspect ratio based on the numbers of your video.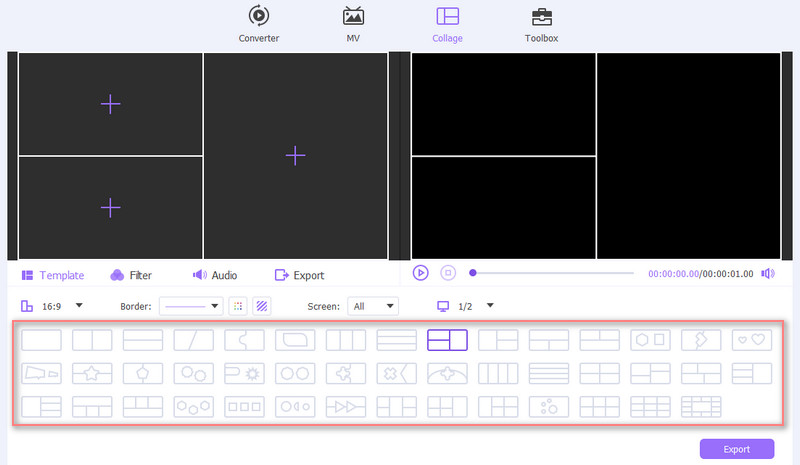 Step 2
Now, you can click the Plus icon to upload your videos. Once you upload the videos, you can click one of them and click the appearing scissor icon to trim the video as you want. Meanwhile, you can also adjust the video volume through the Audio button.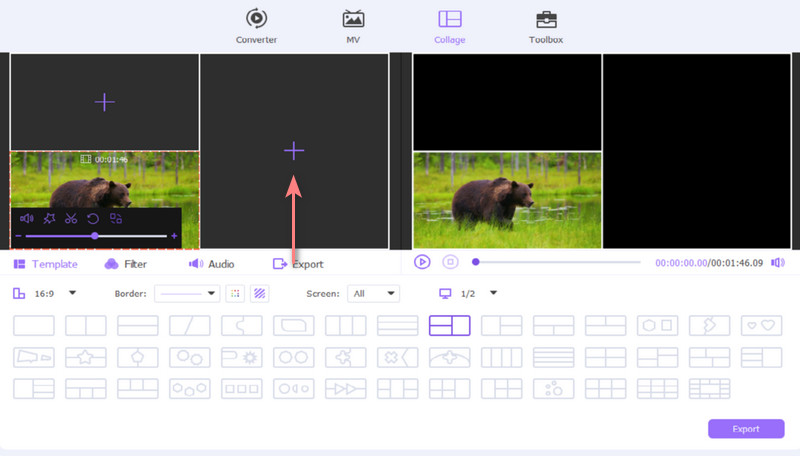 Step 3
You can drag the videos to adjust their positions or change their sequence. After setting, you can preview the effect in the right part of the window. Then, click the Export button to choose a destination folder. Finally, click the Start Export button to save the video.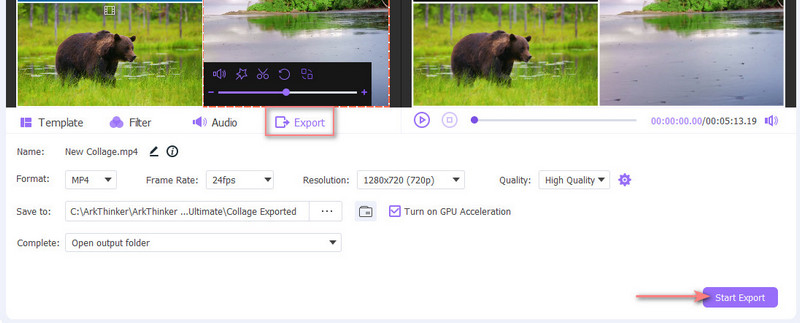 Sum: When applying the split-screen feature for your videos in Video Converter Ultimate, you can use the toolbox's powerful tools to stabilize your video or upscale video resolution to do better work.
Part 3: FAQs about iMovie Split Screen
Can I change the position of the video when using iMovie to split screen?
Yes, you can. Take the iMovie on your iPhone as an example; you can tap the video on your screen. There will be some icons on your video, and you can tap the loop icon to change the video's position to a left-right or up-down structure.
How to split the screen in iMovie with three videos?
You can use the Picture-in-Picture effect instead of the Split Screen effect, allowing you to upload more than three videos. You can see this effect when using the Overlay Settings in iMovie on Mac or tapping the three-dot icon in iMovie on your iPhone.
Does iMovie automatically save changes when splitting screens?
Yes, it does. When you use iMovie to split the screen and do many other editings, the program will save every step you make. So, you do not need to worry if your project will lose when you accidentally quit the program.
Conclusion
That's all for you to learn how to split the screen in iMovie on your Apple devices like Mac and iPhone. Whether you want an up-down or left-right structure, you can easily find the corresponding features in iMovie. But if you look for more layout, you can turn to ArkThinker Video Converter Ultimate with more templates and support for both Mac and Windows.
What do you think of this post? Click to rate this post.
Excellent
Rating: 4.9 / 5 (based on 541 votes)