6 Best Split Screen Video Editing Software Available to PCs and Mac
Split-screen videos are amazing. It can display two or more videos on one screen. There are many reasons why you need to post a split-screen video. For instance, you cannot decide on one memorable video to share with the world. Moreover, it can help businesses to unleash creativity and showcase it at the same time. Making a split-screen video sounds tough, but you can get the effect easily if you have an appropriate split-screen video editor. Here is a top list below.

GUIDE LIST
Part 1: Top 6 Split Screen Video Software
Top 1: ArkThinker Video Converter Ultimate
To visualize two or more videos in one place, the video quality is significant. Therefore, ArkThinker Video Converter Ultimate appears at the top of our list. It provides everything you need to make split-screen videos. More importantly, the software is easy to use and does not require technical skills.
Pros :
Make split-screen videos easily.
Offer a variety of custom layouts.
Support almost all video formats.
Enhance video quality automatically.
Add background music from the library.
Cons :
After the free trial, you have to purchase a license.
Top 2: Adobe Premiere Elements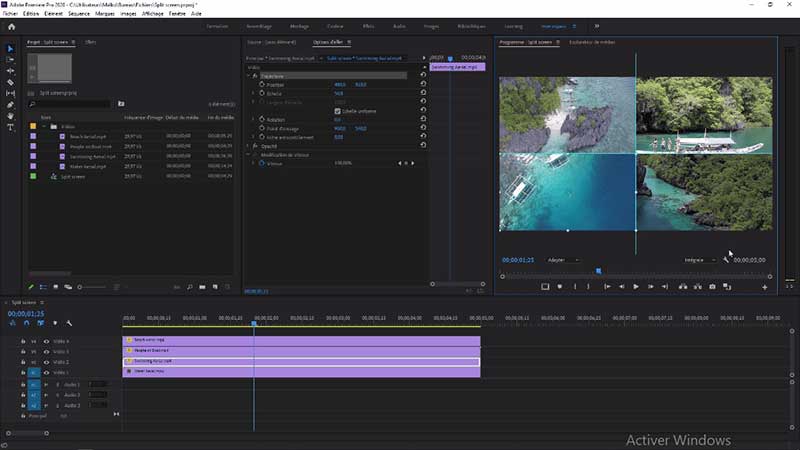 Premiere Elements is the customer split-screen video editor from Adobe. It costs a one-time purchase fee of $99.99. Users can also get the software from Adobe suite. It runs on Windows 10 or later and macOS 11 or later.
Pros :
Come with a clear and concise interface.
Create split-screen videos with built-in templates.
Include solid text tools.
Offer ample video effects.
Cons :
It does not support 360-degree or 3D videos.
It is pricy compared to other video editors.
Top 3: Lightworks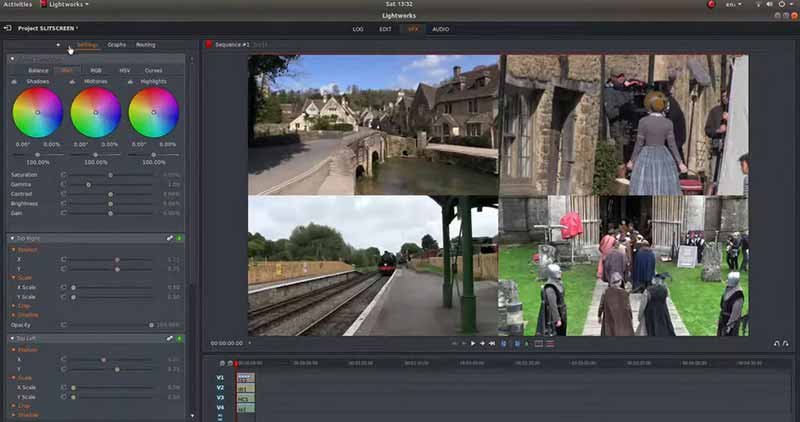 Lightworks is a cloud-based multi-screen video maker. Lots of vloggers use it to create stories for social media and movie projects. It costs $9.99 per user per month. The software itself has many functionalities and can be expanded with plugins.
Pros :
Save split-screen video projects automatically.
Offer video tutorials for beginners.
Available to Windows, macOS, and Linux.
Lightweight and occupy less storage space.
Cons :
It adds a watermark to your videos during the free trial.
It lacks some features, like subtitles.
Top 4: iMovie for Mac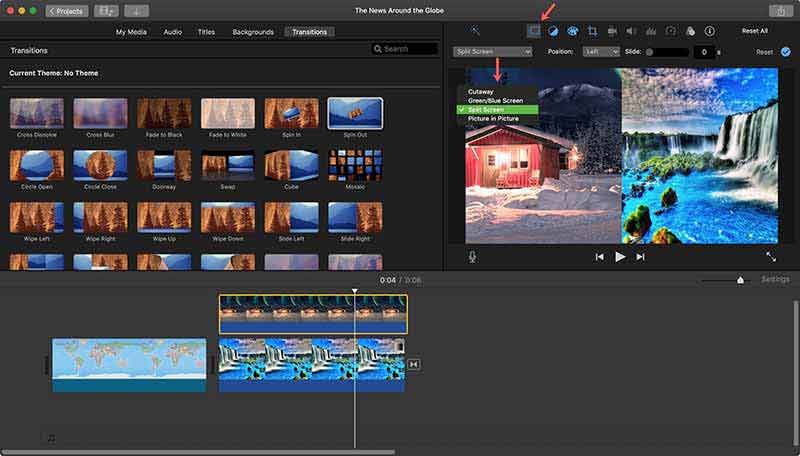 iMovie is the preinstalled split-screen video app on macOS. In another word, users can create split-screen videos without extra software or payments. Since it is a bit basic, iMovie is just a simple way to make the multi-screen video effect on macOS.
Pros :
Make split-screen videos without installation.
Great for beginners.
Include extensive templates.
Offer chroma-keying and more tools.
Cons :
It lacks motion tracking capabilities.
It does not support VR videos.
Top 5: Shotcut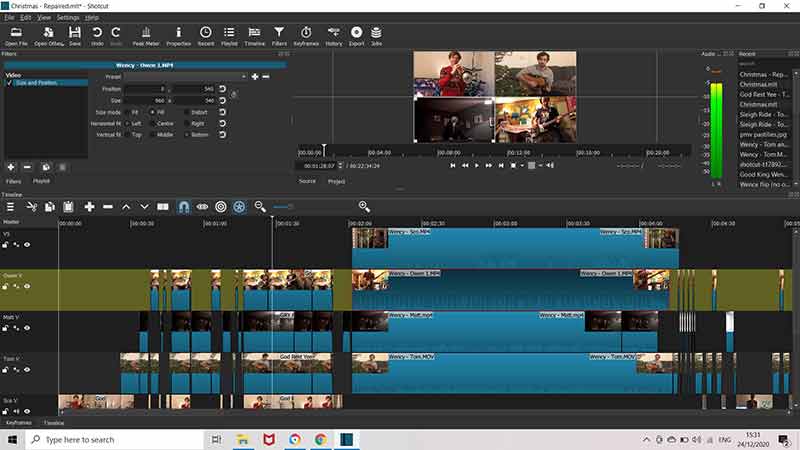 Shotcut is an open-source and a free multi-screen video editor. It enables users to create a split-screen effect on Windows, macOS, and Linux without paying a penny. Although it is free of charge, it comes with plentiful effects and filters. Plus, it is compatible with all popular video formats.
Pros :
Open source and free to use.
Create professional split-screen videos.
Support a wide range of export options.
Include a built-in media player.
Cons :
It lacks advanced video editing features.
It is difficult to make complex videos.
Top 6: Kapwing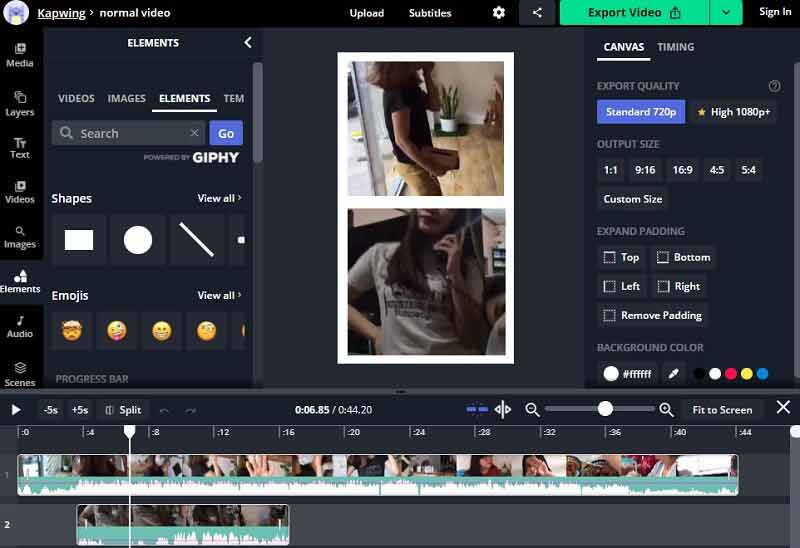 Kapwing is a multi-screen video app online for free. You can access the webpage in your browser, select a layout, and upload your videos. However, it adds a watermark to the video if you do not pay for a paid plan. Therefore, it is a good way to test the split-screen effect.
Pros :
Open videos from local or Google Drive.
Edit each video on the collage.
Completely work online.
Include a variety of templates.
Part 2: How to Make Split Screen Video
Compared to other video effects, split-screen sounds a bit complex. In another word, an appropriate tool is not enough. Therefore, we demonstrate how to make a split-screen video using ArkThinker Video Converter Ultimate.
Step 1
Install the best split-screen editor
Launch the best multi-screen maker after installation. Switch to the Collage tab from the top of the window. Go to the bottom library in the Template tab, and pick a proper layout.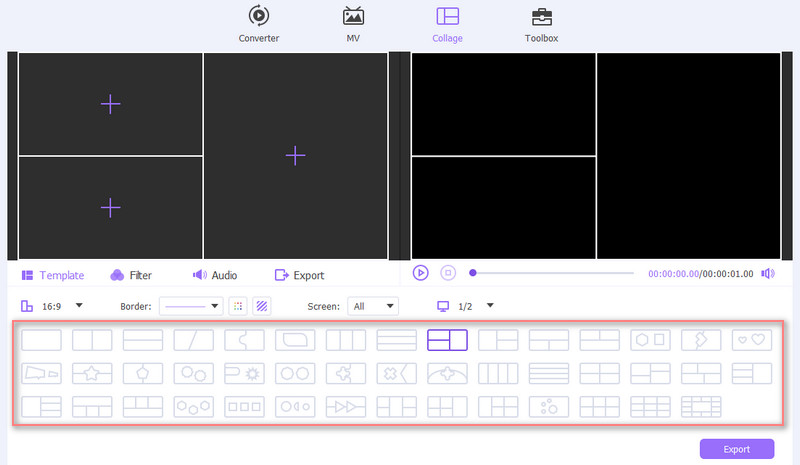 Step 2
Import videos
Locate one pane, click the +, and add a video. Do the same to other panes. You can adjust the layout by dragging the borders.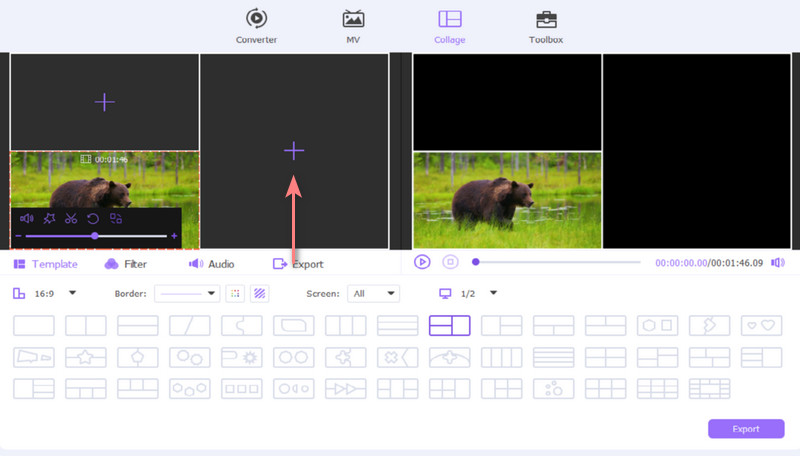 Step 3
Edit videos
Next, you can retouch each video on the collage, such as adding filters. Go to the Audio tab, and apply the background music.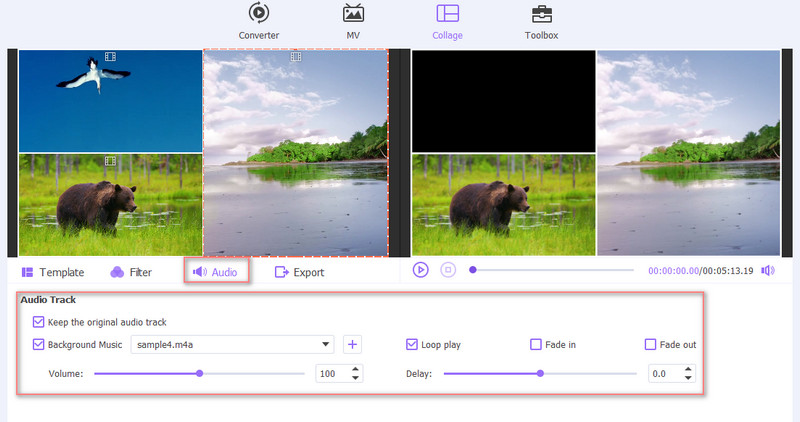 Step 4
Export the split-screen video
Preview the split-screen video in the media player. If you are satisfied, go to the Export tab. Enter the filename, output format, and other options. Click the Folder icon and set a destination folder. At last, click the Start Export button to save the multi-screen video.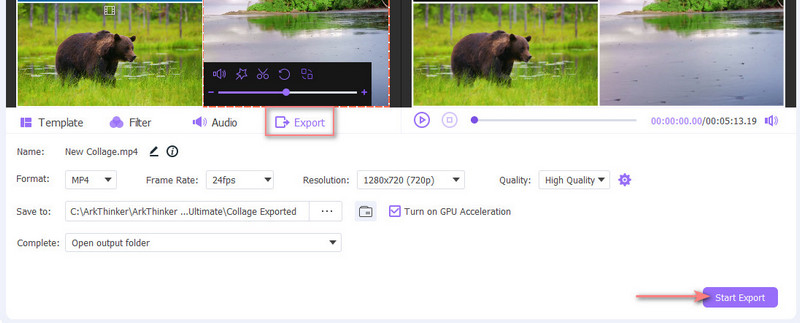 Part 3: FAQs about Best Split Screen Video Editor
Can iPhone play two videos at once?
iPhone does not support playing two videos at the same time. However, you can watch two clips at once on YouTube with the Picture in Picture option.
How to play two videos simultaneously in a media player?
A part of media players has the feature to play two videos side by side, such as VLC Media Player.
Why is my video delayed in the collage?
If a video's speed does not match the others, you can adjust it during making the split-screen effect.
Conclusion
This article has identified and reviewed the top 6 best split-screen video editors on a desktop or online. Some of them are free of charge, such as Shotcut. Others provide advanced features. ArkThinker Video Converter Ultimate is not only easy to use but also full of pro-level functionalities. If you have better recommendations or other questions, please feel free to contact us by leaving a message below this post and we will reply to it as soon as possible.
What do you think of this post? Click to rate this post.
Excellent
Rating: 4.9 / 5 (based on 284 votes)