How to Make a Collage Video with Music for Free Under 5 Minutes
How to quickly make a collage video with music so you can post it immediately to follow the latest trend on TikTok? Don't worry; with the right collage maker, you can settle down everything. A sound collage maker enables you to efficiently make a collage video with music without spending too much time figuring out the style, subtitles, or music since most collage makers offer excellent presets or themes. Therefore, consider walking yourself through the instructions here of 5 distinctive video collage makers with the steps on how to make a collage video with music.

GUIDE LIST
Part 1: How to Make a Collage Video with Music and Cool Effects
A comprehensive video collage maker makes your half done in the beginning with multiple and diverse presets built inside. Whether you are making a video collage for the TikTok dance challenge or want to combine videos and make a collage video with music, the following tools are the go-to options for you.
1. ArkThinker Video Converter Ultimate [Mac/PC]
A simple toolkit- ArkThinker Video Converter Ultimate – would suffice to make a collage video with music on your desktop. Conversion might be the primary task, but this program also possesses multiple templates or effects of different styles. Meanwhile, being a powerful converter enables this program to be compatible with all kinds of video formats, which means you can import a random video, and this tool will effortlessly recognize it while others don't. When making a simple collage video with music for posting on social media, this Video Converter Ultimate can be your good choice since you can share the video directly on social media platforms after editing.
ArkThinker Video Converter Ultimate
Apply numerous video collage templates.
Combine various videos for a video collage.
Offer different built-in filters to enrich the collage.
Add local audio files to the collage as new background music.
Step 1
Launch the program on your computer after downloading and installing it. Then, click the Collage option on the main interface, where you will see lots of templates of different shape collages. Click the plus icon to import a video or more.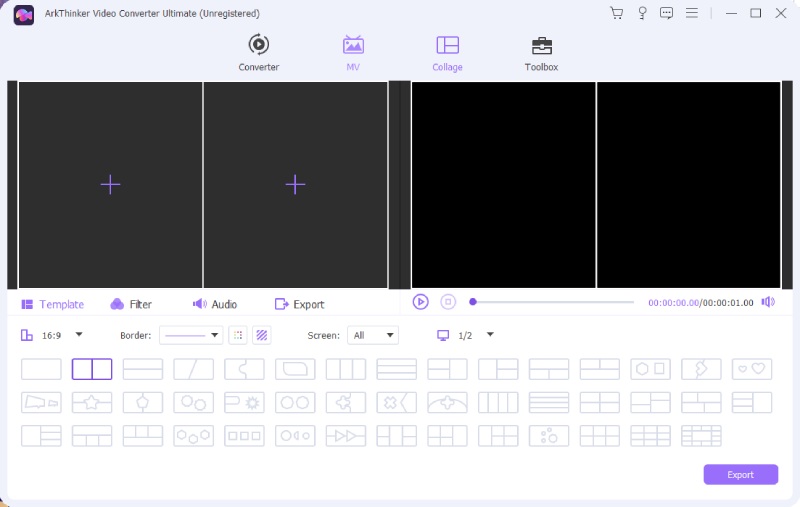 Step 2
After that, you can adjust the video length separately. Or you can import the music by clicking the Audio button to choose a file. Then, choose a template below for your video arrangement. You can directly drag the video to adjust its position in the preview window.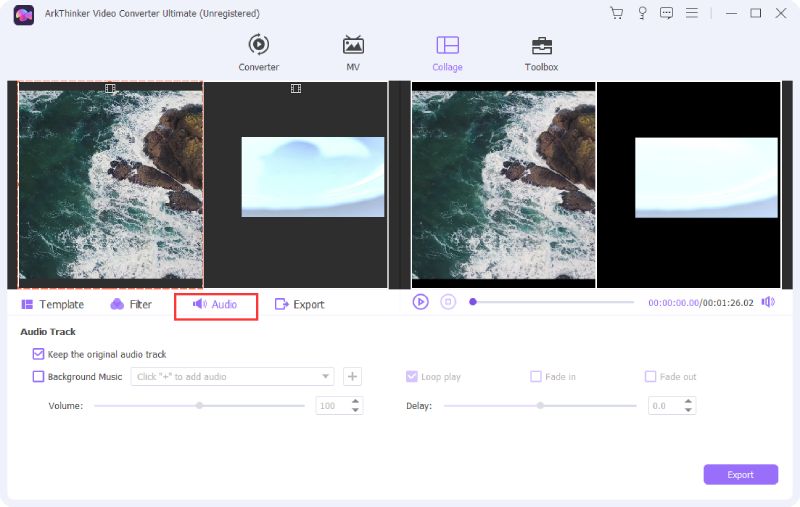 Step 3
Once you set it all, click the Filter button to apply a colorful filter for cool effects. Meanwhile, you can adjust the template you choose, such as changing the line color or shape. After that, click the Export button to export this video collage finally.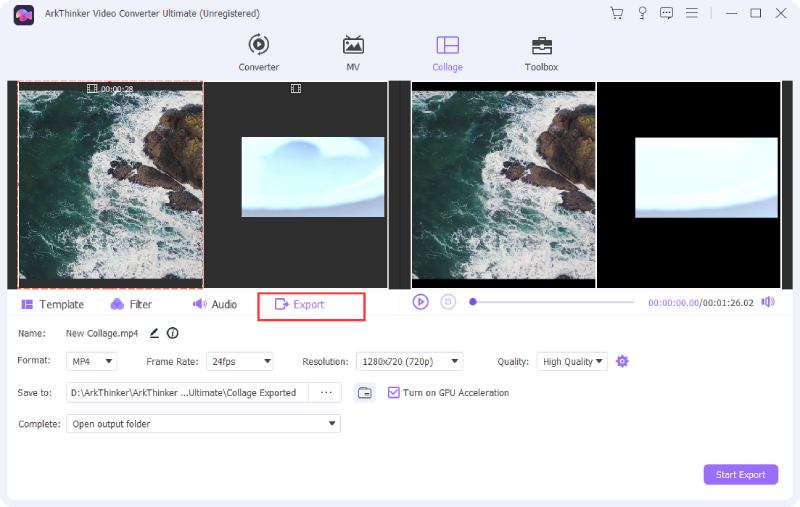 2. Canva [iOS/Android]
Canva, an efficient editing app for mobile phones, helps you collage video with various resources, templates, fonts, pictures, etc. Even the resources in the free trial can be enough for your demands. This all-in-one photo editor allows you to collage video with music while enabling you to polish your video collage with fine graphics.
How to make a collage video with music in Canva on iPhone
Step 1
You can download Canva app from App Store on your iPhone. Once you install it, open it, and tap the search bar above to search Video Collage.
Step 2
Choose a template for your video collage layout or start from scratch. Select videos from your iPhone library.
Step 3
Then, you may drag the videos to change the layout or tap the audio track to replace it with new music.
Step 4
Once done, you can tap the Share button above to share the video collage on social media or save it to your iPhone.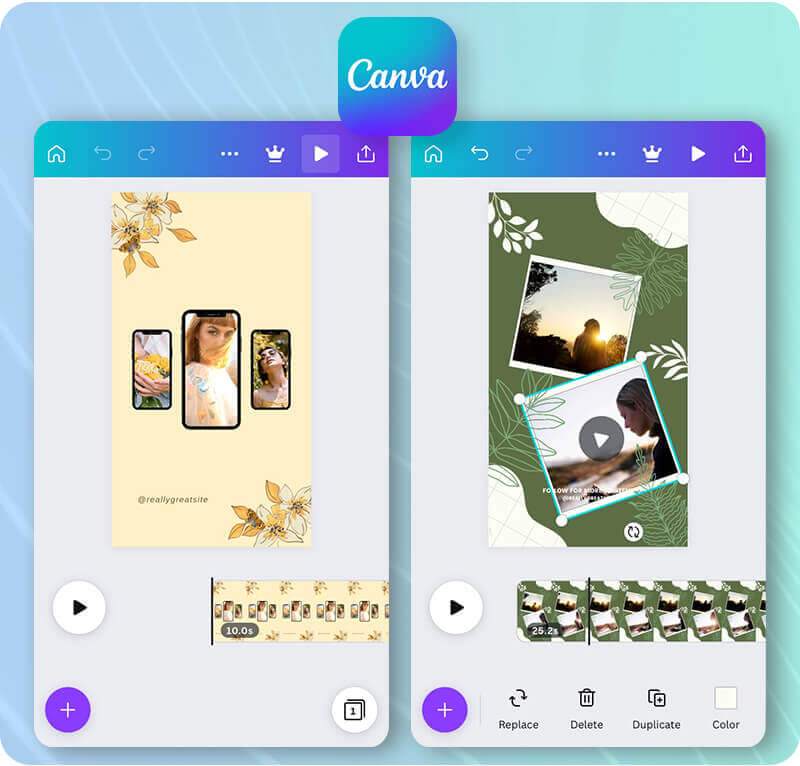 Part 2: Make Collage Video with Music Online for Free
Speaking of creating a video collage, how to make a video collage with music free? The answer must be the online video collage makers. Check out 3 powerful online video collage makers below to see how to create your own creative collage.
1. Adobe Express
Maintaining an extensive library of all sorts of collage templates, Adobe Express – Music Video Maker can be an ideal choice for beginners to collage videos with music quickly. You can then enjoy numerous free resources for your video collage; even if you are a beginner, you can still work like a pro with so many icons, pictures, logos, and templates on Adobe Express. But the supported video length and format are limited here.
Step 1
Create an account and log in on Adobe Express – Free Music Collage Maker. Then, you will be on the editing page. Once you are in, choose the SPLIT SCREEN option on the right side.
Step 2
After that, click the plus icon to upload your videos. To add music to your video to make a video collage, you can click the Music option to choose one or upload your own.
Step 3
You can also click the microphone icon to record your voice as the background music for your video collage. Finally, you can click the Download button above to save it after it's done.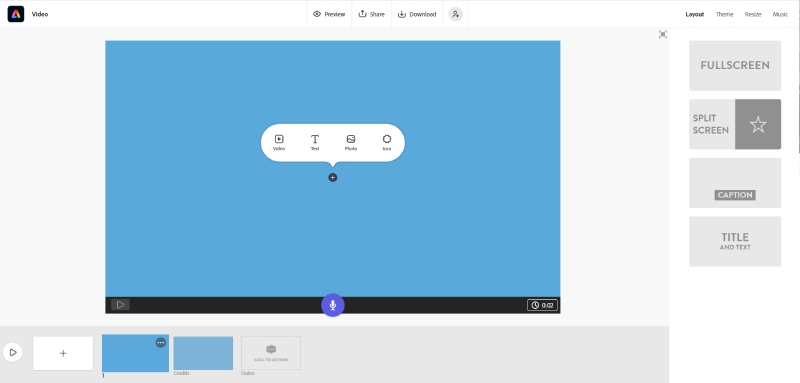 2. Kapwing
Kapwing is another famous online editor that provides users with free services and powerful editing features. You can share and co-edit your work with your colleagues, friends, or anyone with your invite link. But this feature requires you to log in. Additionally, just like a powerful editing app, Kapwing possesses an extensive library of different resources, including transitions, templates, elements, etc. You get the most flexibility when using this to collage videos with music.
Step 1
Enter the official website of Kapwing and go to the video collage section. Then, click the Make a collage button to start. You may also get to create an account for later use.
Step 2
Click the Add Media button on the left side to upload your videos. Then, you can choose a dimension for your canva and drag the videos to the canva.
Step 3
You may also choose a template from the Template option on the right side. Then, click the Audio button to upload your music or choose one from the Kapwing library.
Step 4
After that, click the Export project button to save your video to your device.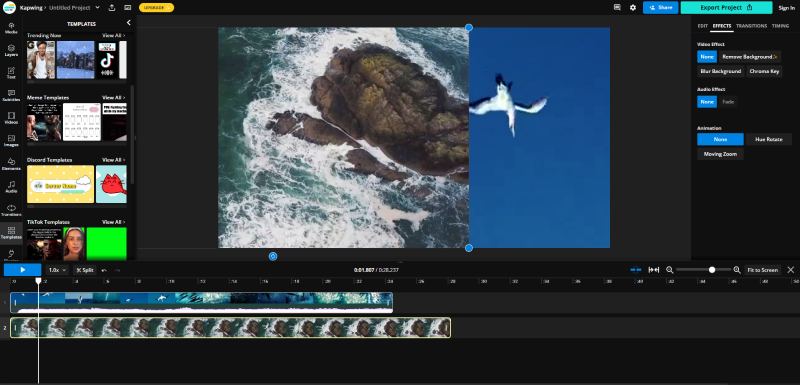 Part 3: FAQs about Collage Video with Music
Can I collage the video with music on Instagram?
Yes, you can. When posting on Instagram, you can record a video. You may see a layout button when you are on the recording screen. Tap on it to choose a collage template to start making a video collage.
Where to find free songs for collage videos with music?
Many online sources can be your inspiration or BGM for the video collage. For example, Free Music Archive and Pixabay are free libraries for all kinds of music that can be used and shared without copyright trouble.
Is there any default collage maker for PC?
Unfortunately, there isn't a pre-installed video collage maker for your Windows PC, and you need to rely on a third-party video editor to collage videos with music.
Conclusion
All in all, how to make a video collage with music is an easy issue to solve once you get to know the powerful video collage makers above. Meanwhile, most collage makers above are free or offer free plans. If you only want quick editing with simple templates, the free trial is enough for you. Otherwise, you can unlock the premium plan to access more features and make a more creative video collage.
What do you think of this post? Click to rate this post.
Excellent
Rating: 4.9 / 5 (based on 374 votes)