5 Best Metadata Editor Recommendations
Metadata carries sensitive information like the file name, format, creation date, location, capturing device, editing software, and more. Editing the metadata of a digital file can be very time-consuming. So you'd better select a good metadata editor when you need to edit video, audio, photo, or PDF metadata.

GUIDE LIST
Part 1. Best Video and Audio Metadata Editor for Windows 11/10/8/7 PC and Mac
Video Converter Ultimate is an all-featured video editing and converting software that offers many valuable tools for different needs. It is equipped with a unique Media Metadata Editor for you to edit audio and video metadata easily. Whether you want to view, edit, or remove metadata on a computer, it can be the best metadata editor. You can select the correct version and free download it to edit the metadata of your media files.
Step 1
Launch this metadata editor on your computer and click on its Toolbox tab. That will display many useful tools, including Media Metadata Editor. As you can see, it also offers Video Enhancer, Video Compressor, GIF Maker, 3D Maker, Video Trimmer, Color Correction, and other tools.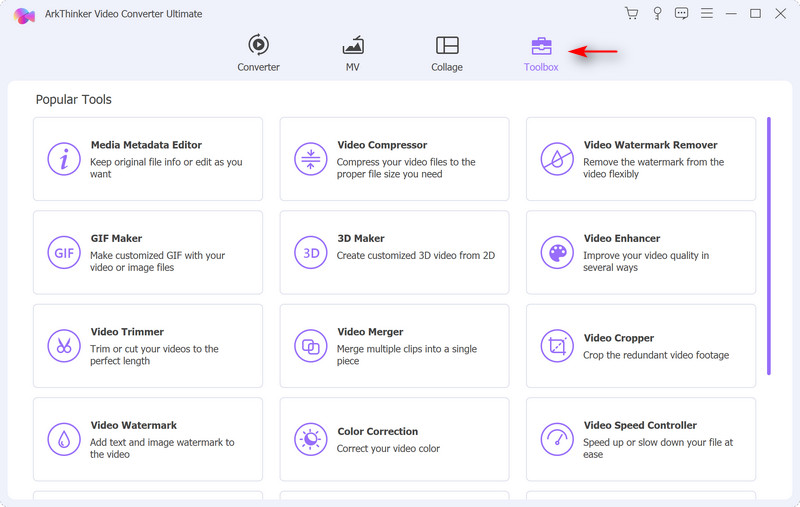 Step 2
Open Media Metadata Editor and click the + icon to load your video or audio file. You can freely edit video metadata and music tags, such as the file name, title, artist, album, composer, genre, creation year, song/movie cover, and others. Moreover, you can add comments to your file.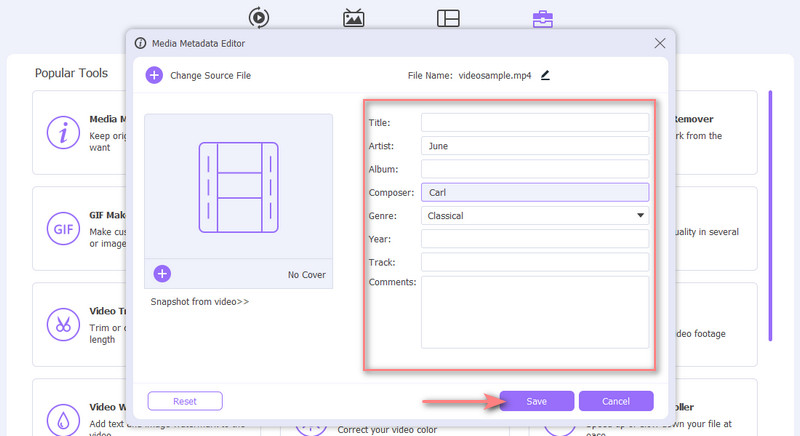 Step 3
After editing metadata, click the Save button to sync these edited data to the source file. A prompting message will pop up on the screen to tell you the media information of the source file has been modified.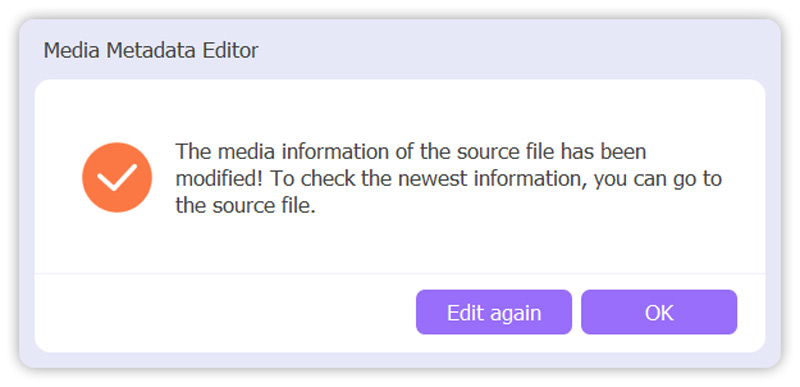 Media Metadata Editor supports all popular video and audio formats, including MP4, MOV, FLV, AVI, MKV, M4V, M4A, AAC, MP3, ALAC, FLAC, APE, and more. More than just a metadata editor, this recommended Video Converter Ultimate also carries other useful tools for you to edit your media files, enhance quality, and customize the output effects.
Part 2. Free Online Photo Metadata Editor
MetaEditor is a free online photo metadata editor that supports various popular metadata standards like EXIF, IPTC, and XMP. It enables you to view, add, and modify information to any field of its three standards. This online image metadata editor can edit photos in JPG, JPEG, PNG, GIF, TIFF, WEBP, and RAW. You can also manage file metadata, including the creator's name, copyright, contact info, and more.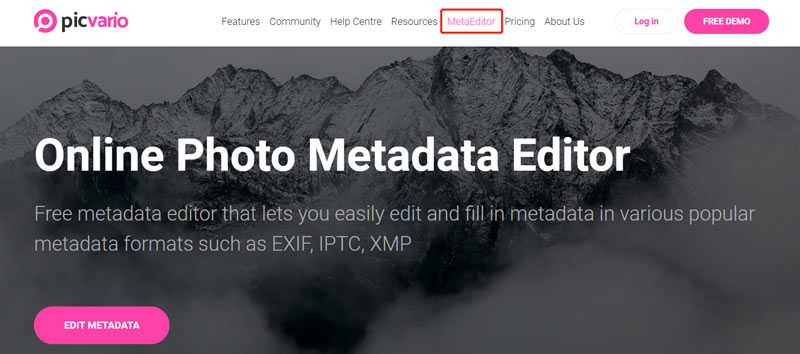 MetaEditor can work seamlessly online without installing any plugins. You can free use it to edit photo metadata on a web browser. When you enter its Online Photo Metadata Editor page, you can click on the Edit Metadata button to upload your image file. You can see all associated photo metadata is listed on the left. Three offered standards will appear on the right. You can select one standard and display all the properties of this standard. After that, you can edit the required fields based on your need.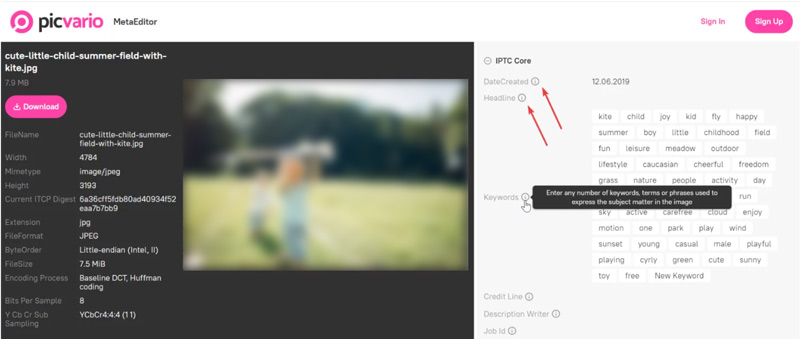 Part 3. Default File Metadata Editor for Windows PC
To edit video, audio, photo, or document metadata on a Windows computer, you can use its built-in metadata editor, File Explorer. It allows you to check and edit your file metadata directly. When you open a file in File Explorer, you can right-click on it and go to Properties.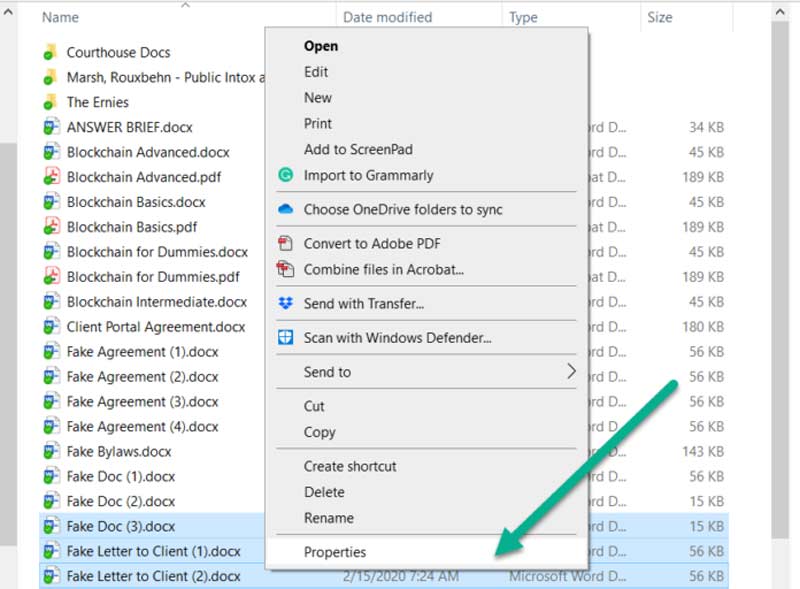 You can click the Details tab to check all related file information, such as Title, Album, Year, Genre, Length, Author, Program Name, Data taken, Copyright, and others. You can add new metadata to your file or edit the original ones. After editing your video, audio, or picture metadata, you can click on the OK button to save your changes.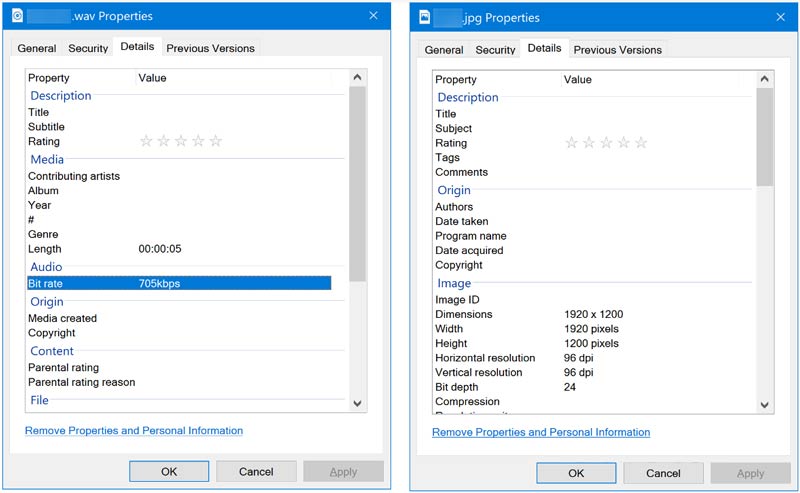 Part 4. Official Photo Metadata Editor for Mac
The Photos app on your Mac can work as a free metadata editor to add or amend some image details. You can use it to edit various photo metadata, including date, location, format, camera model, focal length, exposure, copyright, usage terms, and more. It is pre-installed on any Mac and can help you easily view and edit photo metadata.
You can open the Photos app on your Mac, right-click on the image file you want to edit its metadata, and then choose the Get Info option. Now you can view the photo information under the More info heading.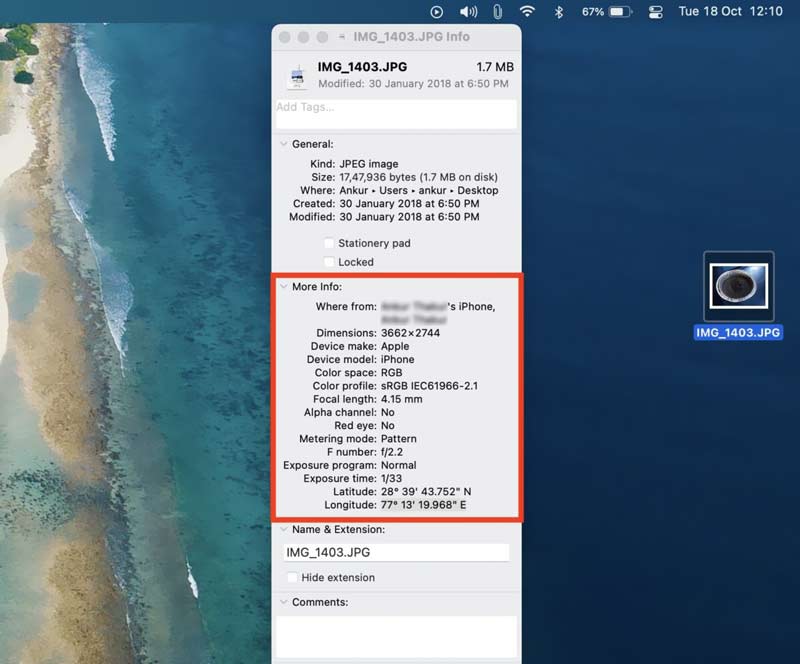 You can also use Preview to edit or clear metadata on a Mac. When you open a picture using Preview, you can click the top Tools menu and go to Show Inspector. You can click GPS, Exif, TIFF, or General to check and edit the file metadata.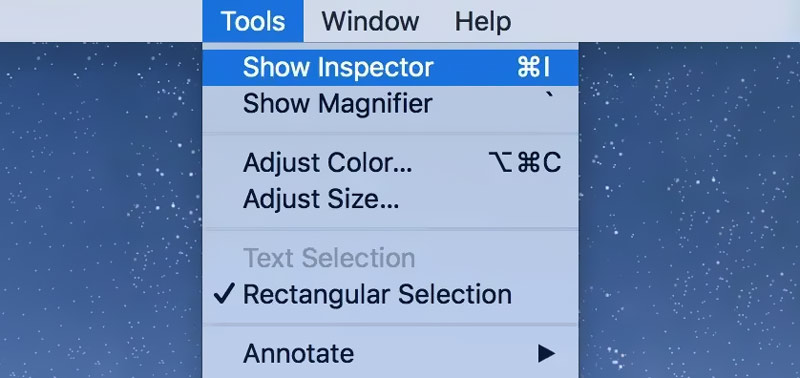 Part 5. Metadata Editor App for iPhone and Android
You can rely on the Google Photos app when you need to edit the metadata of videos or audio on a mobile phone. It is compatible with Android phones, iPhones, and iPad. You can free install it from Google Play Store or App Store. Google Photos can be a metadata editor to view and edit dates and time.
You can open an image or video file in the Google Photos app and tap on the 3-dots icon in the upper-right corner to check its metadata. Then you can tap the Edit icon to change the date and time stamp, add a location, and edit other details.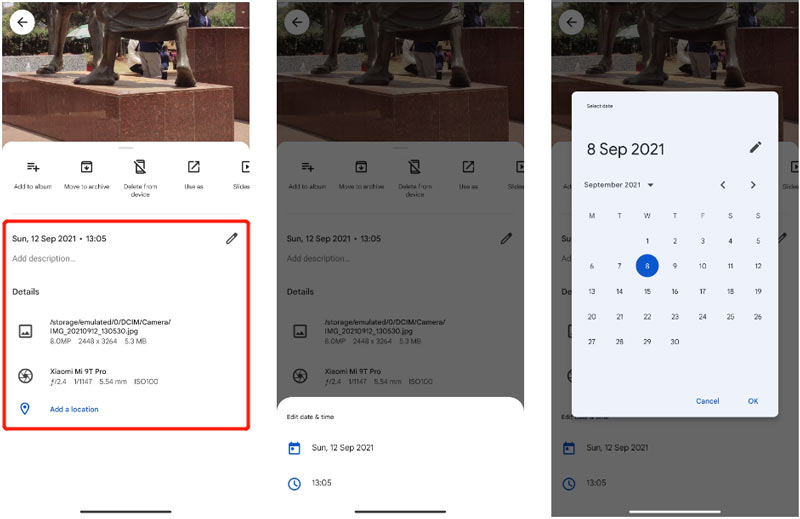 Part 6. FAQs of Metadata Editor
Can VLC edit movie metadata?
VLC Media Player lets you view and edit the metadata of videos and music files. You can open the Movie in VLC, click the Tool menu, and select the Media Information option from its dropdown. In the Current Media Information window, you can click the Metadata or General tab to check a few pieces of metadata information. You can add new details and edit movie metadata according to your need.
How do you edit PDF metadata online for free?
There are a large number of online PDF metadata editors offered on the internet. You can use some popular ones like Sejda, PDF Candy, AvePDF, or PDF4me to edit PDF metadata directly on your web browser.
How to edit metadata for audiobooks?
You can rely on the recommended Media Metadata Editor above to easily edit metadata for audiobooks. It allows you to add and edit the artist's name, year, album, track, and more. Also, you can find some specially-designed audiobook metadata editors to help you edit file details of audiobooks.
Conclusion
After reading this post, you can get the five best metadata editors to edit the metadata of videos, audio, PDFs, photos, documents, and other files. If you have other metadata editing app recommendations, please share them in the comments below with other readers.
What do you think of this post? Click to rate this post.
Excellent
Rating: 4.9 / 5 (based on 215 votes)