3 Easy Ways to Edit Video File Metadata
Video metadata contains related information of your MP4, AVI, FLV, MOV, MKV, M4V, 3GP, or other files, such as the file name, format, creation date, capturing device, editing software, and more. It can simplify many complex digital tasks. You can edit video file metadata to keep files organized. This post shares 3 video metadata editors to edit MP4 tags.

GUIDE LIST
Part 1. Best MP4 Video Metadata Editor for Windows PC and Mac
Video Converter Ultimate is an easy-to-use video metadata editor that can help you edit tags of MP4, AVI, MOV, M4V, FLV, and other videos. Moreover, it can work as an audio metadata editor to edit music tags. As an MP4 metadata editor, it allows you to view, edit, and remove video metadata on both Mac and Windows PC. You can free download it on your computer and follow the steps below to edit MP4 tags easily.
Step 1
Launch this video file metadata editor, and click the Toolbox tab to display more tools. Here you can find the Media Metadata Editor and open it.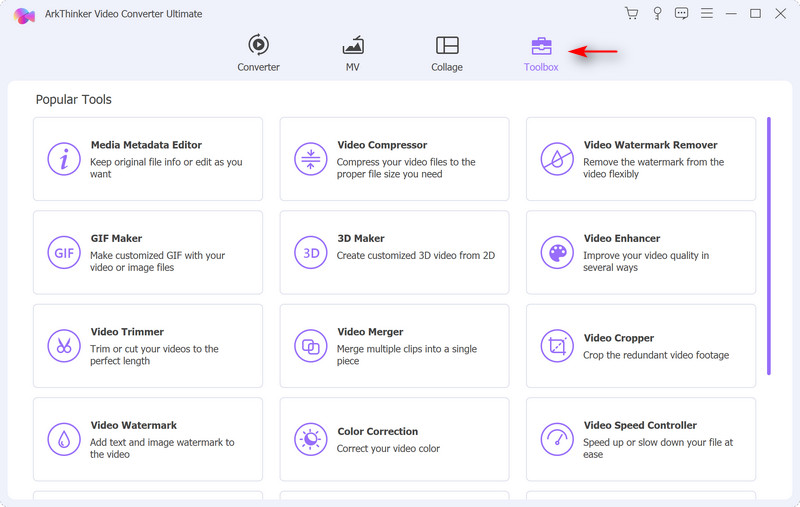 Step 2
In the pop-up Media Metadata Editor window, you can click the + icon in the central part to import your video file. All popular video formats are supported, including AVI, MP4, MOV, FLV, M4V, 3GP, and many others. After you add a video to this metadata editor, you can view the file name, cover, artist, album, title, composer, genre, year, and more.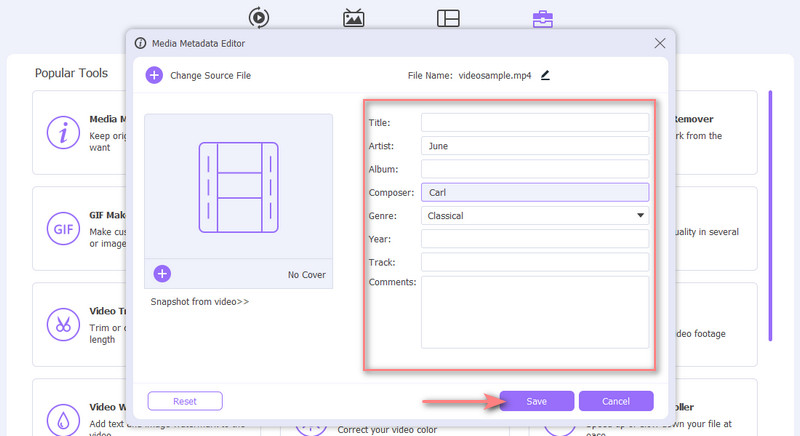 Step 3
You can freely edit the source video metadata, enter new tags, or remove some unnecessary ones based on your need. After editing these video tags, you can click the Save button to sync metadata to the source video. You will see a message on the screen prompting you that the media information of the source file has been modified.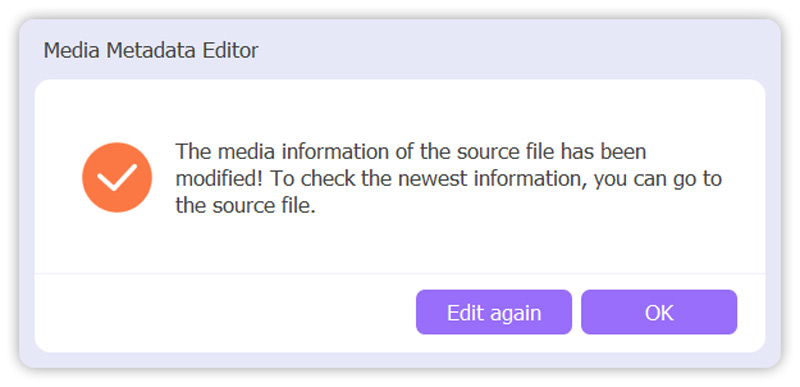 More than just a video file metadata editor, this recommended Video Converter Ultimate also carries many other helpful editing features and tools. You can free download and use it to edit your videos, adjust effects, and enhance quality.
Part 2. Free Online Video Tag Editor
Metadata2Go is a famous online file tag viewer and editor. It enables you to check, edit, and remove metadata of videos, images, and documents. This free MP4 tag editor allows you to access your video files' hidden Exif & metadata conveniently. It supports all commonly-used video, audio, and image formats. You can free use it on any web browser on your computer or mobile phone.
When you enter the Metadata2Go FREE ONLINE EXIF VIEWER page, you can upload your video file to check all the associated metadata information. You can click the edit button next to the specific video tag to edit it.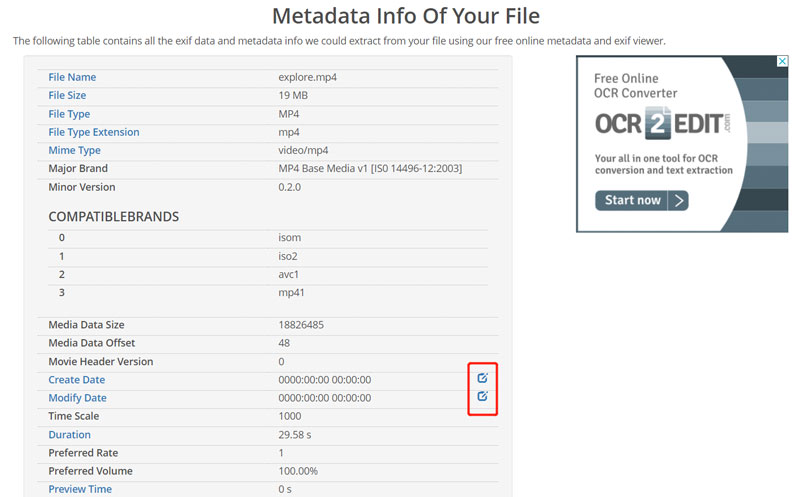 You can also scroll down to the bottom part to access its Edit Meta option. Click on it to edit more video tags according to your need.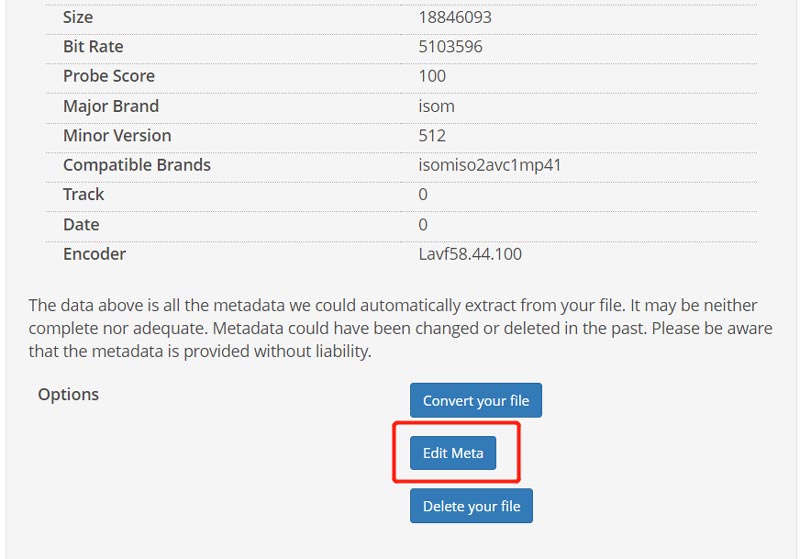 Part 3. How to Change Video Metadata on iPhone and Android Phone
Whether using an iOS or Android device, you can't use built-in editing features to change video metadata directly. Instead, it would help if you relied on a third-party video metadata editor. You can easily find many video tag editor apps from App Store and Google Play Store. Here we take the powerful Google Photos app as an example to show you how to edit video on an iPhone or Android phone for free.
Step 1
Google Photos can be a free video metadata editor to check and change your video tags. After you install it on your phone, you should give the app authority to access your video files. Then you can open your video in the Google Photos app.
Step 2
Tap the 3-dots icon in the top-right corner to view video metadata. You can tap on the Edit button to change various video tags, including its creating date and time, location info, and more.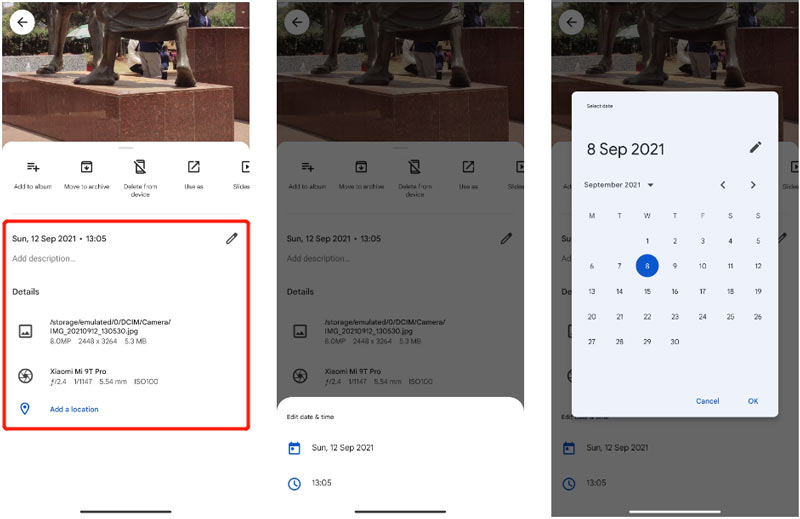 Part 4. FAQs of Video File Metadata Editor
How do you free edit MP4 video metadata in Windows 10?
You can use the default file metadata viewer and editor, File Explorer to edit your MP4 video tags on a Windows PC. When you locate the video you want to edit its metadata in File Explorer, right-click on it, and choose Properties. You can view all video tags by clicking the Details tab. Then you can directly edit video metadata based on your need.
How to edit video metadata on a Mac?
Besides the recommended Media Metadata Editor and Metadata2Go, you can also use the built-in Preview app to edit video tags on your Mac. When you open your video file in it, you can click the top Tools menu, and choose the Show Inspector option. After that, you can click the specific tag like GPS, Exif, TIFF, or General to edit video tags.
Can VLC edit MP4 video metadata?
Yes. VLC Media Player can help you check and edit MP4 video metadata. While playing a video using VLC, you can click the Tool menu, choose the Media Information option, and then click the Metadata tab to view and change video tags.
Conclusion
This post has mainly talked about how to edit video file metadata. You can get 3 video tag editors to easily view and change your video metadata. If you have any better ways to edit video tags, please share them in the comment section below with our other readers.
What do you think of this post? Click to rate this post.
Excellent
Rating: 4.9 / 5 (based on 194 votes)