16 Best Video Editing Software and Apps for Beginners and Business
The best video editing software is not just for professionals, filmmakers, and studios. Anyone creating homemade movies, video stories for YouTube and TikTok, and more will find it raises their game. A proper tool enables you to create engaging content to impress and delight followers. However, where to find the right video editor is a big problem. This article identifies a top list of computers and mobile devices for both professionals and amateurs.

GUIDE LIST
Part 1: Top 8 Video Editing Software for PC/Mac
Top 1: ArkThinker Video Converter Ultimate
If you are looking for video editing software with pro-level features but easy to master, ArkThinker Video Converter Ultimate is definitely a good option. It equips almost everything you need about video editing including basic and advanced tools. Moreover, the well-designed interface and features enable you to do what you want without technical skills.
Pros :
Edit videos quickly and easily.
Support a wide arrange of video formats.
Include bonus features, like video converting, video coloring, etc.
Make homemade movies with templates.
Create the video collage.
Cons :
After the free trial, you need to purchase a license.
How to Edit a Video on a PC
Step 1
Install video editing software
Launch the best video editing software once you install it on your PC. There is another version for Mac. It includes four parts, a video converter, a movie maker, a video collage maker, and a video editor. To edit a video, go to the Toolbox window from the top of the home interface, and pick the desired tool, such as Video Rotator.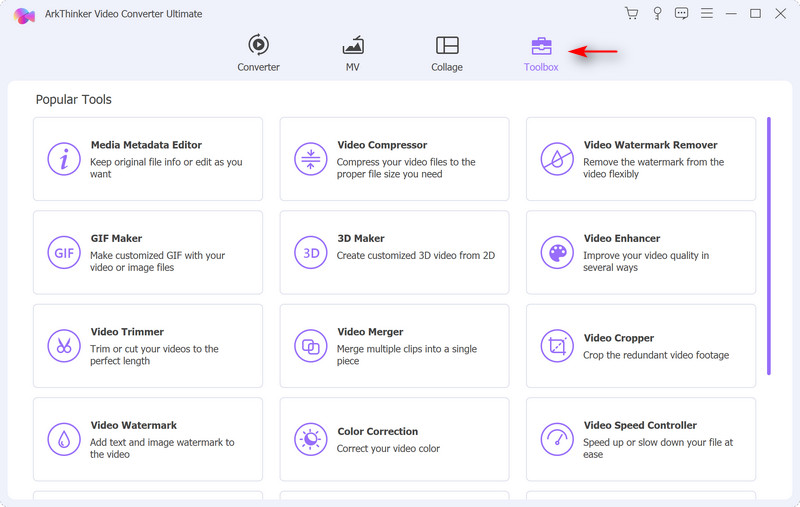 Step 2
Edit a video
When prompted, click the Add icon and open the video that you want to change. Or drag and drop the video into the interface to open it. Then you will see the video in the Original pane. Edit it with the options at the bottom, such as Rotate Counterclockwise, Rotate Clockwise, Flip Horizontally, or Flip Vertically. The effect will appear in the Output pane immediately.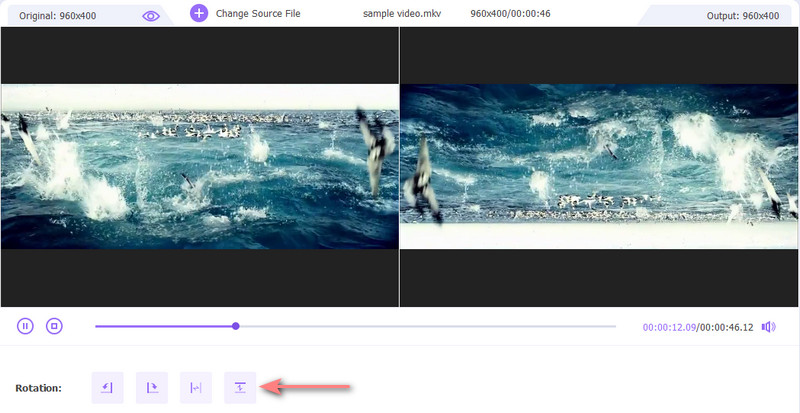 Step 3
Export edited video
As long as you are satisfied, locate the Output section, enter a filename, set the output format, and leave a destination folder. Finally, click on the Export button to save the result.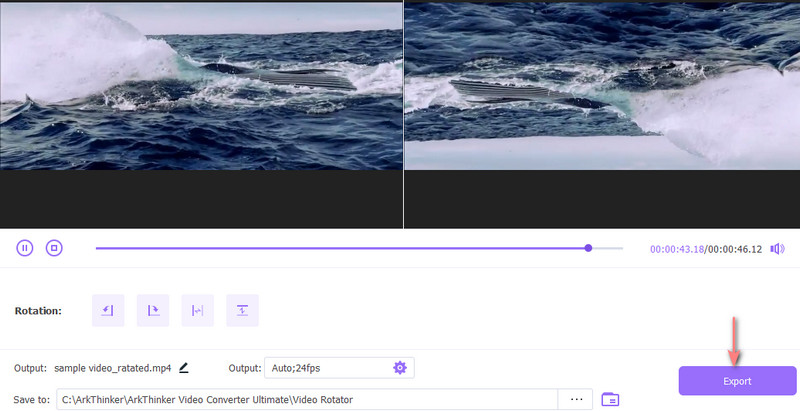 Top 2: Adobe Premiere Pro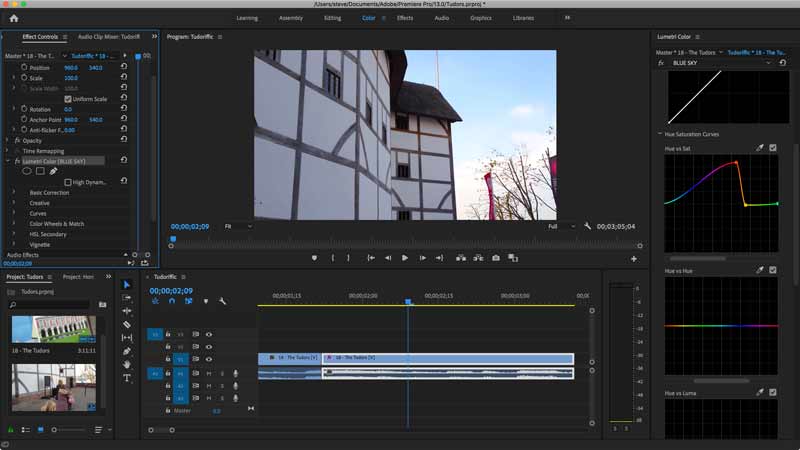 Adobe Premiere Pro is one of the best video editing software for people and organizations to enhance their work. You can download the software from Adobe and try it for 7-day free of charge. The standalone app costs $19.97 per month.
Pros :
Equip a responsive interface.
Offer a lot of tools and video filters.
Support the latest visual technologies.
Do synchronized video editing.
Cons :
It is pricy and only available in the subscription model.
It requires a span computer system.
Top 3: CyberLink PowerDirector 365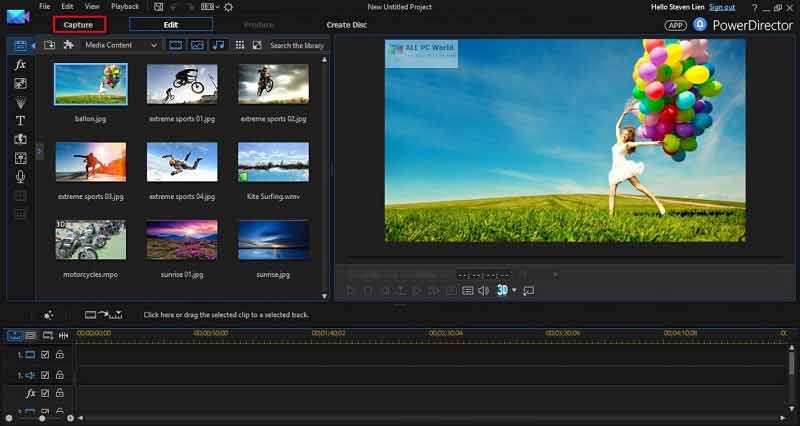 CyberLink PowerDirector 365 is another video editing application for both professionals and small businesses. Hollywood moviemakers, for example, use it to transform raw footage into amazing visual products. You can pay $44.99 per year to access the full version.
Pros :
Update features regularly.
Expandable with premium effects and plugins.
Include lots of video effects.
Support screen recording.
Cons :
Some features are not available to Mac.
The interface looks overwhelming due to too many options.
Top 4: Final Cut Pro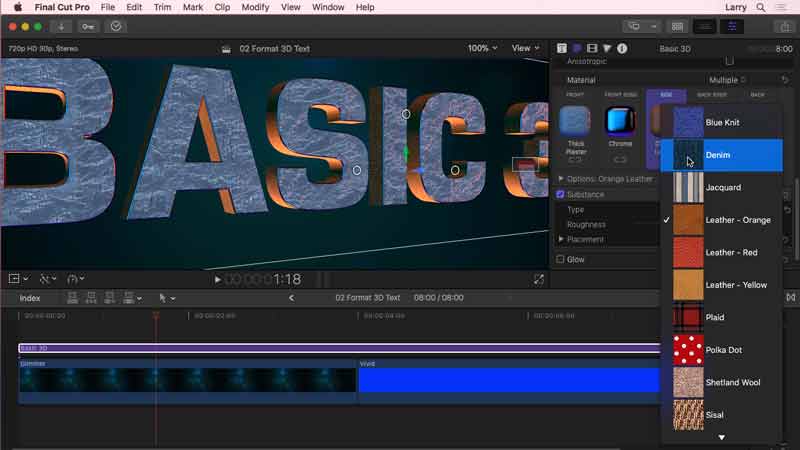 Final Cut Pro, released by Apple, has grown in popularity and mainstream adoption for both the film and television industry as more and more video editors work on Mac. It is a high-end video editing application that costs $299.
Pros :
Offer great transitions.
Support for 360-degree videos.
Capture footage from multi-cam.
Work well with other Apple apps.
Cons :
It hangs too much sometimes.
Users have to update video libraries every time the software is updated.
Top 5: Corel VideoStudio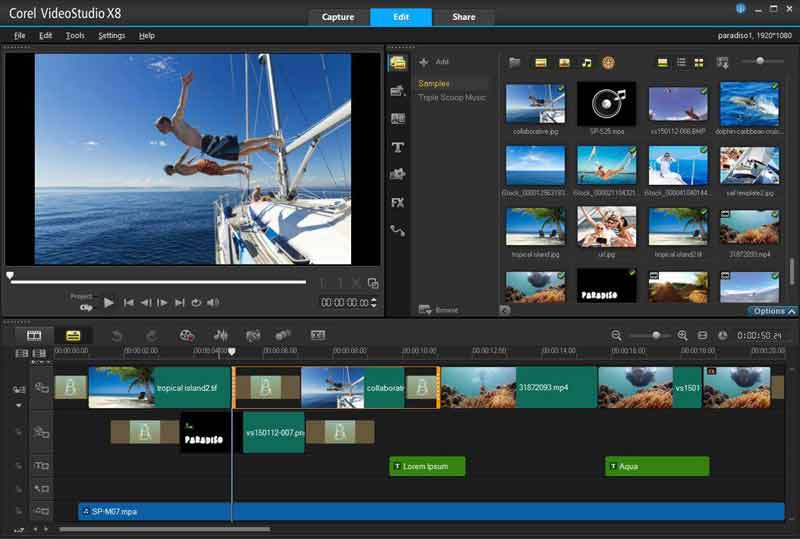 As a cloud-based video editing software, Corel VideoStudio is popular among small businesses and large companies. A team of video editors and workers can access the projects from different regions with a payment of $79.99.
Pros :
Support VR and other enhanced videos.
Offer a painting creator tool.
Come with a 30-day free trial.
Include numerous filters and effects.
Cons :
The interface is not very customizable.
It is not available to Mac machines.
Top 6: DaVinci Resolve Studio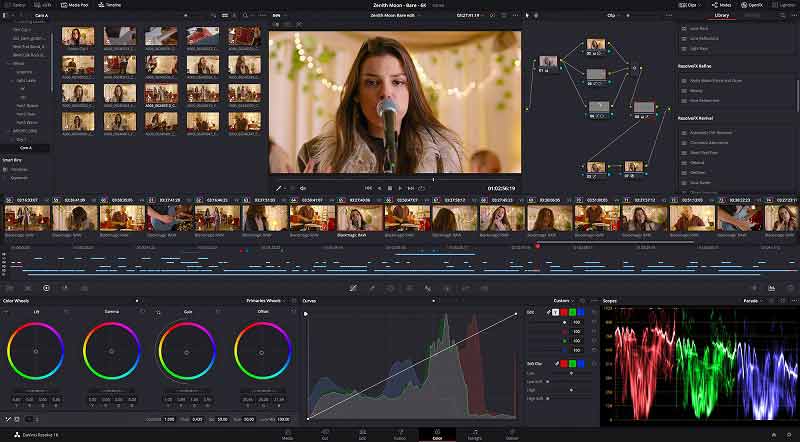 If you need a video editing application to bridge the gap between professionals and amateurs, DaVinci Resolve Studio is a great choice. It provides a capable free version and the pro version costs $295.
Pros :
Control video editing precisely.
Equip a clear interface.
Work as a plugin for Premiere.
Include a great color dashboard.
Cons :
It slows down your computer when rendering videos.
It takes considerable time to learn the software.
Part 2: 3 Best Video Editing Apps Online
Top 1: Kapwing Online Video Editor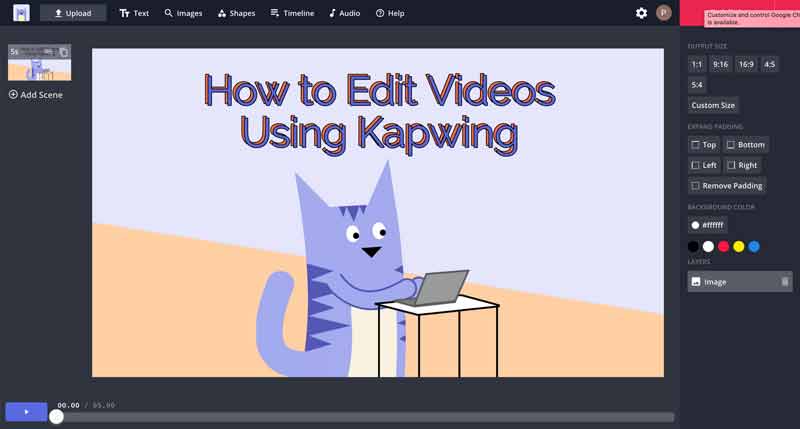 IAs its name indicated, Kapwing is an online video editor. It enables users to create a complete story with the pre-built templates and video clips. In addition to a collection of editing tools, you can use this online video editor with a watermark for free.
Pros :
Edit videos online easily.
Include AI-driven video editing features.
Integrate with cloud services, like Google Drive.
Available in multiple languages.
Cons :
It adds a watermark to your video unless you pay $20 per month.
The output quality is not as good as desktop software.
Top 2: Clipchamp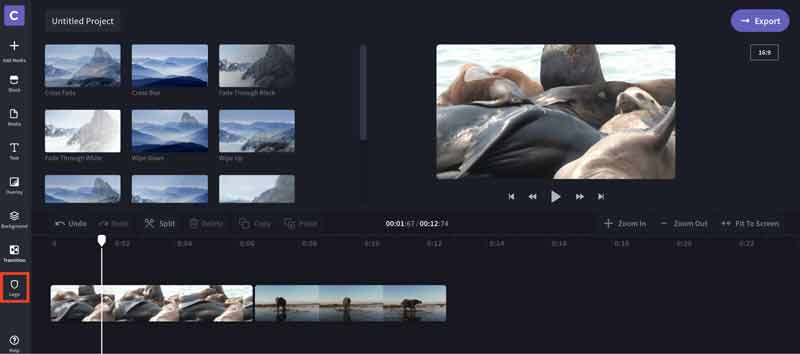 Clipchamp is another free online video editing application. In addition to standard video editing features, like trimming, cropping, and more, users can get some advanced tools, like video filters. The pro version starts from $9 per month and allows you to remove the watermark.
Pros :
Edit a video in a browser without installing anything.
Include top-notch filters and transitions.
Export videos up to 1080p.
Offer editable video templates.
Cons :
The video rendering is slow.
It requires a great internet connection.
Top 3: Adobe Express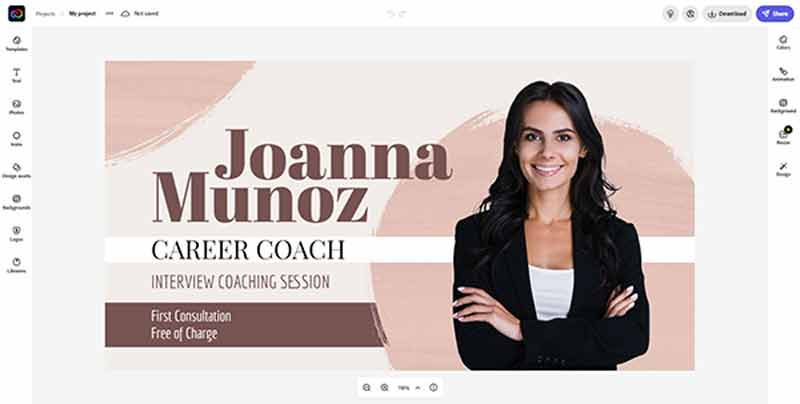 Adobe Express is an online video editor with no watermark if you are already a subscriber of Adobe Creative Cloud. It comes with a range of templates to help you make video stories in a web browser quickly. It also provides a 100GB of cloud storage to save video projects.
Pros :
Offer powerful video editing features.
Convert file formats online.
Integrate an intuitive interface.
Include the Adobe Fonts library.
Cons :
It lacks some features, like captions.
The image rendering quality is poor.
Part 3: Top 5 Video Editing Apps for iPhone/Android
Top 1: InShot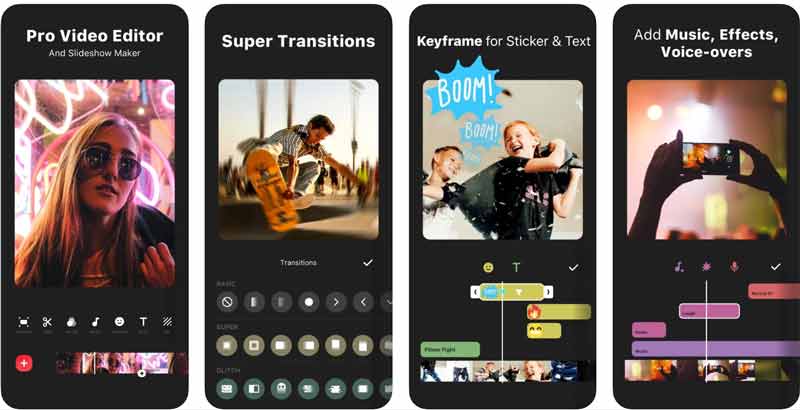 Platform: iOS 11.0 or later, Android 6.0 or up
InShot is one of the best video filter apps for both iOS and Android. With it, you can edit and adjust photos, and videos, and make collages on your mobile device. The rich features are enough to retouch your videos.
Pros :
Easy to use.
Equip a polished interface and easy to navigate.
Include numerous video filters.
Compatible with a wide range of devices.
Cons :
The free version adds a watermark to videos.
It can be a little tricky when doing audio mixing.
Top 2: Quik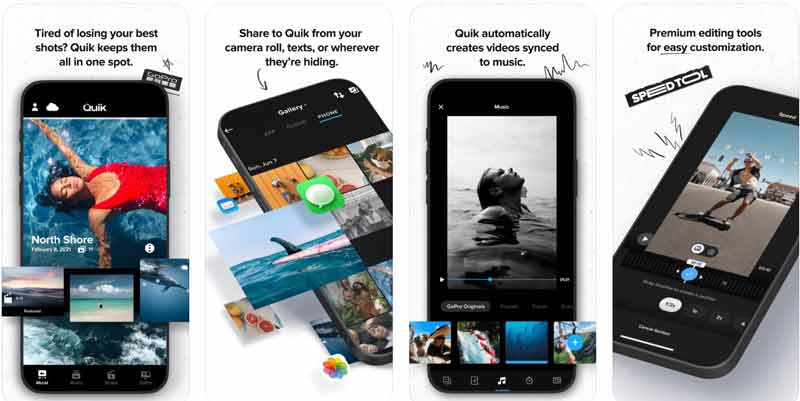 Platform: iOS 14.0 or later, Android 7.0 or above
Quik is a free video editing app for iPhone and Android developed by GoPro, but everyone can download it. This app automatically detects photos and videos on your smart device, no matter the original sources. Then you can transform the content into a whole story quickly.
Pros :
Generate high-quality videos.
Work with everything from your phone's camera.
Free to download and use.
Export videos up to 1080p.
Cons :
Some video editing features cost extra.
Cloud storage is not free.
Top 3: KineMaster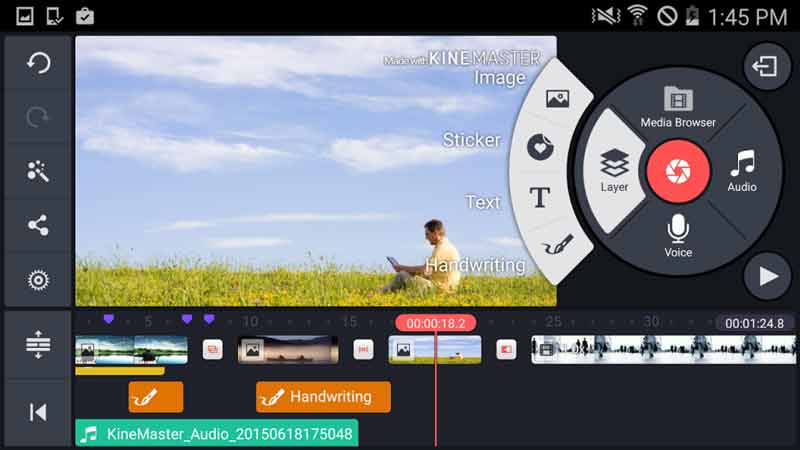 Platform: iOS 13.2 or later, Android 5.0 or up
KineMaster is a comprehensive video editing app for iPhone and Android users. It supports a variety of file formats including videos, audio, images, texts, and effects. In addition to the basic free features, you can get more elements with extra payment.
Pros :
Integrate a straightforward interface.
Control video editing precisely with fingers.
Include a lot of powerful tools.
Support popular video formats.
Cons :
This app is only available in English.
It does not offer cloud storage.
Top 4: Magisto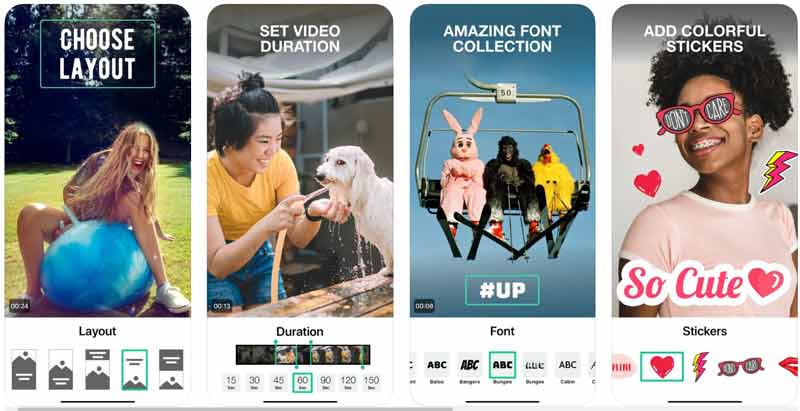 Platform: iOS 13.0 or later, Android 6.0 or up
If you need a video editing app to retouch your videos on your iPhone or Android phone for fun, Magisto can meet your demand. It comes with a range of features that make it easy to do video post-production on mobile devices without a computer.
Pros :
Edit videos using AI technology.
Include a large music library.
Come with a browser-based app too.
Support unlimited video length.
Cons :
It cannot edit images.
The video analytics are only available in the expensive plan.
Top 5: VivaVideo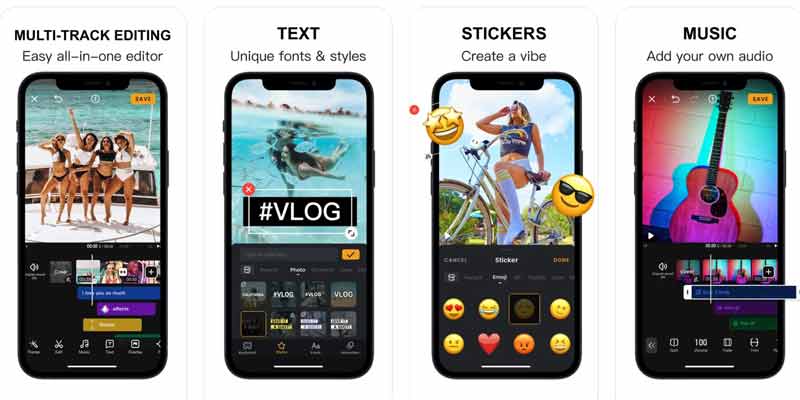 Platform: iOS 12.0 or later, Android 5.0 and above
VivaVideo is a lightweight video editing app for iOS and Android. It enables you to retouch videos on an old mobile device for free with some limitations. Although it does not integrate all advanced features, the basic functions are enough to edit videos with audio on a mobile device.
Pros :
Equip an elegant interface.
Offer almost all basic video editing tools.
Work on both iOS and Android.
Export videos at 720p, 1080p, 4K, etc.
Cons :
There are annoying ads in the free version.
The new updates may include bugs.
Part 4: FAQs about Video Editing Software
What is video editing software?
Video editing software refers to a program or an app that helps small businesses, large companies, or people to edit, adjust, generate, or modify a video or clips successfully on different devices. It enables you to retouch a single video, create a movie with videos and audio, or make video collages.
What do most TikTokers use to edit videos?
The TikTok app includes several video editing tools, but they are not enough to retouch your work sometimes. Fortunately, there are video editing apps popular among TikTok users, such as iMovie, InShot, Magisto, and more.
What is the easiest software to edit videos?
1. Apple iMovie
2. Adobe Premiere Element
3. DaVinci Resolve Studio
4. Adobe Express
5. Kapwing Online Video Editor
Conclusion
Now, you should learn the top 16 best video editing software and apps on Windows, Mac, online, iPhone, and Android. Some of them are free to use with limitations or watermarks, such as Clipchamp. Others come with a free trial and payment for full access. You can pick an appropriate tool according to your need and budget. ArkThinker Video Converter Ultimate is the most cost-effect option. More questions or suggestions? Please contact us by leaving your message below.
What do you think of this post? Click to rate this post.
Excellent
Rating: 4.9 / 5 (based on 136 votes)