Is the RMVB video cannot be opened fluently on your media player? If you are trying to learn more about this format and find a suitable solution to this problem, follow these detailed instructions. We will provide information about RMVB and several ways to play RMVB files. If you need to convert between the RMVB format and other popular formats, a step-by-step guide will be given. Moreover, we will answer some questions you might be interested in.
Part 1. What is RMVB Format?
RMVB, which is introduced by RealNetworks, is the abbreviation of RealMedia Variable Bitrate. RMVB is a variable bitrate extension for the RealMedia (RM) container format. It uses the .rmvb file extension. RMVB uses MPEG-4 Part 10, leading to the smaller size and the lower bitrate, while the quality still can be kept relatively high. RMVB is typically used for storing files and is pretty popular in Asia, especially in Chinese television episodes and movies. However, according to its poor compatibility, most mainstream media players like Windows Media Player and QuickTime do not support this file format. If you want to play RMVB files, you may need to install a specific RMVB player, or convert RMVB to other formats.
Part 2. Compare RMVB with Other File Formats
RMVB VS AVI
AVI was developed by Microsoft, and it can contain both video and audio data in a file container. Almost any mainstream media player can open AVI, while RMVB can only be played by installing specific software. AVI provides high visual quality, so the size of AVI videos is inevitably large, and the speed of its opening process is pretty low. RMVB files always have smaller and lower bitrates while preserving the video quality. If you attach more attention to the compatibility problem, choose AVI, and if you want to keep the video in a smaller size, you may prefer RMVB.
RMVB VS MOV
MOV is a multimedia format that is mainly used for saving files. It was developed by Apple and uses a compression algorithm. MOV files contain several tracks, such as video, audio, and subtitles; you can even edit files easily without having to rewrite the data. This feature makes it difficult to play. RMVB files are typically used for storing multimedia content, which is popular in Asia, especially China. Chinese applies this format to movies and television episodes.
RMVB VS MP4
MP4 is the abbreviation for MPEG-4 Part 14. It is a multimedia container that can be used on devices, platforms, mobiles, and browsers. That means you almost do not need to convert it to other formats when playing an MP4 file. RMVB is popular in file sharing and has a smaller size. Both MP4 and RMVB allow for high-quality video, but sometimes, MP4 files require you to wait a long time to buffer before viewing content, while RMVB has a compatibility problem. It always needs additional software to run smoothly. However, regarding the size problem, RMVB always has a smaller file size when the quality of MP4 and RMVB files are the same.
Part 3. How to Open and Play RMVB Videos
If you want to play RMVB files, you can install RealPlayer, which is compatible with several video formats like RMVB, MP4, 3GP, etc. RealPlayer is the official player of RMVB, and it suits RMVB well. VLC is another good choice. It is also a famous RMVB player. VLC Player is supported on Mac, Windows, and Linux. It can open most formats and codecs. Moreover, 5K Player, a modern style player, also supports RMVB formats. You can use it to download videos from many websites, for example, YouTube.
Part 4. How to Convert Video Formats
Sometimes, you may need help uploading and playing videos in some formats on mainstream platforms or mobile. You have to convert your video files to other formats at that time. We sincerely recommend ArkThinker Video Converter Ultimate to you. This multifunctional tool helps you convert your videos to other formats and edit your video. You can easily find the functions you need with a concise and elegant page. We also give you detailed guidance when you use it. Just download and experience it on your own.
Quick Steps to Convert Format
Step 1
Upload your target file
You can drag your files and drop them to the central part or click the Add Files button to add your file.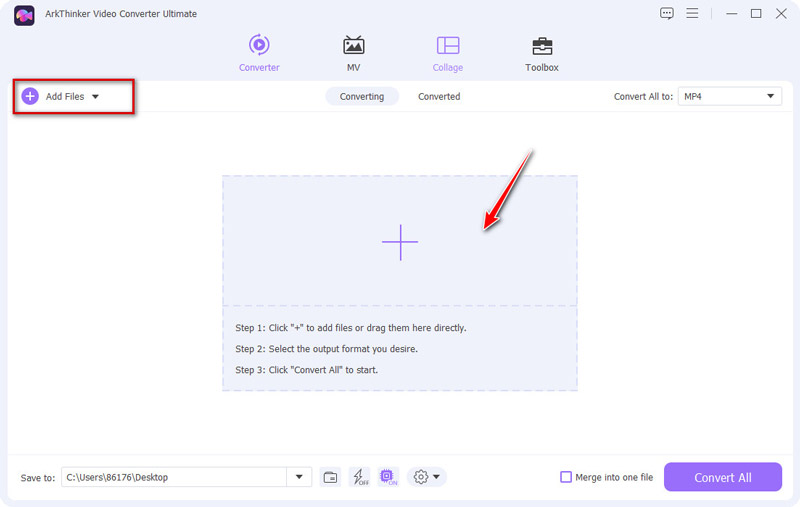 Step 2
Choose a format
Click the arrow next to the Convert All to box and go through the choice on the Video, Audio, and Device column. Pick the one you prefer.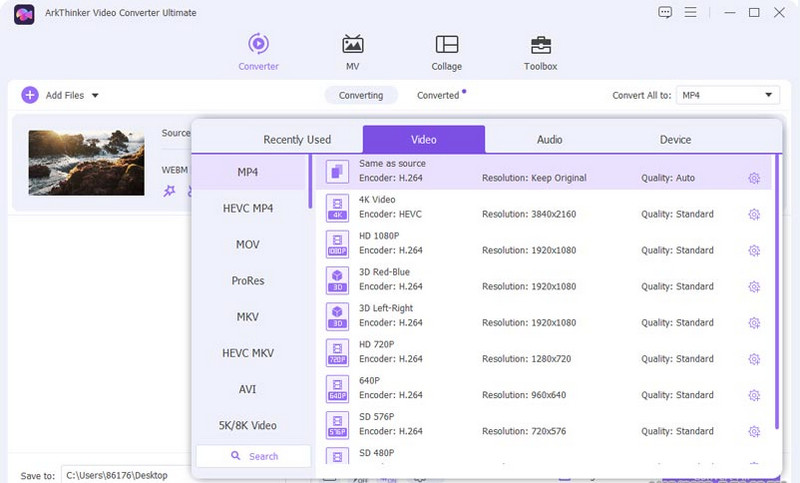 Step 3
Start converting your file
Select a folder by pressing Save to at the bottom left to save your file, and click the Convert All button to get your edited video.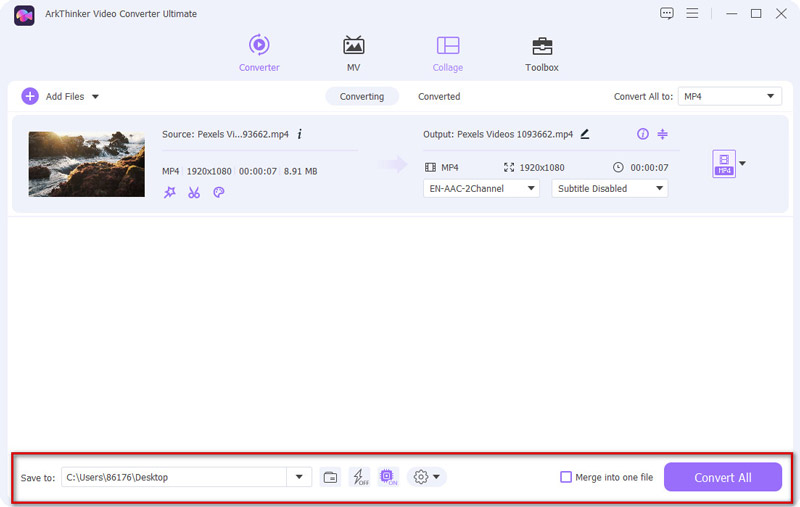 Part 5. Frequently Asked Questions about RMVB
Why can't VLC play RMVB?

The reasons are different. First, there are probably some technical problems, and the RMVB files may be damaged, or some data and information have been lost through the downloading process. Also, since various video and audio codecs are contained in RMVB format, you cannot play RMVB files smoothly if the required codec is not included on your VLC Player. At that time, you need to update your VLC Player to the latest version.

What are the disadvantages of RMVB?

Videos of RMVB formats can only be played by installing additional software that supports this format. Furthermore, RMVB files can only be viewed after downloading, while videos of mainstream formats can be viewed during downloading.

How do I convert a RMVB file?

There are several tools that can be used to convert RMVB to other formats. For example, VLC Player. After opening it, you can turn to the Media section and press Convert/Save. Then add your target file and tap the Convert/Save button. In the next window, you need to click the arrow next to the Profile and select your output format. Finally, select Browse, then choose a folder to save your file. Just press Start.
Convert File Formats Lossless
A video format is the container that stores audio, video, subtitles and any other metadata.
Convert File Now