8 Best Video Speed Controllers for Windows and Mac You Should Not Miss
"I need a video speed controller for lecture videos, any suggestions?" There are many reasons why you need a tool to control video speed. It allows you to speed up a movie or slow down important lecture videos. The good news is that part of video players online and offline have integrated the speed-changing feature. However, it is not granular enough since they only enable you to play videos at 1.5x or 2.0x. This article identifies and shares a top list of video speed controllers online or offline.

GUIDE LIST
Best Video Speed Controller Program on Windows/Mac
Although some video players can modify video speed, the change is temporary. You have to adjust it when you open the video again. ArkThinker Video Converter Ultimate, on the other hand, lets you change video speed permanently. Moreover, it is friendly to beginners and average people.
Pros :
Change video speed with one click.
Include a wide range of preset options.
Keep the original video quality while editing.
Support almost all video formats, like MP4, MOV, AVI, etc.
Cons :
As a desktop application, you have to install it on your desktop.
How to Change Video Speed on a Desktop
Step 1
Open video
Run the best video speed controller after you install it on your hard disk. It offers two versions, one for Windows 11/10/8/7 and the other for Mac OS X. Go to the Toolbox tab from the top ribbon, and choose the Video Speed Controller tool on the list. Launch a file explorer window, locate the target video, and drag and drop it onto the interface to open the video.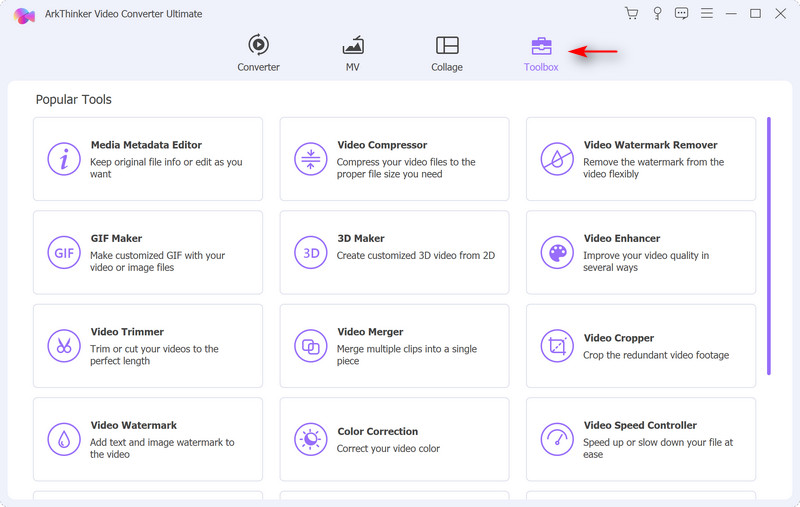 Step 2
Change video speed
Move to the preset area under the timeline, and select a proper video speed. To speed up the playback, you can select 1.25x, 1.5x, and more. If you want to slow down the video, choose 0.75x, 0.5x, etc. Then preview the result using the built-in media player.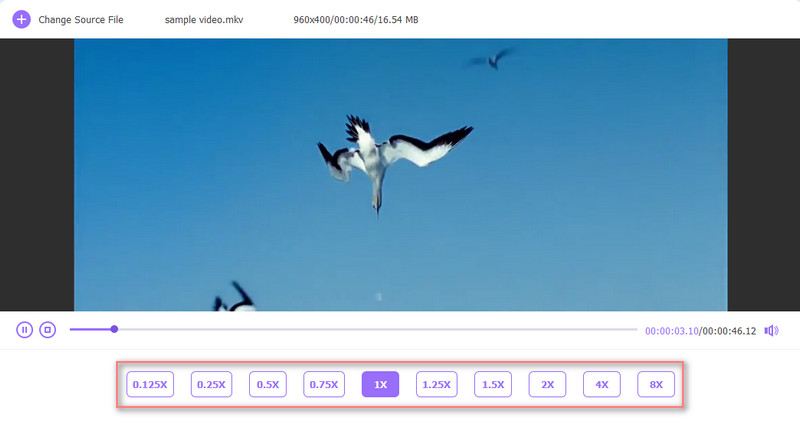 Step 3
Export result
As long as you are satisfied, go to the bottom area. Set the filename, output format, and destination folder according to your preference. Finally, click on the Export button to save the video.

Part 2. Top 5 Video Speed Controllers Online
Top 1: EZGIF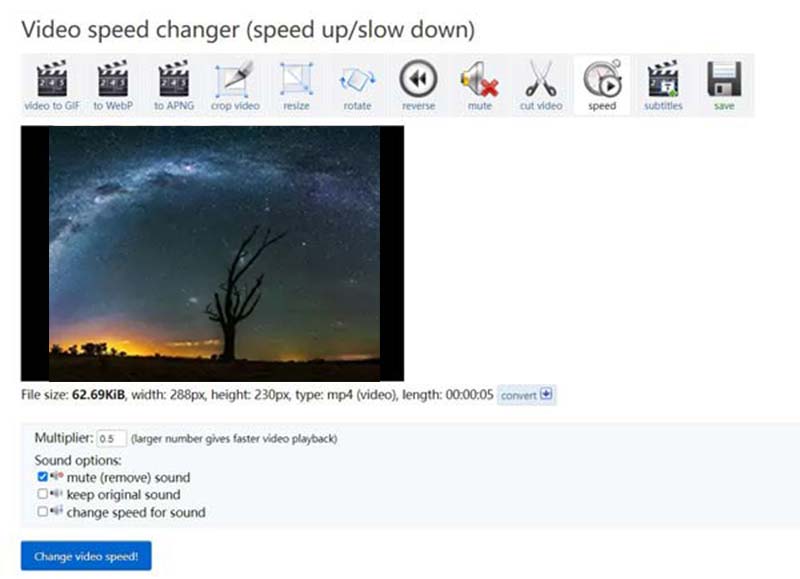 EZGIF is a free video speed controller online. When you need to use the video speed controller, connect your computer to a network and open it in a web browser. Then you can do what you want without installing anything. It is a nice choice to try the effect of video speed modification.
Pros :
Free to use.
Change video speed online.
Won't add watermarks to your video.
Compatible with all major web browsers.
Cons :
It cannot process long videos.
The video output quality is poor.
Top 2: Kapwing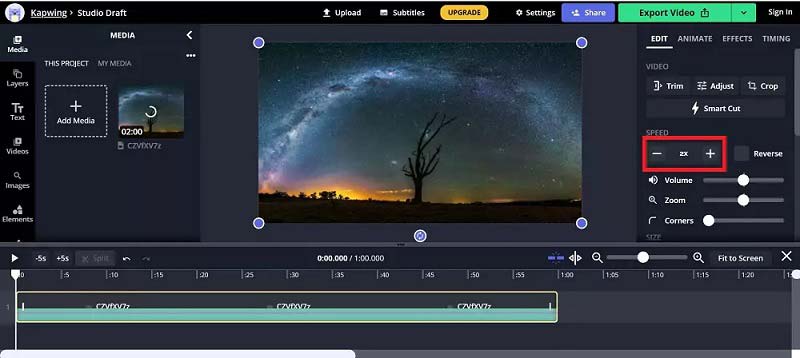 If you are seeking an online video speed controller similar to desktop software, Kapwing is a good choice. It works well on any device that maintains a strong internet connection. Moreover, it enables you to edit your video files on a timeline. Of course, this tool is not free.
Pros :
Offer lots of video editing tools.
Change video speed with presets.
Protect video quality as much as possible.
Provide online storage.
Cons :
You have to pay for the watermark removal.
It takes a while to upload your video.
Top 3: Video Speed Controller for Chrome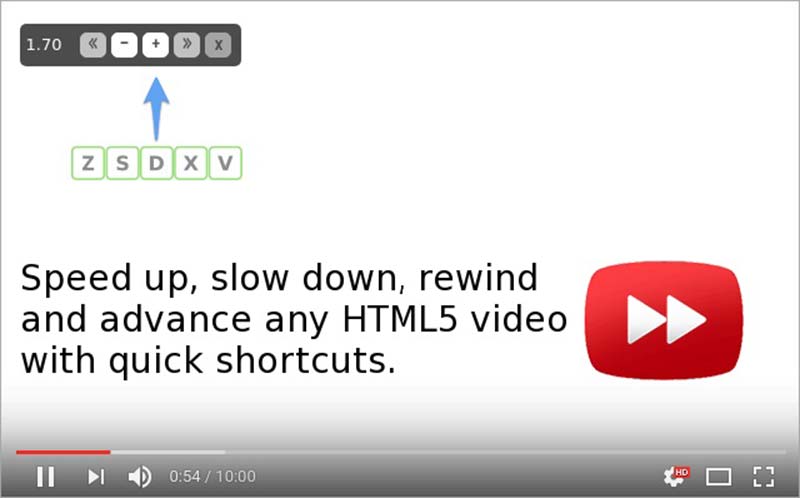 As its name indicated, Video Speed Controller is a video speed controller extension for Chrome. It allows you to speed up, slow down, or rewind HTML5 videos using buttons or shortcuts. Once you install it to your Chrome, you will get an icon at the top left side of any HTML5 online videos.
Pros :
Slow down or accelerate online videos.
Control video speed with shortcuts.
Lightweight and respond quickly.
Available to a wide array of websites.
Cons :
It is only working with Google Chrome.
Top 4: Playback Speed in Firefox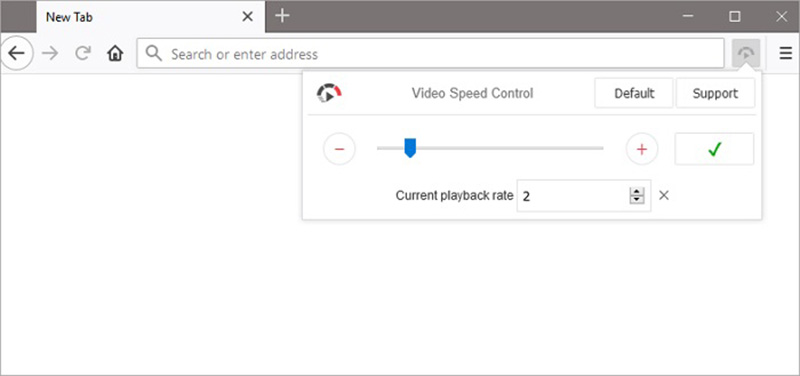 Playback Speed is a video speed controller extension for Firefox. Although it cannot alter the video speed permanently, you can adjust the playback speed for unlimited online videos on YouTube, Netflix, and more. This extension works with both third-party players and online video players.
Pros :
Change online video speed easily.
Adjust video speed manually.
Include a customizable menu bar.
Convenient to use.
Cons :
It is not available to other browsers until now.
It cannot change some encrypted videos.
Top 5: Accelerate for Safari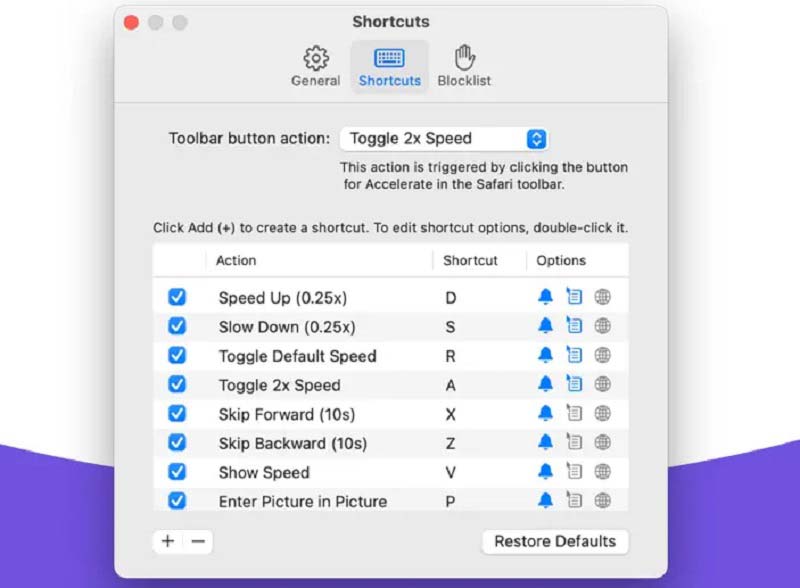 As a video speed controller for Mac, Accelerate allows you to control video playback and speed if you play movies in Safari. It is working for most HTML5 videos. Moreover, it lets you set personalized keyboard shortcuts based on your preference.
Pros :
Work with YouTube, Hulu, Twitch, etc.
Support Picture-in-picture and AirPlay.
Control video speed with shortcuts.
Available to more playback actions.
Cons :
It requires macOS 10.13 and later.
It is only available in English.
Part 3. 2 Best Video Speed Controller Apps
Top 1: Quik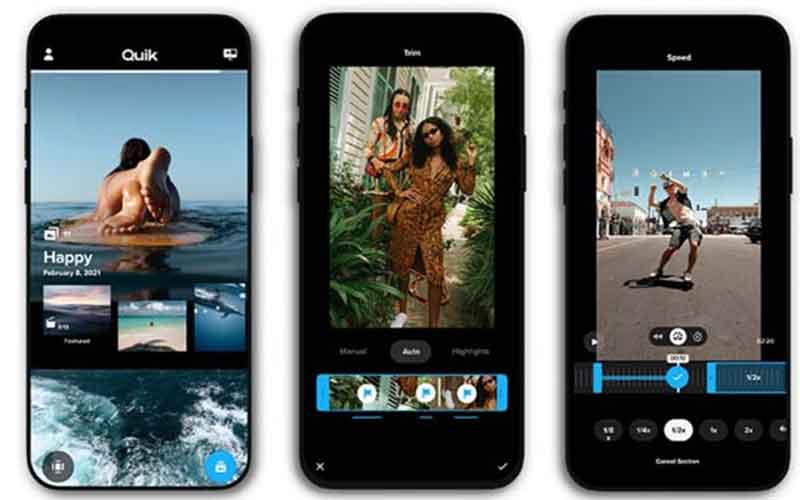 Quik is a video speed controller app for both iPhones and Android devices. Though it was developed and released by GoPro, anyone can install the app on their mobile device and edit videos for free including changing the video speed.
Pros :
Free of charge.
Adjust video speed quickly.
Support popular video formats.
Compatible with a wide variety of devices.
Cons :
The video editing features are limited.
Top 2: Videoshop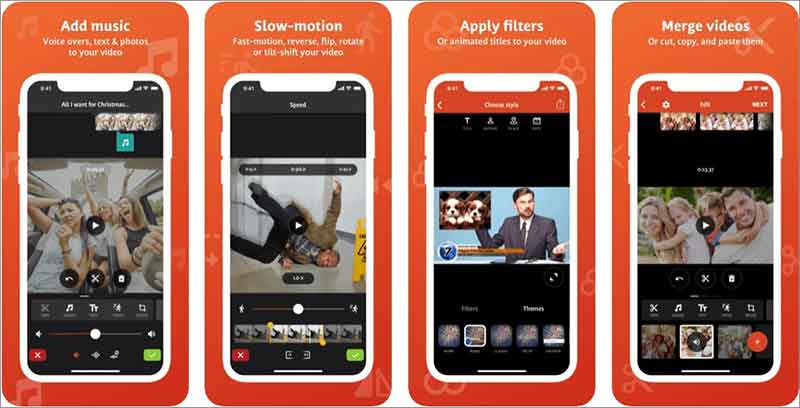 Videoshop is an all-in-one speed up video app for iPhones and Android phones. In addition to video speed, it allows you to retouch your videos without a computer, such as trimming unwanted frames, cropping the excess areas, etc.
Pros :
Offer lots of video editing tools.
Modify video speed on mobile devices.
Available in multiple languages.
Exchange free features with ads.
Cons :
Advanced features require a subscription.
Part 4. FAQ about Video Speed Controller
Which video players can control speed?
There are a lot of media players that allow you to change video speed. According to our research, the best options include: VLC Media Player, PotPlayer, BS Player, SMPlayer, Sigma Media Player, etc.
Does iPhone include a video speed controller?
Apple did not add a video speed controller on iPhones. Alternatively, you can slow down/speed up video on iPhone using iMovie. Moreover, if you intend to adjust the speed of a slow-motion video, you can do it in the Photos app on your iPhone directly.
Why do we need a faster video controller?
A video speed controller enables you to speed up or slow down the playback easily. It is a good way to watch a movie or show more content in less time.
Conclusion
Now, you should learn at least the top 8 best video speed controllers online and offline. Some of them are completely free to use. Others require some kind of payment. You can pick an appropriate tool based on your situation. ArkThinker Video Converter Ultimate is the best option for beginners to control video speed with a computer. If you have better recommendations or other questions, please feel free to write them down below.
What do you think of this post? Click to rate this post.
Excellent
Rating: 4.9 / 5 (based on 262 votes)