5 Best Slow Motion Video Makers for Both Mobiles and PC
How can you make a super slow-motion video easily? The answer is to try some best slow-motion video makers for help. Applying a slow-motion feature to your video can help your audience focus on certain moments of that video or just simply achieve some funny effects. This post will walk you through the 5 best software to make slow-motion videos on Windows, Mac, Android, and iOS. Whatever devices you are using, you will find a suitable maker for yourself at last after reading their features, pros, and cons.

GUIDE LIST
Part 1: Best Slow Motion Video Maker for Windows/Mac
ArkThinker Video Converter Ultimate is the best slow-motion video maker you can find for both Windows and Mac. You can slow down or even speed up any video you want in this slow-motion video maker. Besides, if you happen to slow down your video in other apps but find the audio is out of sync and sounds weird in the output video, this program can help you handle this and sync the strange audio with the pictures for your video.
ArkThinker Video Converter Ultimate
Support almost all common video formats.
Apply multiple slow-motion effects for the video.
Split your video into clips for separate slow motion.
Enhance your video quality after slowing it down.
How to Use the Best Slow-Motion Video Editor
Step 1
After downloading this program on the computer, install and launch it. On the main interface, click the Toolbox button and then the Video Speed Controller button. A small window will pop up for you to upload files.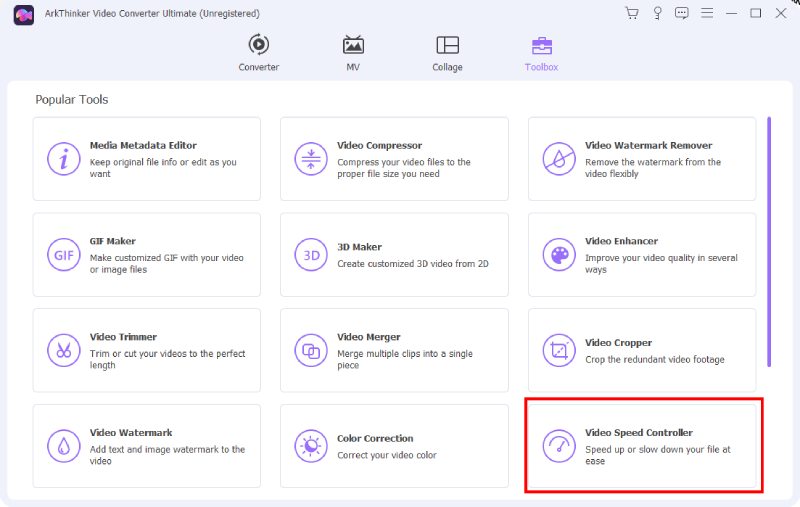 Step 2
Click the Plus icon or drag a video to the window to import. Then a preview window shows up, choose a desired slow-motion speed from many choices listed under the video. Then click the Save To dropdown button to select a save path for your video.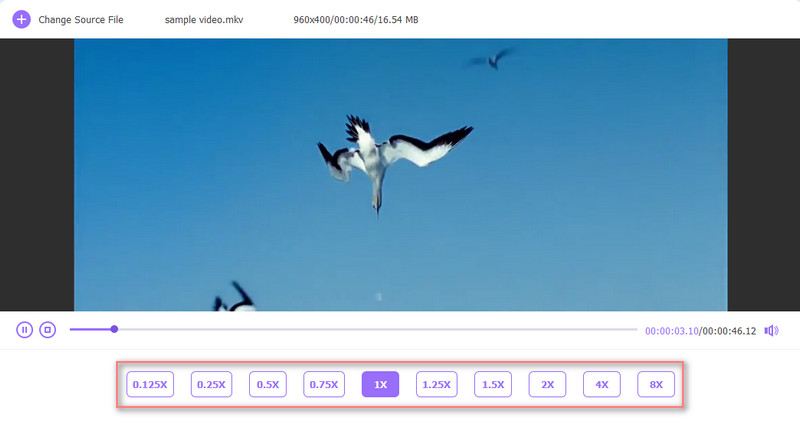 Step 3
Finally, you are about to finish. Just click the Export button on the right corner of the window and export your video. Once it is done, the file folder that stores your video will pop up.

Part 2: Top 4 Slow Motion Video Editor iOS/Android
Install the best slow-motion video editor on your phone and create a video with slow-motion anytime you want. When you capture a great moment with your phone camera, you need an excellent editing tool to help you express your idea and freeze that moment in a video clip. The following 4 best slow-motion video apps can not only increase the video speed but also have more features like adding music to the video, slowing down video, etc. Go on and see more.
Top 1: Slow Motion Video FX (Android)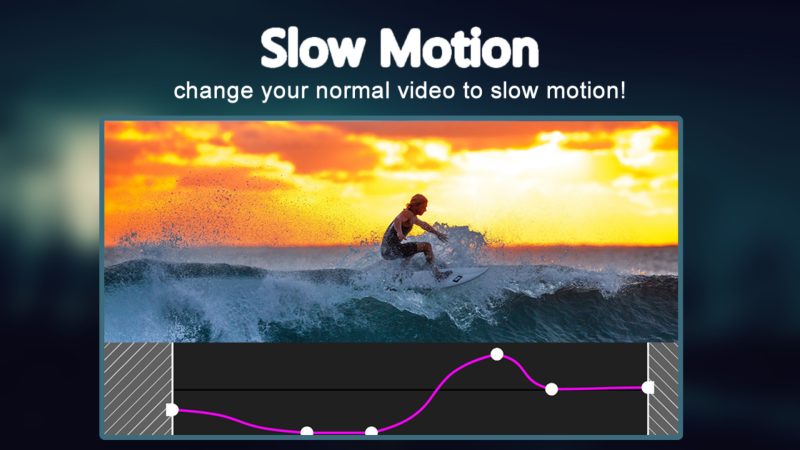 Slow Motion Video FX is a free slow-motion video app on Android. With only two buttons on the main interface, you can easily learn how to use this application and create your slow-motion videos. Besides, you can also use the camera in this video editing software to record a video in slow-motion.
Pros :
Many video filters for you to choose
Simple video trimming feature.
Play your video with the built-in player.
Cons :
Slow-motion effects for the whole video.
Limited features for video editing.
Top 2: Slow Motion Video Maker (Android)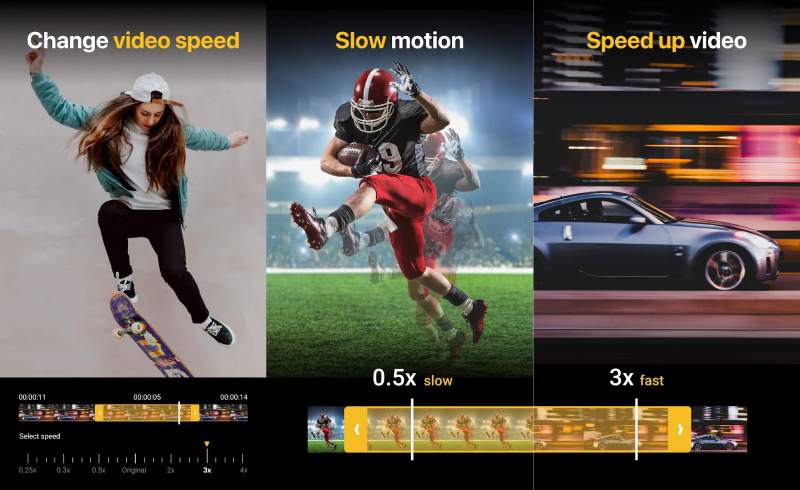 Slow Motion Video Maker is another free application on Android that enables you to apply slow-motion effects to your videos. After installing this app, you can then make slow music videos and motion portraits at ease. Most importantly, you can use this free of charge.
Pros :
You can share the final videos on social media quickly.
Simple trimming editing or effects are feasible.
The app performance has been updated recently.
Cons :
The slowest speed you can get is only 0.25X.
No precise control of the video.
Top 3: iMovie (iOS)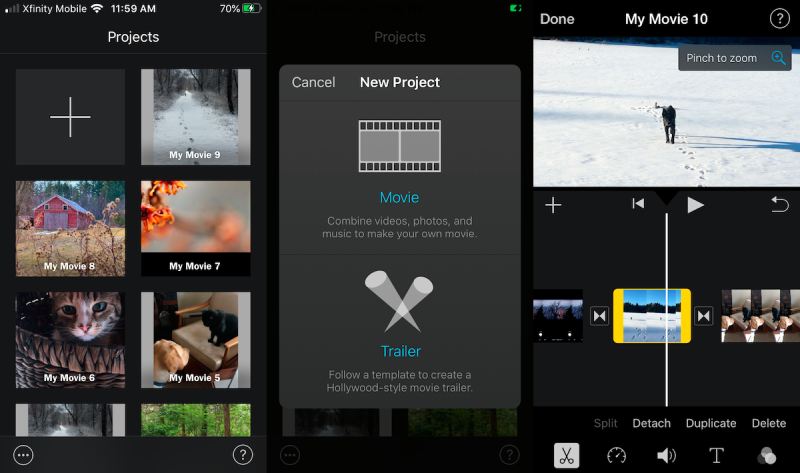 iMovie is a well-known video editor for iOS and can also be used as a slow-motion video app on your iPhone. Except for slowing down videos, iMovie also enables you to do more editing like changing the audio of a video, merging video clips, etc.
Pros :
Many advanced editing features are available.
Simple user interfaces with a few windows.
Lots of pre-installed effects for audio and video.
Cons :
Too complex for beginners.
Top 4: Videoshop – Video Editor (iOS)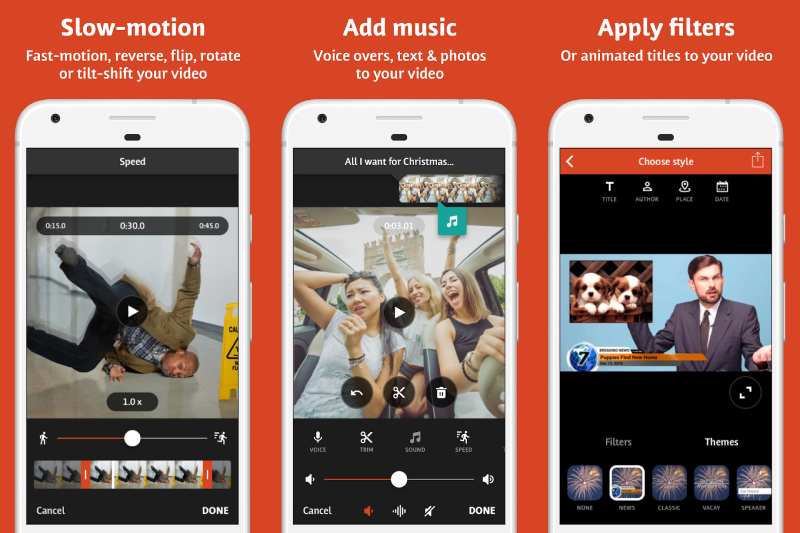 Videoshop – Video Editor is another slow-motion video app for iOS users. You can freely edit your videos, slow down, or speed up as you wish. This application is also equipped with simple editing features like merging your video clips, adjusting video brightness, and so on.
Pros :
Cut out unwanted parts of your video.
The stock library offers music for editing.
Tweak video settings like contrast, saturation, etc.
Cons :
The output slow-motion video is not of good quality.
You can only do the minimum basic things.
Part 3: FAQs about Best Slow Motion Video Maker
Can VLC play slow-motion video?
VLC may not be the best slow-motion video maker, but it is the best media player for all systems. So, yes it can play slow-motion videos on your computer and mobile phones. Meanwhile, you can also play a normal video with slow-motion effects. Through the Playback button, you can then control the speed while playing.
What FPS is best for slow motion?
60 FPS to 90 FPS is a highly recommends range on the Internet. If you are using a normal slow-motion video editor instead of the pro one, you can slow down your video to 0.5X to 0.25X for desirable FPS
Is there any online slow-motion video maker?
Yes, there is. If you want a professional maker to handle your videos online, you can turn to Adobe Express for help. It is free and no credit card is required. Other workable online video makers for slow-motion effects like Clideo and VEED are also feasible.
Conclusion:
After reading this post, you should now have a thorough understanding of the 5 best slow-motion video makers on the market. Now, you can take a careful look at their features again and pick up the most suitable one for yourself.
What do you think of this post? Click to rate this post.
Excellent
Rating: 4.6 / 5 (based on 162 votes)