How to Speed Up Video and Make Video 2X Faster [PC/Mobile/Online]
Making a video 2X faster helps you adjust the duration of the video and quicken the talking part in a tutorial video to make it less boring. Whether you are an amateur or a pro, learning how to make a video 2X speed is the simplest step on the road of video editing. Furthermore, a handy editing tool can make the half work done. Therefore, the following content brings you the 4 workable video editors that enable you to make a 2X video effortlessly.

GUIDE LIST
Part 1: How to Make Video 2X Faster on Windows/Mac
ArkThinker Video Converter Ultimate is the best method you can find to make a video 2X faster on Windows and Mac. This program helps you take care of the details when editing videos with advanced tools in it. You can not only just increase video speed to 2X, but also split your video into segments and speed up part of the video. With such precise control, you can speed up any part of your video to 2X speed with ease.
Step 1
Get a free download and install the converter on your device. Next, launch it and click the Toolbox button on the main interface to access more video-editing tools. Click the Video Speed Controller button.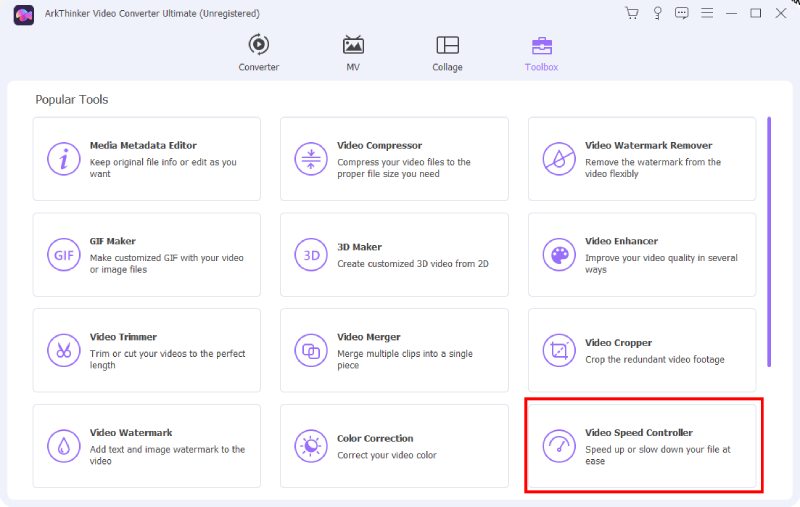 Step 2
A small window pops up and you need to click that Plus icon to import a video from your computer. Your video will then start to play automatically and under the video, there are many speed options. Then, click the 2X button and make your video 2X faster.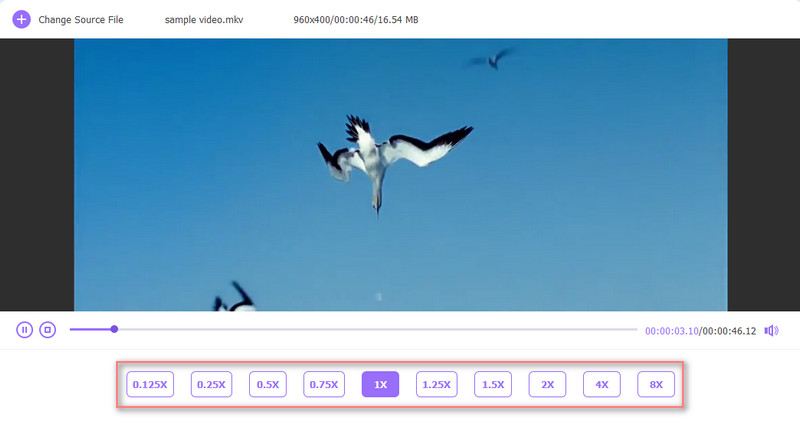 Step 3
Now your video is all set. Simply click the Save To dropdown button below on the left side and choose a destination folder for your 2X video. Finally, click the Export button on the right corner to finish.

Part 2: How to Make a Video 2X Speed Online
There are many online editors on the market, which make you confused about which is the best online editor that can make your video 2X faster and smoothly. This post has picked one for you - Clideo offers the easiest speed-changing service for your video. On Clideo's official website, you can upload videos from your device, Google Drive, and even Dropbox. Besides, except for making your video 2X faster, the maximum speed you can set for video is 4X, which is relatively faster than other online tools. You can also change the output video format after speeding up.
How to Make a Video 2X Speed on Clideo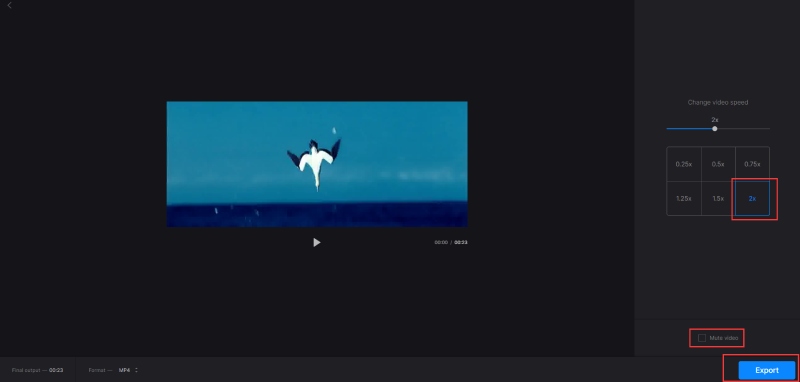 Step 1
Go to the official website of Clideo. Click the Tools button and the All Tools button.
Step 2
Find the Speed Video tool and click on it. Upload your video by clicking the Choose File button.
Step 3
Once upload your video successfully, speed options will show up on the right side. Click the 2X button. You can click the checkbox before Mute Video to disable mute.
Step 4
Finally, click the Export button to save the 2X video to your device.
Part 3: How to Make 2X Video on iOS/Android
If you are a fan of capturing or recording things with your mobile phone's camera, then you definitely need a convenient video editing software that enables you to make a video 2X faster and decrease the time duration without cutting anything off. iMovie and InShot are two great choices for iOS and Android users respectively. Read the detailed steps below to learn how to make a video 2X speed on iOS/Android.
1. How to Make a Video 2X Speed with iMovie
Without any question, the iMovie is the best free editor for iOS users that allow you to make a 2X video without hassle. Meanwhile, if you have iCloud synchronization, you can open the iMovie app on Mac and keep editing from where you left behind on your iPhone. Other simple editing functionalities like flipping videos, trimming, and adding background music are also available.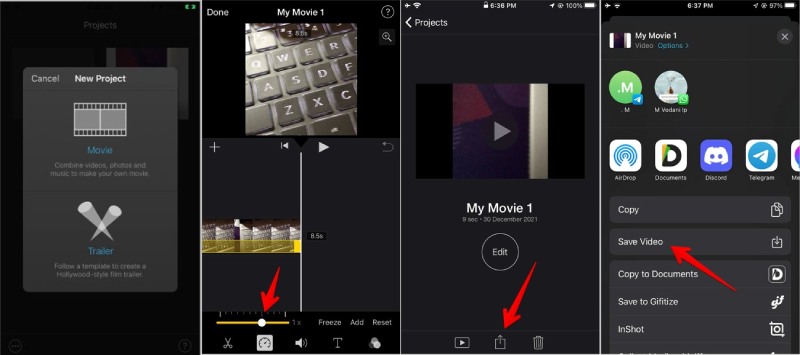 Step 1
Open iMovie on your iPhone and tap the Create Project button. Then choose Movie.
Step 2
Select a video from Moments and tap the Create Movie button to confirm.
Step 3
On the editing screen, tap on the video's frames to activate editing tools.
Step 4
Tap the Speed button below and a slider bar appears. Drag the slider to the very right to 2X speed.
Step 5
Tap the Done button and Share button to finish and save the video to your iPhone.
2. How to Make a Video 2X Speed on InShot
InShot is a professional video editor on Android. Making a 2X video would be a piece of cake for you with InShot installed on your phone. Other advanced features, fancy filters, and amazing after-effects can also boost your creativity than just merely speed up videos.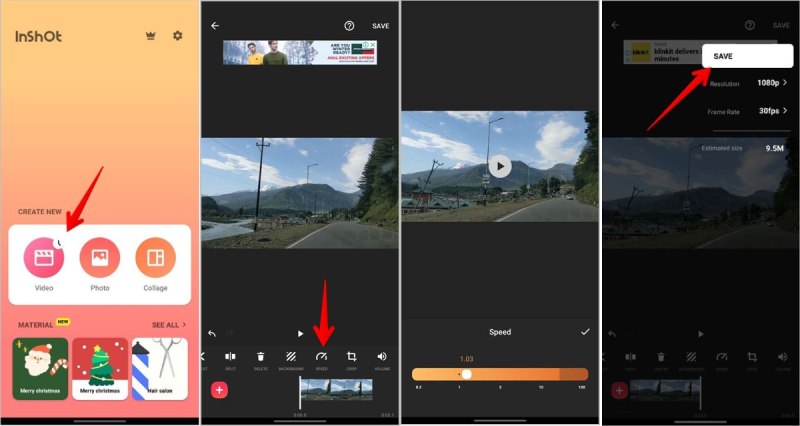 Step 1
After installation, open InShot on your phone and tap the Video button on the main screen,
Step 2
Next, tap the NEW button to create a new project and import a video.
Step 3
Tap the Speed button at the bottom of your screen after loading. Drag the slider bar to choose 2X speed.
Step 4
Then, you need to tap the tick icon to confirm the speed. Afterward, tap the SAVE button above and choose a resolution to finish.
Part 4: FAQs about Make Video 2X Faster
How can I make a video 2X faster on Android without extra apps?
Some Android phones have built-in editing features that also allow users to speed up the videos in Galley to 2X speed. For example, if you are using a Saung phone, you can go to Gallery and open a random video, and the Edit button with a pencil icon. On the editing screen, tap the Speed button and choose 2X speed to make your video 2X faster.
Is there any free online tool that can make a video 2X faster without watermark?
Sure, there is. Although the Clideo mentioned above requires you to buy a Pro plan to save your work without watermark, there are many other free online editors like Adobe Express and 123APPS. These two can both export your work with no watermark at a fast-processing speed.
How to make video 2X faster with only part of it speeded?
The above-mentioned editors can all fulfill your requirements since they all have a video trimmer/cutter on the website or in the program. For example, on iMovie, you can first cut the specific out from a video and speed up only that part. After speeding up, you can then merge it with the rest of the parts and combine them into a video.
Conclusion:
Hope you can successfully learn how to make a video 2X speed after reading this post. If you have several different devices, then these methods mentioned above should be all workable for you. At least try one of them and launch your device to start up now.
What do you think of this post? Click to rate this post.
Excellent
Rating: 4.9 / 5 (based on 158 votes)