Three Easy-to-learn Ways to Speed Up a Video on Your iPhone
After capturing a video on your iPhone, besides some basic edits, you may also want to change its playback speed. There will be three methods about how to speed up a video on an iPhone step by step in this post.

GUIDE LIST
Part 1. Easy Solution to Speed Up a Video on Your iPhone Using iMovie
iOS comes with some commonly-used video editing features in the Photos app for you to easily edit your video and customize its effects on an iPhone or iPad. However, that does not include a video speed-changing function. So when you need to speed up a video, you have to rely on some video editor apps. iMovie is the official and default video editing app for Apple devices. It can help you increase the playing speed of a video on your iPhone. Now you can follow the steps below to make your iPhone video play in slow motion using iMovie.
Step 1
If you don't get the iMovie app installed on your iPhone, you should open App Store, search for iMovie, and then free install it first. There are three options in iMovie you can select to create a new project, Magic Movie, Storyboard, and Movie. Here you can choose Movie to move on.
Step 2
In a Moments interface, you can scroll down to find the video you like to edit, choose it, and then tap on Create Movie to confirm that. By doing so, this video clip will be loaded into the iMovie app.
Step 3
Tap your video clip on the timeline to highlight it. This operation will also arise more editing options on the bottom screen. Locate the Speed icon and tap on it. You can drag the speed bar to the rabbit to increase the video speed. iMovie allows you to increase the speed of a video to 2X.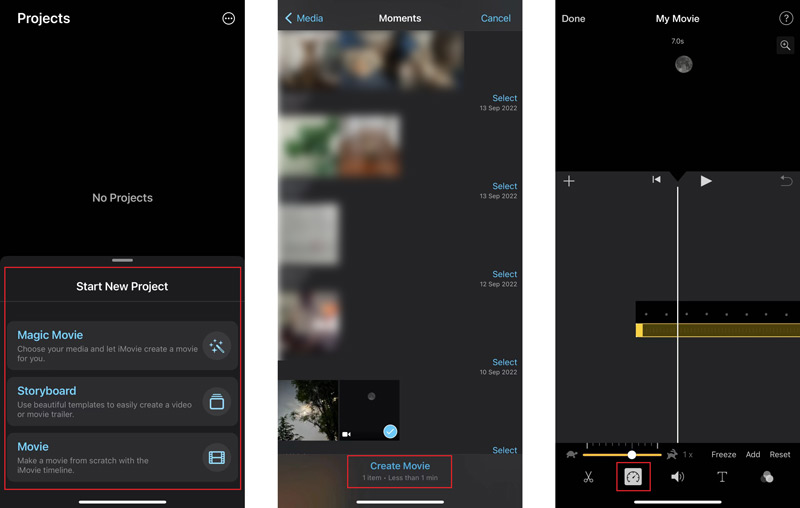 Step 4
You can view this changed playback speed by tapping Play. Then tap Done in the upper-left corner to save your changes. Now you will be taken to the Projects interface. Here you can tap on the Share button and select your preferred way to share or save this video.
Part 2. Default Solution to Speed Up a Slow-Motion Video on Your iPhone
You can use your iPhone to capture slow-motion videos. For these recorded videos, you can directly edit them and increase the video speed in the Photos app.
Step 1
Run the Photos app, tap on Albums on the bottom screen, and then scroll down to choose Slo-mo on your iPhone.
Step 2
Tap the specific slow-motion video you want to edit, and then tap the Edit button in the top-right corner.
Step 3
Under the video timeline, you can see a white hatched line. You can drag the two taller white vertical bars together to get rid of the Slo-Mo effect and speed up your video. Tap on the Play button to view the video speed. Tap Done in the bottom-right corner if you are satisfied with the result.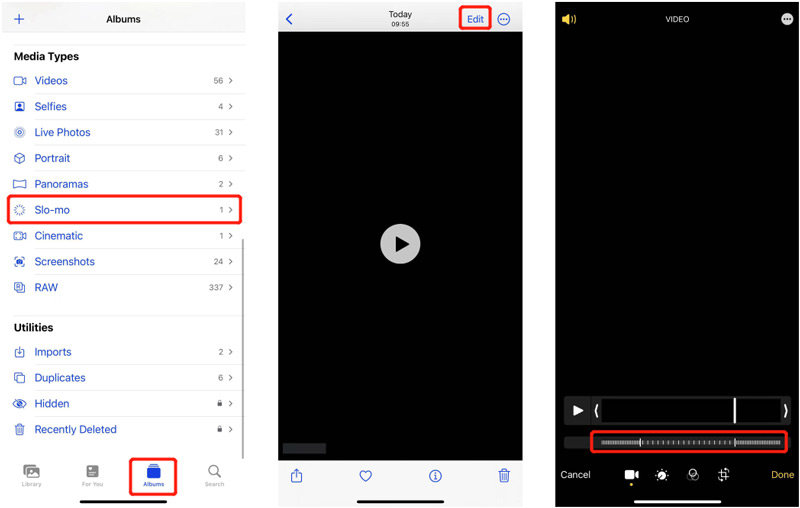 Part 3. How to Speed Up a Recorded iPhone Video on Your Computer
If you want to quickly speed up a captured iPhone video, you can rely on the all-featured Video Converter Ultimate. There are many practical editing features for you to edit your video and customize its effects. For instance, you can use it to cut a video, rotate it, merge several clips, adjust the image and sound effects, and enhance video quality. It offers a Video Speed Controller for you to easily make your iPhone video play faster.
Step 1
Free download and open this Video Converter Ultimate. Click the Toolbox tab to show more useful tools. Here you can find the Video Speed Controller tool and open it.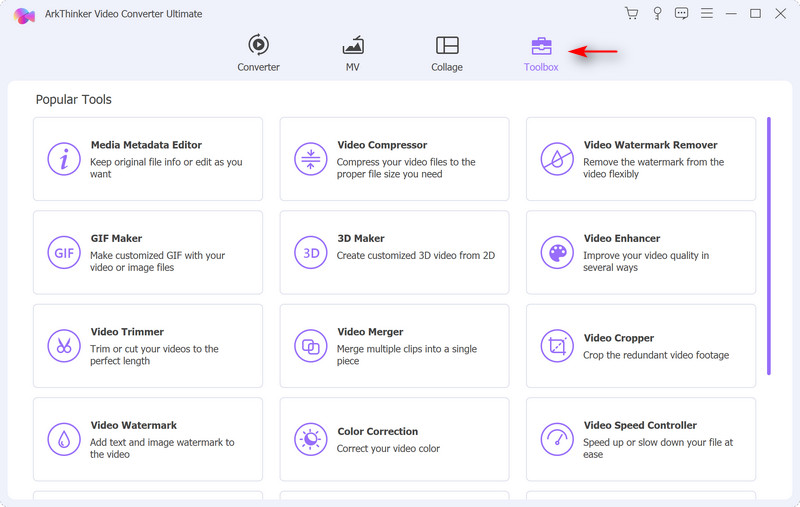 Step 2
Click the big + icon to select and add your iPhone video. This video speed changer highly supports 8K/5K/4K, 1080p/720p HD, and SD videos in all frequently-used video formats.
Step 3
It gives you ten speed options to slow down or speed up a video. You can choose 1.25X, 1.5X, 2X, 4X, or 8X as you like to increase the speed of your iPhone. You can directly view the speed changes with the built-in player.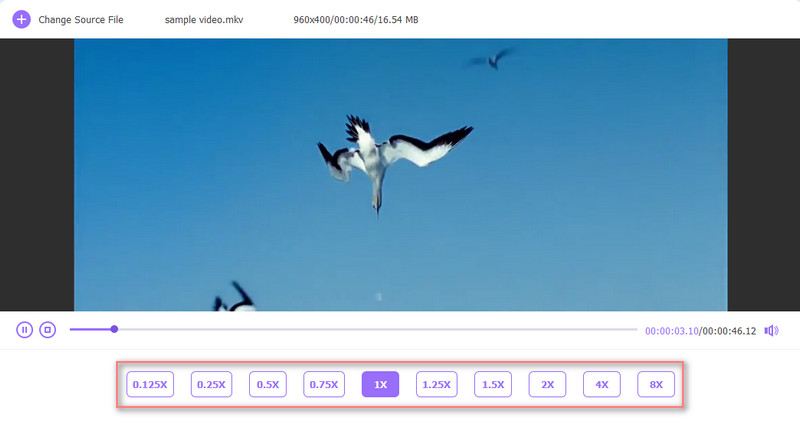 Step 4
After you speed up the iPhone video, you can set various output settings. You are allowed to rename your video, choose a suitable destination folder, and customize more video and audio settings based on your need. Next, click the Export button to output this edited video on your computer.

Part 4. FAQs of Speeding Up a Video on iPhone
Is there any free online app to speed up a video on iPhone?
There are many online video speed changers apps that can help you speed up a video on iPhones, iPad, Android phones, and computers. You can try using some popular ones like Adobe Express, Clideo, Ezgif, or Fastreel to easily speed up a video on your iPhone online.
How to speed up a video on iPhone more than 2X?
The iMovie app only allows you to speed up a video to 2X on an iPhone. So when you want to increase the video playing speed to more than 2X, you need to speed up your video twice. You can speed up the video to 2X in iMovie and save it, and then speed up this edited video. You can also find some third-party apps in App Store to help you directly change your video to the right speed.
Is there any speed-up video app for Android users?
You can go to Google Play Store and search for a speed-up video app to quickly locate many associated apps. To make a video play faster on an Android phone, you can try using Adobe Premiere Rush, VivaVideo, Quik, KineMaster, or Magisto.
Conclusion
This post has mainly talked about how to speed up a video on iPhone. You can follow the detailed guide to increasing the playing speed of your video with ease. For more questions about how to adjust video speed, you can leave us a message.
What do you think of this post? Click to rate this post.
Excellent
Rating: 4.9 / 5 (based on 197 votes)