3 Best Video Speed Changer Apps to Speed Up Videos
There are many video editor and speed changer apps offered on the internet that can help you easily speed up a video. This post will share the three best apps to speed up videos on different devices.

GUIDE LIST
Part 1. Best App to Speed Up Videos on Windows 11/10/8/7 PC and Mac
While editing a video, you often need to change its playing speed. For instance, you want to increase the speed of a video to add an extra professional touch to it or just condense it and make it fit within the time constraints. Here we recommend the powerful Video Converter Ultimate for you to easily slow down or speed up videos. It has a specific Video Speed Controller tool to adjust video playing speed. You can free download this app on your computer and follow the steps below to make a video play faster.
Step 1
When you enter this Video Converter Ultimate, you can click the Toolbox tab to show more tools. Find the Video Speed Controller and click to open it.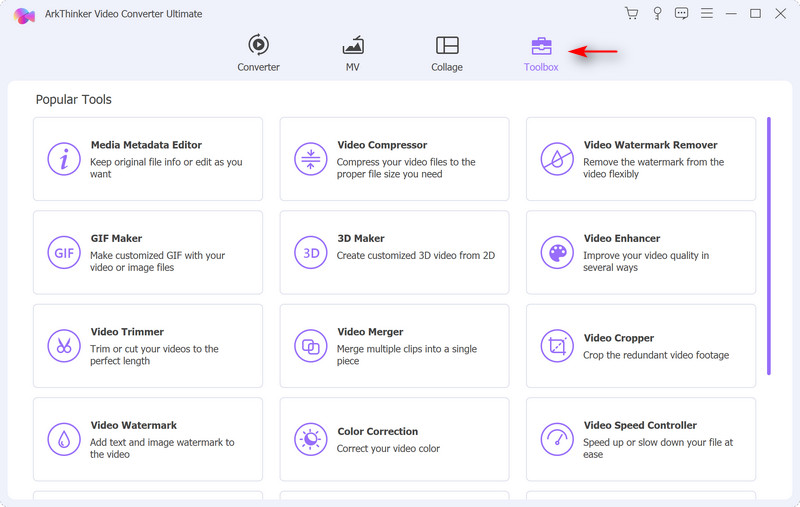 Step 2
In the Video Speed Controller popup, click the big + icon in the central part to import your video. This video speed changer app highly supports 8K/5K/4K, 1080p/720p HD, and SD videos in almost all video formats, including MP4, AVI, FLV, MKV, WMV, MOV, and M4V.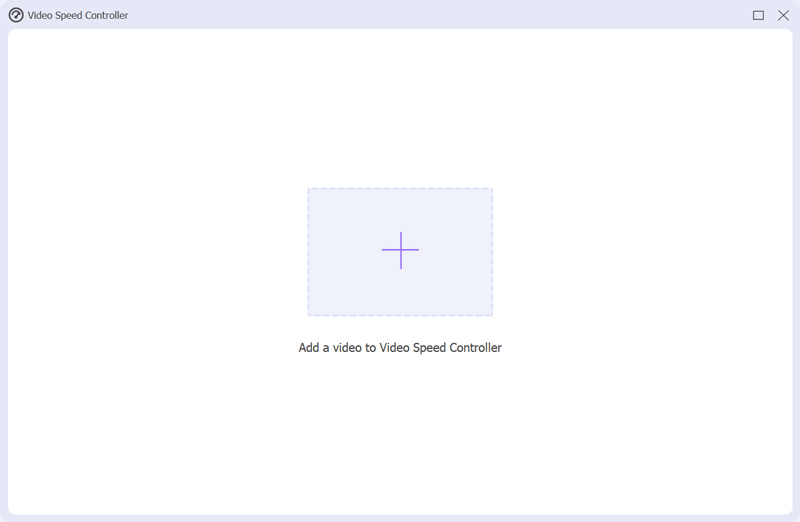 Step 3
Its built-in media player will automatically play your added video. You can access 10 video playback speed options under the playing window. To increase the playing speed of a video, you can choose 1.25X, 1.5X, 2X, 4X, or 8X, according to your need. You are allowed to directly view the speed change through its player.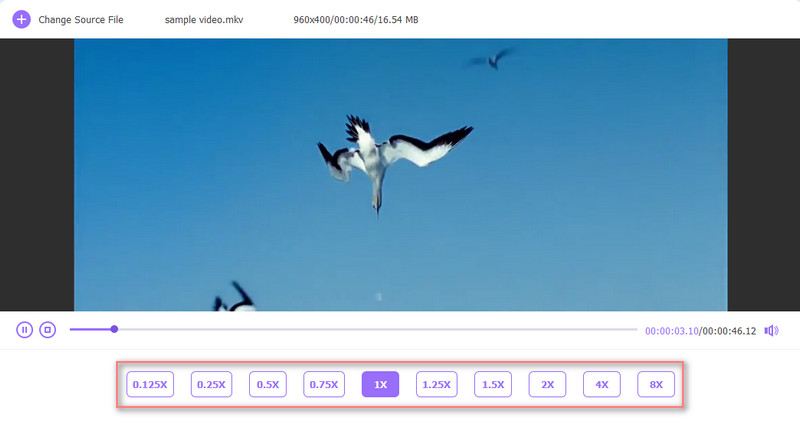 Step 4
When you get a suitable video playback speed, you can customize more output settings. You can rename the video, select a destination folder to save it, and adjust various video and audio settings. After that, you can simply click on the Export button to store it on your computer.

Part 2. How to Speed Up a Video in iMovie App
When you look for an app to speed up your video on an Apple device like Mac, iPhone, or iPad, you can turn to its official video editor, iMovie. The iMovie app has a Speed feature for you to easily speed up or slow down a video. You can take the following guide to speed up a video using iMovie.
Step 1
Find and open the iMovie app on your Mac. Click New to start a new project and add your video file to it. When your video clip is loaded, you should drag it onto the timeline.
Step 2
Locate the Speed button above the preview window and click on it. Now you can see some speed options appear under it. Here you can select Fast from the Speed pop-up menu to increase the video speed. Also, you can choose Custom and drag the rabbit range handle to freely speed up your video. Click here to learn how to slow down a video.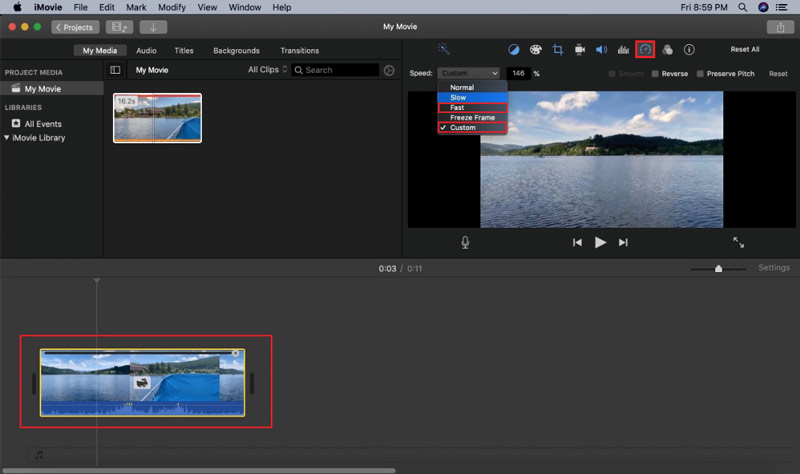 Part 3. Free Online App to Speed Up a Video
To increase the playback speed of a video clip, you can also rely on some online video speed changers. Here in this part, we take the popular Adobe Express to show you how to make a video play faster online.
Step 1
Open your web browser, search for and then go to the official website of Adobe Express. When you get there, you can click on the top Features tab and then choose Change Video Speed from its dropdown. After that, you will be taken to a Change video speed for a free online page.

Step 2
Click the Upload your video button to upload your video to Adobe Express. Once your video is loaded, you can see five options appears next to the playing window for you to adjust the video speed. You can use either Fast or Super Fast to increase the video playing speed.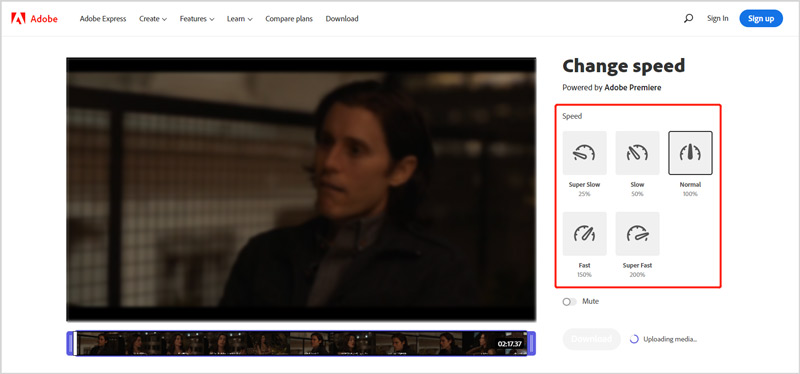 Step 3
When you change the video to a suitable speed, you can simply click on the Download button to save it on your device. Here you need to sign in to an account to proceed with the downloading.
Part 4. FAQs of Speed Up Video App
Is there any speed-up video app for Android?
Yes, you can easily access many associated apps in Google Play Store to speed up videos on your Android phone. If you don't know which one you should use, you can try some popular ones like Adobe Premiere Rush, VivaVideo, Quik, Magisto, and KineMaster.
Is there any free app to speed up a video on iPhone?
As mentioned above, the iMovie app can help you increase the speed of a video on your iPhone with ease. You can free install it from App Store, open it, start a new project, and add your video to it. Tap your video clip on the timeline to raise more tools. Tap the Speed icon and then drag the rabbit range handle to the right to make your video play faster.
How do you speed up a video in VLC?
VLC media player offers a convenient way to change the video playing speed. Its Speed feature is mainly used for better viewing. When you want to make a video play faster, you can go to the Playback menu and then select the Speed option. You can choose Faster or Faster (fine) to play your video at a faster speed.
Conclusion
After reading this post, you can get three easy-to-use apps to speed up videos. If you have any better speed-up video app recommendations, please share them in the comment with other readers.
What do you think of this post? Click to rate this post.
Excellent
Rating: 4.8 / 5 (based on 187 votes)