Detailed Guide on How to Speed Up a Video on iMovie
As an iPhone or Mac user, when you want to edit a video, you are more likely to use its default video editor, iMovie. This post tells how to speed up a video on iMovie step by step.

GUIDE LIST
Part 1. How to Speed Up a Video on Mac Using iMovie
iMovie is pre-installed on any Mac device, and it has a Speed feature for you to easily change the video playback speed based on your need. This part will guide you to increase the playing speed of a video on a Mac using the iMovie app.
Step 1
Launch iMovie on your Mac computer, and click New to start creating a new project. Find the video you want to speed up and then drag it to iMovie. Then please drag the video into the timeline of your iMovie project. You can also click on the Import or Media button in the toolbar to add your video to it.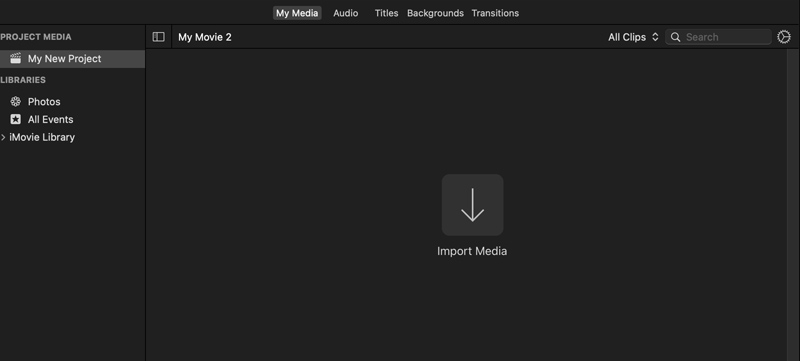 Step 2
Click your video on the timeline to highlight it. On the right preview window, you can see a Speed button. Click on it to display more speed options. Here you can choose Fast from the Speed pop-up menu to speed up a video on iMovie. Also, you can select the Custom option and then drag the rabbit range handle to freely increase the speed of your video.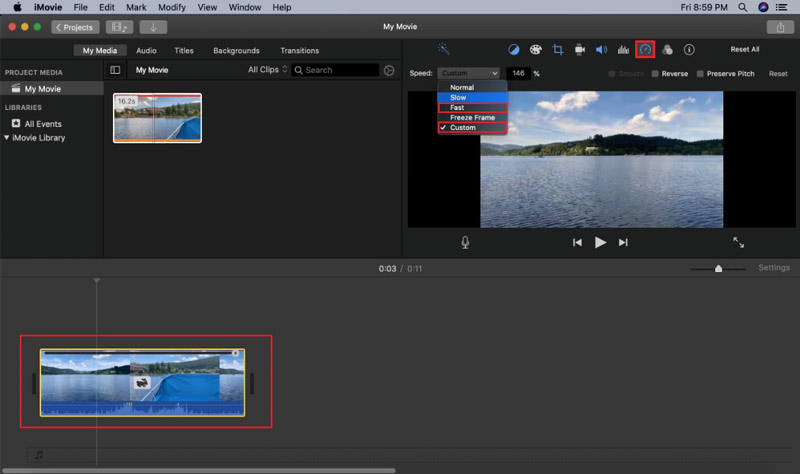 Step 3
After you speed up your video to a suitable speed, you can click on the top File menu, choose the Share option from its dropdown, and then select File to raise the Exporting options dialog box. You can adjust various output settings and then save them on your Mac.
Part 2. How to Speed Up a Video on iPhone or iPad Using the iMovie App
As an iPhone or iPad user, when you want to free speed up a video, you can also rely on the iMovie app. You can install iMovie in App Store for free and then follow the steps below to increase the video speed based on your need.
Step 1
After installing the iMovie app from App Store, open it, and then Tap Movie to start making a movie from scratch. Scroll down to locate the video you want to edit, choose it, and then load the video by tapping on the Create Movie button.
Step 2
Tap on the video clip in the timeline to arise various editing options. Select the second Speed icon on the bottom screen, and then drag the speed bar to rabbit to speed up this video.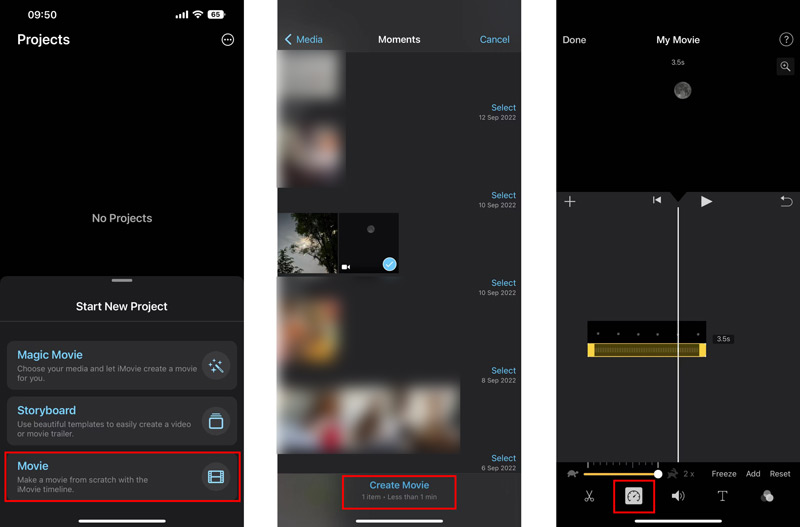 Step 3
You can tap the Play button to view the changed video speed. If you are satisfied with it, you can tap Done in the upper-left corner to save it. You will be taken back to the Projects interface. Here you can tap on the Share button and then tap the Save Video option to save this edited video on your iOS device. Click here to get how to slow down a video on iPhone.
Part 3. Best iMovie Alternative to Speed Up a Video on Your Computer
When you edit a video and want to change its playing speed, besides iMovie, you can also rely on the all-featured video editing and converting software, Video Converter Ultimate. It has an individual Video Speed Controller tool for you to speed up or slow down a video with ease.
Step 1
Free download and launch this Video Converter Ultimate on your computer. Click the Toolbox tab and then choose Video Speed Controller.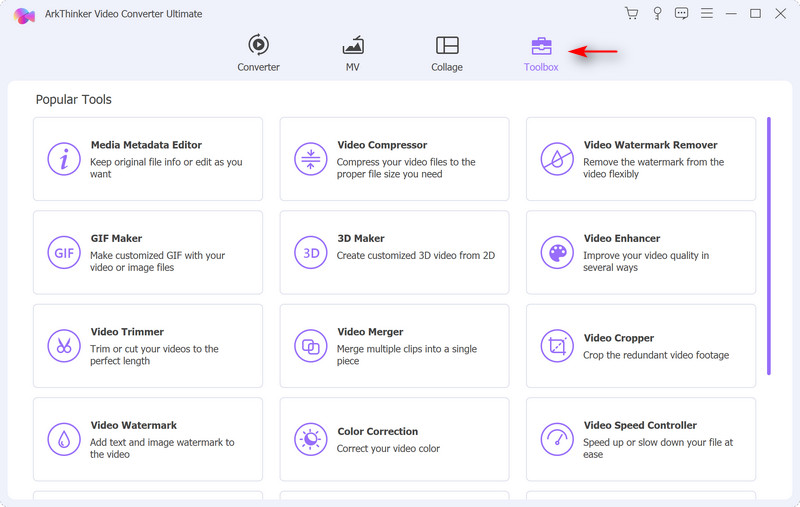 Step 2
Click the big + icon in the central part of the Video Speed Controller popup to select and add your video file. 8K/5K/4K, 1080p/720p HD, and common SD videos in all popular video formats, including MP4, AVI, FLV, WMV, MOV, MKV, and M4V, are supported.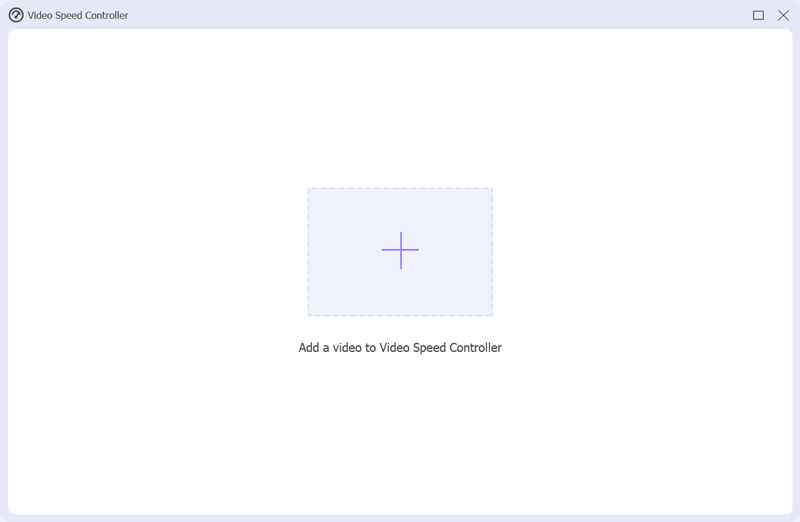 Step 3
This iMovie alternative will automatically play your added video with its built-in media player. Under the playing window, you are offered ten speed options to customize the video speed. During this step, you can select 1.25X, 1.5X, 2X, 4X, or 8X to speed up your video. You can directly view the speed changes through the player.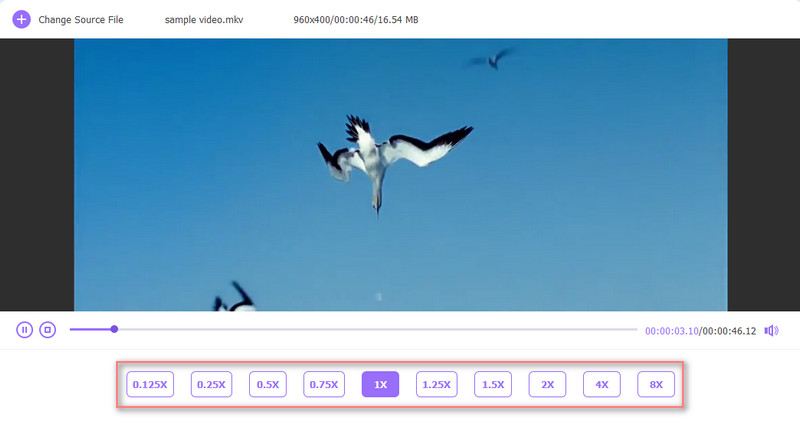 Step 4
When you change your video to the right video playback speed for speeding up, you can simply click on the Export button to save it. Before you do that, you are allowed to adjust various output settings like the file name, destination folder, and video and audio settings.

Part 4. FAQs of How to Speed Up a Video on iMovie
How do I get 4x speed in iMovie on iPhone?
The iMovie app can only help you increase the speed of a video to 2X. If you want to get a 4X speed on iMovie, you need to increase the video speed twice.
Can I change the speed of part of a video clip in iMovie?
Yes. After you load your video in iMovie, you need to select the part in your video in the timeline by holding down the R key and dragging across the clip, and then clicking on the Speed button to change its speed.
Are there any speed-up video apps for Android?
You can easily find many associated speed-up video apps in Google Play Store on your Android phone. You can directly search for a speed-up video to locate them. You can try using some popular ones like Adobe Premiere Rush, Quik, Magisto, VivaVideo, and KineMaster.
Conclusion
We have mainly talked about how to speed up a video on iMovie in this post. You can follow the specific guide to increasing the speed of your video on your iPhone, iPad, or Mac. Also, you can try the recommended Video Converter Ultimate to easily change your video to a suitable speed.
What do you think of this post? Click to rate this post.
Excellent
Rating: 4.9 / 5 (based on 198 votes)