Top 10 Video Compressors to Shrink Video Size
For better sharing, quick streaming, uploading, or other needs, you may want to reduce the file size of your video. Are you looking for a video compressor to decrease video size?
When you search for a free MP4 compressor on the internet, you can easily access many recommendations. Question is, what is the best video compressor? Considering your need, this post makes a list of the top 10 video compressing tools for you to choose from.

GUIDE LIST
Part 1. Get 3 Best Video Compressors for Mac and Windows PC
When you edit a video on your computer and want to reduce its file size, you can use either a free online MP4 compressor or a professional video editor. This part will introduce you to 3 great video compressing tools. You can learn their key features and then choose your preferred one to decrease your video file size without a watermark.
Best video compressor for Mac and PC - Video Converter Ultimate
Video Converter Ultimate is the all-featured video editing and converting software that can help you compress videos in any 8K/5K/4K/HD/SD formats without watermark. It has an individual Video Compressor tool for you to shrink video size with ease.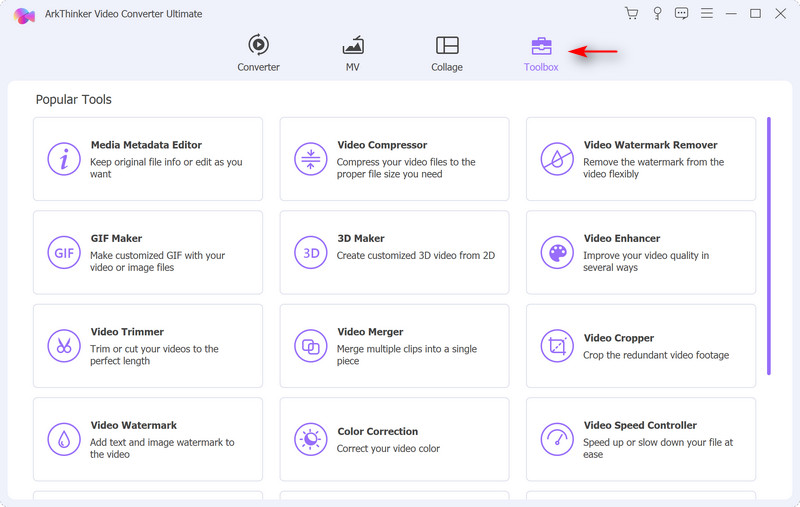 Compared with other video compressors, it ensures you there won't be much image or sound quality loss after the video compression. As mentioned above, all frequently-used video formats are supported, such as MP4, AVI, FLV, MOV, MKV, WMV, WebM, and more. In addition, there is no limit on your uploaded video size.
More than just a video compressor, this recommended Video Converter Ultimate also carries other useful editing features including crop, cut, rotate, add watermark, 3D, adjust effects, enhance quality, customize output profile settings, create MV, make video collage, and more.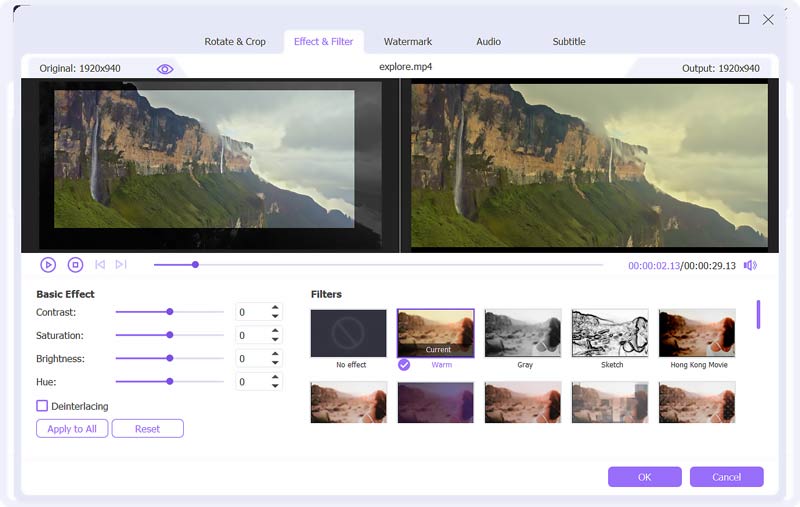 When you want to compress a video, you can open the Video Converter Ultimate, and then go to Toolbox. Locate the Video Compressor tool, click and open it. In the new pop-up Video Compressor window, you can click on the + icon to add your video file.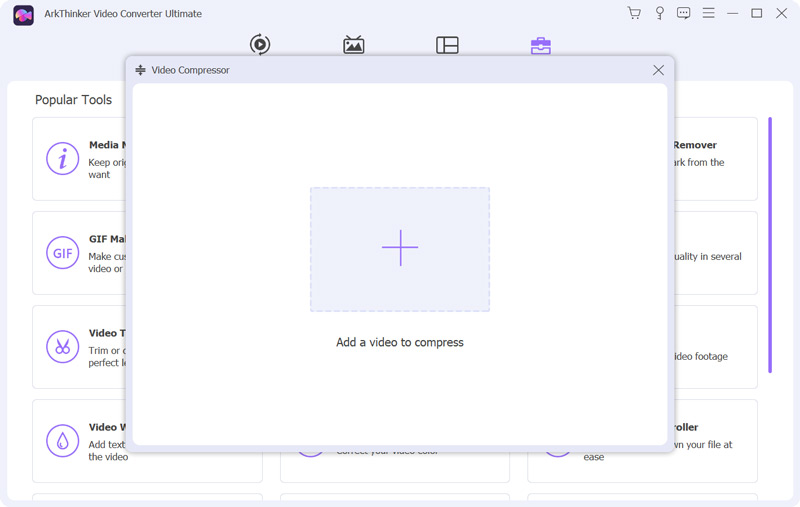 You get full control of the video compression degree. You can freely drag the compressing bar to reduce the file size based on your need. Moreover, you are allowed to rename your video, select the output format, and set bitrate, resolution, and bitrate of the video.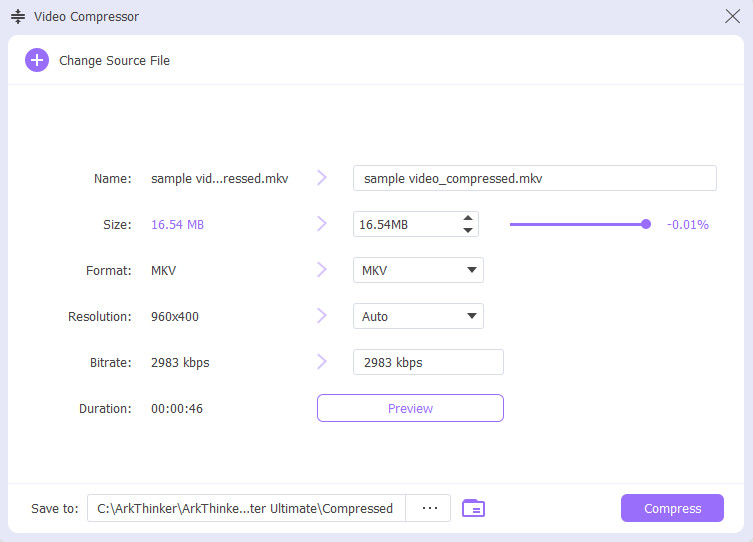 Click on the Preview button to check the compressed video. If you are satisfied with the output quality, you can click the Compress button to confirm your operation.
Video compressor for Mac, Windows, and Linux - Shotcut
Shotcut is a free and open-source video editor which can help you compress your video to smaller file size. It supports a wide range of video formats. It is not specially designed for compressing videos. So, you don't get a direct compressing feature to decrease the video size. Instead, you need to lower the video resolution, aspect ratio, frame, and others to make your video smaller.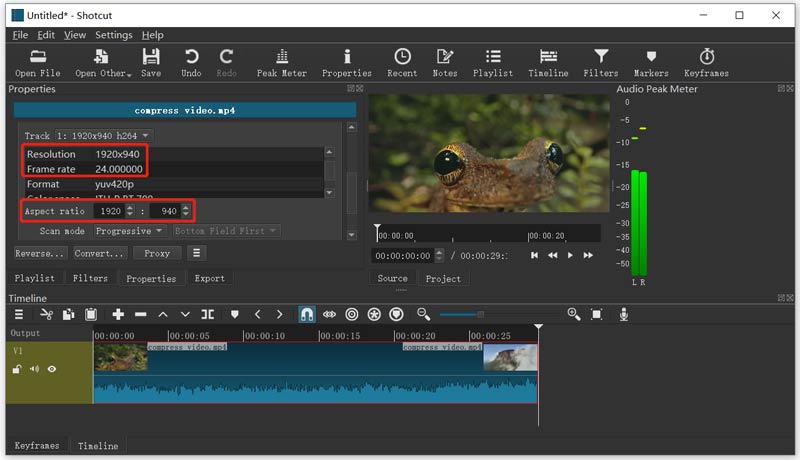 After you reduce the video size, you can use its Export feature to save the compressed video on your computer without watermark. Shotcut is designed with many functions and options. So, it may be complex for new users to use. Remind you again, that it does not offer a direct way to downsize your videos.
Free video compressor for Mac - iMovie
iMovie is the free, default, and official video/audio editor for Mac. Similar to the recommended Shotcut above, it is not mainly used for compressing videos. It carries many basic editing functions like cut, merge, rotate, adjust effects, add background music, and others. Commonly-sued video formats like MP4 and MOV are supported.
You can open iMovie on your Mac, create a new project, and then import your video to it. You can try using its various editing features to edit your video. When you want to compress the video size, you can click on the Share button and then select a lower video resolution and quality. By doing so, you can easily export the video in smaller file size. To free reduce the file size of a video, you can also use the QuickTime Player.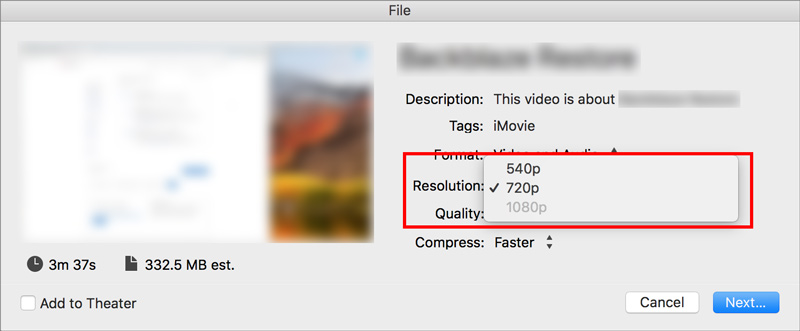 Part 2. Review of 5 Best Video Compressors Free Online
To compress a video to a smaller size for free, especially when you are dealing with some small video clips, you can turn to online tools. Here in this part, we like to give you a list of the 5 best free online video compressors.
Free Online Video Compressor - Kapwing
Kapwing is a famous online video, audio, and document editing service which allows you to compress videos to smaller sizes. It has a specific Compress Video page for you to reduce your video file size. It collects the compression feature in its Export settings. You can click on the Export button and then adjust the compression level.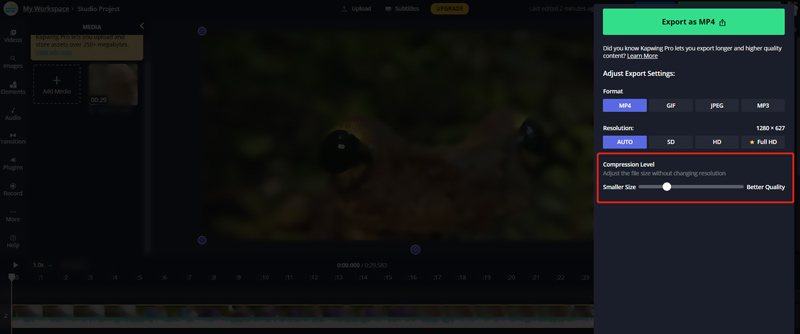 Aiseesoft Free Online Video Compressor
Aiseesoft Free Online Video Compressor is an easy-to-use online video compressing tool that can help you compress any video. This online video compressor works well with all popular web browsers including Google Chrome, Microsoft Edge, Firefox, and Safari. When you want to decrease a video file size, you can directly go to its Video Compressor page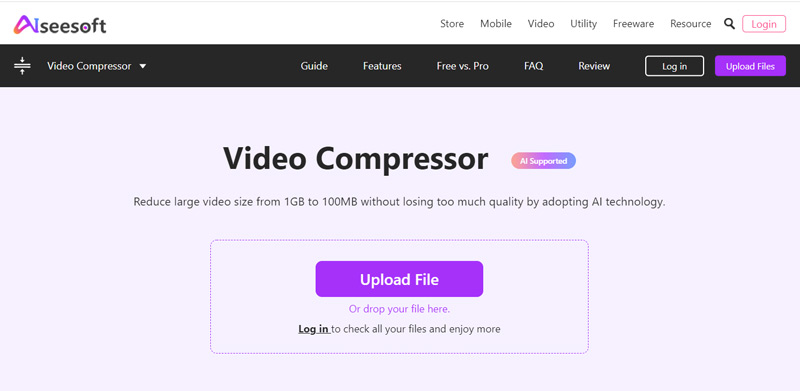 This video compressor supports almost all video formats, such as MP4, AVI, FLV, MOV, 3GP, WMV, RMVB, MTS, TS, and more. As a free video compressor, it allows you to reduce video size for any resolution, even up to 4K. It adopts advanced AI technology to compress a video while keeping high quality. More importantly, it won't add any watermark into your output file.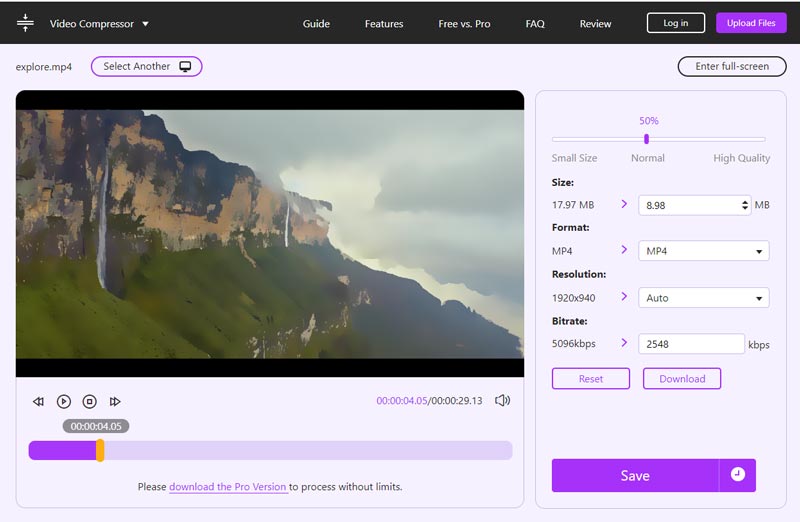 Video Compressor Online - Clideo
Clideo Compress Video is a very popular video compressor that allows you to quickly reduce your video file size on your web browser. It can help you compress videos in any popular format like MP4, WMV, MOV, VOB, AVI, and others. You can use this free online video compressor on different devices including iPhone, iPad, Android phone, Mac, and Windows computer.

When you want to compress a video and shrink its file size online, you can go to the Compress Video page, and then click on the Choose file button to upload your video. Besides the video files on your device, it also allows you to compress a video from Google Drive or Dropbox. You can compress a video up to 500 MB for free. Clideo will automatically compress the video for you.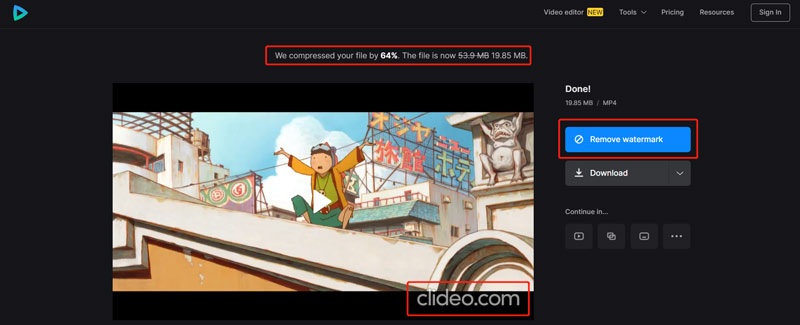 Clideo is an all-featured online video and audio editor. It also offers other useful tools like Merge, Resize, Cut, Crop, Speed, Video maker, Add subtitles, and more. You can go to its official website to easily access them. Note that, whether you compress or edit a video using Clideo, it will add a watermark to your output file. You have to upgrade to its paid version to remove the watermark.
VEED.IO Video Compressor
VEED.IO Video Compressor is another popular online video compressing tool that enables you to reduce video file size online for free without losing much quality. It is compatible with many file types like MP4, MOV, MKV, AVI, WMV, and FLV. It can compress a video from your local hard drive, Google Drive, Dropbox, and through URL.
This VEED.IO online video compressor requires no account sign-up or log in. Also, you won't see any ads while using it. You can simply drag the compression bar to control the compressing degree. Moreover, you are allowed to edit the uploaded video, change the output video resolution, and do other operations. When your video is compressed, you can choose to preview it, share video link, or download it according to your need.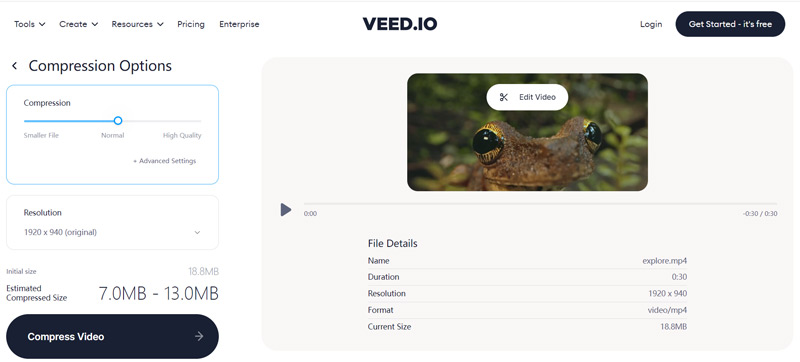 FlexClip Free Video Compressor
FlexClip Free Video Compressor allows you to reduce the video file size online for free. It carries a similar video compressing feature, just like the recommendations above. This online video reducer supports MP4, MOV, M4V, WebM, and others. The max file size you can upload is limited to 512 MB.
You are offered 2 options to compact a video online, Compressed Quality and Resolution. You can easily control the video compression based on them. It provides you with a convenient way to make a video smaller online without a watermark. The compressed video will be automatically saved on your computer.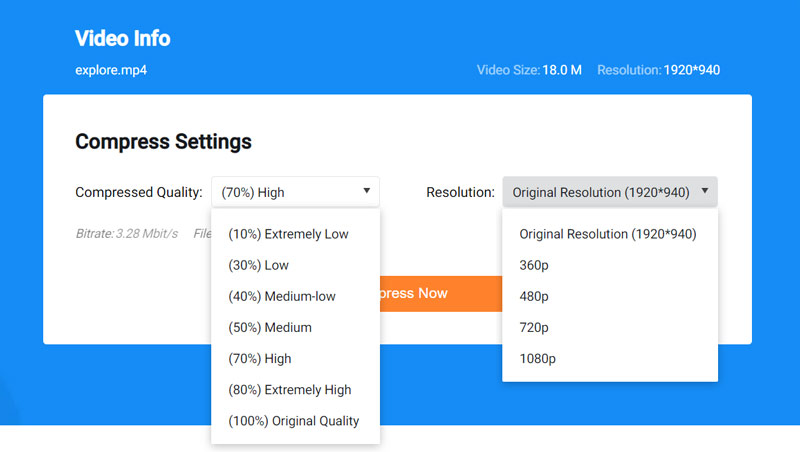 Part 3. Compress Videos on iPhone and Android with 2 Video Compressor Apps
After you download or capture a video on your portable iOS/Android device and like to directly compress its file size, you need to turn to some third-party video compressor apps. In fact, you can easily find many useful ones from App Store or Google Play. In case you don't know which video reducer you should use; this part recommends 2 popular ones for you.
Video compressor app for iOS and Android - ShrinkVid
ShrinkVid video compressor app can help you shrink your video to a target file size, quality, or resolution directly on your iPhone, iPad, or Android phone. It offers both iOS and Android apps for you to use. Most video formats like MOV, MP4, FLV, MKV, AVI, 3GP, and more are supported. Whether you want to compress a video for sharing on TikTok, iCloud, Discord, WhatsApp, or sending through email, it can be a good helper.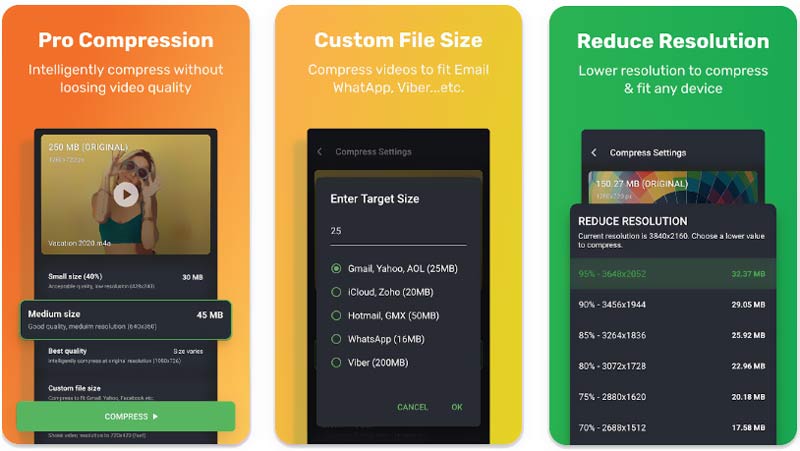 Video Compressor - Compact Video for Android
Video Compressor - Compact Video app is designed with multiple compression profiles with different quality and size settings for you to compress videos. It can compress videos in MP4, MKV, AVI, 3GP, FLV, MTS, MPEG, MPG, WMV, M4V, MOV, or VOB format. It claims that it can reduce the video file size while keeping the original quality. It enables you to decrease video resolution, bitrate, and other options to shrink your video size. You can free install this app from Google Play and have a try.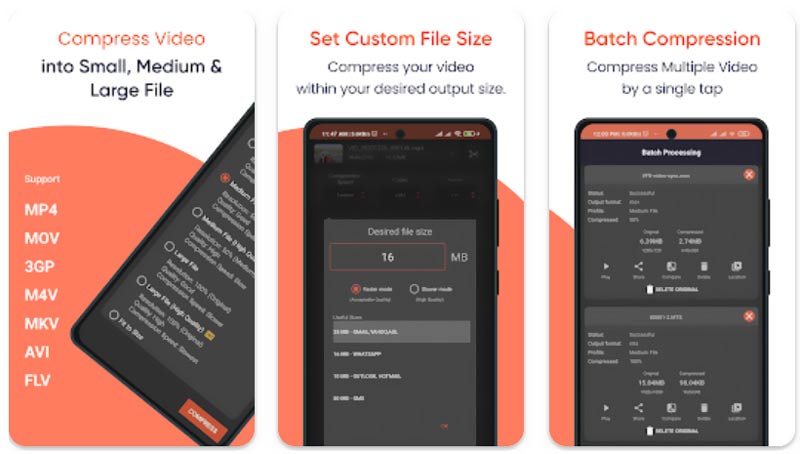 Part 4. FAQs of Best Video Compressor
How to compress a video free on Mac with QuickTime?
Open QuickTime Player on your Mac and load your video to it for playing. QuickTime allows you to export your video with a lower resolution and quality. Click on the top File menu and then choose the Export As option. From its dropdown, you can select a lower output video resolution from 4K, 1080p, 720p, and 480p.
Is it possible to compress a video without losing quality?
No. When you lower the video resolution, bitrate, or encoding to reduce its file size, there will be some image and sound quality loss. You can't compress a video while keeping exactly the original video quality.
How to zip a video to compress it?
Compared with uncompressed files, zipped files can be better transferred and take up less storage space. When you need to zip a video, you can right-click on it, choose the Send to option, and then select Compressed (zipped) folder.
Conclusion
This post lists the 10 best video compressor tools for Mac, Windows PC, Linux computer, iPhone, iPad, Android phone, and online free. You can check their main features, how to use them to reduce the video file size, and then pick your preferred one to compress videos.
What do you think of this post? Click to rate this post.
Excellent
Rating: 4.6 / 5 (based on 146 votes)