5 GIF Resizers to Compress GIF on Different Devices
While the daily usage of social apps like Discord, Facebook, Twitter, Instagram, or TikTok, you can easily access lots of GIFs. However, some social apps have size limits for the animated GIF files you sent. So, in some cases, you need to compress GIF to a smaller size. Are you face the situation that you want to compress a GIF file but don't know how?
This post introduces you to 5 great GIF compressors to help you shrink the file size of your animated GIF. Whether you are looking for a free online GIF resizer, or prefer to directly compress a GIF on your portable iOS/Android device, you can keep reading and find the related method.

GUIDE LIST
Part 1. How to Compress a GIF File Online and Free
When you Google how to compress a GIF on the internet, you can see many search results are linked to online compression services. Here in the first part, we like to recommend 2 easy-to-use online GIF compressors for you to reduce the file size of GIFs.
Compress GIF using VEED.IO GIF Compressor
VEED.IO is a popular online GIF, video, audio, document, etc. editing website. It has an individual GIF Compressor page for you to compress a GIF file directly on your web browser. Besides compressing GIF on a computer, you can also use this VEED.IO GIF Compressor on your iPhone, iPad, or Android phone.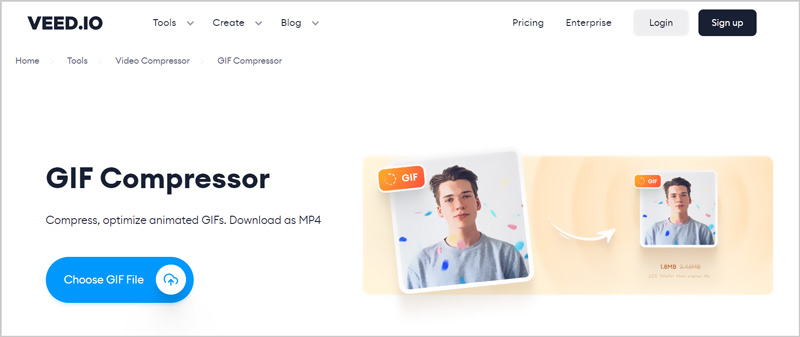 It enables you to freely resize animated GIF files and then save them as MP4 videos for sharing on social media. This free online GIF compressor can compress GIF files for different platforms. It is integrated with the VEED.IO Video Compressor. So, when you use it to compress a GIF online, you will be guided to its video compressor to do that.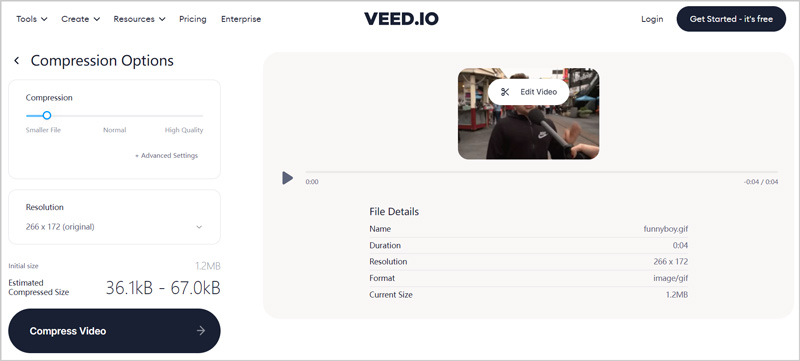 After you upload a GIF file to the online GIF compressor, you can move the compression bar to Smaller File, Normal, or High Quality to control the compressing degree. Also, you are allowed to edit the animated GIF based on your need. It shows you the initial GIF file size and estimated compressed size for you to control the GIF compression.
Reduce GIF file size online with FreeConvert GIF Compressor
FreeConvert GIF Compressor is an easy-to-use and powerful online GIF compressing tool. It claims that it is the world's best GIF compressor to reduce GIF file size. Truth is, FreeConvert does offer you a good GIF compressing experience, except for the ads. This online GIF reducer allows you to compress GIFs from a computer, iPhone, iPad, Android phone, Dropbox, Google Drive, and through URL. The max file size is 1GB.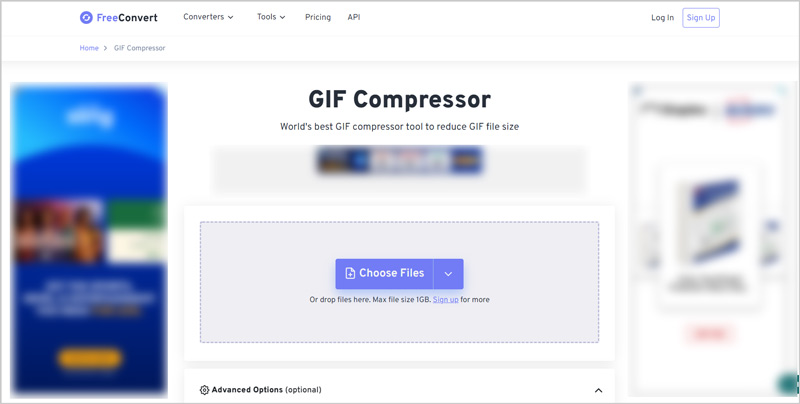 You can click on the Advanced settings icon to display more options to compress a GIF. For instance, you can freely customize the GIF compression level, drop frames to reduce the GIF file size, reduce the number of colors and dither, optimize transparency, and do other operations.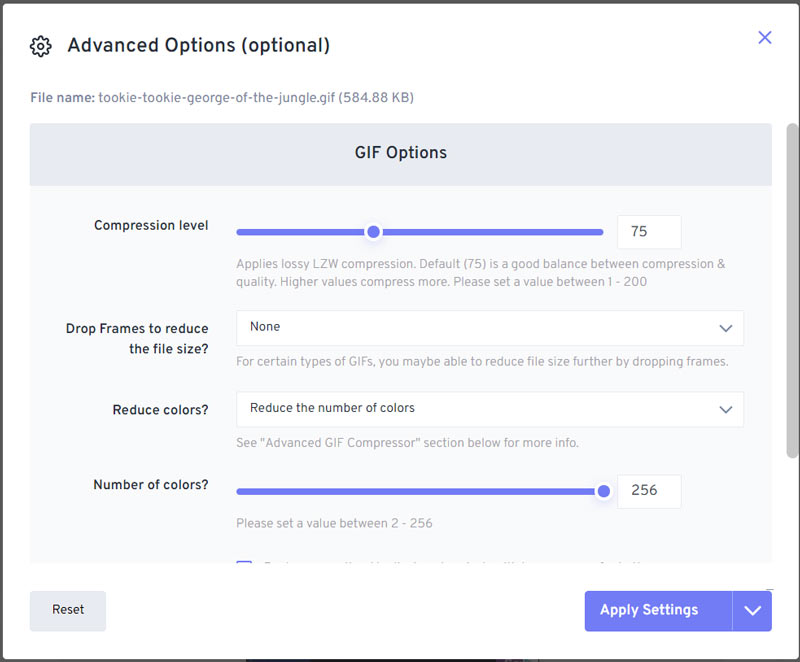 When the online GIF compression is finished, you can choose to download the compressed GIF, and save to Google Drive, Dropbox, or your mobile device.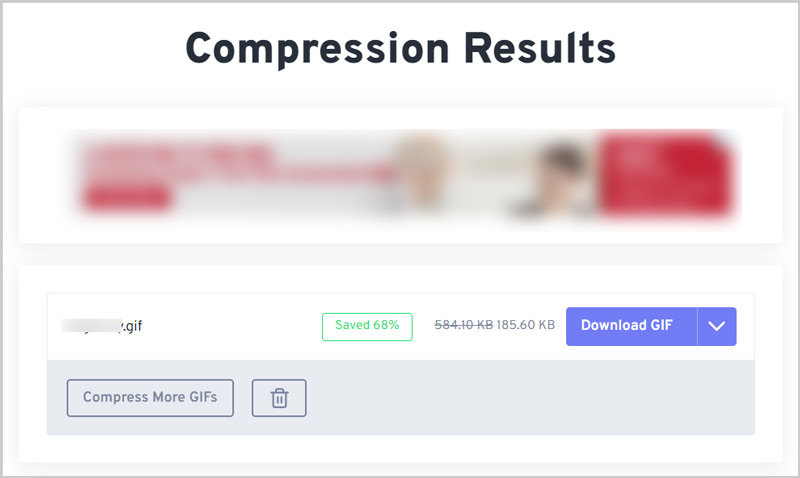 Part 2. Professional Way to Reduce GIF File Size on Your Computer
If you prefer to use a professional GIF compressor to make animated GIFs smaller in size, you can turn to the Video Converter Ultimate. It has a powerful converting feature that can help you convert any GIF to a smaller file. Besides, it is designed with a separate GIF Maker tool in its Toolbox to convert pictures or video clips to GIFs. You can free download it on your computer and then follow the steps below to compress GIF with ease.
Step 1
Open this GIF compressing and converting software. Click + to select and load your GIF file.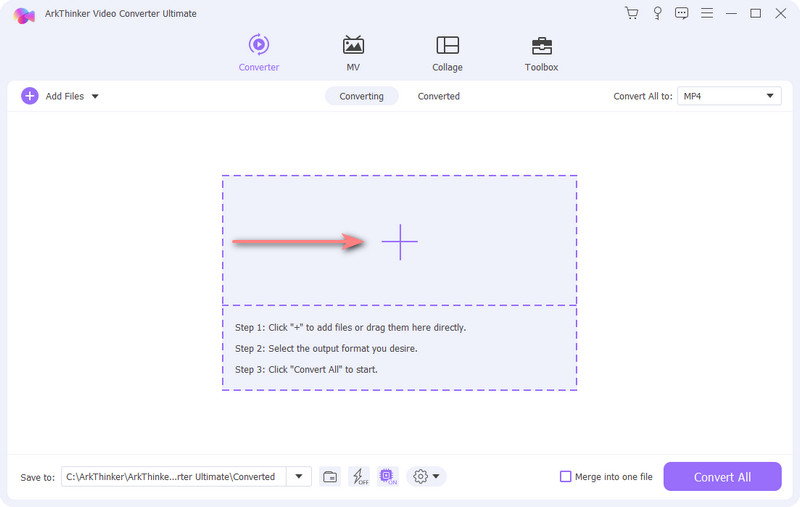 Step 2
Select Small GIF as the target format from the drop-down list of Convert All to. You can click on the Edit Profile button to customize more options to compress GIF.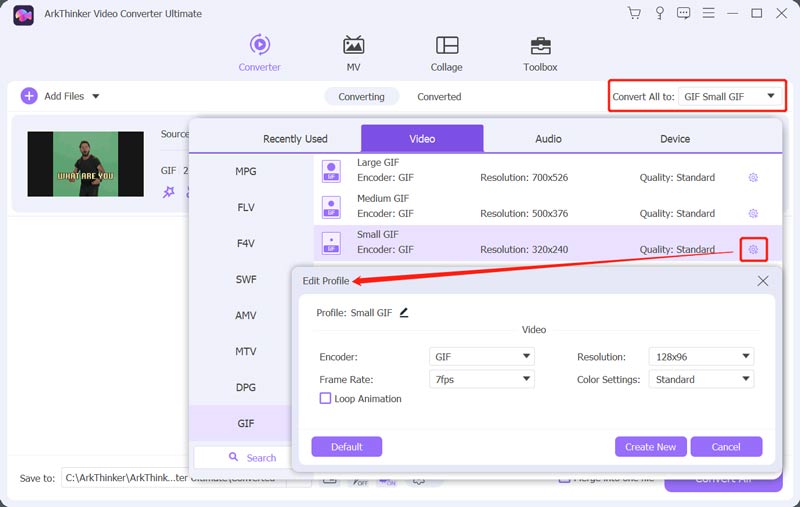 Step 3
As you can see, it allows you to change GIF resolution, frame rate, and color settings to make a GIF file smaller.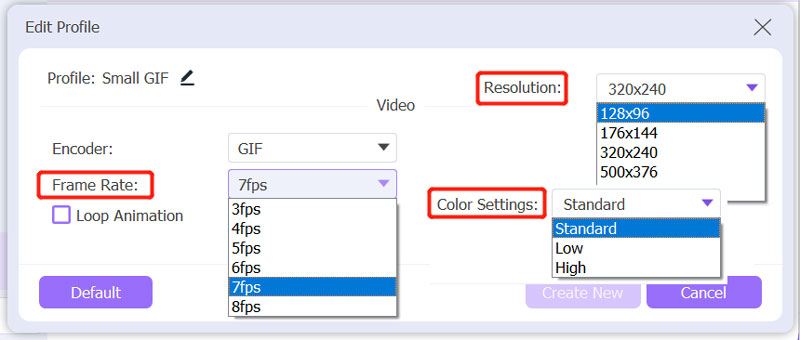 Step 4
After all these settings, you will be taken back to the home window. Click on the Convert All button to start compressing this GIF file. You can use this tool to make a GIF with ease.
Part 3. How to Compress GIF Size on iPhone and iPad
As an iOS user, when you want to compress a GIF file size, you can open it in the Photos app and then try editing it there. If the Edit button is greyed out, that means you should get a third-party app to help you compress GIF. You can easily find some useful GIF compressors apps from App Store. Here we take the popular ImgPlay as an example to show you how to resize a GIF file on iPhone.
Step 1
Open App Store on your iPhone, search for the ImgPlay app, and then free install it.
Step 2
When you need to decrease the size of a GIF, you can open ImgPlay and give it the authority to access your GIF files. You are offered many editing features to optimize the GIF file. You can skip them and tap on the Save button in the upper-right corner
Step 3
Tap on the Resize button to start compressing GIF. You can easily adjust dimensions to make a GIF file smaller.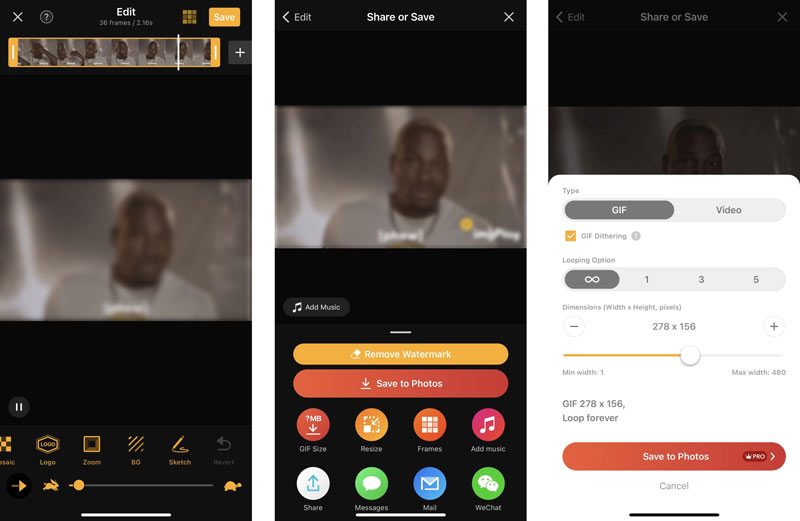 Note that, this GIF compression feature is not free. You need to upgrade to its Pro version to proceed with the final exporting. When you use the free features in ImgPlay, you will save the edited image with a watermark. Click here to learn how to compress audio files.
Part 4. How to Make a GIF Smaller in Size on Android Phone
GIF Maker & GIF Editor is a powerful GIF creating, editing, and compressing app for Android users. It offers a convenient way to make animated GIFs in your style with high quality. As a free GIF compressor, it won't add a watermark to your compressed GIF. When you want to reduce the file size of animated GIFs, you can use its Edit GIF or Quick Edit GIF feature. It provides you with multiple options to compress GIF. You can free install it from Google Play Store.
Part 5. FAQs of How to Compress a GIF
What is GIF?
GIF, short for Graphics Interchange Format, is a popular digital file format that contains a series of frames or images played in sequence. GIF supports both static and animated images. GIF files are widely used on the web to display graphics and logos. Also, animated GIFs are quite popular for memes on social media.
How do I convert photos to a GIF?
There are many image editors and GIF makers offered on the internet that can help you easily convert JPG or PNG pictures to animated GIFs. Besides the professional Adobe Photoshop, if you have installed the recommended Video Converter Ultimate on your computer, you can use its GIF Maker to convert photos or videos to GIFs.
Can I use Photoshop to compress a GIF?
Adobe Photoshop does not offer a specific GIF compressing feature. But you can reduce the GIF file size while exporting it. From its Export As menu, you can decrease the physical dimensions to compress GIF.
Conclusion
This post has mainly talked about how to compress a GIF. You can use 5 GIF resizers to make your GIFs smaller on different devices. For more questions about GIF compression, you can leave us a message.
What do you think of this post? Click to rate this post.
Excellent
Rating: 4.4 / 5 (based on 149 votes)