Reviews on Digital Voice Recorders in Amazon: Which Is Your Best Pick?
When selecting a portable device for voice recording on Amazon, you may find it a lot of work to match your budget and personal needs. It couldn't be more pleased to get a comprehensive description of sound recorders on Amazon on their features, prices and other details.
Thus, we introduce this page as an unbiased introduction to Amazon voice recorders and provide you with the best alternative on your computer.

GUIDE LIST
Part 1. Reviews On Voice Recorder Sold on Amazon
Here we have listed the best sellers recommended on Amazon. Before you decide to purchase one as the final pick, you can go through the merits and drawbacks and compare it with others. What you can't miss for the basic elements include battery life, storage capacity, supported formats, compatibility, and so on.
If you find the pros outweigh the cons and best fit your budget after knowing all the details, that would be your wanted recorder.
1. Aiworth E36 Digital Voice Recorder
Price: $39.99
Weight: 2.4 Ounces
Format: MP3, WAV, WMA
Storage Capacity: 72GB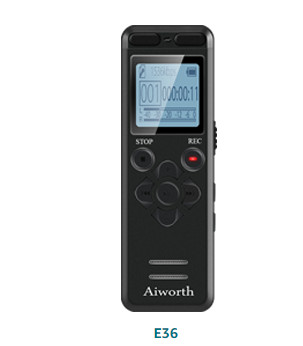 This is a quick-to-start audio recorder with a straightforward functional interface. The recording process can last longer than other products so that you can enjoy more details for the recording. There is password protection for power-on to remove your worries about privacy issues. And you can adjust the play speed and adopt A-B repeat according to your needs.
Pros :
It produces no extra noise during recording and blinks with a red indicator for notice.
This recorder has a built-in speaker, so you don't have to buy other devices for reception.
It requires charging only for endurance instead of replacing the used batteries.
It's capable of producing good sound quality for the output files.
Cons :
You may encounter downloading errors of the recorded files on different computers.
The directional microphone can't capture the details if the speaker's voice is not loud enough.
The recording performance and speed would weaken as you record more and more audio.
2. G L87 Digital Voice Recorder
Price: $39.99
Weight: 0.17 Pounds
Format: MP3, WAV, FLAC, APE, OGG, WMA
Storage Capacity: 48GB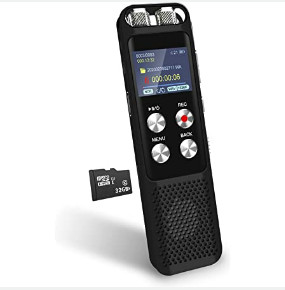 G L87 Digital Voice Recorder is a good choice for people who ask for easy and short recordings in life. It functions both as an audio recorder and MP3 Player. You can capture the audio files and enjoy the recordings and music at ease with it. To prevent you from touching by mistake, it introduces a lock mode with a volume button so you can better manage the recorder.
Pros :
It is able to capture sound far away or low and offers high-quality audio effects.
You can record any audio for up to 13 hours uninterrupted once you start the recording.
It supports an auto-record model to capture the sound at your wanted time.
Lightweight and Easy to carry to different occasions for use.
Cons :
You can start recording instantly when hitting the record button with 1-2 seconds gap.
Sometimes the microphone is not sound-sensitive for a clear playback and you can't add an external mic.
It supports no wireless connection like Bluetooth so you need wired gadgets or adapters.
3. EVIDA VR01 Digital Voice Recorder
Price: $36.89
Weight: 6.4 Ounces
Format: WAV, MP3
Storage Capacity: 32 GB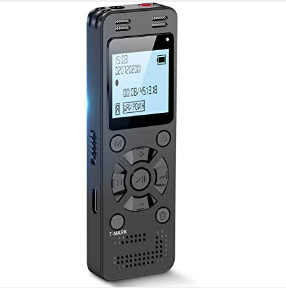 This recorder is convenient and can be applied to different occasions. You can get your recordings in MP3 with a satisfying output. The device is equipped with a backlight design so you can still record with clear signals in a dim environment. You can change the format for recordings and decide whether you want your file compressed or not.
Pros :
Provide 6 levels for voice decibels for users to choose and adjust with different needs.
Enable users to record continuous audio files for up to 54 hours with sufficient battery.
Offer a rechargeable battery so you can get a timely supplement for endurance.
You can connect the recorder to your computer via a type-c cable for file transfer.
Cons :
You can switch off the recorder manually only after cancelling the lock mode.
There will be problems like sound lost in the recordings for unknown reasons.
It supports no channel to another memory card.
4. Aomago L169 Digital Voice Recorder
Price: $25.55
Weight: 30 Grams
Format: MP3, WAV
Storage Capacity: 32GB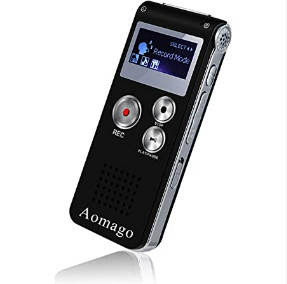 This digital voice recorder is tiny but helpful in capturing sound. The main operation panel consists of three buttons in total: REC, STOP and PLAY/PAUSE. You can record, save and listen to your recorded audio easily and quickly. You can also enjoy services like noise reduction, password protection and more within this tool. Besides, it can also function as an MP3 player to play songs as you like.
Pros :
It supports different languages with a built-in speaker to benefit the user.
The recording time is up to 35 hours at 512 kbps.
It offers an A-B repeat function to help users study and review the recordings.
It is compatible with MacBook via a supplied Micro USB cable.
Cons :
The charging may cost about 3 hours for you to wait.
The system time will be reset to default if you mistakenly press the right power button.
The playback of your recordings may not be clear if you hear it on this device.
5. Sony ICD-PX370 Mono Digital Voice Recorder
Price: $45.58
Weight: 136 Grams
Format: MP3
Storage Capacity: 4GB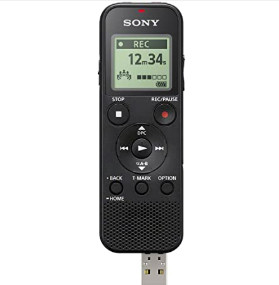 This mono digital voice recorder is a frequent choice for Sony diehards and those with a high request for clear and bright audio effects. Users can easily understand the functions of each button with a simple design and record the audio smoothly. Moreover, the best thing is that you can still get the recordings from the internal memory or SD card even the battery dies all of a sudden.
Pros :
You can get a compressed MP3 file with excellent quality for the output.
The battery life is up to 57 hours which enables you to record long meetings or interviews.
It has a local USB connector so you don't need an extra USB cable for connection and transfer.
You can optimize the settings based on the occasion, including music, meetings, interview, and dictation.
Cons :
This professional recorder may be expensive if you have a limited budget.
The memory storage capacity is low compared with other popular products.
It may not be durable like the older generations of Sony recording products.
Part 2. Voice Recorder Software- ArkThinker Screen Recorder
Without any doubt, there are more effective ways to record your voice rather than a digital voice recorder. Instead of carrying a heavy device and worrying about the battery life and storage capability for endurance, you can acquire higher-quality recordings with third-party software: ArkThinker Screen Recorder.
Unlike digital voice recorders, you can enjoy popular formats for both videos and audio, including MP4, MOV, WMV, FLV, MP3, FLAC, AAC and so on. You are allowed to select the system sound or microphone as the audio source.
To best meet your needs, you can use it to screen record FaceTime, gameplays and so many activities
How to Record Audio with Easy Steps
Step 1
Run the software and enter Audio Recorder.

Step 2
Customize the audio settings before you start recording. You can toggle the System Sound and Microphone based on your needs. Then click the Record button.

Step 3
Click the Stop icon when you finish recording and you can preview the effect. Then click the Done button to save your works. You can further play, share or delete the files in the new window.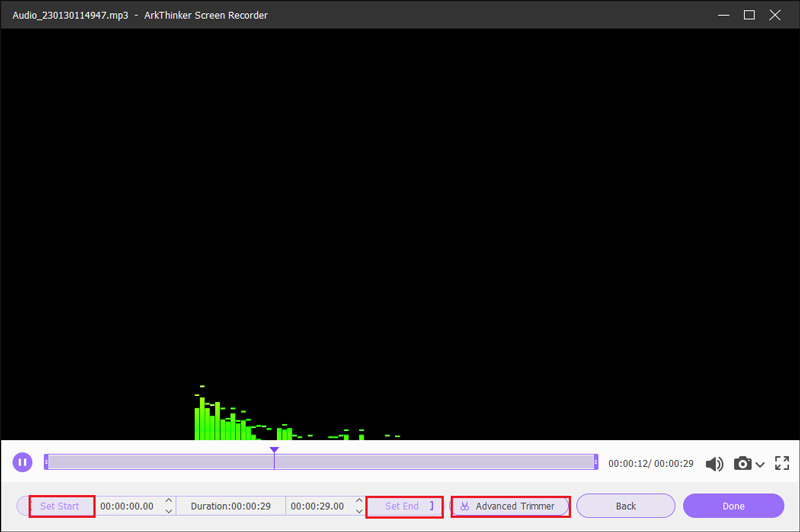 Part 3. FAQs of Voice Recorders
Is there a voice recorder on my phone?
For both Android and iOS devices with updated systems, there is a built-in app for voice recording called Voice Recorder or Voice Memos. You can play music while recording easily with this feature.
How do I record my voice on Windows?
You can download the voice recorder software- Apeaksoft Screen Recorder to capture audio and video on your Windows in a breeze.
Is there a voice recorder in Windows 11?
The answer is yes. And you can use the built-in Voice Recorder app on your Windows 11 to capture audio.
This post has reviewed the voice recorders on Amazon in different aspects. You are believed to select an ideal one after reading it. Besides, there is a bonus tool, ArkThinker Screen Recorder for you to enjoy more functions for recording on your computer.
What do you think of this post? Click to rate this post.
Excellent
Rating: 4.9 / 5 (based on 318 votes)