Google Voice Recorder: Application to Record and Save Audio
The first thing you will do before recording your audio is to look for an application that can meet your expectations. It is essential to figure out that the recording application you will use will provide your needs. It should exceed your standards whether you record a song for your performance, report for school, or presentation for work purposes. It should produce high-quality and soothing ears-recorded audio. These days, you can record from a desktop or smartphone recording application. It offers you numerous recording applications you can use to record and save your audio. Google Recorder is one of the best-in-class applications that lets you record your audio using your phone. It is easy to access and provides helpful built-in features you will surely like to use. If you are planning to use this recording application, proceed to read about this post.

GUIDE LIST
Part 1. A Detailed Review of Google Recorder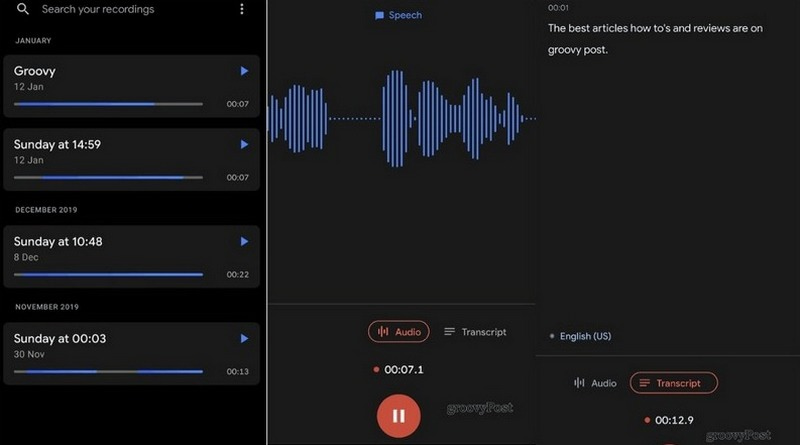 Google Recorder is the recording application you can access exclusively for Pixel phones. It is an application that you can download and install on Google Play Store. This application is not just a typical audio-recording application; it can record your audio and transcribe conversations or whatever it hears in real-time. You can record and save your meetings, lectures, presentations, songs, band practices, and family memories and listen to them later. While listening to your recorded audio, you can read the transcription on your screen. And so you can easily find the parts that matter to you without spending much time listening to your audio. In addition, it enables you to edit your transcript, and your audio will change too. You can save only the necessary parts and leave out the parts you do not need. Therewithal, you can record anything you say or on your background without a need for an internet connection. Google Recording only supports one international language, and that is English at the moment. And so if the application does not clearly understand what you said, you can identify to correct it directly. But the good thing is that it will add more supported languages soon. If you plan to use this application, it will take a little time. All you need to do is to hit the record button, record your audio, tap the transcript, and save it. Google Recorder is one of the best recording applications that can record your audio simultaneously and provides a real-time transcript.
Pros :
It is an easy-to-use recording application
It works offline
It can instantly transform your audio into text
It allows the users to search, edit and share the recordings
Cons :
It only supports one language
It is only accessible to Pixel devices
It is not accessible on the web
Part 2. Best Alternatives
1. ArkThinker Screen Recorder

If you are looking for an alternative recording application, you can count on ArkThinker Screen Recorder. This program has a beginner-friendly interface that is easy to use and master. Whether you are a beginner or a professional, you can easily control the program hassle-free. You do not have to worry if this application works on your computer, as it is compatible with Mac and Windows. This application has numerous built-in features that work as a recorder. It can record video, audio, game, phone, and many more. In addition, it has options that enable you to set your preferred length, file size, and ending time of your recorded output. Also, you can turn on and set a task schedule in advance to record using your choice recording feature. If there are unnecessary parts from your record, you can use the trimmer options to cut off these parts. After that, it will only retain the parts that matter and that you only need. Another good thing about this recording application is that no watermark is embedded in your output. This program is one of the best recording applications if you plan to record your audio easily and hassle-free.
Pros :
It has a straightforward and intuitive interface
It has numerous built-in recording features
It has auto-stop and task schedule options
It has trimming tools
It supports numerous audio and video formats
There is no watermark embedded in your output
Cons :
Avail of the paid version to have full access to the program
2. Rev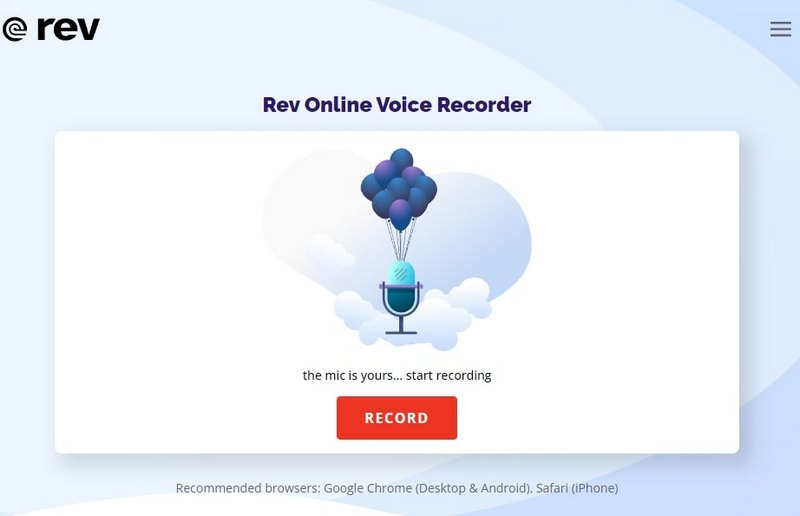 Suppose you prefer to record your audio straight online. In that case, you can count on Rev. This browser-based recording platform is an online voice recorder capable of recording your audio without time limitations. It is easy to use, accessible and can download your output at no cost. When recording, you can use your microphone to record your voice. After recording, you have the option to view the transcription, but you need to pay for it. This recording tool does not collect or upload your recordings on their servers. You are the only one who has access to your recordings. It is safe to use, completely secured, and encrypted. In addition, you can download your recording in MP3 format.
Pros :
It has a user-friendly interface that is easy to use
It can record your audio straight on the website
Cons :
It has no editing options for your recorded audio
It requires you to use an internet connection
Avail of the paid version to transcribe your recorded audio to text
It only supports one audio format
3. SpeakPipe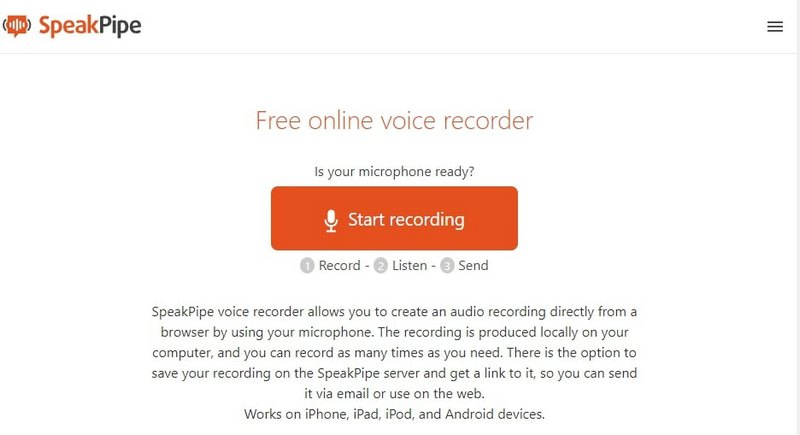 SpeakPipe is a free web recorder tool that you can use on your desktop or smartphone website. It has an intuitive and straightforward interface that is easy to use without prior background. Using this recording tool, you can record your audio straight on the website easily and hassle-free. All you need to do is to hit the start recording, record your audio, and you are done. You can record as many times as you want. After that, you can download your recordings with a high-quality output. In addition, your recorded audio will be save in your desktop folder. Also, you can share with anyone by getting and sending the link.
Pros :
It has a straightforward interface
It is easy to use
It works on all types of devices
No ads popping while using it
Cons :
An internet connection is needed
It has no editing options for your recorded audio
Part 3. FAQs about Google Recorder
How long can you record on Google Recorder?
When using Google recorder, you can record up to 18 hours long on a single recording.
Can you upload audio to Google Recorder?
Google Recorder is capable of backing up and syncing audio recordings.
Why is audio recording important?
Recording audio is essential to ensure listeners can easily hear and understand what you are saying. High-quality audio is necessary, as low-quality audio can be challenging to listen to. With that, your listeners will move away from your audio content. In addition, it will make you more professional if you have high-quality recordings.
Conclusion
All of the above enlisted online and offline recording tools enable you to record your audio. If you need a good voice recorder to record a song, lectures, meetings, and other reasons, you can count on them. As mentioned above, you can rely on the Google recording platform, which is called Google Recorder. This application can record your voice and transcribe it into text in real time. But if you prefer to use a recording program, you can lean on ArkThinker Screen Recorder. It has plenty of built-in recording features that are beneficial for you.
What do you think of this post? Click to rate this post.
Excellent
Rating: 4.9 / 5 (based on 512 votes)