The Best Podcast Recording Software to Record Your Audio
There is a lot of emerging audio-digital content all over the internet. It is one of the booming content you can create and share on social networking sites. A podcast is audio-digital content consisting of a series of digital audio files that can access on the internet. When listening to a podcast, the common subject matter you can choose is life, love experience, and so on. The primary purpose of this audio-digital content is to entertain the listeners. Do you also want to create your own podcast? If yes, keep reading, as this post will present information and podcast recording software beneficial for you.

GUIDE LIST
Part 1. Preparations Before Recording a Podcast
Are you thinking of starting a podcast? If yes, here is the list of things you should take note of and remember before diving into the recording.
◆ First and foremost, knowing the topic you like to share is essential. It would be best if you also considered whether your topic is fascinating. Also, you need to ensure that your listeners will enjoy it.
◆ You must know who is your target listener based on the topic you want to share. With the topic, you will work on, ensure you have a target audience that will want to listen to your podcast.
◆ Once you have thought of your topic, concentrate on forming episode subjects. When making a podcast, you do not just produce one episode; you do it sequentially, relying on your topic of choice. With that, it is better to choose a topic with broad aspects so that you will have more things to say.
◆ When you are recording your podcast, you can deliver your message differently. It might be conversational, educational, storytelling, or in the form of an interview.
◆ Before recording, ensure your microphone is working correctly and has good sound quality. Your listeners will solely depend on your voice, so make sure your voice is soothing to the ears.
◆ Choose a podcast recorder tool that can excellently record your audio, provides your needs, and gives you satisfaction.
◆ Finding a host that can store your audio and make it available to your listeners is a must.
Part 2. Best Ways to Record a Podcast
As you create a podcast, choosing a recording tool to help you achieve your goal is essential. It would be best if you had a recording tool that could clearly record your voice to make it soothing to the ears. Your listeners will solely depend on your voice, so you need to provide high-quality audio. This part will provide a recording tool to help you record your podcast. To get to know them, proceed with the following recording tools provided.
1. ArkThinker Screen Recorder
If you are looking for a recording tool compatible with Mac and Windows, you can count on ArkThinker Screen Recorder. If you are a beginner at audio recording, you can easily use this program hassle-free. Despite having plenty of built-in features, it has a user-friendly interface that will not confuse you. It is possible to record your podcast using this program, as it has an audio recording tool. In addition, it has a trimming option that can help you to remove the unneeded parts on your audio. Once you are done recording your audio, you can locate your output on the recording history. Moreover, it permits you to play your recorded audio on your computer media player. Follow the steps provided to learn how to record a podcast using this program.
Step 1
Download and Install
To have complete access to the software, download and install it on your Mac or Windows device. Once the installation process is finished, continue to open the program.
Step 2
Open Audio Recording
On your screen, you will see the list of built-in features but go straight to Audio Recorder. Once you open that feature, it will lead you to the recording options. To record your audio, turn on the System Sound and Microphone. In addition, you can modify the volume based on your preference; you can turn the volume down or up the volume. Once settled, hit the REC button to start the recording process.

Step 3
Begin Audio Recording
After that, the recording section will appear on your screen. Say anything you want regarding to your topic. It does not have a time limit, so take your time and do not rush your work. If there is a case in which you need to stop recording for a while, click the Pause button. And once you are ready to start again, click the Play button to continue the recording. Once you are done recording your podcast, click the Stop button, which will bring you to the preview window. If there are certain parts on your audio you want to remove, you can remove them using the trimmer option. Click the Advanced Trimmer button, set the time, or manually remove the unneeded parts from your audio to the timeline. After that, click the Trim button to cut them off successfully.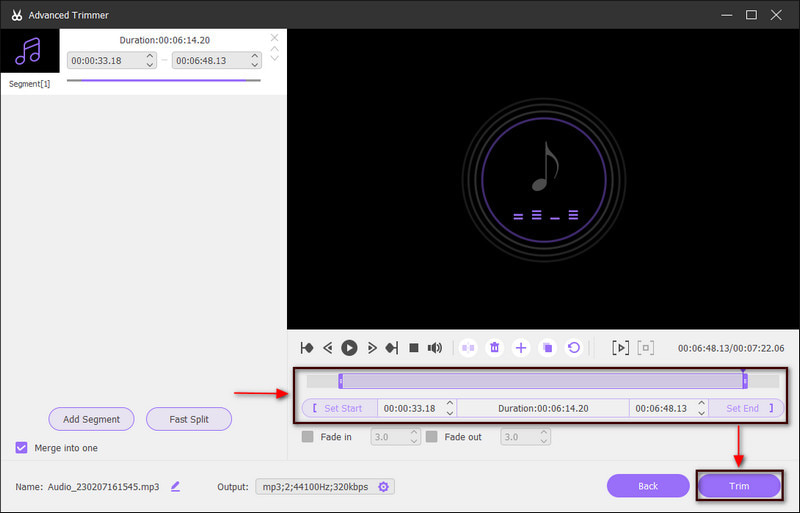 Step 4
Play Your Recorded Audio
Click the Done button to locate your recorded audio on the recording history. Also, you can locate your recorded audio in your desktop folder.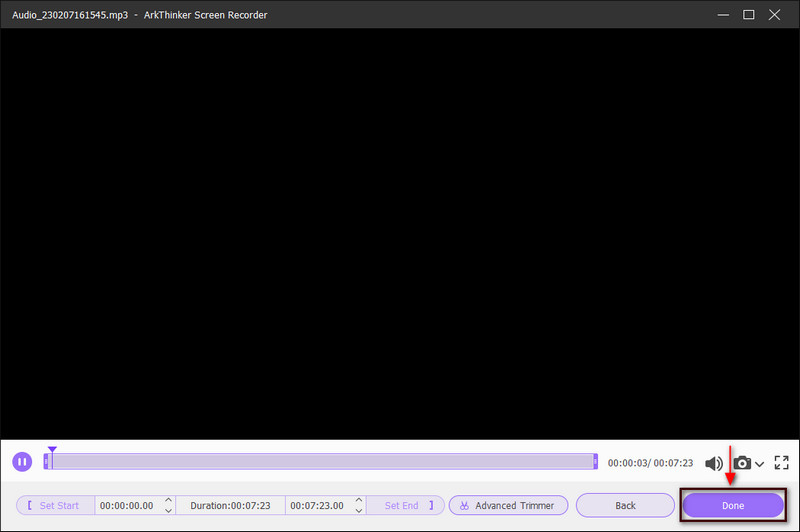 2. Podbean
There are free podcast apps for recording Android that you can use to record your audio, and one of them is Podbean. This application is an all-in-one audio recording tool and a podcast creator that allows you to create your podcast. It is a top podcast player that enables you to access numerous podcast channels. In addition, it has plenty of background music, sound effect, and post-production features that you can use. To start recording your podcast, rely on the following steps.
Step 1
First and foremost, on your Android phone, open the Google Play Store, and install the application.
Step 2
To start recording your podcast, proceed to the Recording section, and hit the recording button. You can hit the Pause button if you want to stop for a while, and once you are done, click the Stop button.
Step 3
After recording your podcast, you can apply effect, tone, and background music to level up your podcast.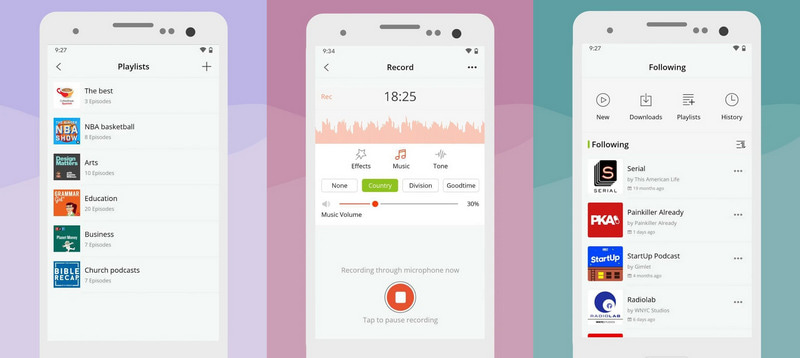 3. SpeakPipe
SpeakPipe is an audio recording tool that you can access online. It has a simple and easy-to-use recorder that produces a high-quality recording. You can directly record your audio using your microphone from the browser. In addition, your recorded audio can be saved on your computer and can share with anyone by getting the link.
Step 1
Visit SpeakPipe's official website to have complete access to the recording tool.
Step 2
Click the Start recording button from the main interface, which will authorize you to access your microphone. After that, the recording will automatically start, and once you are done, click the Stop button.
Step 3
Click the Save on server button, and a dialogue box will appear on your screen, asking you to enter your name. Once done, click the Save button, which will present you with the link to the recording.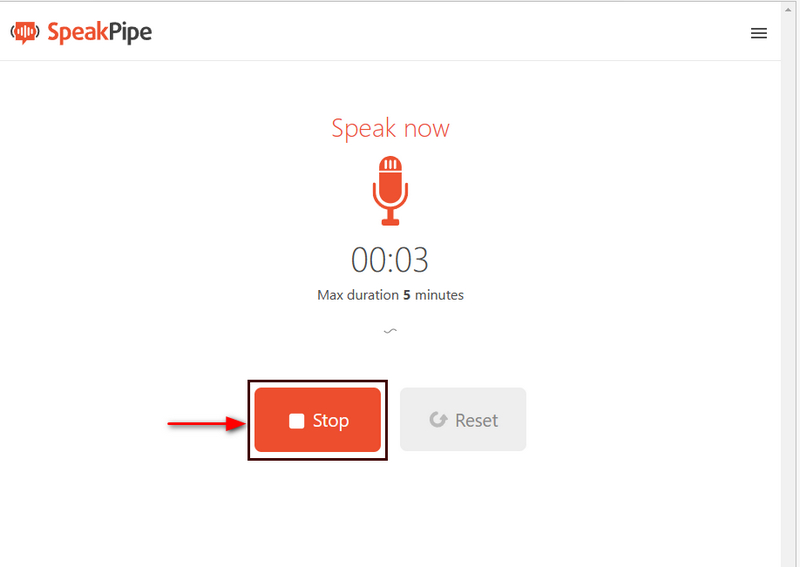 Part 3. FAQs about Podcast Recorder
Is Spotify a podcast?
Spotify is one of the most popular podcast-listening platforms on the market. It has a separate section to locate numerous podcasters and their content.
Who listens to podcasts?
The podcast has different listeners, with male listeners somewhat outweighing female counterparts, with a share of 53%. Also, older generations are listening to podcasts. But commonly, 12 to 34 years old are the top listeners.
Is Youtube or Spotify better for podcasts?
Youtube got the highest vote as a platform to use when listening to podcasts, with 24.2%. Followed by Spotify with 23.8%, and next is Apple Podcast with 16% based on the listener's survey.
Conclusion
A podcast is another content option you can create and share online. There are users online who prefer to listen a content instead of watching. If you want to start creating your podcast, it would be better if you have prior knowledge about it. And one thing that you should have when recording is a podcast recorder that can produce a high-quality sound. Choosing a recording tool that matches your delightful voice would be best.
What do you think of this post? Click to rate this post.
Excellent
Rating: 4.9 / 5 (based on 521 votes)