14 Best Audio and Voice Recorders to Record Important Moments
Today, almost all digital devices come with a microphone, which can capture the sound around the devices. It makes sense that most operating systems have a built-in voice recorder application. However, they are too basic to perform advanced tasks. In another word, you may look for the best audio recorder software or hardware to capture important meetings, conversations, lectures, and more. Therefore, this article identifies a top list and shares the unbiased review below.

Part 1: Top 10 Voice Recorder Applications
| | Price | Platform | Output formats | Bonus features |
| --- | --- | --- | --- | --- |
| ArkThinker Screen Recorder | $19.96 per month or $59.96 lifetime license | Windows 11/10/8/7, Mac OS X 10.12 or above | MP3, WMA, AAC, M4A, FLAC, Ogg | Record screen, gameplay, webcam, and phone |
| Audacity | Free | Windows 7 and earlier, macOS 10.12 and earlier, Linux | WAV, AIFF, MP3, Ogg Vorbis, FLAC and MP2 | Edit audio tracks |
| QuickTime Player | Free | macOS | AAC | Record screen, iPhone |
| Adobe Audition | $20.99 per month on an annual plan or $31.49 on month plan | Windows 10 (64-bit) V20H2 or later, macOS Big Sur v11.0 or later | AIFF, WAV, MP3 | Edit audio tracks |
| Online Voice Recorder | Free | Web | MP3 | |
| Rev Online Voice Recorder | Free with extra payment for Transcribe | Web | MP3 | Transcribe recording to text |
| SpeakPipe Free online voice recorder | Free | Web | | |
| Otter Voice Notes | Free with in-app purchase | iOS 13.0 or later, Android | PDF, TXT, SRT, MP3 | Transcribe recordings to notes |
| Easy Voice Recorder | Free with in-app purchase | iOS 15.0 or later, Android | PCM, MP4 or AAC | Convert recordings to text |
| Dolby On | Free | iOS 13.0 or later, Android | Lossless audio formats | De-noise, transcribe recording to notes |
Top 1: ArkThinker Screen Recorder
As one of the best audio recording software, ArkThinker Screen Recorder is available to everyone. For beginners, the well-designed interface lets you master the software within a few minutes. The custom options allow advanced users to do voice recording in a variety of situations.
Pros :
Record system sound and/or your voice.
Schedule voice recording.
Save audio recordings in MP3, FLAC, M4A, etc.
Pre-listen to voice recordings.
Remove unwanted parts from an audio recording.
Cons :
You have to purchase a license after the free trial.
How to Record Audio on a PC
Step 1
Install the audio recorder
Launch the best audio recorder after installing it on your PC. There is another version for macOS. Choose the Audio Recorder to move on.

Step 2
Record audio
There are two options on the window, System Sound and Microphone. The former can record the sound from your computer and the latter captures the voice through your microphone. You can toggle it on or off each of them according to your need. When you are ready, click the REC button to initiate recording audio.
Tip: To record audio automatically, click the Take Schedule button and set it up.

Step 3
Save the audio recording
Wait for the audio recording to finish, and click the Stop button. Then you will be presented with the media player. Listen to the recording and remove the unwanted clip using the trimmer at the bottom. Finally, click the Done button and save the result.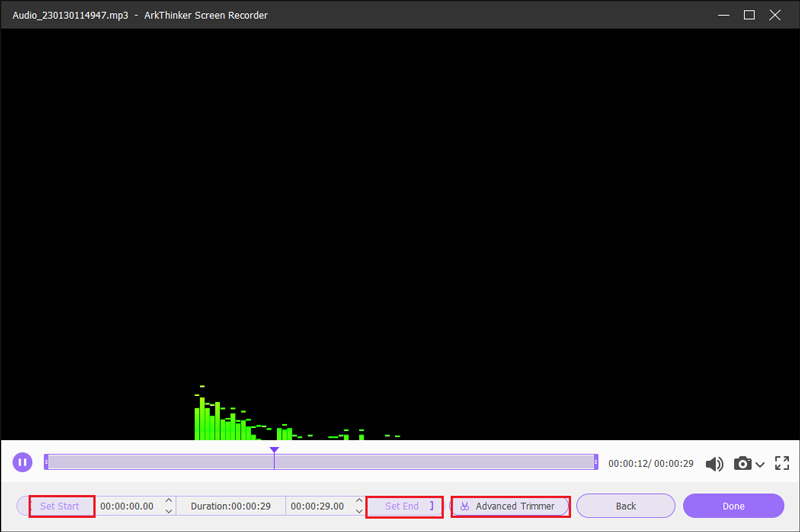 Audacity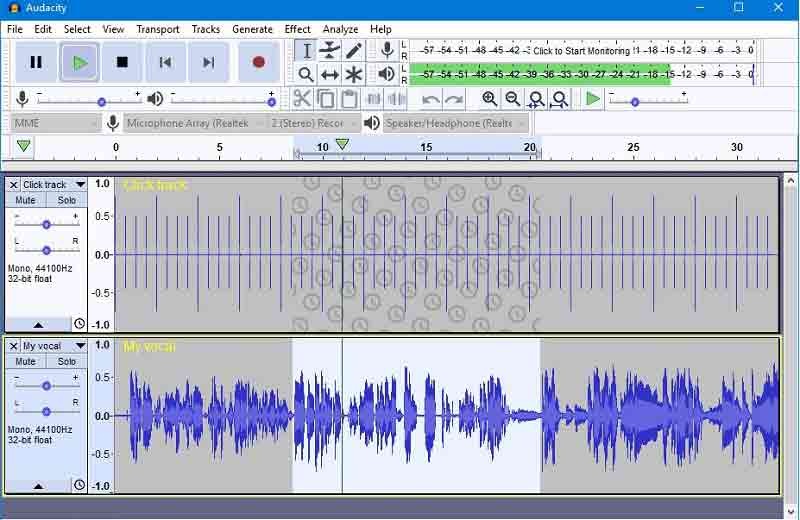 Audacity is an open-source audio solution and the best free audio recording software. If you set it up properly, it will turn your computer into a digital voice recorder device. Besides, you can edit the recording on the timeline directly.
Pros :
Free to download.
Record audio on tracks directly.
Edit the audio recording on the timeline.
Available to a wide range of systems.
Cons :
The setup is pretty complicated.
It only supports destructive audio editing.
Top 3: QuickTime Player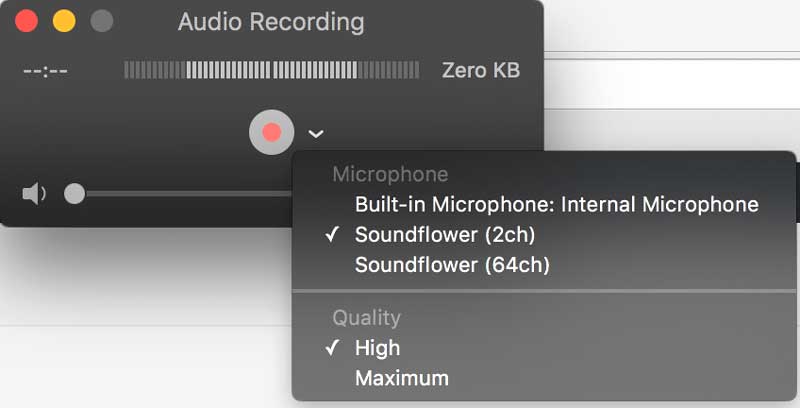 QuickTime Player is the pre-installed media player and a hidden voice recorder on macOS. It means that you can record sound and voice without extra applications if you have a MacBook. Although it is pretty basic, it is enough to capture audio with the built-in microphone.
Pros :
Record audio for free.
Pre-install on almost all Mac computers.
Include a few custom options.
Work with other apps on Mac.
Cons :
The output formats are limited.
It is only available to macOS.
Top 4: Adobe Audition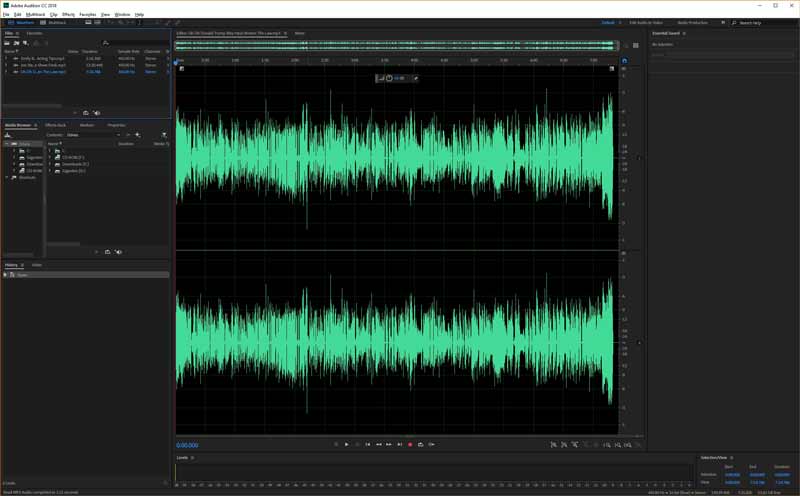 Adobe Audition is professional voice recording software on Windows and macOS. Many musicians and studios capture, edit, and produce music albums using the software. Therefore, it is the best option for professionals but not average people.
Pros :
Record audio with high quality.
Edit audio files and recordings on the timeline.
Mix multiple audio tracks into one file.
Support a wide range of input audio formats.
Cons :
The system requirements are very high.
The learning curve is not friendly.
Top 5: Online Voice Recorder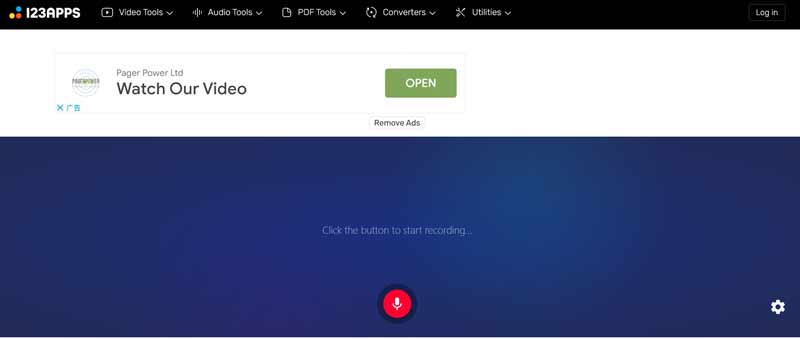 Online Voice Recorder is a voice recorder online released by 123APPS. It allows you to capture voice through your microphone without installing any software. Therefore, it is a convenient choice to save important audio files.
Pros :
Free to use without hidden payments, fees, or charges.
Record audio in a web browser.
Cut unwanted parts from audio recordings with audio cutter.
Include an extension for Google Chrome.
Cons :
It only supports one output format, MP3.
It lacks custom options.
Top 6: Rev Online Voice Recorder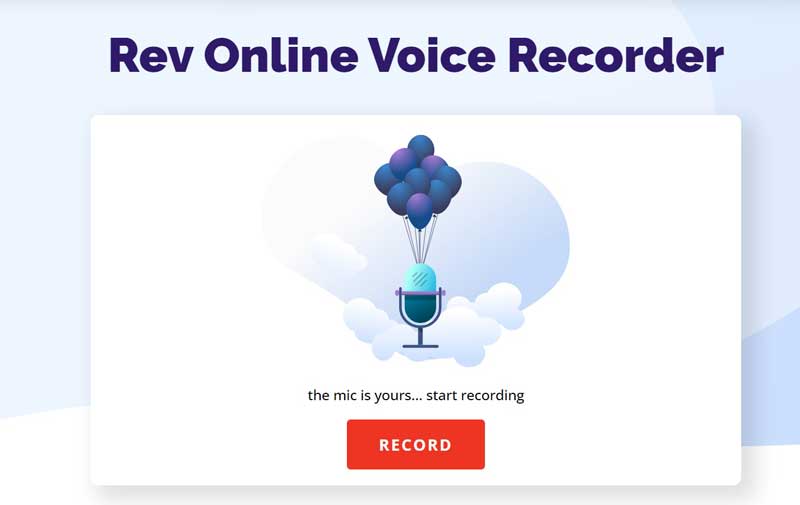 Rev Online Voice Recorder is another online voice recorder. It enables you to record your voice through your microphone on a computer, Android phone, or iPhone within a web browser for free. Bear in mind the bonus features require payment.
Pros :
Record audio for free.
Export audio recording in MP3.
Available to browsers on PCs and mobile.
Transcribe audio recordings into text.
Cons :
It is only available in a part of browsers.
Not all features are free.
Top 7: SpeakPipe Free Online Voice Recorder

As its name indicated, SpeakPipe is a voice recorder online. It does not include extra payment, fee, or charge. Unlike other audio recorders, it hosts recordings to the server and provides a link. It stores your audio recordings for three months.
Pros :
Record audio online.
Store audio recordings for three months.
Share recordings directly.
Support a variety of browsers.
Cons :
It won't produce MP3 files.
It lacks bonus features.
Top 8: Otter Voice Notes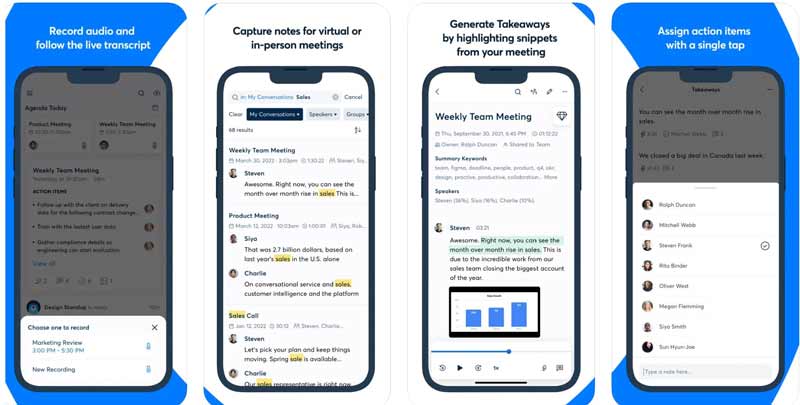 Otter Voice Notes is a voice recorder app available on iPhones, Android phones, and computers. Moreover, it transcribes your recordings into notes in real-time with built-in AI technology. So that you can edit the notes on your mobile device.
Pros :
Record audio and transcribe it into notes.
Enrich notes with AI.
Adjust the speed of the audio playback.
Identify and tag speakers.
Cons :
It is only available in English.
The app is large and takes up space.
Top 9: Easy Voice Recorder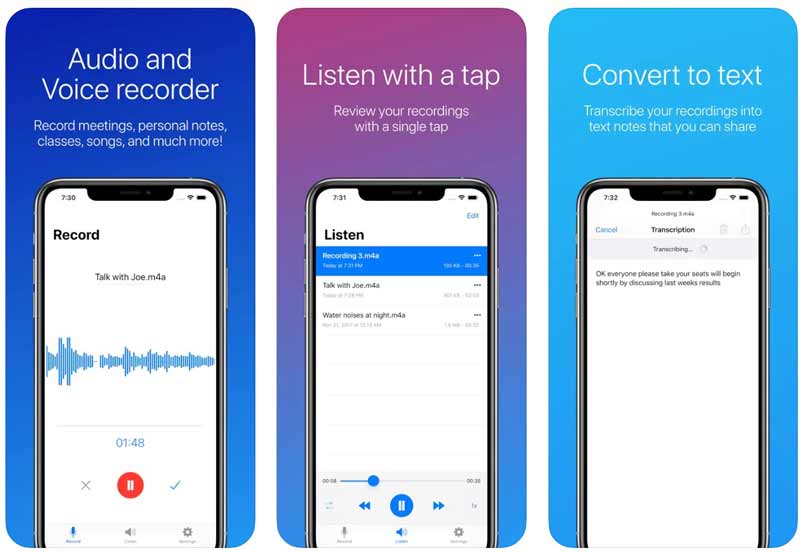 Easy Voice Recorder is an easy way to record voice in high-quality audio files on iPhones and Android devices. Then you can produce personal notes from the recordings. The lock screen widgets allow you to start recording quickly.
Pros :
Record audio in MP4 or AAC.
Convert recordings into text.
Listen to recordings at high-speed.
Offer lock screen widgets.
Cons :
It is only compatible with the latest systems.
Some features require improvement.
Top 10: Dolby On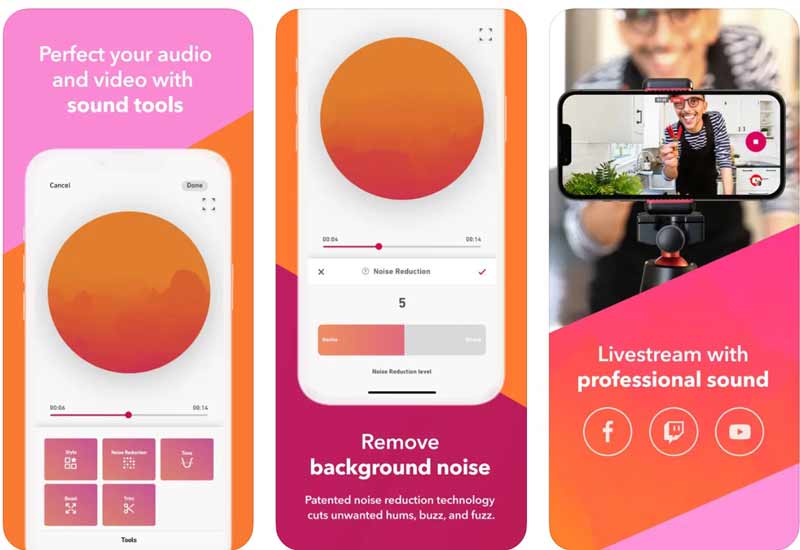 Dolby On is a free audio recorder for iOS and Android users to capture voice, music, and more. Besides, it includes a variety of effects to retouch the voice recordings or audio files, such as noise reduction.
Pros :
Clear up audio quality.
Shape recordings with Dynamic EQ.
Optimize the audio file for social media.
Export recordings in lossless formats.
Cons :
You can only use this app in English.
It cannot convert recordings to text.
Part 2: Top 4 Voice Recorder Devices
Top 1: Sony PCMD100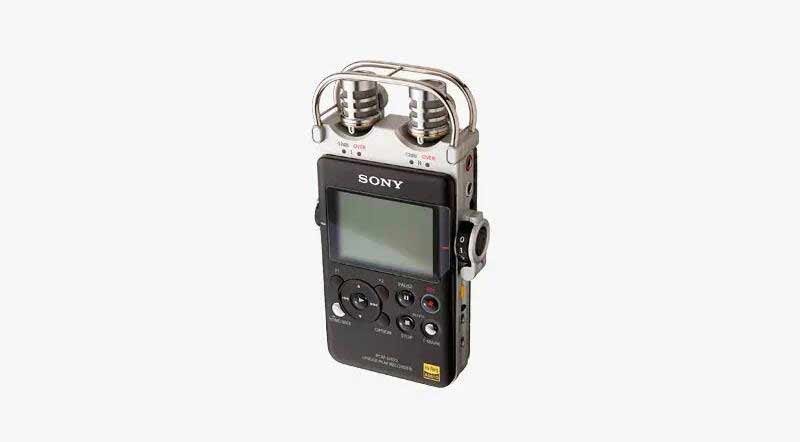 Price: $1,135
Sony PCMD100 is a high-end Sony voice recorder designed for professionals, like journalists. It produces high-resolution voice recordings and crystal-clear audio files while minimizing distortions.
What We Like
1. Produce 24-bit/96Khz WAV format recording
2. Control with smartphones.
3. Offer up to 96GB storage.
4. Support DSD, WAV, and MP3
What We Don't Like
1. It is pricy.
2. It is a bit heavy.
Top 2: Zoom H1n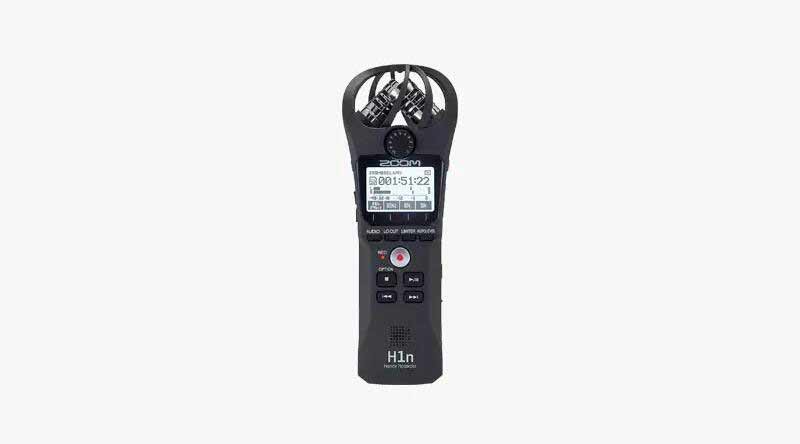 Price: $74.99
Zoom H1n is a portable voice recorder for students and beginners. Although the price is affordable, it packs a variety of features that are easy to use. Plus, the compact design makes it convenient to take here and there.
What We Like
1. Lightweight.
2. Control audio recording easily.
3. Charge with a USB cable.
4. Come with outstanding microphones.
What We Don't Like
1. It is made of plastic.
2. The storage is limited.
Top 3: Olympus WS-853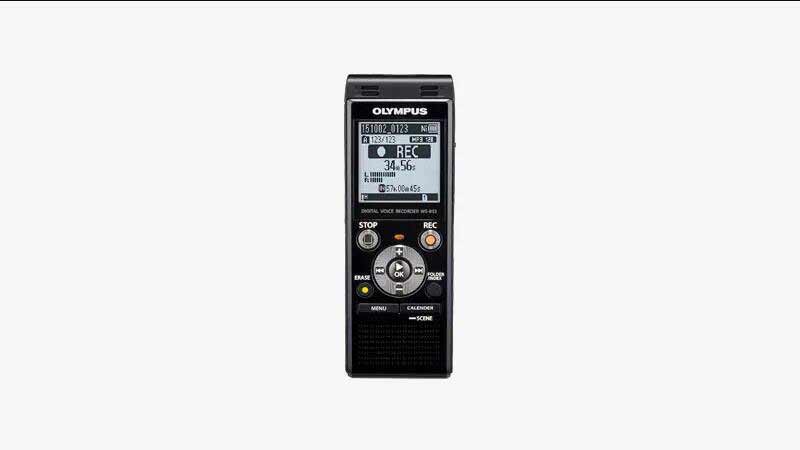 Price: $65.50
Olympus WS-853 is a popular audio recorder with 8GB internal memory. It produces high-quality MP3 recordings with the 2 stereo microphones positioned at a 90-degree layout.
What We Like
1. Come with Intelligent Auto Mode.
2. Include a Noise Cancellation filter.
3. Add up to 32 microSD cards.
4. Record up to 2080 hours.
What We Don't Like
1. The internal storage is limited.
2. The battery life is short.
Top 4: EVISTR 16GB Digital Voice Recorder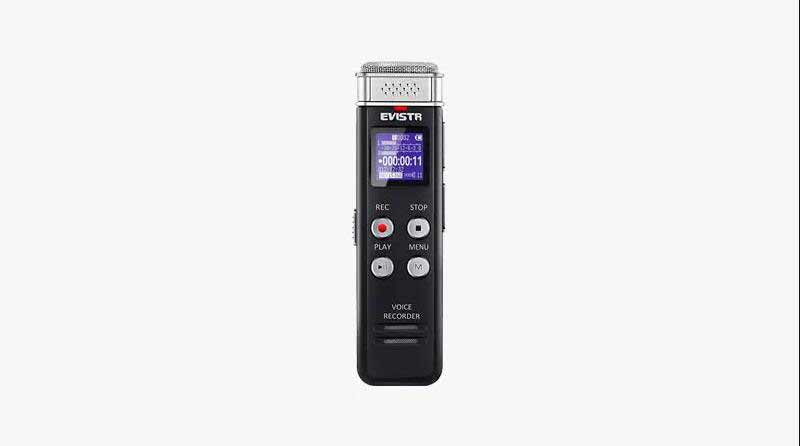 Price: $36.99
If you need a mini voice recorder, EVISTR 16GB is absolutely a good choice. It packs useful features that are enough to record audio in daily life. Moreover, the price is extremely reasonable.
What We Like
1. Record voice in MP3/WAV at 384 kbps.
2. Save up to 560-hour recordings.
3. Easy to learn and use.
4. Come with USB 2.0
What We Don't Like
1. You have to install software to play audio recordings on Mac.
Part 3: FAQs about Best Audio Recorder
Does Windows 10 come with a voice recorder?
Yes. The free voice recorder app bundled with Windows 10 is great in its simplicity. It allows you to make quick and clear audio recordings without professional programs.
How to record my voice with better quality?
First, you should record your voice in a silent environment. If you have a powerful microphone, it is helpful to reduce noise. Some voice recorder devices and software have the de-noise feature.
What is the best output format for voice recordings?
The most widely used audio format is MP3. However, the highest-quality audio format for voice recordings is WAV. It keeps all data from the original recording. Other formats with similar quality include FLAC and AIFF.
Conclusion
Now, you should learn at least 10 best audio recorders for Windows, macOS, iOS, and Android devices. Some of them are free of charge and others require payment for reliable experiences. Plus, we also identified the 4 best voice recorder devices to help you capture important events. If you have other questions or better recommendations, please feel free to leave a message below this post and we will reply to it quickly.
What do you think of this post? Click to rate this post.
Excellent
Rating: 4.9 / 5 (based on 216 votes)