Full Review of the 10 Best GIF Converters
Animated GIF files are widely popular on the internet and social media. They are quite useful for conveying emotions, humor, and reactions. Also, you can use GIFs to showcase products and services, as well as to simply entertain online audiences. Can you convert JPG/PNG images or video clips to GIFs?

Sometimes, due to their limited compatibility with devices and platforms, GIFs also need to be converted into other formats to be more accessible. This post makes a list of the ten best GIF converters. You can use them to create and convert GIFs with ease.
GUIDE LIST
Part 1. Best Image to GIF Converters
Many GIF converters on the internet can help you convert JPG or PNG to GIF, including professional image editors and online tools. This part shares the four best image to GIF converters for you to choose from.
ArkThinker Free Image Converter Online
ArkThinker Free Image Converter Online is a popular image converter that can help you convert JPG and PNG pictures to GIFs. It allows you to convert up to 40 images at a time. This online GIF converter gives a quite straightforward way to create animated GIFs. When you reach it, set the output format as GIF, then upload your pictures. The uploaded images will be automatically converted to GIF files. It will add a watermark to your output GIFs.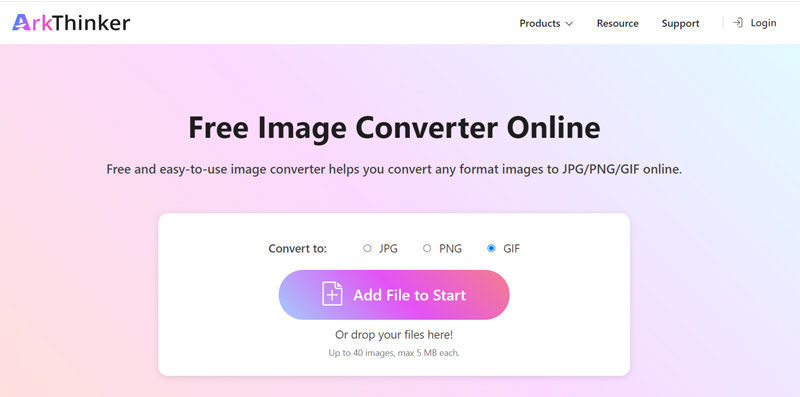 Adobe Photoshop
Adobe Photoshop is one of the best GIF converters available in the market. As one of the most popular and powerful image editors, Photoshop is designed with various editing functions. It lets you create customized GIFs from images and videos. This GIF converter supports all commonly-used image formats, including JPG, PNG, and TIFF. Furthermore, it provides you with options to add animation, text, and even filters to your GIFs to make them more appealing.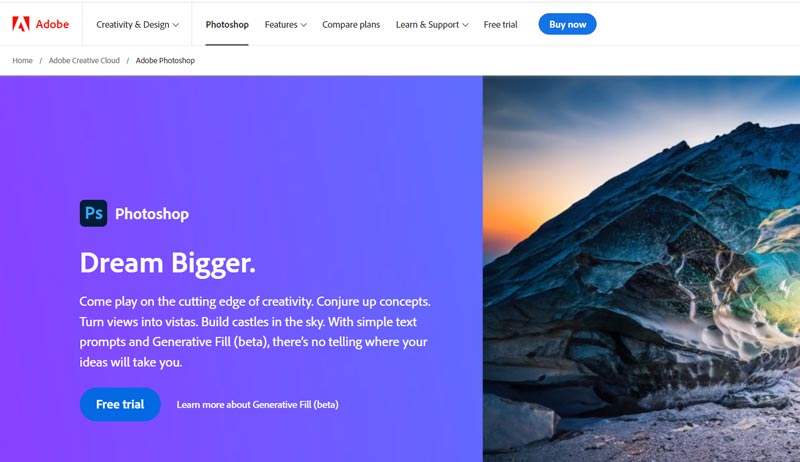 Step 1
Download Adobe Photoshop on its official website and have a free trial. Open it, click the File menu, then use the Load Layers option to add your image files. These loaded images will be listed on the right as the frames of your animation.
Step 2
Click the top Window menu, choose Timeline from its dropdown, then select Create Frame Animation.

Step 3
Click the Play button to view the GIF and ensure all frames are in the right order. Choose Make Frames From Layers in the right corner of the Timeline panel. Click the Repeat option from the bottom of the Timeline panel to set your GIF to loop. After that, you can click File, Export, and Save for Web to convert your JPG or PNG images to an animated GIF file.
Media.io Convert Images to GIF Online
Media.io offers many useful video, audio, and image editing tools. It has an individual images to GIF converter online for you to convert JPG, JPEG, PNG, BMP, and WebP pictures to GIFs. This free GIF converter lets you freely customize the output GIF size and frame rate and add a text or image watermark based on your need. Moreover, it allows you to turn video clips into animated GIFs. Media.io also offers a video to GIF converter and an image resizer.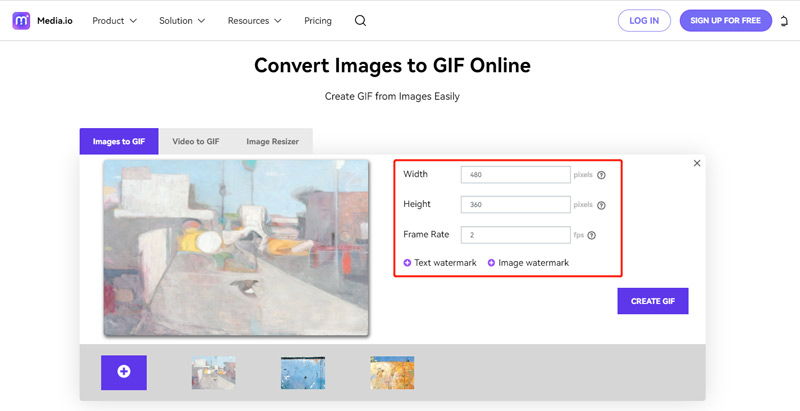 Flixier Image to GIF
Flixier Image to GIF is another easy-to-use GIF converter online. It supports all commonly-used image formats, including JPG, PNG, BMP, and SVG. Flixier lets you add images from your computers, mobile phones, and cloud services like Google Drive, Google Photos, OneDrive, and Dropbox. Compared with other GIF converters online, Flixier carries more features to edit and optimize your output GIFs. But its free version will add a watermark to your created GIF file.

Part 2. Great Video to GIF Converters
This part provides four recommendations for the best video to GIF converters. You can check and compare their features, then use your preferred one to easily convert your video clips to animated GIFs.
ArkThinker Video Converter Ultimate
ArkThinker Video Converter Ultimate is an all-featured video, audio, and image converting software with a specially-designed GIF Maker to turn your video clips and pictures into GIFs. It supports all popular video and image formats, including MP4, FLV, AVI, MKV, MOV, M4V, JPG, PNG, WEBP, TIFF, HEIC, BMP, and more. You can free download it and access its GIF Maker in Toolbox.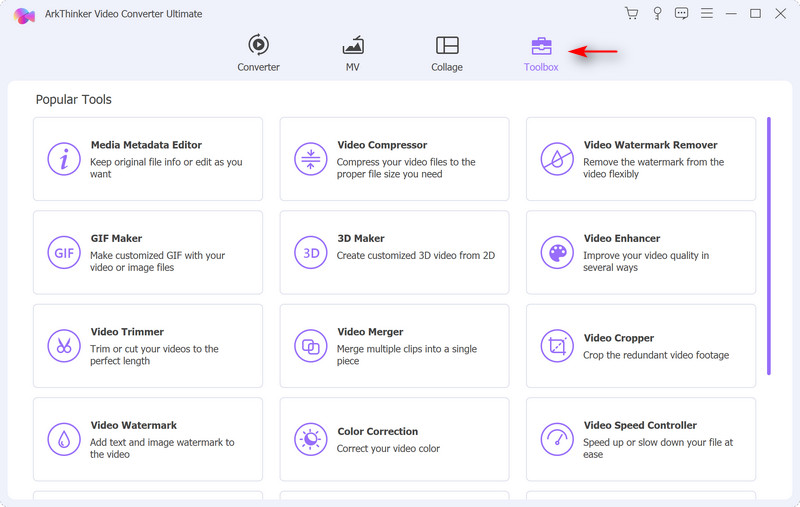 GIF Maker offers two options to create animated GIFs, Video to GIF and Photo to GIF. Select Video to GIF when you need to turn video clips into GIFs.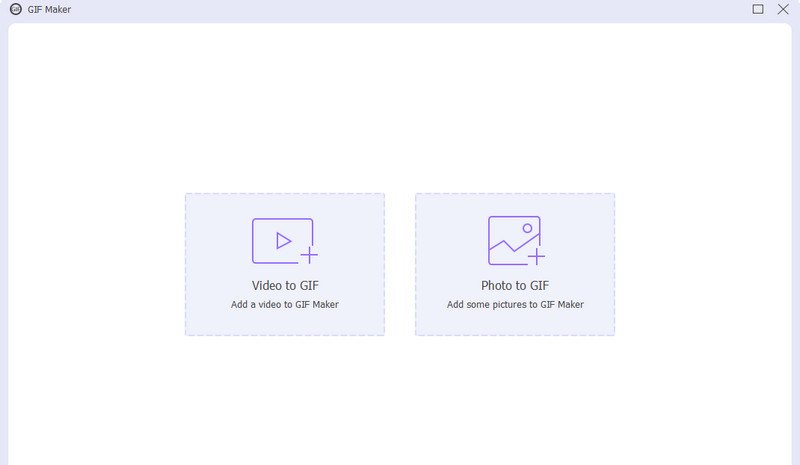 You can freely adjust the output size and frame rate when your video is added. Moreover, it has an inbuilt editor to edit your video. Before you convert a video to a GIF, remember to enable Loop Animation. Then click the Generate GIF button to confirm your operation.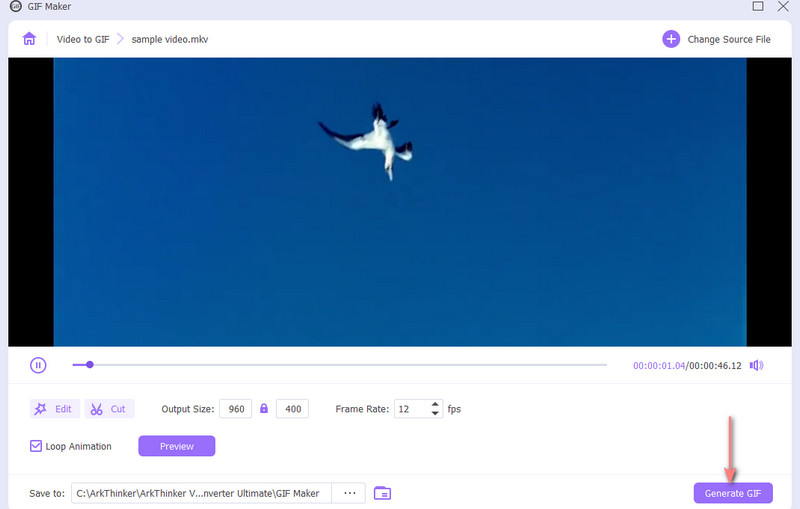 GIPHY
GIPHY is a famous GIF creating tool that can help you convert videos or pictures to GIFs. It has an extensive library of ready-to-use GIFs that you can simply browse and share with others. Click the Create button to access its GIF Maker. It supports MP4, MOV, WebM videos, JPG, PNG, and GIF images.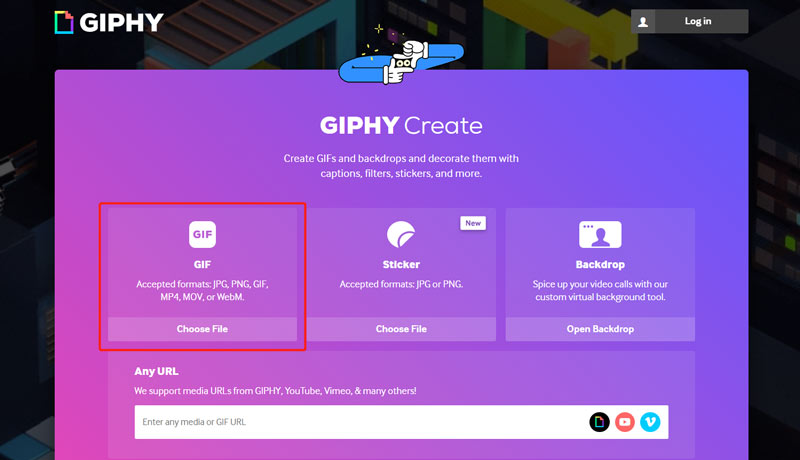 Click the Choose File button to upload your video clip. You must sign up for an account or sign in with your Facebook or Apple account to start the video-to-GIF conversation. Trim your video and click Continue to Decorate. GIPHY lets you add filters, captions, stickers or directly draw on the GIF file. Click the Continue to Upload button and follow the instructions to proceed. GIPHY also offers mobile apps for iOS and Android users to convert GIFs.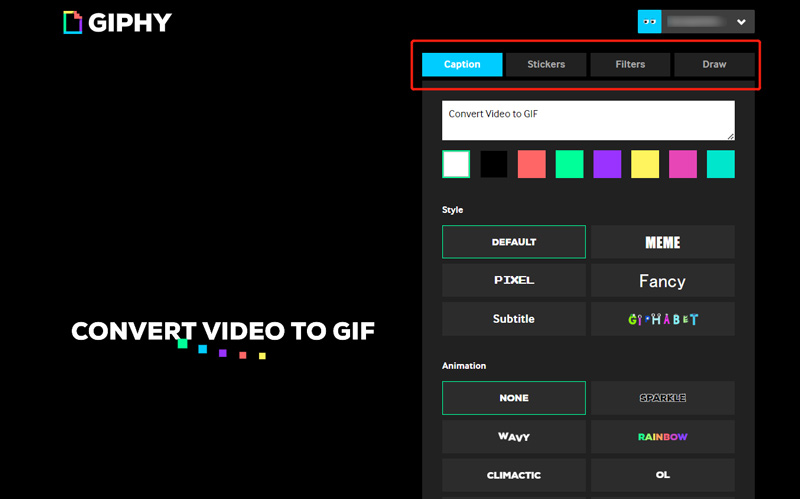 Ezgif
Ezgif is a web-based GIF converter that lets you create animated GIFs from videos, images, and even from other GIFs. It offers many useful features, such as resizing, cropping, optimizing, and adding effects to your GIFs. Moreover, it offers an option to easily convert your GIFs into other formats, such as MP4, AVI, and WebM. You can navigate to the official Ezgif website and click the Video to GIF tab to use its Video to GIF Converter.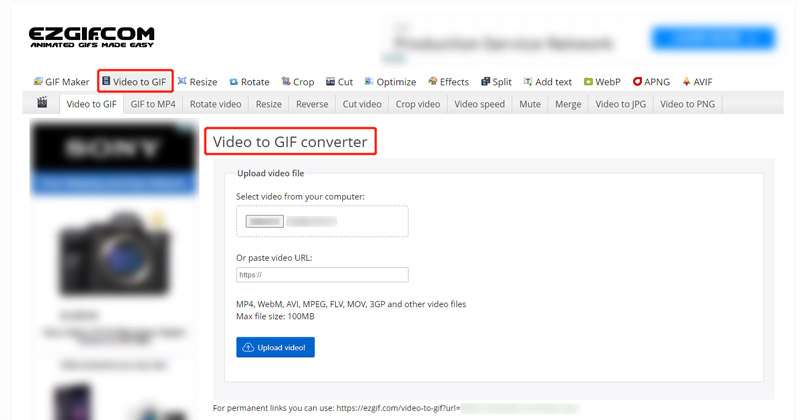 Click the Select File button to add your video. It supports MP4, MPEG, FLV, MOV, WebM, AVI, 3GP, and other video formats. The max file size you can free convert is limited to 100MB. Click Upload video to move on. You can trim the video and customize various GIF settings. Then click the Convert to GIF button to start the video to GIF conversation.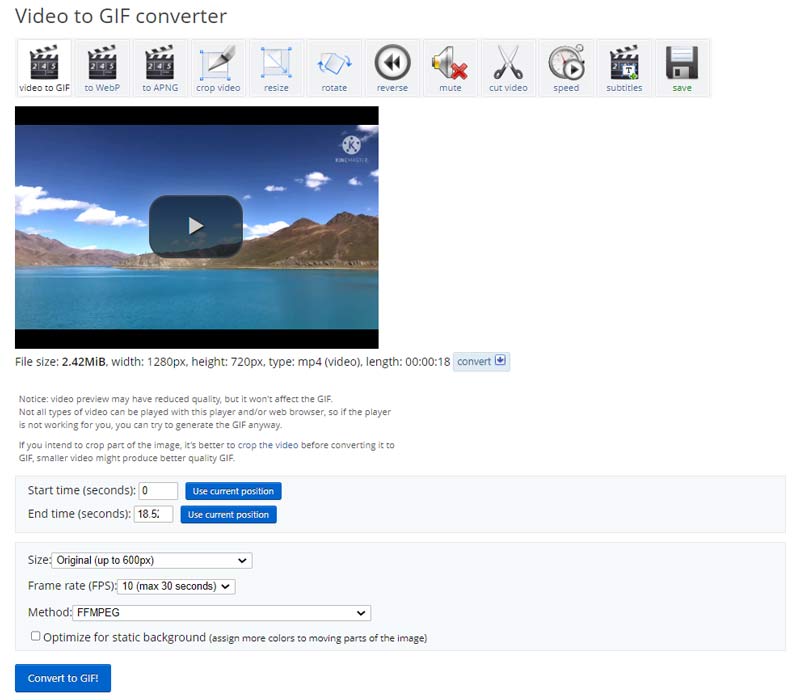 Adobe Express Free Video to GIF Converter
Adobe Express offers a convenient way to transform your videos into GIFs online. Its free video to GIF converter supports all commonly-used video formats and allows you to convert any video up to 1 hour long. Click Upload your video to add your video to Adobe Express. It lets you cut the video and remove unwanted parts. Then you can select the GIF quality and file size according to your need.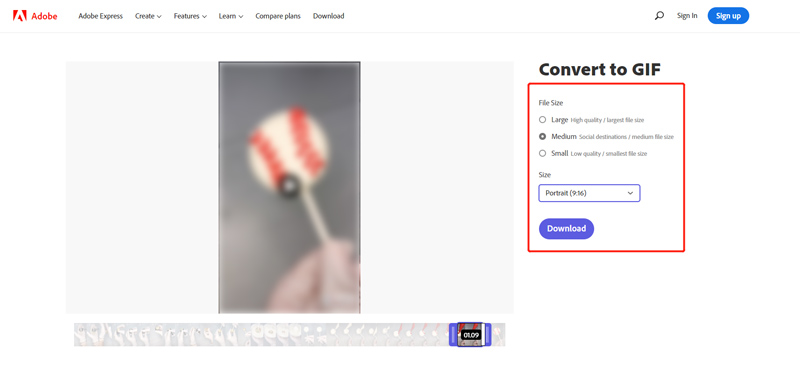 Click the Download button to convert your video to a GIF. To save your created GIF file, you need to sign up for an Adobe account or sign in with your Apple, Facebook, or Google account.
Part 3. Top GIF Converters to Convert GIFs to Other Formats
The primary reason why people use a GIF converter is to convert an animated GIF file into a video that can be more accessible and played on different devices, such as computers, smartphones, tablets, and gaming consoles. This part shares two GIF converters that allow you to convert animated GIF files into various formats, such as video, image, and even PDF.
CloudConvert GIF Converter
CloudConvert supports nearly all image, video, audio, document, ebook, and presentation formats. It has a GIF Converter for users to convert GIFs to their preferred video or document formats. You can convert GIFs from your device, Dropbox, Google Drive, and OneDrive. Select a desired output format, upload your GIF file, then click the Convert button. You can preview the created video and then save it on your computer. It won't insert a watermark into your output video.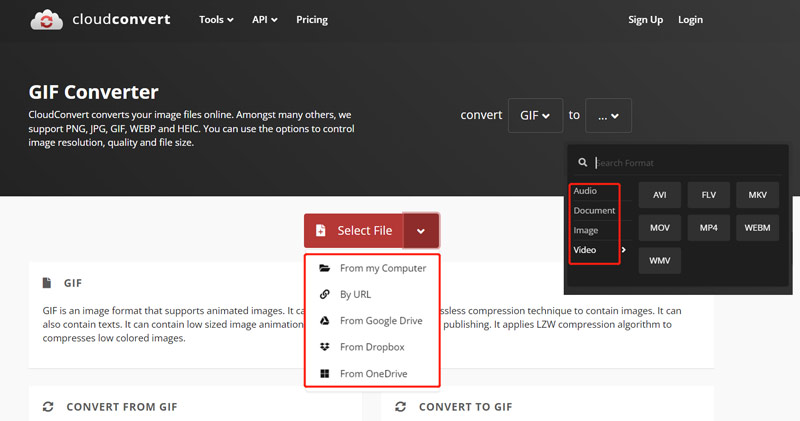 Convertio GIF Converter
Convertio GIF Converter is another easy-to-use GIF converting tool online that enables you to convert files to and from GIFs. Convertio supports all frequently-used formats. You can convert GIFs on your computers and phones. In addition, it can convert GIFs to other formats from Google Drive and Dropbox. You can free convert GIFs up to 100MB. For more file size, you should sign up for an account.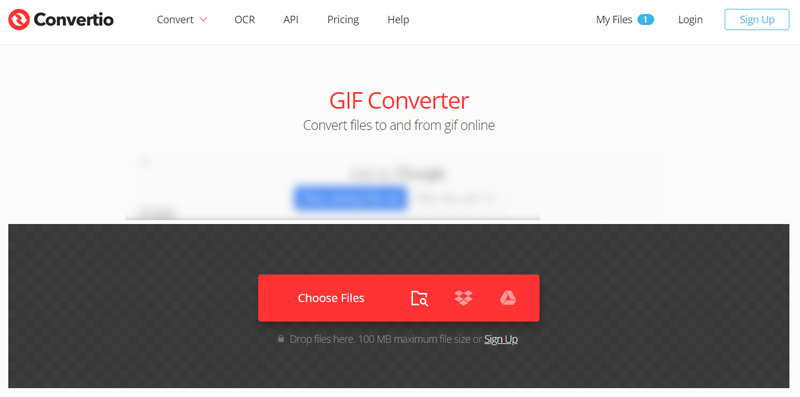 Click the Choose Files to add your animated GIFs to it. Select the target format from its offered video, image, or document formats. Then click the Convert button to start the GIF conversion. Click Download when the conversion is finished.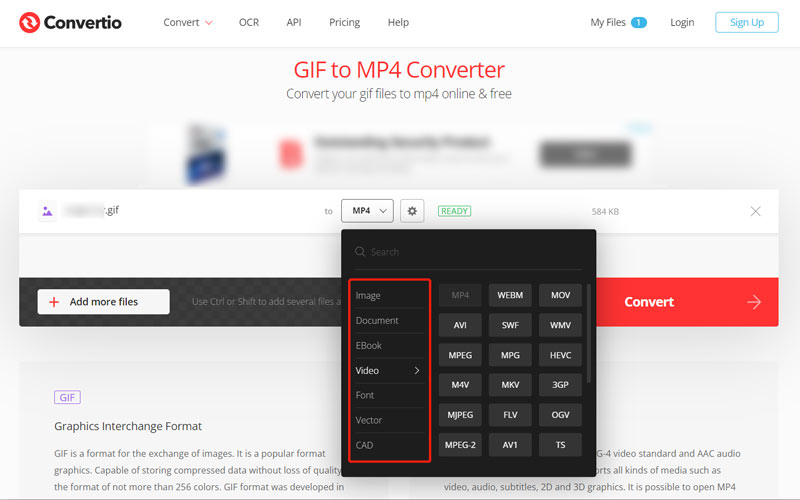 Part 4. FAQs of GIF Converter
How to select the best GIF converter?
When you choose a GIF converter, you should first consider its supported image formats. It should support all your pictures. A good GIF converter should output high-quality GIFs or offer various output options. It should be easy to -use and carry some basic editing functions. Also, it should have no file size, ads, watermark, account sign-in, and feature limits.
How do you edit a GIF file?
You may notice that most image editors don't allow you to edit animated GIF files. So you need a GIF editor to do the editing. Many online GIF editing tools can help you directly edit GIFs on your browser. You can use popular ones like Ezgif, Kapwing, VEED, Canva, or Flixier.
Can I change a photo to a GIF using Paint?
Yes. Paint is a pre-installed graphics editor for Windows users that can convert images to GIFs for free. You can open your photo using Paint, then convert it to a GIF while the exporting feature.
Conclusion
There are many great options for GIF converters available in the market. Whether you want to convert animated GIF files into video formats or create GIF files from videos or images, a GIF converter can help you achieve your goals. This post recommends the 10 best GIF converters with versatile tools and features to help you create or convert GIFs. If you have any other GIF converter recommendations, please share them in the comments with our other readers.
What do you think of this post? Click to rate this post.
Excellent
Rating: 4.9 / 5 (based on 301 votes)