How to Create Endless GIF Looping Effect in Seconds
Are you tired of every time you want to watch a GIF playing, you need to quit and play it again? Most people would say yes. Luckily, it is possible to make a repeated GIF looping effect. You will need a proper tool and detailed steps to help to accomplish this. Hence, this post has covered the 6 best online and offline methods for readers to create a perfect looping GIF on Windows and Mac. Keep reading for more details.

GUIDE LIST
Part 1: How to Loop a GIF Online [4 Methods]
The quickest way to generate a never-ending GIF is, undoubtedly, the online GIF tools. For some of the online tools, you can access them on your computer without system constrain and use them from your mobile devices. Besides, all the online tools recommended below are free.
1. EZGIF
Regarding the best method for looping a GIF, EZGIF is on the list. This web-based online tool is a famous GIF, video, and image editing tool, with a wide range of features. Besides, you can even extract frames from your video and make a GIF for a looping effect. To successfully loop a GIF forever, you must ensure that the uploaded file is less than 50MB.
Step 1
On the EZGIF official website, click the Effects tab and choose the Loop count effect.
Step 2
Then, click the Choose File button to select your GIF file for the website. Click the Upload button to import it finally.
Step 3
You can now change the number of times to play the GIF by entering a number in the blank next to the Loop count.
Step 4
To repeat the GIF forever, you can enter a huge number and click the Change loop count button. Click the Save button to download the looping GIF.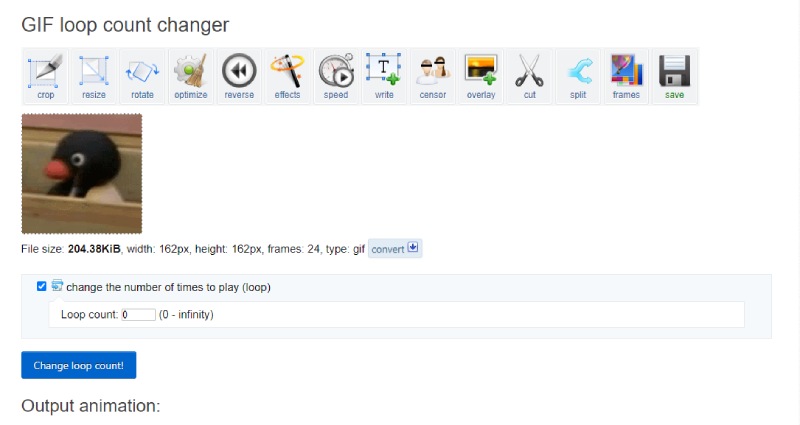 2. OnlineGIFTools
OnlineGIFTools is an online website that focuses on simplicity and takes care of every detail for you when looping a GIF endlessly. There is no need for advanced skills or complex operations since every step of the looping procedure is straightforward. You can loop a GIF online forever with a few clicks. But the only downside is that you might need more than this online website if you are looking for anything advanced.
Step 1
Search OnlineGIFTools on your browser and enter the official website. Drag the GIF o the original GIF section on the home page.
Step 2
Scroll down and tick Repeat Infinitely under the gif loop changer option. Then, you will see the looped GIF start looping forever.
Step 3
Click the Save as button to download the forever looping GIF to your device.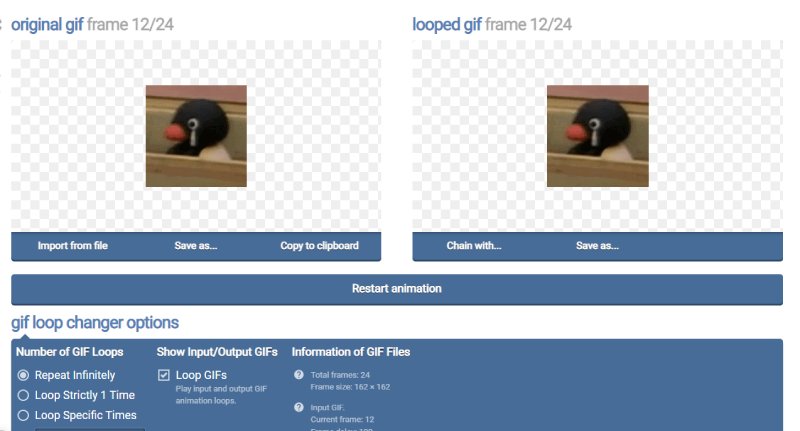 3. VEED.IO – Loop GIF
VEED.IO is another online free GIF looper that requires no fancy skills for applying the endless looping effect for a GIF. Meanwhile, you can get other features except for looping. For example, you can edit the GIF, loop part of the GIF, and create a GIF for looping with a video. Although the free version is convenient, there will be a visible watermark on your output GIF. You can only upgrade to the premium version to remove it.
Step 1
At the home page of VEED.IO, click the VEED Tools menu for more editing tools. Find the Loop Video tool and click Loop GIF from there.
Step 2
Click the Choose GIF File button to continue. On the following page, click the browse button to import your GIF.
Step 3
After that, click the plus icon to import the same GIF again to the timeline. In this way, you will create a looping effect.
Step 4
Click the Export button on the right corner above and choose Export as Video. You will be on a new page, click the Download button and choose GIF as your output format.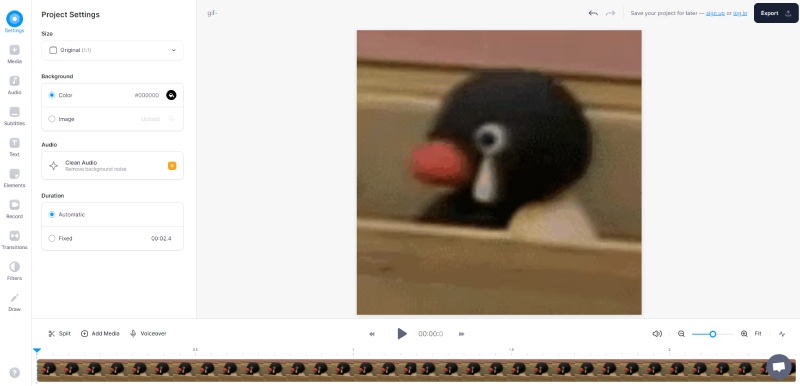 4. 123APPS – Free GIF Looper
Unlike other perfect loop GIF makers who will help apply the looping effect, the 123APPS tool takes a different perspective by turning your GIF into a video for looping. If you wouldn't mind this flaw, you can still find other valuable tools like cropping, trimming, etc. You can even speed up GIF while applying the GIF looping effect.
Step 1
Once you find the GIF Looper tool on the 123APPS website, click the Open File button to upload a GIF from your device or click the down arrow to upload from an online drive like Google Drive.
Step 2
After successfully importing the GIF, this online GIF Looper will automatically apply the endless looping effect.
Step 3
Click the Save button below. You can also click the gear icon to choose an output format. But you can only save the GIF as a new video.

Part 2: Best Desktop Tools to Loop GIF [Windows/Mac]
If you want to create a never-ending GIF with videos or pictures offline, the desktop software is indeed a good choice. Among all the workable GIF loopers on the market, this post has collected the two best ones for you with handy and powerful features.
1. Photoshop
As the most popular photo editing software among most professions, Photoshop can quickly handle all your GIF requirements and create a GIF looping effect effortlessly on both Windows and Mac. Although this is quite an advanced image editor, you can still master the basic skills for looping GIFs forever after learning the detailed steps here.
Step 1
Before making the GIF loop, you must create a GIF first. So, import footage into Photoshop after launching the program.
Step 2
Click the Option button near the timeline. Choose Loop Playback for your imported video.
Step 3
Next, click the Export button from the File menu. In the Format dropdown option, choose GIF. Scroll down to find Looping Options and choose Forever.
Step 4
Click the Done button to export this looping GIF on your computer finally.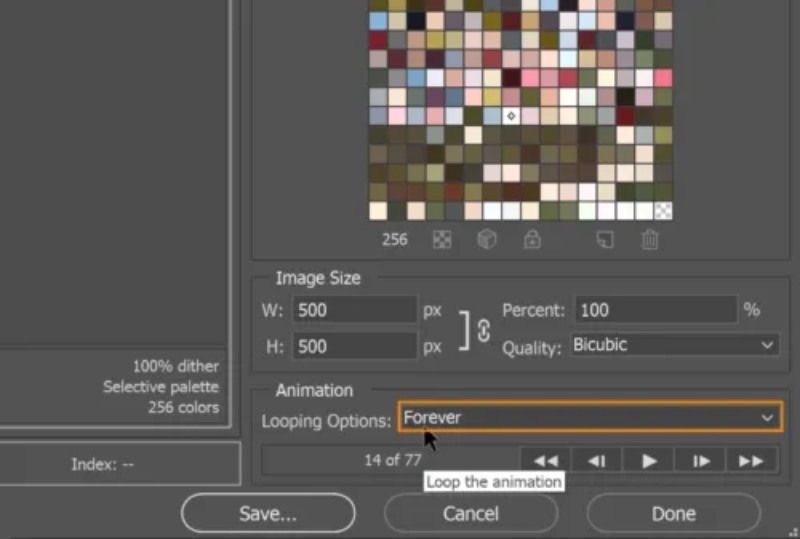 2. ArkThinker Video Converter Ultimate
For amateurs who prefer a much simpler process when looping a GIF, here comes another choice – ArkThinker Video Converter Ultimate. Although this program has not had many advanced features like Photoshop, it is still an excellent choice for rookies who intend to deal with GIF editing occasionally. You will soon find it is a user-friendly program and relatively simple compared to other GIF loopers. Moreover, you will get an endless looping effect during the GIF-creating process through one click. You can turn them all into GIFs on Windows/Mac, no matter what you have, videos or images.
ArkThinker Video Converter Ultimate
Loop a GIF forever through the one-click option.
Customize the size and frame rate of the output GIF.
Preview the looping effect to make sure no mistake happens.
Trim the source video to get a partially looped GIF.
Step 1
After downloading and installing the Video Converter Ultimate on your computer. Go to the Toolbox on the main interface for more editing tools. Find the GIF Maker tool and click on it. A new window will pop up. Choose the Video to GIF option.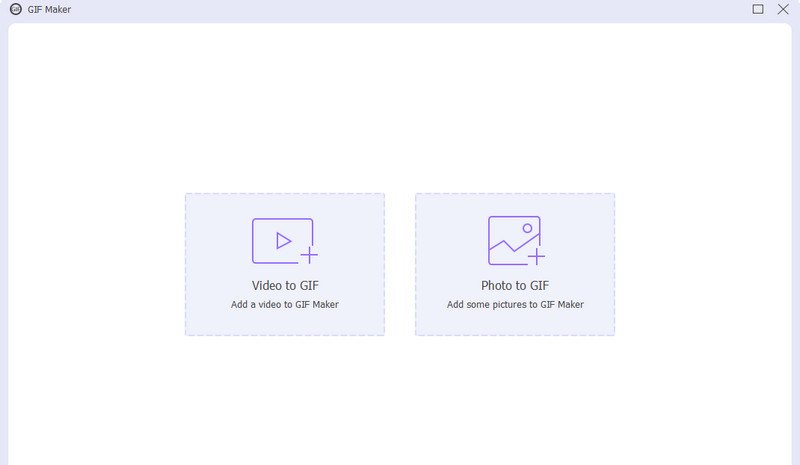 Step 2
Select a video you want to generate GIF with and import it. After that, your video will start playing. You can click the Cut button to trim the video and eliminate the unwanted parts. Or click the Edit button to polish your video.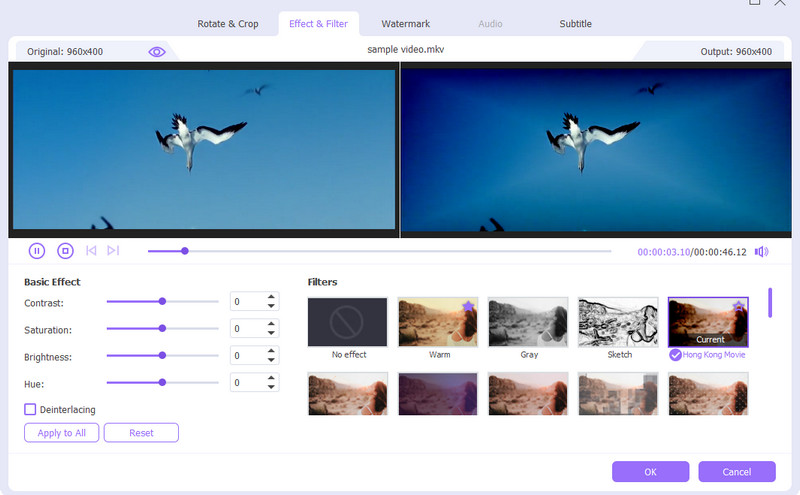 Step 3
Tick the box beside Loop Animation to get a GIF looping effect. You can click the Preview button to check. Then, click the Save To dropdown option below to choose a destination folder. Afterward, click the Generate GIF button to get a looping GIF.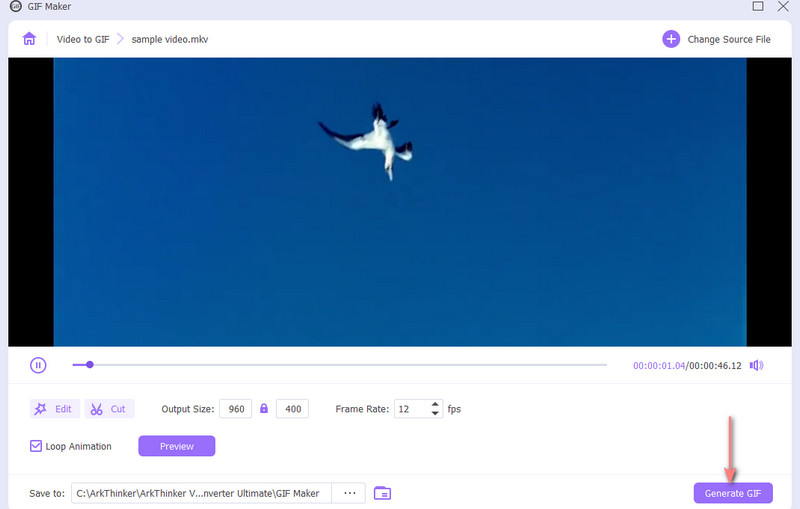 Part 3: FAQs about GIF Loop Change
Why isn't my GIF looping?
It might happen due to your GIF file's large size. Once your GIF exceeds the dimension (1800×1920), you must reduce the size to play or loop this GIF. There are many online GIF compressors for you, like EZGIF.
How to loop a GIF in After Effects?
Launch After Effects on your computer and import the GIF file. You will see it show up in the Project section. Drag the GIF file and drop it on the layer. Then, you can copy and paste this file for more loops on the layer. Afterward, you can click the Windows menu, choose Render Queue, and choose Animated GIF to export the looped GIF as your output format.
How can I loop a GIF on iPhone?
You can use the Shortcut app. Open this app and search GIF shortcuts in the Gallery screen. Tap the Make GIF shortcut. Then, you can choose images or videos from your iPhone to add to it. Tap the Save button to make a GIF and a preview screen will pop up. Then tap the Done button to confirm and save the looping GIF.
Conclusion
To sum up, to loop a GIF forever with an endless effect is an easy thing once you got the appropriate tools. If you prefer much more convenience, online tools are definitely suitable solutions with quick speed. But if you want more extra features like cropping, trimming, filters, and so on, the professional desktop programs are better.
What do you think of this post? Click to rate this post.
Excellent
Rating: 4.9 / 5 (based on 314 votes)