Astonishing WebM to GIF Converter Applications You Should Use
WebM is an open video format presented by Google for interactive content like audio and video. It can accumulate media folders based on the compression standards for online streaming. This format is intended for web purposes that reduce webpage size, optimization, and easy conversion. In fact, it is achievable if you have a WebM video clip and want to convert it to a GIF format. Your video clip will transform into a more fun and appealing GIF than a plain video. Hence, this article will offer converter applications that can help you convert WebM to GIF. To get to know them, read more and proceed to the following parts.

GUIDE LIST
Part 1. Best WebM to GIF Converter for Desktop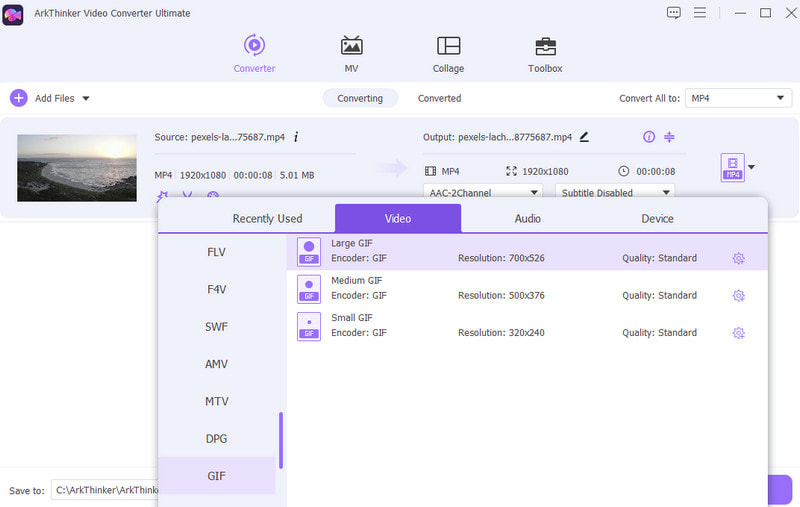 If you prefer to convert your WebM video clip to another format using your desktop, count on ArkThinker Video Converter Ultimate. This desktop program has a straightforward interface that is easy to control. Whether a beginner or professional, you can quickly master the program. This software does its job of converting your video to another format excellently. It supports all prevalent audio and video file formats used today, and one of the supported video formats is WebM. You can quickly convert your WebM video to GIF format using this program in just a few clicks and steps.
Pros :
It is accessible offline
It has a straightforward interface
It supports numerous audio and video file formats
It has built-in cutting and editing options
Cons :
Avail of the paid version to have complete access to the program
2. ArkThinker Free Video Converter Online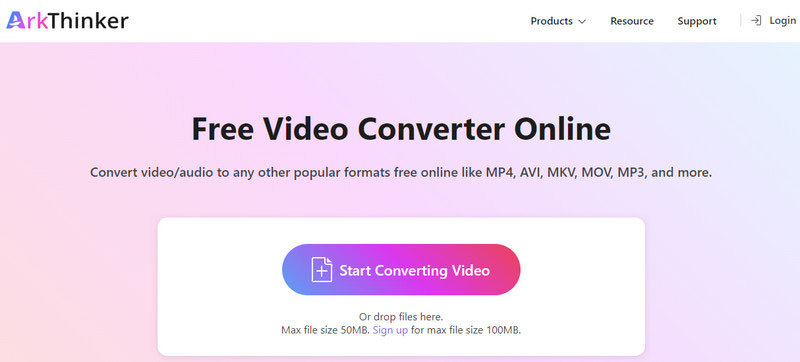 ArkThinker Free Video Converter Online is a browser-based converter platform that does not require downloading anything to your desktop computer. It works entirely online, does not require you to sign in to your account, and you can use it for free. ArkThinker Free Video Converter online supports numerous audio and video formats that can convert to another format. In addition, you can change the resolution, frame rate, bitrate, etc., on the settings option. You can convert WEBm to GIF online free in a few easy ways that will only take you seconds to accomplish.
Pros :
It is totally free to use
It is easy and not complicated to use
It does not require you to download anything to your desktop
It is capable of converting multiple files in batches at the same time
Cons :
Sign up for a max file size of 100MB
Fast internet is needed
Part 2. WebM to GIF Changer for Android
If you are looking for an image and video editor to access online, you can rely on Vid.Fun - Video Editor. It has a simple interface that is easy to control and master as the options are already presented. It enables you to create, edit and modify your video output. This application has a built-in features, such as video trimming, picture cropping, content rotating, background changing, and so on. Vid.Fun is a powerful all-in-one video editing tool that can transform your project into a stunning image or video. In addition, Vid.Fun has a built-in Make GIF feature that permits you to create GIFs using your WebM video. If you prefer to change WebM to GIF, refer to this Android application.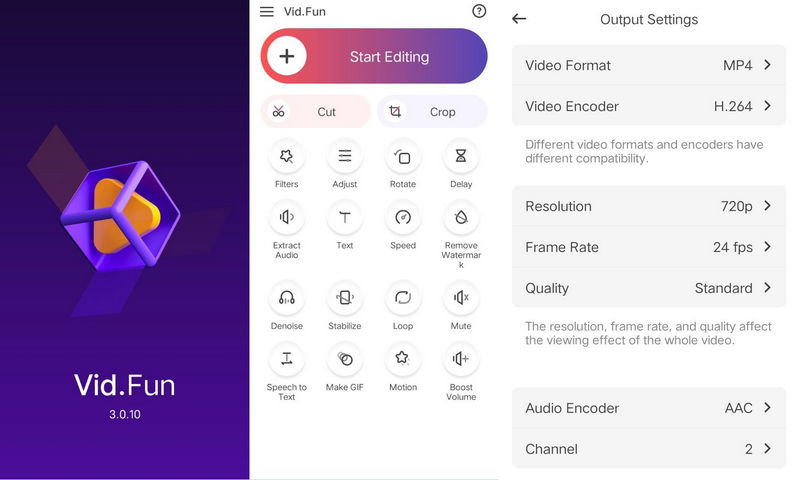 Pros :
It has a simple interface
It has numerous editing tools and features
Cons :
It is only downloadable on Android devices
Part 3. Quick iOS App to Convert WebM to GIF
If you are an iOS user, you prefer a downloadable application. This application does not require you to sign in to your email account and is totally free to use. It has a simple interface that automatically presents the converter tab on your screen. This application allows you to convert your WebM files to another format, including MOV, MKV, VOB, FLV, WMV, MPEG, MP4, MP3, WAV, and GIF. There is no limit on conversion; it will only take a few seconds and minutes to load and be easy to use. When your file is converted, expect that it is optimized and preserves the quality of your project. In addition, on the conversion options, you can change the video size, bit rate, and aspect of the video file you converted.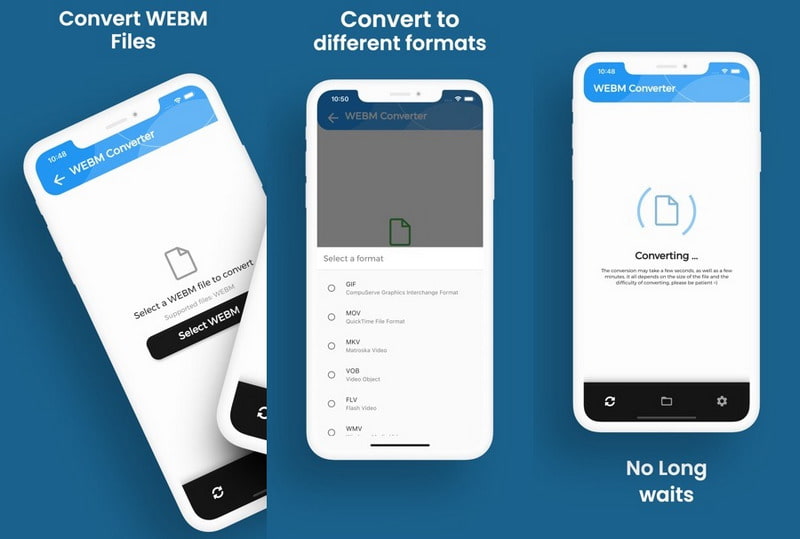 Pros :
It has a user-friendly interface
It is easy to convert your files to another
It supports various file formats
It allows you to convert another format to WebM
Cons :
It is only accessible to iOS users
Part 4. FAQs about FAQs about Converting WebM to GIF
Is WebM a GIF?
WebM consists of animated images with higher quality and has a small file size. Also, this format can play in-loop or autoplay method without needing an additional video player, just like GIF.
What opens a WebM File?
VLC player is a well-known platform that can play WebM files. It is also accessible for gadgets that have an iOS operating system. In addition, you can also play WebM files using Winamp, Kodi, and Windows Media Player.
Is WebM better than MP4?
ebM is compatible with numerous modern browsers and is popular for HTML5, commonly used for uploading videos. However, the MP4 format is better for higher-quality playback and is compatible with many devices.
Is WebM high quality?
WebM format offers high-quality video files. The good thing about this format is that the playback is effortless to play. In addition, this format is commonly used for online streaming and is totally free.
Does WebM support animation?
WebM file format can serve content like audio, video, and even animated images or GIFs in a smaller file size.
Conclusion
Nowadays, there are numerous converter applications that you can easily access. You can convert your files into another format straight online, desktop, and on your phone. With that being said, this post provides converter tools that can convert WebM to GIF format. Converting your WebM format to GIF format is possible. It makes your output more fun and enticing. Choose an excellent converter application that provides satisfaction and fills your needs.
What do you think of this post? Click to rate this post.
Excellent
Rating: 4.9 / 5 (based on 312 votes)