Top 7 Free Video Editing Software with No Watermark in 2023
Now you get many social apps and video-sharing platforms like Facebook, Twitter, TikTok, YouTube, Vimeo, and more to share videos. Meanwhile, there are a large number of video editors including many free video editing apps offered on the market that can help you edit videos.
Surely you prefer free video editing software to start your video creations. You can easily access basic editing features in a free video editor. Question is, what is the best free video editing software?
We have tested 50+ video editing apps from around the web including free and paid ones, and compiled a list of the best free video editing software. You can get 7 great free video editors for Windows PC, Mac, iPhone, iPad, Android phone, and online.

GUIDE LIST
Part 1. Best Free Video Editing Software for Windows 10/11/8/7 PC and Mac
Videos do not always come out the way you want them, so it's quite necessary to edit videos after capturing or downloading them. If you like to edit videos on a computer, you can try using the all-featured video editing software, Video Converter Ultimate.
Video Converter Ultimate is equipped with all commonly-used editing functions, such as cut, crop, rotate, merge, adjust the image and sound effects, apply filters and 3D effects, enhance video quality, create collage videos, make MVs, add/remove the watermark, compress video file size, add subtitles or audio tracks, change video speed, reverse video, and many others. With a concise interface, you are allowed to access and use all these features conveniently.
You can simply click on the Windows or Mac download button above to get the video editing software free download. After you open it, you will be taken to the Converter feature by default. To edit a video, you can click on the plus icon or Add Files to load your file. All popular 8K/5K/4K, 1080p/720p HD, and regular SD video formats including MP4, MKV, MOV, FLV, AVI, and more are supported.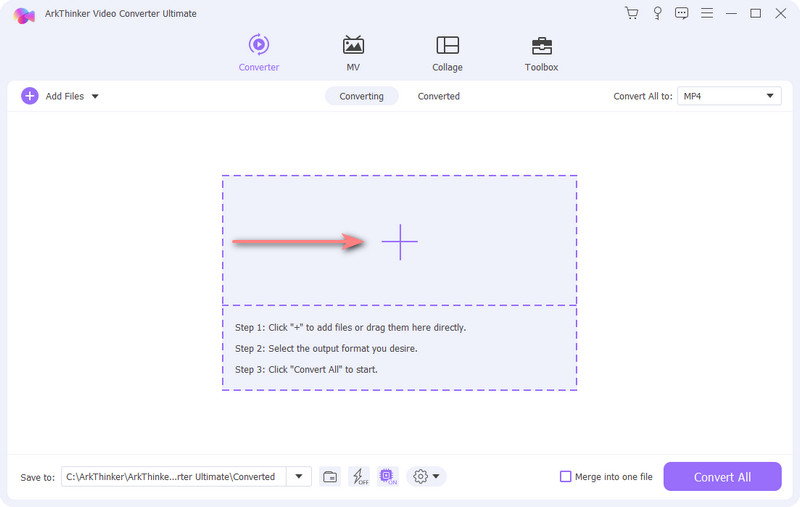 You can check some basic information about your added video, such as the video file name, format, size, duration, resolution, and more. Under the video, you are offered 3 options, Edit, Cut, and Enhance Video.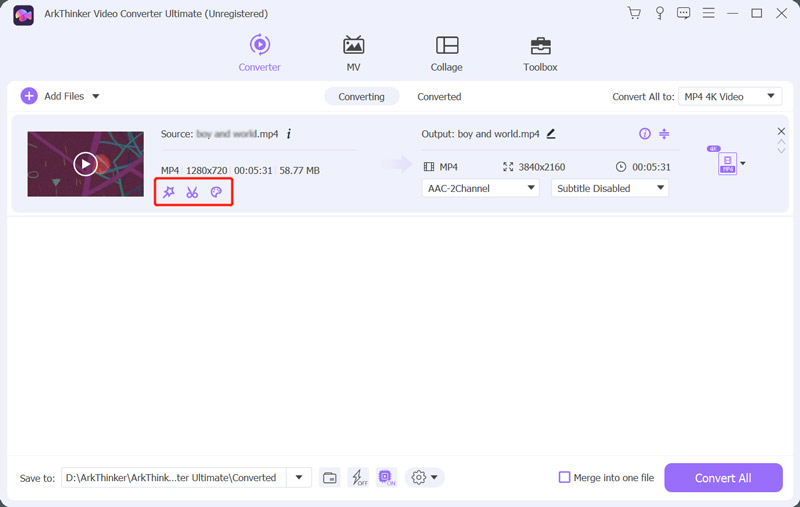 Click on the Edit icon, you can access more video editing functions. You can freely use them to edit the video, and customize its image and sound effects based on your need.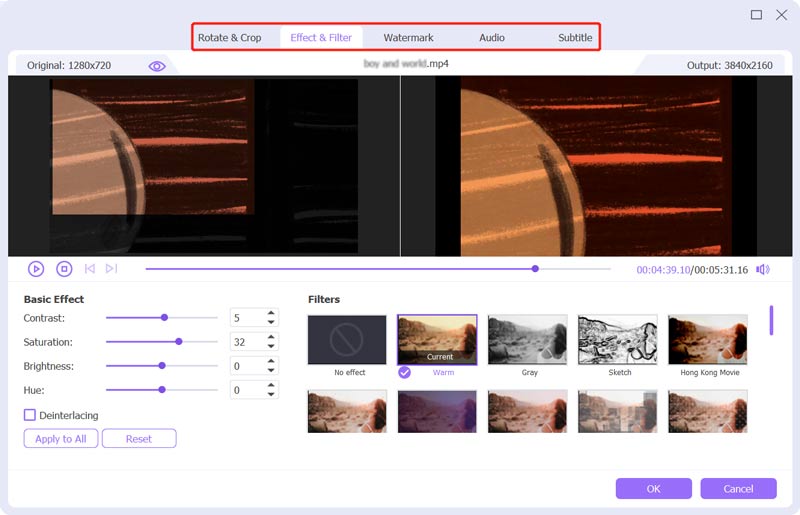 For more video and audio editing tools, you can go to the Toolbox. As you can see, it provides you with Video Trimmer, Video Merger, 3D Maker, GIF Maker, Video Watermark, Video Enhancer, Video Reverser, and more.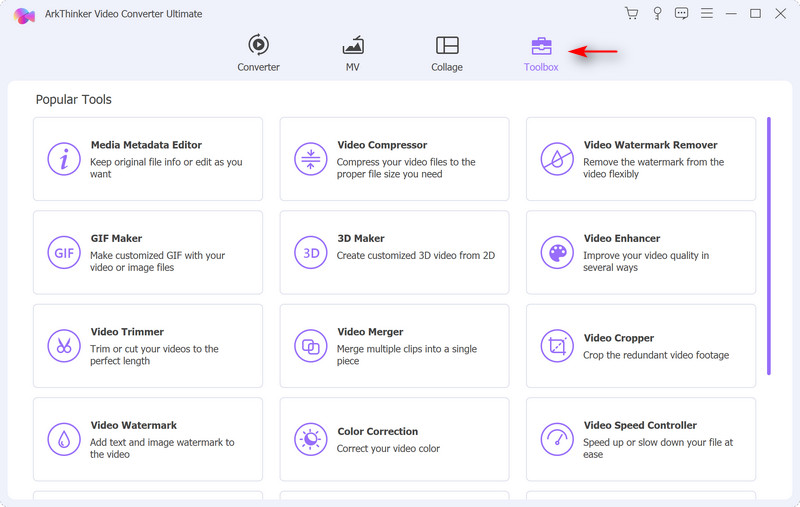 More than just an all-featured video editor, Video Converter Ultimate also allows you to convert video and audio formats for different needs. From the drop-down list of Convert All to, you can access lots of formats.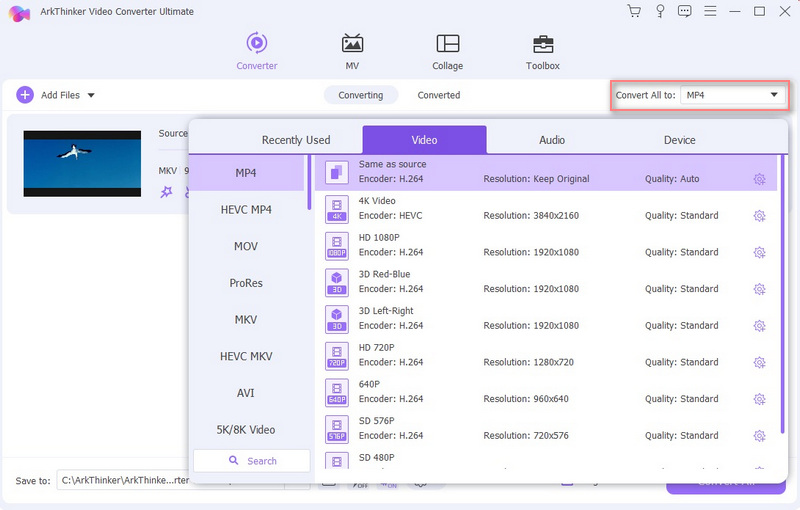 Note that, Video Converter Ultimate is not a totally free video editing software. You can use each video editor in it to edit 5 files with no watermark. After that, you need to upgrade to a paid version.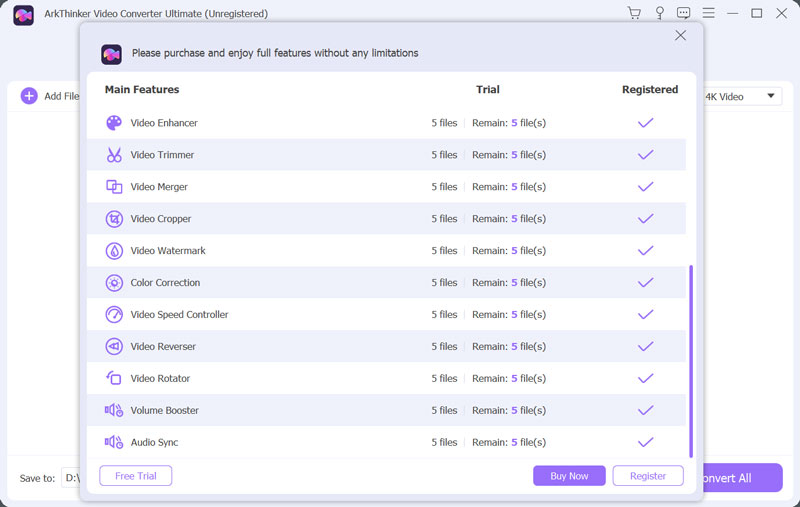 Part 2. Official Free Video Editing Software for iPhone, iPad, and Mac
iMovie is no doubt the best free video editing software for Apple products like Mac, iPhone, iPad, and iPod touch. As the default and official Apple video editor, it carries all basic editing functions including trim, crop, rotates, combines, adjust effects, and more. Compared with other third-party free video editing apps, iMovie can give you a more stable editing experience.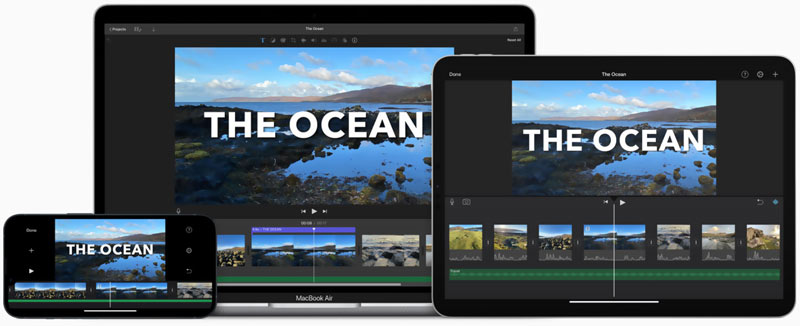 iMovie supports 4K resolution and enables you to create cinema-quality films with ease. Moreover, it offers many studio-quality title animations, various video filters, built-in audio tracks, sound effects, and voiceover recordings for you to make professional-looking videos. It also allows you to freely change the video playing speed. You can fast forward or slow down a video for different purposes.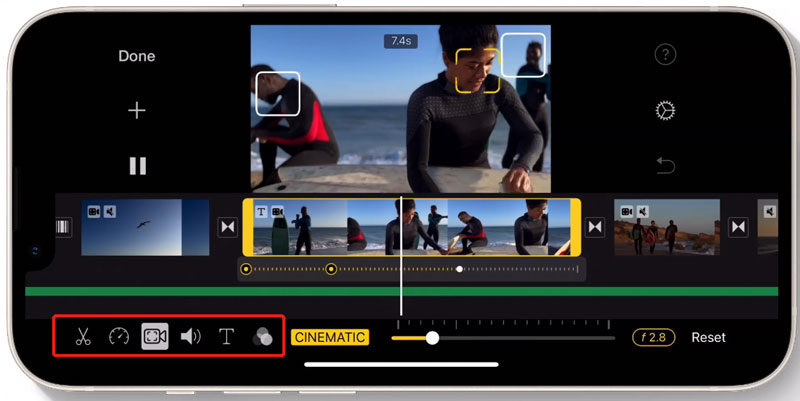 iMovie can only edit videos in MP4, MOV, and M4V. But you should know that not all MP4, MOV, and M4V files can be supported by iMovie. So relatively speaking, this free video editing software has poor format support. It is only compatible with Apple products. You can't use it on a Windows PC or Android device.
Part 3. Free Online Video Editing Software with No Watermark
You may notice that there are many online video editors offered on the internet that allow you to directly edit videos on a web browser. However, most of them will add a watermark to your edited video. If you prefer free video editing software with no watermark, you can try the 3 online tools below.
Adobe Express
Adobe Express is a popular video editing service that is mainly designed to work on your web browser on a computer, or an Android/iOS device through a dedicated app. Working as a free online video editor, it allows you to create designs with thousands of templates. With these story templates, you can handily make all types of videos and slideshows. Most commonly-used video formats like MP4, MOV, MPEG, and Windows Media video formats are supported.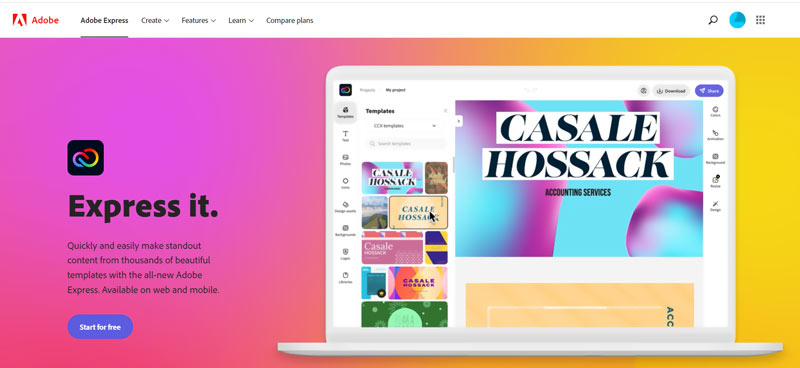 When you use this free online video editing software, you are required to log in to Adobe Creative Cloud Express with a Google account, Facebook account, Apple account, Adobe ID or email. After that, you can choose to use a template or start from scratch. After uploading your video, you can use this free online video editor to trim video, select layout, apply a new theme, resize video, add background music, and more.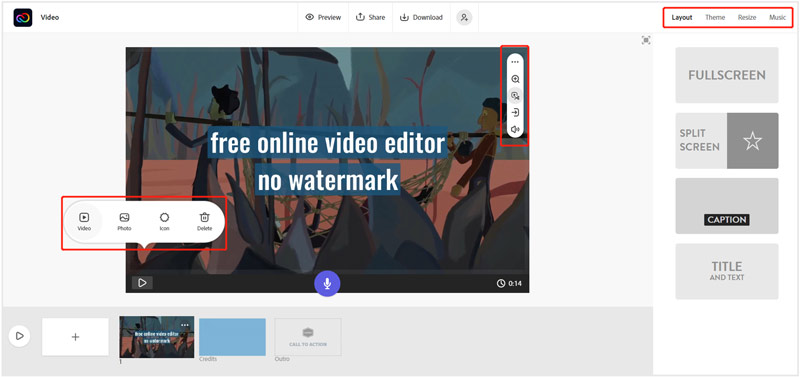 Note that, not all features in Adobe Express are free. For some advanced features, you will be guided to try Premium.
Clipchamp
Clipchamp is one of the most used free online video editors. It is designed with all the necessary editing features to create great videos. You can use this free online video editor to cut, combine, rotate, crop, add text and audio, apply filters, adjust effects, control video playback speed, and more. It is able to edit video clips of all sizes directly on your web browser.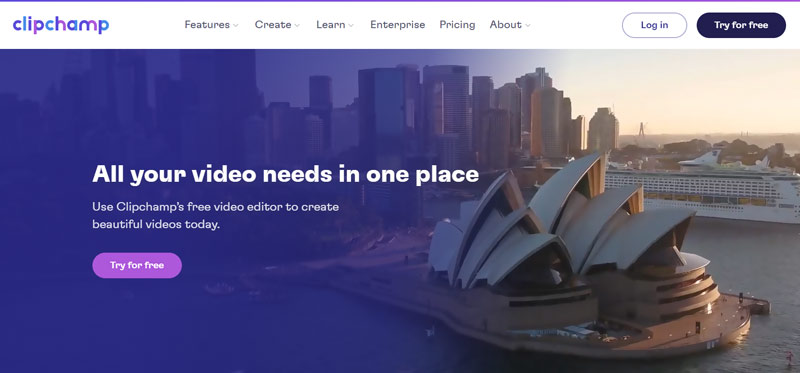 Clipchamp video editor supports MP4, MOV, AVI, WebM, FLV, 3GP, MKV, WMV, VOB, DIVX, DCM, and other video files. As the free online video editing software, Clipchamp won't add any watermark to your edited video. More importantly, it doesn't require a pro or premium version to export HD videos. Only when you need unlimited cloud storage or audio stocks, you can choose to upgrade to a paid version.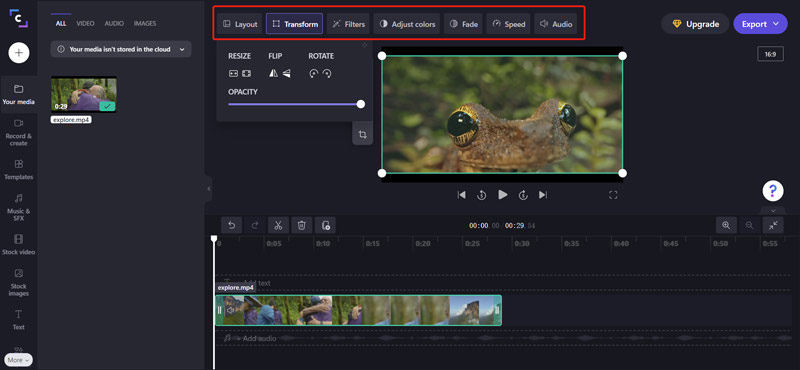 Kapwing Video Editor
Kapwing Video Editor is a powerful video editing software that allows you to create and edit videos for free. Compared with other online editors, Kapwing carries more editing functions. It supports many different video types, such as MP4, MOV, AVI, 3GP, and others. Besides local files on your computer, it enables you to capture videos, add voiceovers, and search for images directly from its studio.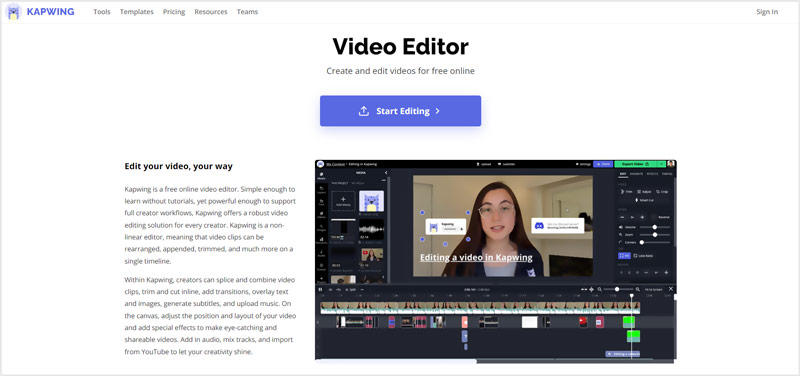 After you upload a video file, on the left and right sides of the preview window, you can easily access many useful functions. To edit a video online free, you can use related editing features under the Edit tab to do that.
You are allowed to free edit 3 videos in Kapwing Studio. You can sign in to an account to edit a video online for free without a watermark. After editing 3 files, you need to upgrade to a Pro version to remove the watermark and export content in 1080p+ resolution.
Part 4. Free Video Editing Apps for Android and iOS Devices
As an iPhone or iPad user, you can handily edit videos using built-in editing features in iOS. With this built-in free video editor, you can access and use many basic video editing functions. While for editing videos on an Android phone, you don't have that kind of free video editing app. Here in this part, we like to recommend 2 free video editing apps for both Android and iOS devices.
KineMaster
KineMaster is a free video editor app for Android phone, iPhone, and iPad. You can go to Google Play Store or App Store to free install it on your mobile device. It carries pre-made projects and many useful functions for you to create professional-quality videos. It also gives an easy way to capture footage and then edit it.
Many frequently-used editing features including trim, split, crop, merge, effects, music, stickers, and more are supported. Besides video editing, it offers an effective way to back up and share your videos. It allows you to edit and export high-resolution videos up to 4K 60 fps.
CapCut
CapCut is another popular free video editing app for both iOS and Android devices. It is the default video editor for creating and editing TikTok videos. It offers all commonly-used editing options, such as cut, crop, rotate, change video speed, add audio, apply filters, effects, reverse, and more. It gathers many advanced filters, flawless beauty effects, and magical effects to create your videos. Moreover, it collects a tremendous music libraries and exclusive copyright songs for you to set as background music.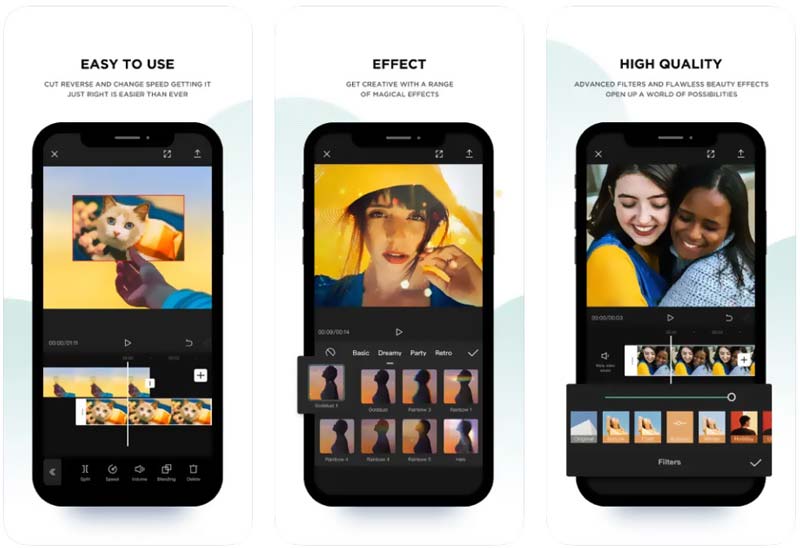 As a free video editor app, CapCut won't insert a watermark to your output video. It does not offer any in-app purchases. So, you don't need to worry about the further feature limits.
Part 5. FAQs of Editing Video Software Free
1. What is the best free video editing software for Windows 10?
When you need to edit videos on a Windows 10 PC, you can try using some editing functions in the Microsoft Photos app. After you open the video in Photos, you can click Edit & Create on the toolbar to display a variety of video editing tools.
2. What are the mostly-used video editors for YouTubers?
YouTubers tend to use simple, effective, and affordable video editing apps, such as iMovie, Lightworks, Final Cut Pro X, and more. Also, you will see Adobe Premiere Pro CC, Adobe After Effects, CyberLink PhotoDirector, and other professional editors.
3. Can I directly edit a video on an Android phone for free?
As mentioned above, Android system doesn't come with a built-in video editor. So you can't edit videos on your Android phone without a third-party app. If you save videos in the Google Photos app, you can use various editing tools in the app to edit your videos for free.
Conclusion
For different video editing and creating purposes, you need a good video editor. Here in this post, you are introduced to the 7 best free video editor apps. You can check their key features and then pick your preferred one to edit videos for free.
What do you think of this post? Click to rate this post.
Excellent
Rating: 4.8 / 5 (based on 128 votes)