Learn to Remove Stickers or Emojis from Videos
It's quite a common situation that you save a video from WhatsApp, Facebook, TikTok, Snapchat, Instagram, or another social media platform, and an emoji or sticker blocks some parts of the video. Do you know how to remove emojis from a video?

Part 1. How to Remove Emojis from Video on Your Computer
If you often edit videos on a computer and like to remove the inserted emojis from videos, you can try using the all-featured Video Converter Ultimate. It has a Video Watermark Remover tool for you to easily remove emojis, stickers, watermarks, and other unwanted objects from your videos. It highly supports all popular video formats like MP4, FLV, M4V, AVI, MOV, and others. As an emoji remover, it uses advanced AI technology to accurately get rid of emojis from videos.
Step 1
Free download this emoji remover on your Mac or Windows PC. When you enter it, click the Toolbox tab to show more tools. Here you can find and open Video Watermark Remover. Click + to load your video to it.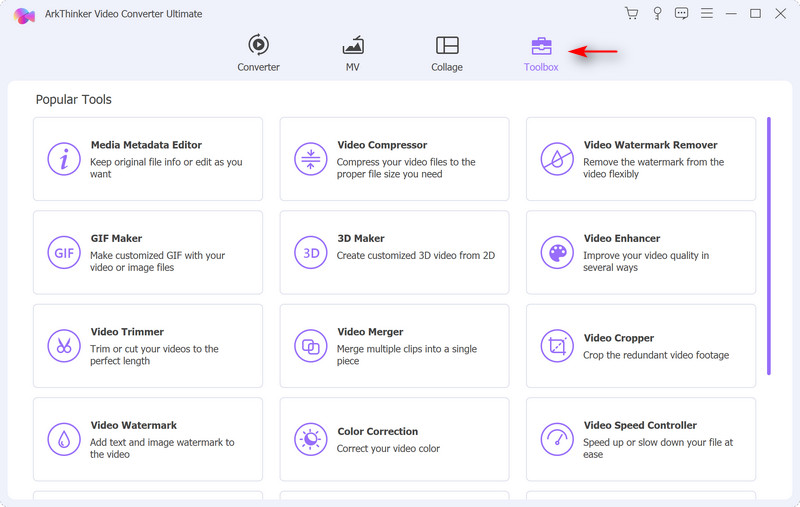 Step 2
Its built-in player will automatically play your imported video file. Through it, you can easily view the video and find the emoji that you want to erase. Click the Add watermark removing area button to make a section of the emoji.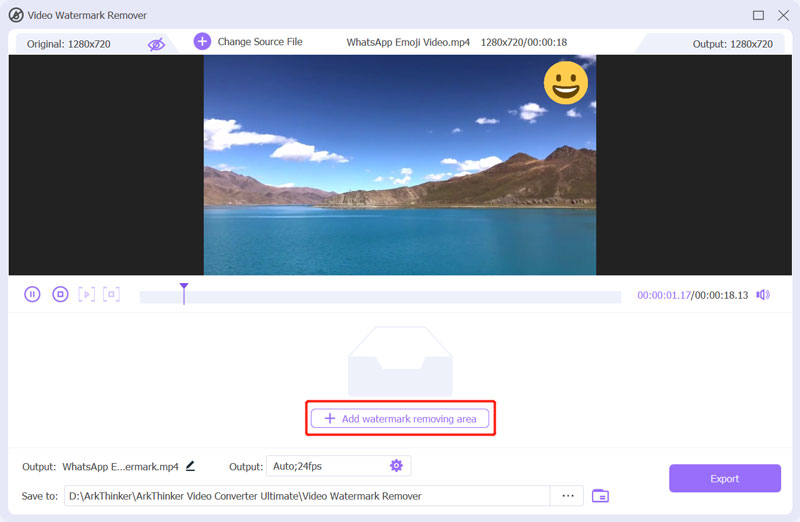 Step 3
After you put this removing rectangle on the emoji region, it will analyze the surrounding content and replace the emoji. By doing so, you can easily remove the emoji from a video. During this step, you are also allowed to set a duration to control the emoji removal time.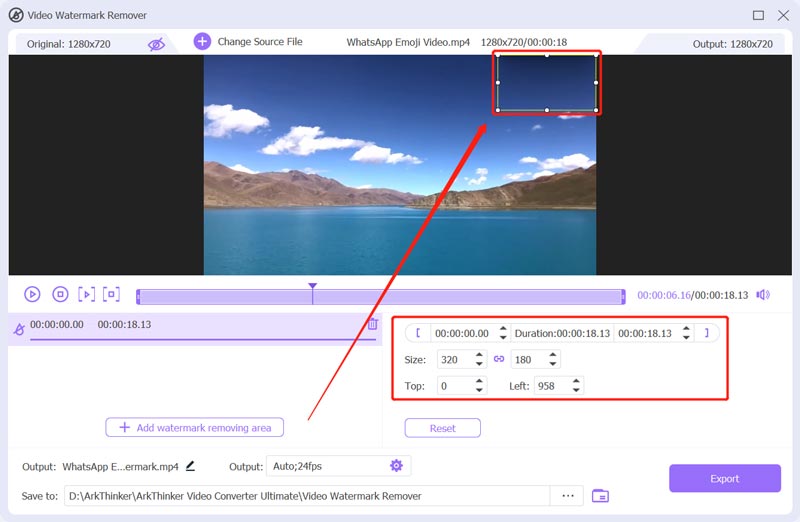 Step 4
This emoji remover allows you to directly view the emoji removal effect. If you are satisfied with the result, you can click on the Export button to save it on your computer.
If the emoji or sticker is placed on the edge part of your video, you can use a cropping way to completely remove it. When you open this emoji remover software, add your video file under the Converter feature, click the Edit icon under your added video, and then use its Rotate & Crop feature to erase the video Emoji with ease.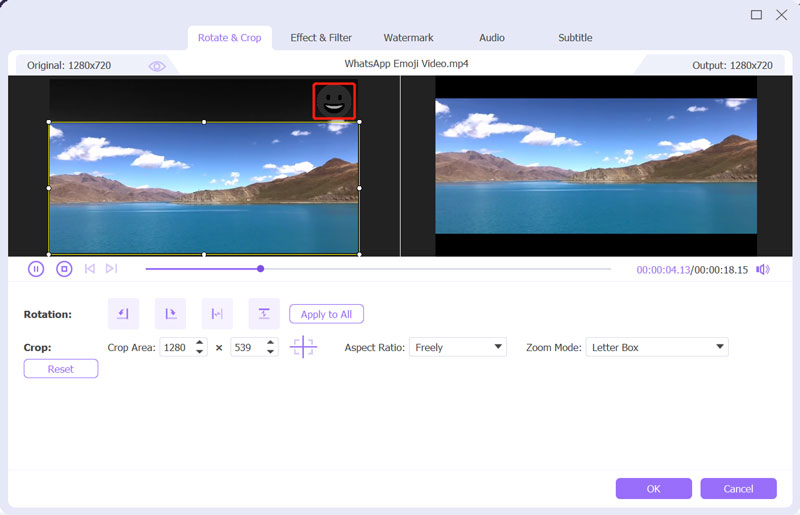 Part 2. Online Emoji Remover to Get Rid of Emoji from Videos
Whether you want to remove emojis from videos on a computer or mobile phone, you can rely on an online emoji remover. You can easily access many watermarks, logos, and emoji removers on the internet. Here we recommend the popular 123APPS for you to erase emojis, stickers, logos, watermarks, texts, stamps, and other unwanted objects from your videos.
Step 1
You can open a web browser like Chrome, Safari, or Edge to search for the 123APPS website. When you enter its official site, you can click the top Video Tools menu to quickly locate a Remove Logo from Video tool. By doing so, you will get to the specific Remove Emoji & Watermark from Videos page.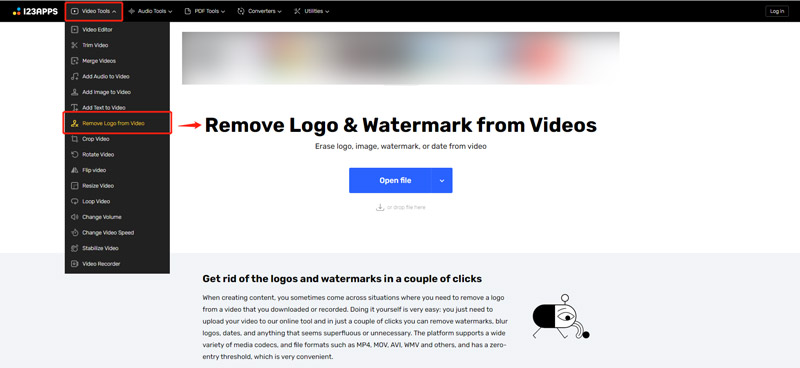 Step 2
This free emoji remover online enables you to edit a video from your computer, iOS, and Android devices, Google Drive, and Dropbox. Click the Open file button to upload your video.
Step 3
Use your mouse to choose the emoji region. You can click the Preview button to get a 5-seconds viewing of the emoji removal effect. After that, click the Save button to proceed it.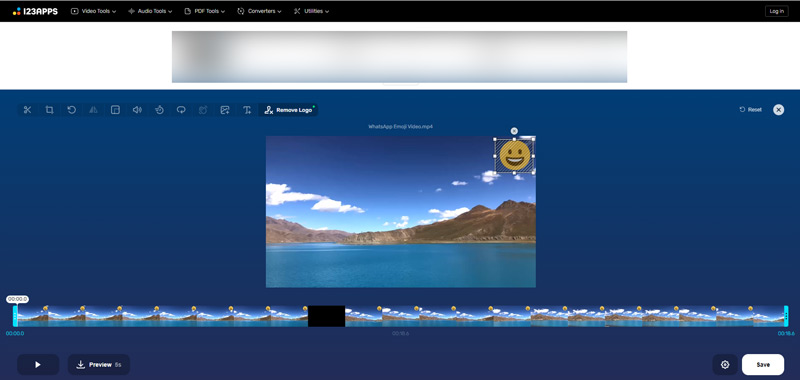 While using this free emoji remover online, you may see some ads. One thing you should know is that it only allows you to edit a video file of less than 500MB for free.
Part 3. FAQs of How to Remove Emoji from a Video
How to add an emoji to my video?
When you create and edit a video in some popular social apps like WhatsApp, TikTok, Snapchat, or Facebook, you can directly add an emoji from various emojis they offer. Also, you can choose to add an emoji to your video with the recommended Video Converter Ultimate.
Can I change the emoji of a video?
Yes. You can choose to add a new emoji to your video placed on the original one. To do that, you can use Video Converter Ultimate to add an image watermark to your video.
How do you remove emojis from pictures?
When you want to remove the emoji from a picture, you can use some online image editors like Fotor, Photofunny, or Aiseesoft Free Watermark Remover Online. If you get Adobe Photoshop installed on your device, you can also use its Auto-fill feature to erase the emoji from a photo.
Conclusion
After reading this post, you can learn two effective methods to remove emojis from videos. If you have any better emoji remover recommendations, please share them in the comment section below with other readers.
What do you think of this post? Click to rate this post.
Excellent
Rating: 4.9 / 5 (based on 314 votes)