Brief Review on Apowersoft Watermark Remover From 4 Perspectives
Is the Apowersoft Watermark Remover as good as it claims? To find out the answer, here in this article, you will see a brief but detailed Apowersoft Watermark Remover review from its features, pros, cons, and pricing to the guide on how to use it to remove video watermarks. Everything you need to know about this remover is all here in one package. Moreover, you will also learn the best alternative to the Apowersoft Watermark Remover which also provides your excellent watermark removal service. Keep reading and see more.

GUIDE LIST
Part 1: Apowersoft Watermark Remover Review [Features & Pros & Cons]
Apowersoft Watermark Remover has both desktop and online versions. To avoid confusion, the following content is mainly a brief review of the desktop version of the remover. First, the major function of this remover is to help you remove watermarks and all the other imperfections from the video and photos. Meanwhile, you can even do vice versa like adding a watermark to your videos or photos. And just like regular apps, this app also allows the batch watermark process, which will save you a lot of trouble. Continue reading to see more features that distinguish the Apowersoft Watermark Remover from other removers, as well as the pricing, pros, and cons.
More Features:
◆ Left no erasure after removing watermarks from videos/photos.
◆ Add texts/icons to the photo/video as a logo with built-in fonts.
◆ Personalize your watermarks with several presets and tools.
◆ Receive the output files with well-calculated quality and reasonable size.
Pricing:
Apowersoft offers three different pricing plans for personal use with the Apowersoft Watermark Remover app. You can purchase the app monthly at $19 per month or buy the service for a lifetime at $39 for once and all.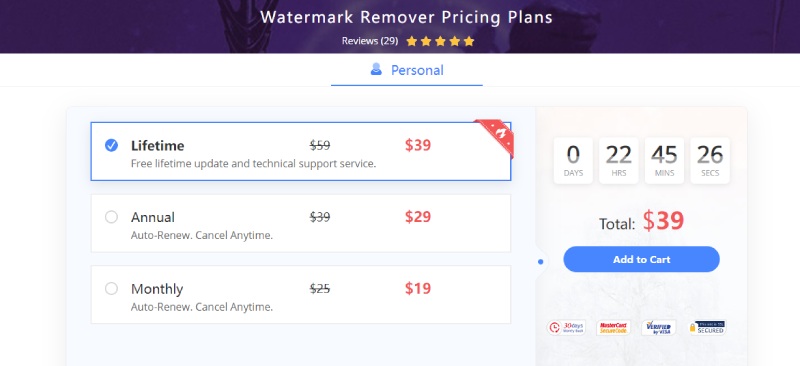 Pros :
Compress video size to save you more space while preserving quality.
Natural covering of the watermarks without ruining the content.
No limitations on the video length uploaded.
Support a wide range of video and photo formats.
Cons :
Less compatibility with mobile phones.
Provide only limited features with adding or removing watermarks.
No Mac and Linux versions are available.
How to Use Apowersoft Watermark Remover to Remove Video Watermark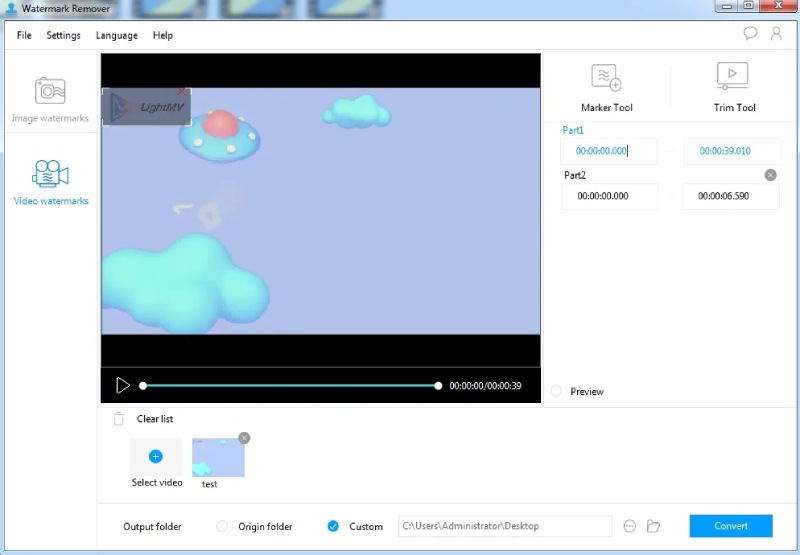 Step 1
Download the remover from Apowersoft's official website. Then, install and launch the app on your computer.
Step 2
Click the Remove Watermark from Video button to select a file from your device to import.
Step 3
Next, you need to click the Selection Tool button and a box will show up for you to cover the watermark. Adjust the position of the box by dragging.
Step 4
Finally, click the Convert button to let the software remove it for you automatically. Furthermore, you can click the Open Folder button to see your file.
Part 2: Best Alternative to Apowersoft Watermark Remover
Having more options will enable you to better deal with watermark issues when the Apowersoft breaks down or you want to have a new experience. Therefore, get to know the best alternative to Apowersoft Watermark Remover – ArkThinker Video Converter Ultimate. This is more than just a remover. Besides covering or removing watermarks from videos, you can also trim, crop, or merge videos.
Apowersoft Watermark Remover Alternative: How to remove watermark from video
Step 1
Download and install the alternative on your computer for free. Next, launch the software and directly click the Toolbox button on the main interface, which will lead you to the watermark removal tool.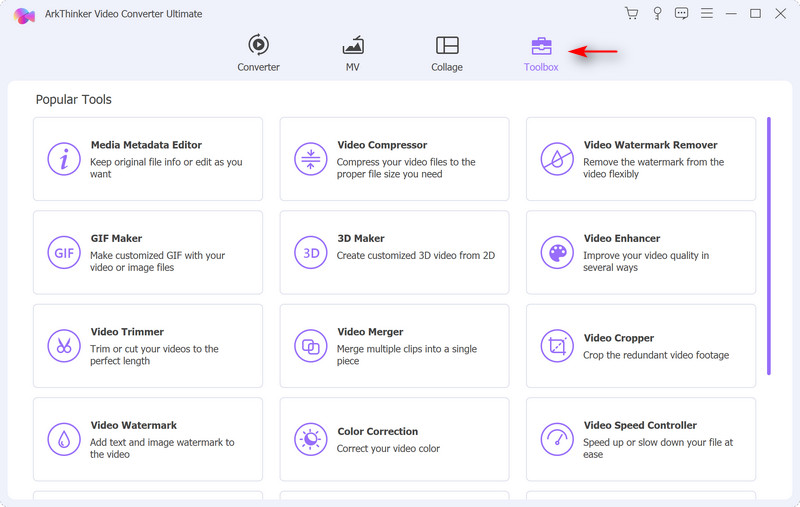 Step 2
Find Video Watermark Remover and click on it. Then, a pop-up window appears, and you need to click the Plus icon to import the video that you want to remove the watermark. Dragging the video to the popup also works.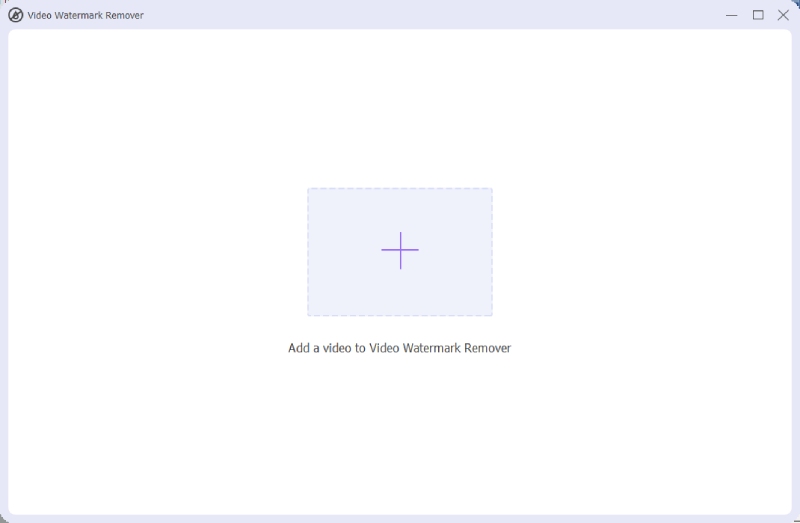 Step 3
Afterward, click the Add watermark removing area button to draw up a covering area. Next, you can change its size and position by clicking the settings under the preview window. Once you finish, click the Export button to export this video without watermark.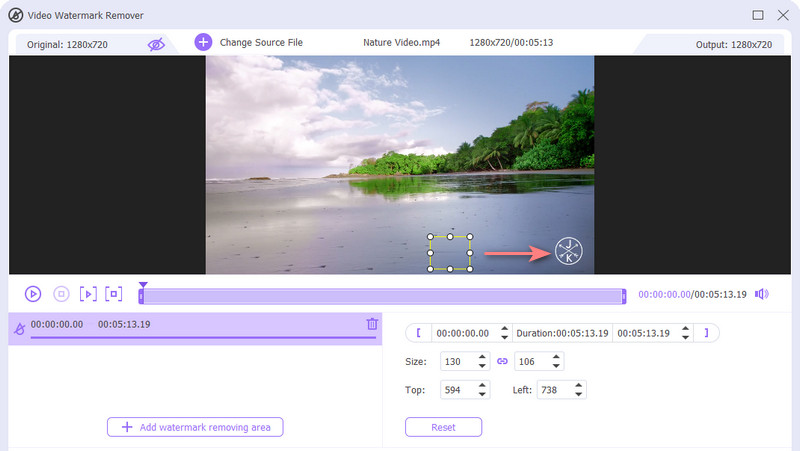 Part 3: FAQs about Apowersoft Watermark Remover
Is it illegal to use Apowersoft Watermark Remover crack?
Yes, it is. It is not legit if you use the crack to activate the full functionality of the remover, which may also cause potential risks and cannot offer you the basic guarantee as the official promised for legal purchase. However, you may try the Apowersoft Online Watermark Remover to remove watermarks for free.
Is Apowersoft Watermark Remover compatible with all systems?
No, it is not. So far, the remover only has two versions which are the desktop version for Windows and the online version. Mac system and others are not supported. Although the mobile version is not available, you can access the online one via mobile browsers.
Can Apowersoft Online Watermark Remover remove video watermarks?
Yes, it can. But the online version offers a free service for removing watermarks. Hence, there is a limitation on the video size you upload, and only allows a maximum video size of 50MB.
Conclusion
For long-time photo or video editors, the Apowersoft Watermark Remover is worth a try since it also offers a free online version where you can experience the features before buying. Meanwhile, the natural removal of watermarks helps save hassles. You may also try out the alternative to it as your backup plan.
What do you think of this post? Click to rate this post.
Excellent
Rating: 4.9 / 5 (based on 365 votes)