5 Best MP4 Compressors to Reduce Video File Size
For better sharing, uploading, streaming, and other needs, you may choose to reduce the file size of MP4. Many video editors and compressors are offered on the market can help you make a video smaller with ease. What is the best MP4 compressor?
This post makes a list of the 5 best MP4 file compressors for you to shrink your video file size. Whether you are searching for a free MP4 compressor, online MP4 video reducer, or a professional editor, you can get what you need.

GUIDE LIST
Part 1. Top 3 Free Online MP4 Compressors
First, we like to recommend 3 free MP4 compressors for you to directly decrease the video file size online. If you do not would like to install any third-party programs, or you are just dealing with some small video clips, you can select a suitable online MP4 compressor from the recommendations below.
Online MP4 compressor free - Clideo Compress MP4
Clideo is a popular online video editor which carries many useful features including Compress, Merge, Resize, Cut, Crop, Speed, Meme, Add subtitles, and more. You can go to its official website and then select the Compress option to access its Compress Video tool. Also, you can directly go to the Compress MP4 page to reduce your MP4 file size.
This online MP4 file reducer allowed you to compress MP4 from a local hard drive, Google Drive, and Dropbox. It enables you to compress a video up to 500 MB for free. To compress a larger MP4 file, you should upgrade to a paid version. After uploading the video, this Clideo online MP4 compressor will automatically reduce its size. You can check the final video size and then click on the Download button to save it. Note that, the compressed MP4 file will be added with a watermark.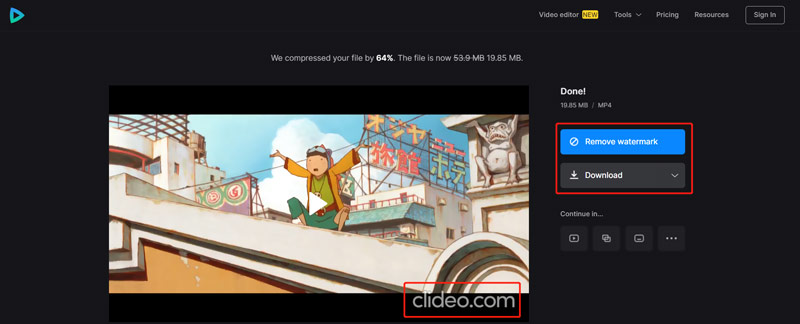 Aiseesoft Free Online Video Compressor
Aiseesoft Free Online Video Compressor is an easy-to-use MP4 file compressor that can help you compress your video to smaller file size. It works well with all commonly-used web browsers including Google Chrome, Edge, Firefox, and Safari. More than an MP4 compressor, it also supports other popular video formats, such as MOV, FLV, AVI, WMV, M4V, 3GP, MKV, RMVB, ASF, MOD, MXF, WebM, TS, and more.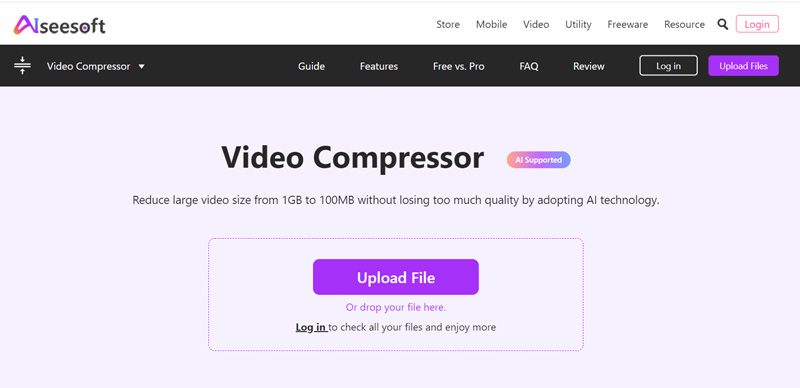 This free MP4 video compressor has no limitation on the input video resolutions. You can compress MP4 in 360p, 480p, 720p, 1080p, 4K, or other. With advanced AI technology, you can compress your video to smaller file size while keeping the high quality using this tool. As a free online MP4 file compressor, it won't add any watermark to your compressed video.
When you want to compress MP4 online, you can navigate to its Video Compressor page. Click the Upload File button and then select your MP4 video from the pop-up window.
You are offered several options to control the MP4 compression. You can simply choose Small Size, Medium Size, or Big Size to get the right compressing degree. You also can customize the output video size, format, resolution, and Bitrate. You can preview the compressed MP4 file. In the end, you can click the Save button.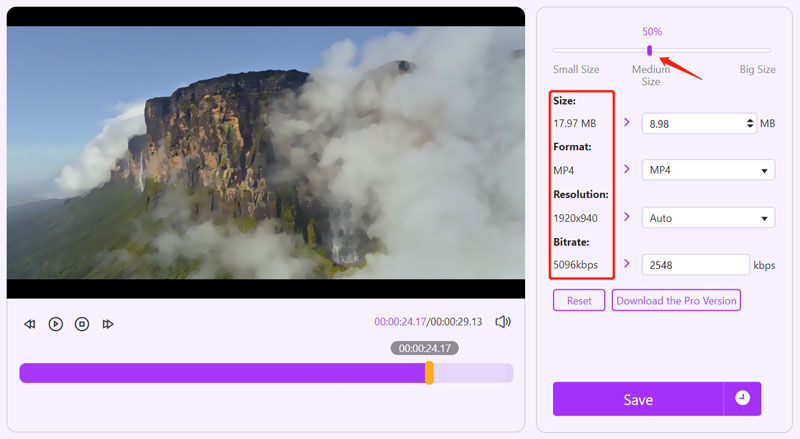 Compress MP4 online free - VEED.IO
VEED.IO MP4 Compressor is another online video compressor that enables you to reduce your MP4 video file size with minimal loss in quality. It can make an MP4 video smaller on Google Chrome, Edge, Firefox, Yahoo, and Safari. Besides MP4, it also supports other video formats like MOV, MKV, AVI, WMV, and FLV. The max file size you can free compress is limited to 1GB.

When you get to the VEED.IO MP4 Compressor website and click on the Choose MP4 File button, you will be taken to a new Video Compressor page. Here you can click on the Upload a File button to add your MP4 video. You are also allowed to compress a video from Dropbox, and through its URL.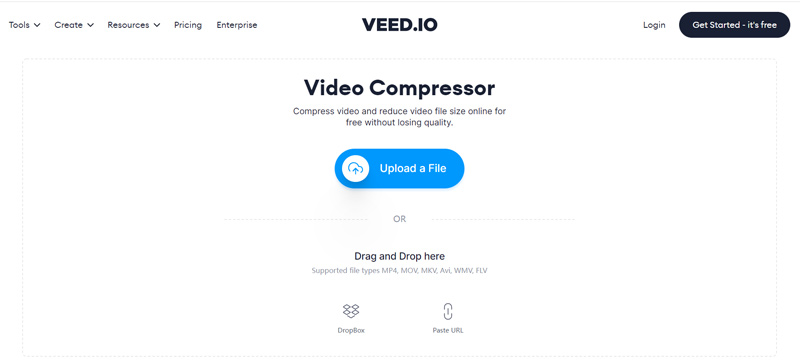 When the MP4 uploading is finished, you can drag the compressing bar to freely adjust the MP4 compression. During this step, you can click the Advanced Settings to get more compressing options. After all these operations, you can click on the Compress Video button to reduce the file size of your MP4 video.
Part 2. Best MP4 Compressors for Windows and Mac
When you compress some big videos, you'd better use professional video compressors. This part will introduce 2 powerful video editors to help you compress MP4 files.
Best MP4 compressor - Video Converter Ultimate
Video Converter Ultimate is an all-in-one video editing and converting tool that carries many useful features including MP4 compression. It has an individual Video Compressor for you to easily compress videos in different formats. It supports MP4, MOV, AVI, FLV, MKV, WMV, WebM, and more.
You can free download Video Converter Ultimate on both Windows 11/10/8/7 PC and Mac. When you enter it, you can go to its Toolbox to find the Video Compressor. Then you can add your MP4 file for the compression. There are no file size and video format limits.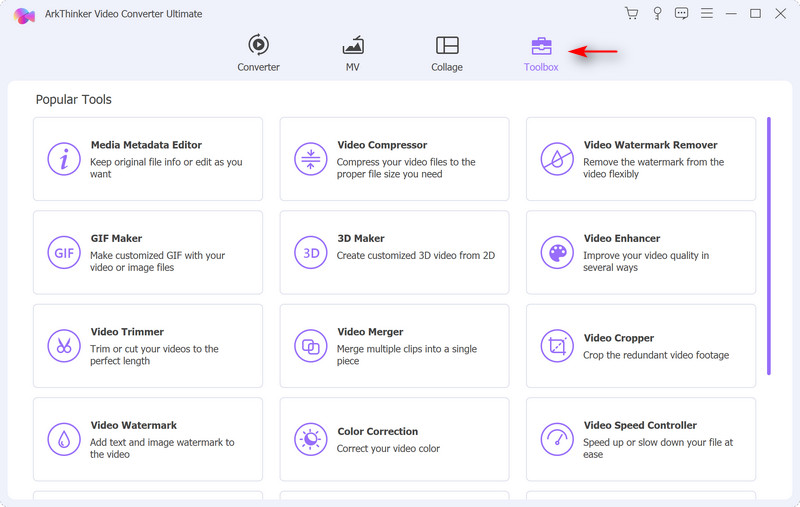 You can easily control the MP4 compression degree according to your need. Also, you are allowed to change the video resolution, bitrate, and format. This MP4 file compressor is designed with a Preview feature for you to check the compressed video. If you are satisfied with the compression, you can click on the Compress button to confirm that.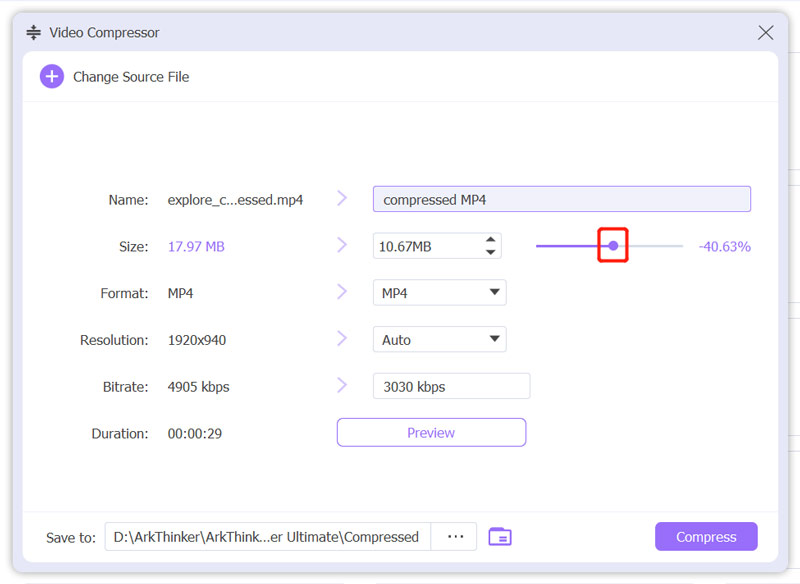 MP4 file compressor - Shotcut
Shotcut is a free video compressor and editor that can help you make MP4 videos smaller. It doesn't offer a direct compressing function to reduce your MP4 file size. It enables you to compress an MP4 file by adjusting its resolution, aspect ratio, frame and others settings.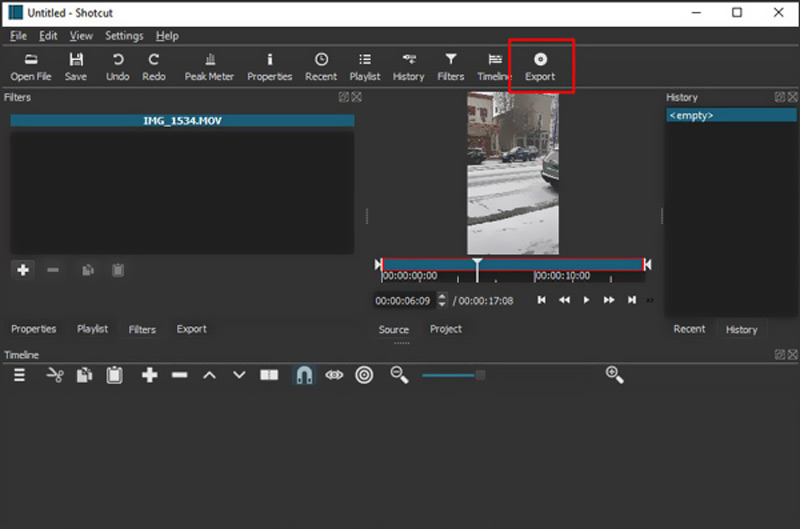 To decrease your MP4 file size, you can open Shotcut, add the MP4 video to it, and then click the Export button. Here you can custom various output options to downsize the MP4 video.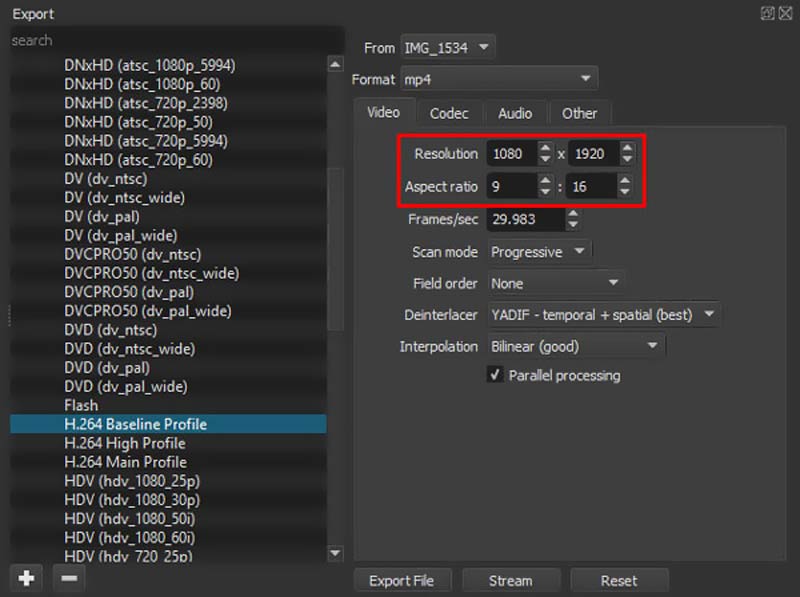 Part 3. FAQs of MP4 File Compressor
Does compressing an MP4 file lose quality?
Yes. After you lower its video resolution, bitrate, or encoding to compress your MP4 video to smaller file size, the process will lose some image and sound quality.
Can VLC compress MP4?
VLC Media Player carries many useful editing functions. It doesn't offer a direct video compression feature. But it allows you to decrease the video bitrate and frame rate to reduce the MP4 file size. You can go to the Convert section, click the Edit profile button, choose the Video codec tab, and then customize the output settings to compress MP4.
Can QuickTime compress MP4 free on Mac?
Yes. When you want to compress MP4 in QuickTime, you can click on the top File menu, go to the Export As option, and then select a lower video resolution to export it.
Conclusion
This post recommends 5 best MP4 compressor tools for you to reduce the video file size. Whatever the reason, when you need to compress a video, you can use your preferred MP4 file compressor to do that.
What do you think of this post? Click to rate this post.
Excellent
Rating: 4.4 / 5 (based on 111 votes)