How to Record Your Favorite Radio Broadcast on PCs, iPhones, and Android Devices
Radio broadcast is not dead and lots of audiences still prefer to listen to it. According to a recent survey, the biggest problem is the inability to listen repeatedly. Once the radio show is over, you cannot listen to it anymore. It makes sense that someone asked how to record a radio broadcast. That is the only way to save your favorite radio shows and listen later again and again. This guide tells you how to do it on your computer and mobile device.

GUIDE LIST
Part 1: How To Record a Radio Broadcast on Computer
Way 1: How to Record a Radio Show Offline
It is not a tough job to record a radio show on your computer if you have an appropriate tool. ArkThinker Screen Recorder, for instance, is one of the easiest options to save your favorite radio programs at home. The good design and pro-level features make it available to both beginners and advanced users.
Best Radio Broadcast Recorder
Record a radio show with a single click.
Make schedules and record audio programs automatically.
Use AI to enhance video and audio recording quality.
Include custom options and bonus tools.
Here are the steps to record a radio show at home:
Step 1
Install the radio recorder
When you need to record a radio program, install the software and launch it. Choose Audio Recorder to open the main interface.

Step 2
Record a radio show
There are two parts in the interface, System Sound and Microphone. The former is used to capture the sound from your computer and the latter can record your voice through the built-in microphone. Here we enable System Sound while disabling the Microphone. Adjust the volume and click REC once the target radio show starts.

Tip: To record the radio automatically, click Task Schedule and follow the instructions to set it up.
Step 3
Preview the recording
When the radio show completes, click the Stop button. Then pre-listen to the recording, and remove unwanted clips. Finally, click the Done button.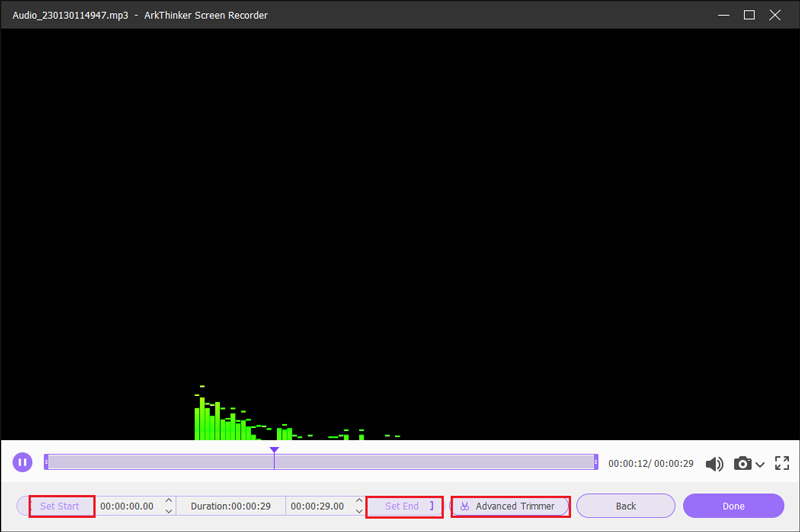 Way 2: How to Record a Radio Program Online
Some people do not like to install software on their disks. Web radio program recorder apps are an alternative solution. We recommend ArkThinker Free Audio Recorder because it is completely free and does not have any restrictions. It does not ask you to sign up or pay for anything. The output quality is good.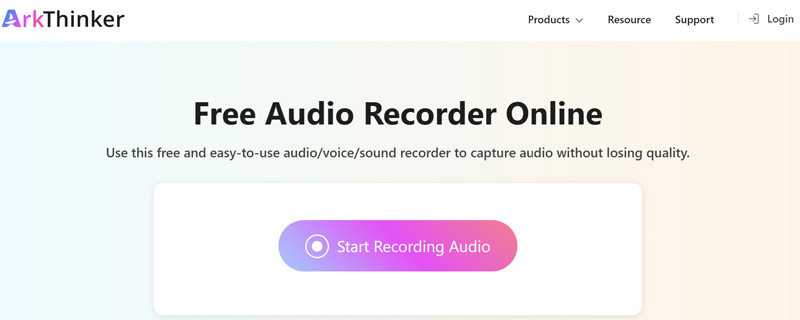 Step 2
Turn on System Audio and turn off Microphone at the same time. Hit the REC button to initiate recording the radio program.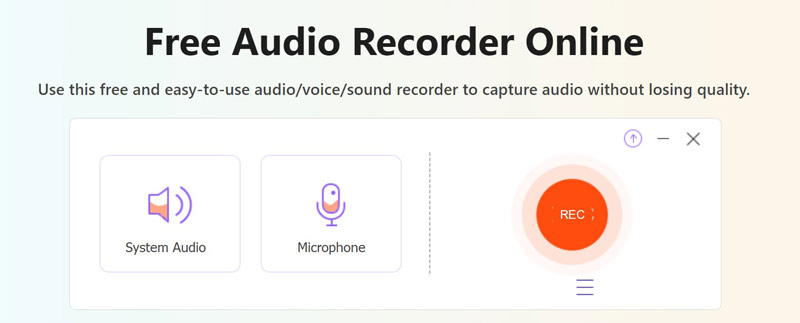 Step 3
When you are finishing, click the Stop button. Then press the Folder icon to get the recording.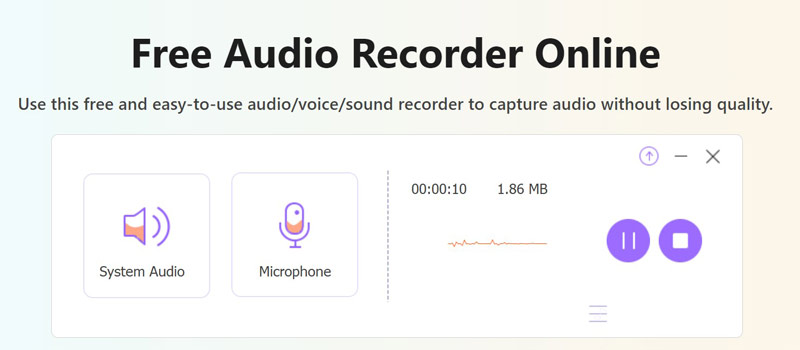 Part 2: How to Record a Radio Show on iPhone
The easiest way to record AM radio shows on iPhone is the built-in Screen Recording feature. It captures everything on your screen including the live broadcasting, and then saves it to your memory. So that you can listen to it later.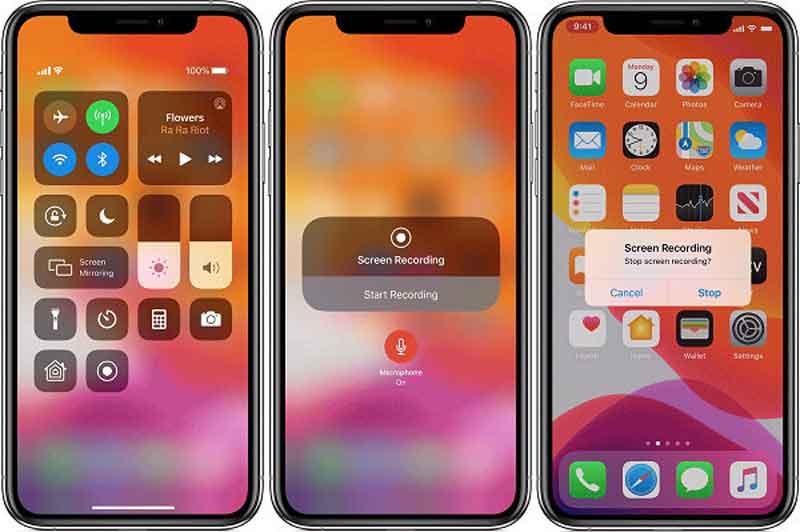 Step 1
Run the Settings app, go to Control Center, and tap the + icon on Screen Recording.
Step 2
When your favorite radio show starts, head to the Control Center panel, and tap the Screen Recording icon.
Step 3
Make sure to turn on Microphone and tap Start Recording to begin recording the radio show on your iPhone.
Step 4
When you want to stop it, tap the Screen Recording icon in Control Center again.
Part 3: How to Record FM Radio on Android
It is a bit complex when recording FM radio on Android devices partly because each manufacturer has re-design the features and system on their products. Fortunately, you can find lots of radio recorder apps in the Play Store. We use VRadio as an example to demonstrate the procedure.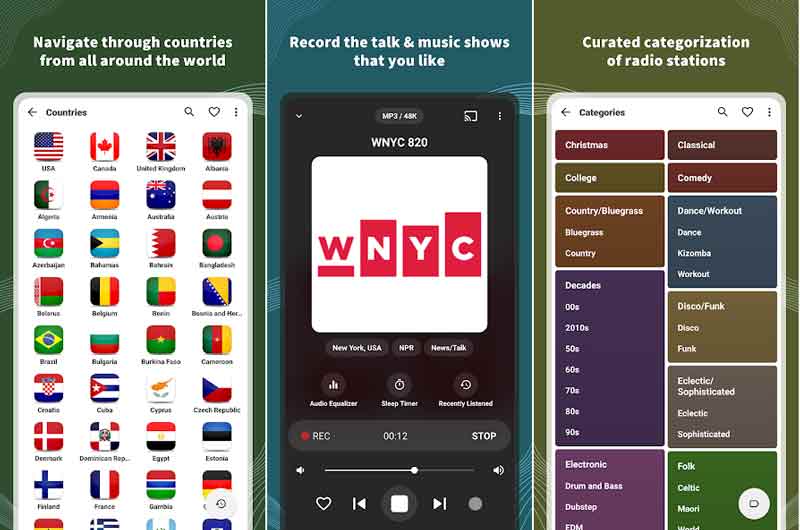 Step 1
Start the radio recorder app, select your country, and choose the desired station.
Step 2
Play the radio channel and tap the Record button when your favorite program starts.
Step 3
When the program ends, tap Stop. The recording will be saved in MP3.
Part 4: FAQs about Recording Radio Broadcast
Is it legal to record radio broadcasts?
Making copies of regular radio shows is legal, but it is not clear whether it is legal to record streaming radio sites.
Can you record live radio on iPhone?
Yes, both the default screen recorder and third-party radio recorders can capture live radio stations on your iPhone.
Why I cannot record radio shows?
Some radio shows are protected by copyright regulations, so you cannot record or download them without permission.
Conclusion
This guide has told you four ways to record radio broadcasts on your computer and mobile device. For mobile-first, the built-in screen recording feature and third-party radio recorder apps are helpful. ArkThinker Screen Recorder is the best choice to do it on your desktop. Other questions? Please write them down below.
What do you think of this post? Click to rate this post.
Excellent
Rating: 4.9 / 5 (based on 326 votes)