MP3 Audio Recorder: Find Out the Audio Recording Tools
MP3 is an audio file format that can handle a single media type of audio and work on nearly all playback devices. If you want to share your recording on different social networking sites, it would be better to record them using this format. The internet provides a wide range of MP3 recorders, and it can be a phone application or desktop program. Be our guest if you are looking for an MP3 recorder that can capture sound played on your device. This post will present an MP3 recording application and program you can count on. Let us have a look. Shall we?

GUIDE LIST
Part 1. Best MP3 Recorder Reviews
1. ArkThinker Screen Recorder (Editor's Choice)

ArkThinker Screen Recorder is a recording program that you can access offline. It will not require you to use the internet to have complete access to the program. This program has a beginner-user interface, which makes it easy to use and master. It has built-in features capable of recording your video, audio game, and many more. As mentioned, it has a built-in audio recorder that can record MP3 format. In other words, the output file format of your recorded audio is in MP3 format. In addition, it has an advanced trimmer option that can cut out the unnecessary parts of your recorded audio. It will be best if you rely on this program to record MP3.
Pros :
It has a user-friendly interface
It is accessible without using the internet
It has plenty of built-in recording features
It has trimming options
Cons :
Avail of the paid version to have complete access to the program
2. MyMp3Pool

MyMp3Pool is an online and digital application with a record pool that allows members to create and share their music. It has a music pool or record pool that enables the users to create a professional music collection. DJ has access to my MP3 record pool, which permits them to release their records, promote their songs, and so on. This application has a vast database with a massive sample of genres. In addition, it has numerous curated playlists put together by professionals. Also, it allows you to create your playlist. You can sign up for free and get complete access to experience the program. The free version allows you to preview 30 tracks but you cannot download them.
Pros :
It is accessible online
It provides numerous playlists
Cons :
The target users of this application are Disk Jockeys (DJ)
It does not permit you to download songs using the paid version
Subscribe to the paid version to have a complete set of features
3. 123Apps Online Voice Recorder

This web-based tool lets you record your voice using a microphone, which will be saved as an MP3 file. It offers a direct approach to starting the voice recording on your desktop. You can modify the microphone setting to decrease the echo or volume when you are recording. Also, it can detect silent details at the beginning and the end of your recording and remove them for your convenience. In addition, you can crop the unnecessary parts of your recorded audio. This MP3 voice recorder is free-to-use and does not require you to sign in to your account.
Pros :
It is accessible online and does not require you to download anything
It will automatically save your recorded audio in MP3 format
It automatically removes silent fragments on your recorded audio
Cons :
Fast internet is needed
It decreased the audio quality
4. ASR Voice Recorder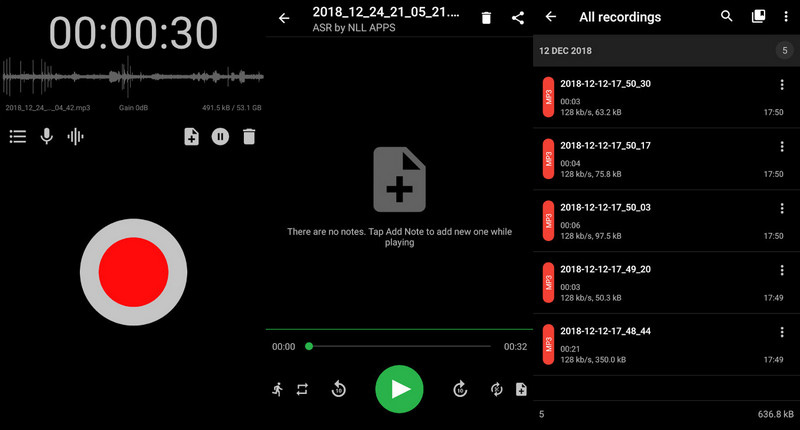 ASR Voice Recorder is a mobile application you can use if you are an Android user. It is free to download and install from the Google Play Store. This application is easy to use, offers high-quality output, and can hold long recordings. Also, it has built-in features like playback speed controls, skips silent parts, and supports Bluetooth devices. In addition, it supports many formats, such as MP3, FLAC, WAV, OGG, and M4A.
Pros :
It has a neat and easy-to-use interface
It allows you to use your recorded audio as your alarm sound, notification, or call ringtone
It can record sound as long as the application is running in the background
Cons :
It only provides an average sound quality
There is a glitch issue in the recording
Part 2. How to Record MP3 Music
1. On Windows & Mac
ArkThinker Screen Recorder is a recording that is compatible with both Mac and Windows. It has a clean, beginner-user interface that is easy to control. This program has built-in features, such as Video Recorder, Audio Recorder, Game Recorder, Window Recorder, and Webcam Recorder. In addition, it has a Task Schedule option, where you will set a time to record based on your recording set choice. Also, it permits you to incorporate the watermark or not into your recording. Using the Audio Recorder, you can record your voice without time limitations. If you have unneeded parts from your audio, you can cut them out using the Advanced Trimmer option. When using this program, your recorded output will save as MP3. To record MP3 using this program, proceed to the steps below.
Step 1
Download and Install
To have complete access to the program, download and install it to your computer. Once the installation process is done, proceed to open the program.
Step 2
Open Audio Recorder Feature
Click the Audio Recorder button from your screen, which will lead you to the recording options. Next, turn on the System Sound and Microphone, and adjust their volume according to your preference.

Step 3
Start Audio Recording
Once settled, click the REC button to start recording your audio, and the recording section will appear on your screen. Hit the Pause button if you want to hang back for a while, and hit the Play button to continue the recording. Once you are done recording, hit the Stop button, leading you to the preview window. If there are unnecessary parts on your audio, click the Advanced Trimmer button to remove them. You can set the time or manually remove the unwanted parts from the timeline. Once done, click the Trim button to remove them successfully.

Step 4
Save MP3 Recorded Audio
Click the Done button, and your recorded audio will save as MP3. You can play it on your desktop media player and locate it in your folder.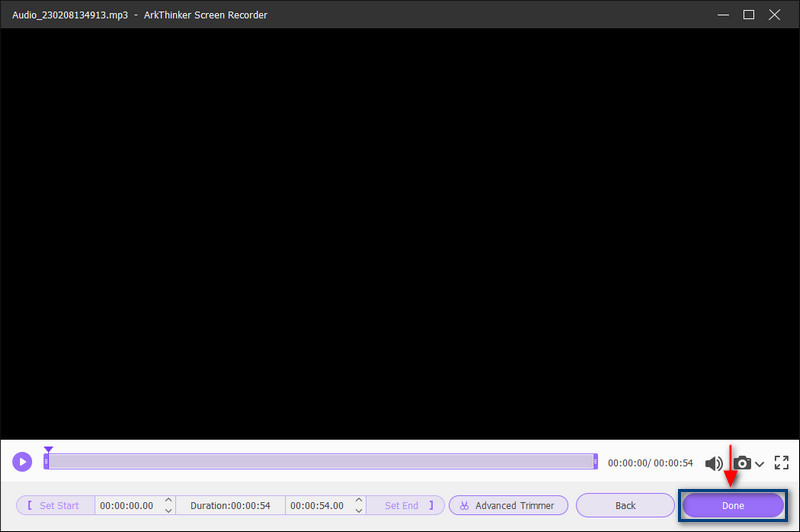 2. On iPhone
AVR – Awesome Voice Recorder is an application that can save your audio into MP3. This application is available on iOS and can download from App Store. AVR has a simple interface and plenty of built-in features. There is no time limit to recording and producing high-quality audio recording output. Also, it has a noise reduction, so it will lessen the noise in your background when you are recording. In addition, it supports MP3, WAV, M4A, and M4R formats. To know how to record MP3 on iPhone, rely on the steps provided.
Step 1
Download and Install the application from App Store. After the installation process, open the application to get started.
Step 2
From your screen, click the Record button, and record your voice. Once you are done recording, click the Rounded red button to stop it.
Step 3
After that, a dialogue box will appear on your screen, where you will input the file name. Your recorded audio will save on your phone in MP3 format.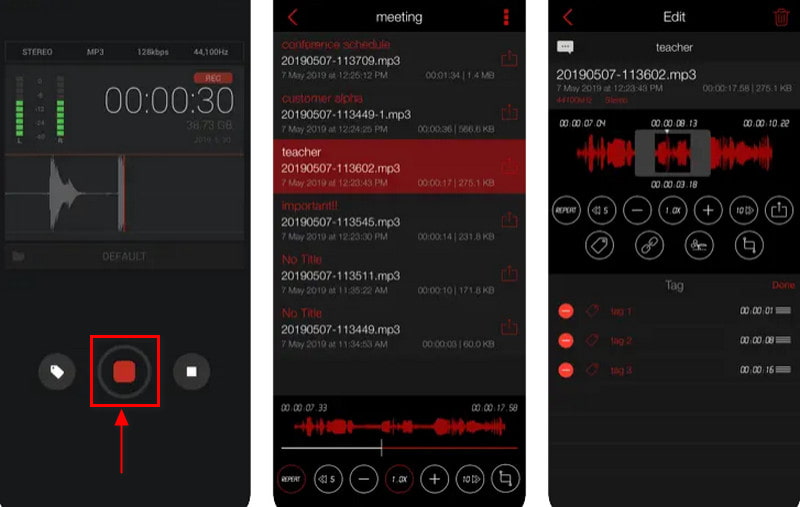 Part 3. FAQs about MP3 Recorder
Can I record an MP3 on my Android?
Android phones have a built-in voice recorder application called Sound Recorder, which can record and playback audio files.
What is the purpose of MP3?
MP3 is a format that compresses a sound into a small file size but still preserves the quality sound level when it is played.
Why is MP3 is the most popular?
MP3 is the most common format because it is small, compatible with any device, and has excellent audio quality.
Conclusion
The internet offers a wide range of MP3 recorders you can rely on, whether you are using a phone or desktop. However, not every application can provide your needs, so choosing a tool that can record MP3 is a must. The mentioned tools above are the best recording application you can count on, and it is in your hands what tool you prefer.
What do you think of this post? Click to rate this post.
Excellent
Rating: 4.9 / 5 (based on 492 votes)