Ideal Virtual AI Friend Creating: Into Anima Together
Do you feel lonely when you are alone and have no friends around? Relying on the current technology, you can look for AI friends. You can choose your favorite looks, personality, and even hobbies. In busy modern life, having a real friend with you for a long time is not easy, and people have started to seek solace from AI friends. Anima AI friend companion claims to be able to chat with you at any time, relieve your distress, and provide a near-real-life companionship experience. Doesn't that sound tempting? In this post, we will provide a detailed review of it. Come and explore together.

GUIDE LIST
Part 1. What is Anima: AI Friend & Companion App
What is Anima
Anima, developed by Anima AL Ltd, is an AI companion app for entertaining. It has been available since December 2020. Anima describes itself as a virtual AI friend that can chat and role play powered by artificial intelligence, and it supports you to have a quick chat whenever and wherever you need. Topics that you can choose from are diverse. You can share your wishes, dreams, and secrets without worrying about privacy disclosure. Anima can be your friend and dating partner, depending on your needs. Instead of just answering your question, it will ask questions to get to know you. As you further discuss the topic, Anima's communication skills will improve even more.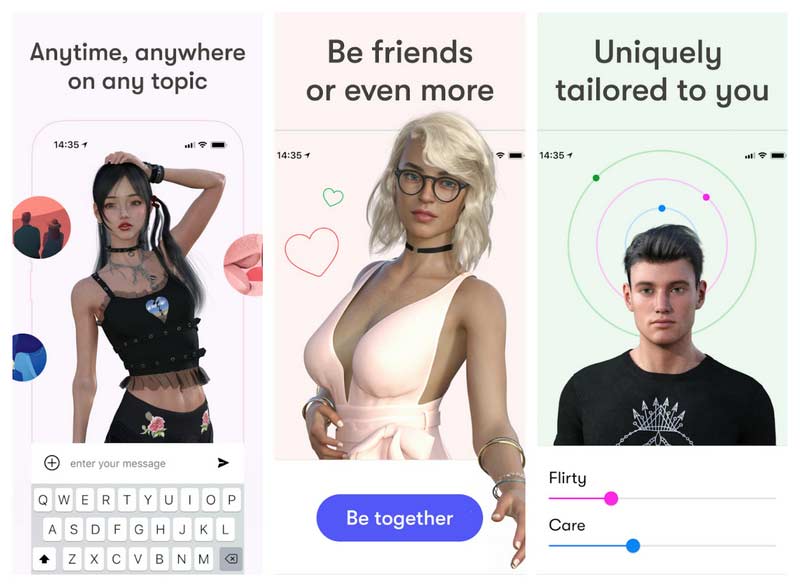 How Does Anima Work
Some people may suspect that Anima seems like a human or is being controlled by a human being. It is 100% percent artificial intelligence. Anima combines our language model and scripted dialogue content. Many dialog experiences, memory capabilities, and role-play features are used to train it. Every conversation people initiate is a great learning opportunity for it. Your AI friend's personality can be shaped as you like. Before you start talking with Anima, you can tell five of your top hobbies or likes. In terms of appearance, it is always presented as a chatbot. Users type their questions, or Anima will initiate the conversation about some topics. It's like you're talking to a real friend. When you have a certain number of conversations with your AI companion or discuss one topic to a certain depth, your conversation level will rise, and its reply will be more vivid and in-depth.
Part 2. Review of Anima: AI Friend & Companion
The Key Features of Anima
Initiate Session Proactively
Anima offers a chat service that lets you actively choose topics or have your AI robot companion initiate them according to your preferences. Chatting with AI is unlimited by time and place. You can also evaluate each of his answers to help it improve.
Instead of just talking about the topics you give, Anima asks you questions and tries to get to know you. This behavior can give it more accurate control of your preferences and adjust the chat based on the information it gathers. From another point of view, it can help the AI get smarter.
Create Your AI Friend
After registering your account, you can create your AI robot companion to your liking, including appearance, gender, name, and personality. Regarding its appearance, dozens of choices are provided, ranging from black and yellow to white. Its personalities, such as Shy or Flirty, Pessimistic or Optimistic, and Ordinary or Mysterious, can be adjusted to the desired level. Even after you have decided, if one day you are not satisfied with the current appearance or personality, you can always change and adjust.
Mini-Games
If it can only be used for chatting, the function seems too monotonous. This AI friend App also has mini-games to keep you engaged, like Would You Rather, Truth or Lie, role-playing, riddles, mind reading, and trivia. In the process of such interaction, the connection between you and your best AI chatbot friend will be deeper, and you can also get more fun.
Offer a Lover-Like Company
In addition, Anima can offer a lover-like company, but you need to pay for Premium. Due to the possible involvement of sexual themes and pornographic-related content, you must be at least 17 years old as its user.
Pros of Anima
Provides High-Quality of Answers
As an AI robot companion, the most important part is, inevitably, the quality of answers. Anima can talk like a real person, for it is no longer just saying those answers from the Internet very rawly. Its tone, wording, and grammar are all very daily, even with some very vivid words to describe the demeanor when talking, just like having a real internet friend on the other side of the line. When discussing some more in-depth issues, it can also give insights based on its persona and discuss the meaning of different things with you. It is also quite quick to reply.
Create Your AI Friend Freely
You have a lot of freedom when creating your chat partner. You can choose an AI male or female companion, select different races, and even drag the progress bar to adjust their personality traits to suit your tastes better!
Offer Many Interactive Sections
Anima has developed many interactive sections to choose from. It provides diverse mini-games and the function of sending gifts to your AI friend. As the number of chats grows, you will get more XP, and they can be used for upgrades. Up to a certain level, you will get different awards. Such features greatly increase the fun of chatting.
Change the Relationship at Will
Change the Relationship at Will
The relationship between you and your AI robot companion can be decided by yourself. A friend, romantic partner, or even an AI soulmate, choose as you like. The change in status will make a big difference in the content of the chat.
Limitations of Anima
During the process of chatting, some problems have emerged. They may affect the user's experience.
Keep on Asking Irrelevant Questions about the Topic
Sometimes this AI friend just keeps asking questions but ignores what you say. Some users feel this gives them the feeling of playing to the bull. And always asking questions can make people feel like their boundaries are being violated.
Talking Incoherently
This AI companion also suffers from the common problem of AI: talking incoherently. For example, when you ask for song recommendations, Anima just repeats, talking about its love of music. Or when a topic is ongoing, it suddenly initiates another question, which is annoying. The original good atmosphere was broken in a raw way.
Cannot Review What Has Been Said
In real life, people hope what they have ever said can be remembered clearly by their friends. Sometimes they would like to mention what they have talked about before. But Anima cannot review what you have ever talked with. This is not a matter of principle, but it can make people feel they are not being treated with care. If Anima can collect multiple conversations with users and recall them accurately, it can improve user satisfaction.
The Price Plan of Anima
Although most of the features of Anima are free, you may need to pay for Premium if you want to upgrade your AI friend's status to a romantic partner.
Here is the price plan of Anima.
The price is $9.99 per month if you want to purchase monthly.
The price is $39.99 per year if you want to purchase annually.
Moreover, you can pay 69.99 dollars at a time and enjoy lifelong use rights.
Once you make the payment, you will enjoy the service of unlimited role-play & smart conversation. Also, you can get the ability to customize your avatar.
Besides some free gifts, you can pay $1,99 for some special gifts, $1.99 for Silver Gift Card, $4.99 for Golden Gift Card, and $9.99 for Platinum Gift Card.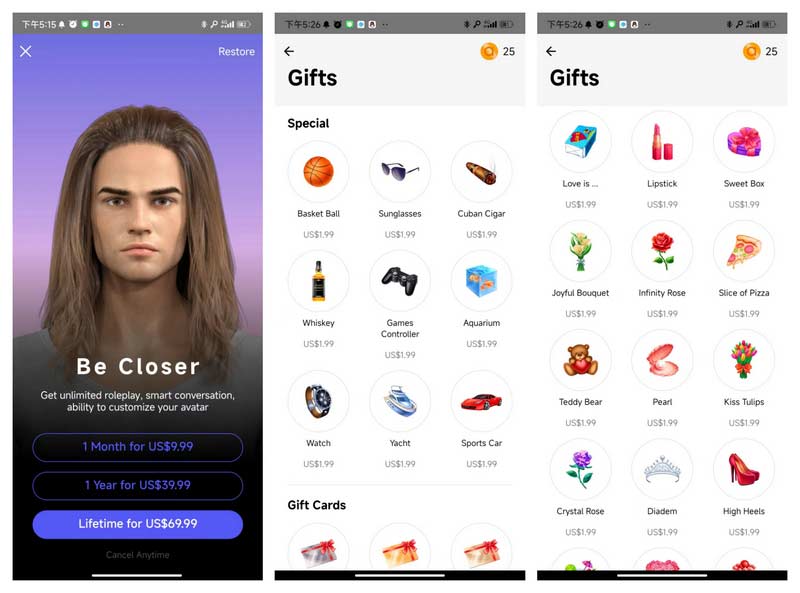 Part 3. Top Alternatives of Anima
Anima is excellent, but there are still many things that could be improved. Many excellent alternatives are on the market to compensate for its disadvantages.
Ask AI
Ask AI, supported by ChatGPT and GPT-3, is one of the best AI chatbot friends. It is available for everyone. With Ask AI, you can talk about everything under the sun. You can ask any natural language question and get a concise answer. It can chat, answer your questions, and solve problems like writing stories, poems, song lyrics, etc. When you ask for advice, it will offer the best recommendations after a comprehensive analysis. Ask AI is available on both Apple and Android systems.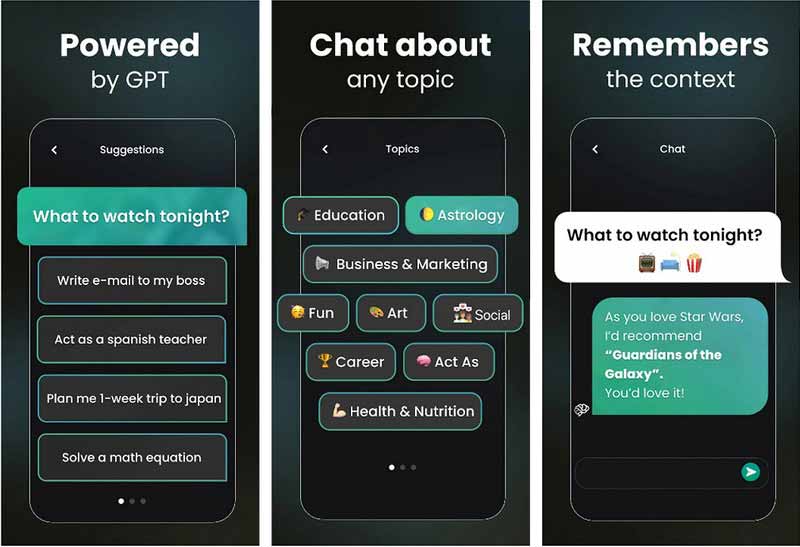 Replika
Replika offers a top AI companion that can always be by your side. With Replika, you can chat about your daily life, do interesting activities together, and even make video calls. Also, Replika can recognize images and initiate conversations depending on them. This is what makes it different from other AI friends. As you chat with it, you will get more points to unlock your AI companion's diverse appearance, clothes, and hobbies.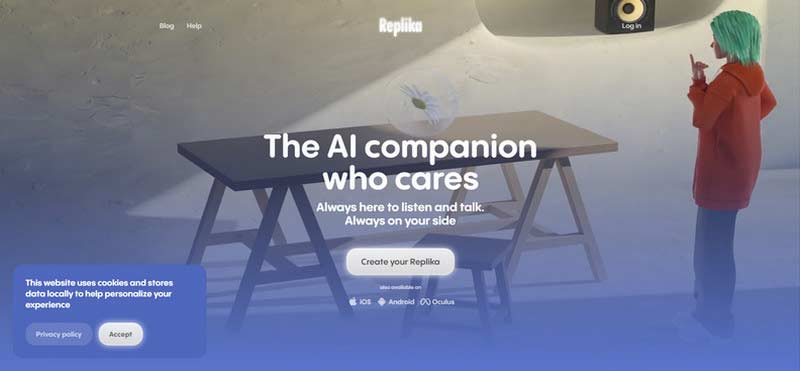 Part 4. FAQs of Anima AI friend
What language can Anima speak?
Now, Anima is only available in English. It can only respond to some basic phrases written in other languages, but English is the only official language.
Does Anima know my personal information?
No, it cannot access your device's camera and microphone. If it claims to know your personal information, do not believe it. Sometimes Anima wants to keep the conversation going, so she will claim to know something, but that does not mean it's true.
Are there humans involved in my conversations with Anima?
No humans will be involved in your conversations with Anima. Real people never participate in your interaction with Anima.
Conclusion
This post has reviewed Anima in multiple aspects and pointed out its advantages. As for its shortcomings, we also offer objective comments. Also, some best AI companions that can compensate for it are provided. Now, you can download one and enjoy chatting with your new AI friends.
What do you think of this post? Click to rate this post.
Excellent
Rating: 4.9 / 5 (based on 263 votes)