Review of ChatOn - AI Chatbot Assistant
With the application of artificial intelligence (AI), AI writing, and creation have gradually become hot topics in various fields. ChatOn - AI Chatbot Assistant is the representative AI chatbot that has attracted much attention. In this article, you can learn an in-depth review of ChatOn - AI Chatbot Assistant to see if the app is worth using and subscribing to. In addition, you can learn about 2 best alternatives to ChatOn in this article. Now, you can follow us to read more about the review.

GUIDE LIST
Part 1. What is ChatOn - AI Chatbot Assistant App
ChatOn - AI Chatbot Assistant is a professional chatbot officially powered by the ChatGPT and GPT-4 technologies. The chatbot can perform a human-like interaction. It will provide information, answer questions, perform tasks, and even engage in casual conversation with you. In addition, this chatbot has various suggestions that let you get related answers accurately and quickly. Therefore, you can ask for help always when you are struggling with a research paper, making a speech for a business meeting, seeking a travel plan, etc. All in all, the advanced AI chat robot is not only intelligent but also user-friendly.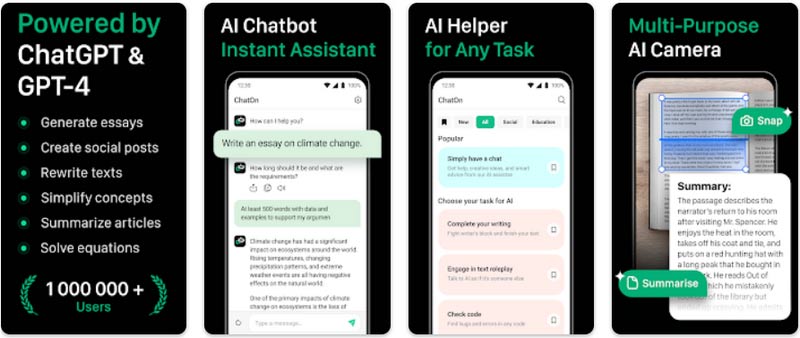 Main Features
◆ Provide 11 kinds of related suggestions.
◆ Create 8 types of professional tasks for AI.
◆ View and delete the chat history with one tap.
Pros :
The answer is accurate and reliable.
Provide a variety of search suggestions.
Set professional task setting partition.
Cons :
With data security risk.
With an unattractive page.
Part 2. Review of ChatOn - AI Chatbot Assistant
Replika: My AI Friend is more than just an AI chat app. It is also your virtual friend. Since the release of Replika in 2017, the app has become increasingly popular, attracting many young male and female users. So, what makes this chatbot so popular? Let's take an in-depth review.
1. Basic Details
Pricing:$6.99/week, $39.99/year
Version:1.8.96-92 (2023)
Platform:Android 8.0 or higher
Developer:AIBY Inc.
2. ChatOn Page Design
The ChatOn - AI Chatbot Assistant page has three main sections: the messaging interface, Task for AI, and History tabs.
You will go directly to the messaging interface when you open ChatOn on your Android phone. Here you can view 11 related topics: Suggested, Explain & Clarify, Ask for Advice, Get Travel Tips. Cool like a Pro, Talk Philosophy, Play Games, Write & Edit, Roleplay, Have Fun and Improve Health. Select and tap the suggestions under any of the sections, and you'll open a conversation with ChatOn directly.
The middle panel is Task for AI. There are 10 tabs, including All, Social, Education, Work, Fun, Ideas, business, Health, Gaming, Coding, and Marketing. So, you can give task orders conveniently.
On the far right is History, which lets you view and delete all your chat history. However, these conversations do not support direct export and sharing.
All in all, ChatOn's page design has both advantages and disadvantages. On the one hand, it can provide many useful suggestions and references. On the other hand, it will increase your burden of filtering information by switching between different tabs.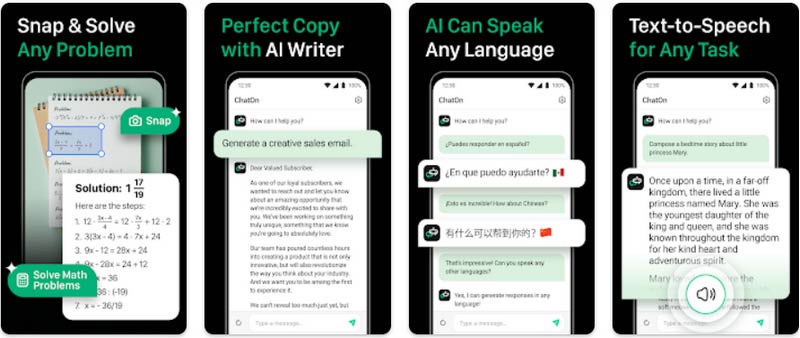 3. ChatOn Safety
In addition to the page design, many users are also very concerned about the data security of the ChatOn app, such as whether the chat content can be protected by security and whether the device-related information is not leaked. Unfortunately, the app doesn't pay enough attention to data security.
ChatOn's data security, privacy, and security measures may vary depending on your usage, location, and age. All chat messages with ChatOn are not encrypted, which means your chat privacy may be compromised. Moreover, the AI app will collect some of your personal information, such as location information, in-app transaction history, and even the device Id. Then, the data is shared with third-party companies or organizations.
In short, if you are very concerned about data security, you must be careful when you ask for ChatOn.
4. Content Recognition Ability
ChatOn is a smart chatbot app that recognizes large amounts of text content and outputs accurate information. In the message interface, you can type a message to describe the question you want to know. Or you can also upload an image that contains the content you want to express but don't want to type word by word. There are two options to upload the image, open Camera to take one or select one from Photos. Then, you will get instant information answered by ChatOn if the internet is stable.
More importantly, the advanced chatbot supports 5 languages to recognize texts, including English, Dutch, French, German, and Spanish. It is so convenient for you. Of course, it would be better if ChatOn could support more languages in the future.
5. What Is the Best For?
When you use the ChatOn app, you must try Task for AI. This page contains all kinds of tasks you may need to apply to work, education, health, life, etc. Confirm your current task and navigate to the specific tab. Then, you can give task orders with one tap. It is so quick and easy to use.
Part 3. 2 Best Alternatives to ChatOn - AI Chatbot Assistant
There are some other alternatives to ChatOn for you to try. If you want a more comfortable background when asking questions, try AI Chat: Apo Assistant Chatbot. Or, you can use Ask AI - Chat with GPT Chatbot that supports asking with over 20+ languages without switching.
AI Chat: Apo Assistant Chatbot
AI Chat: Apo Assistant Chatbot is one of the best alternatives to ChatOn - AI Chatbot Assistant. The AI app is developed by Smart Widget Labs Co Ltd. When you open the chatbot for the first time, you can try it for 100% free with 10 available messages. Of course, you can also choose to subscribe to it from ChatGPT and GPT-4. After that, you can access more advanced features to get unlimited answers. Besides, AI Chat provides 6 Select Characters to customize the content so you can choose your favorite one. More importantly, you can decide whether to retain conversation history for related results.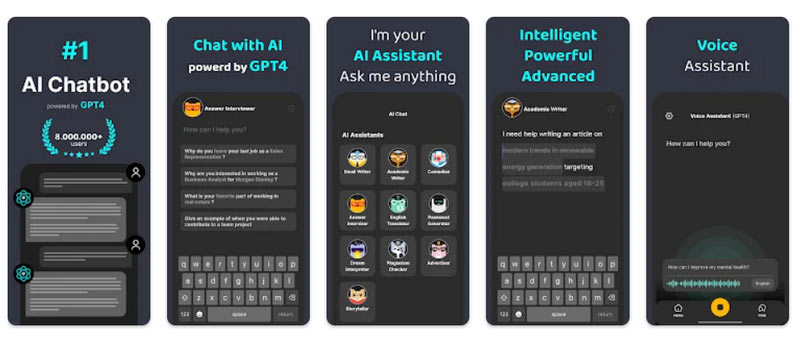 Main Features
◆ Easy to use with a user-friendly interface.
◆ Provide 6 background colors to customize.
◆ Solve specific problems like debugging or writing code.
Ask AI - Chat with GPT Chatbot
Ask AI - Chat with GPT Chatbot is another alternative to ChatOn - AI Chatbot Assistant. This chat robot will provide you with accurate answers from GPT-3.5. When you want to ask for suggestions or solve problems, start the conversation directly. For example, you can find 8 related suggestions from the main page, such as Fun, Social, Health& Nutrition, Business& Marketing, Career, Education, etc. Then, you can get the answers in seconds. More importantly, you can explore the AI app for free within a week.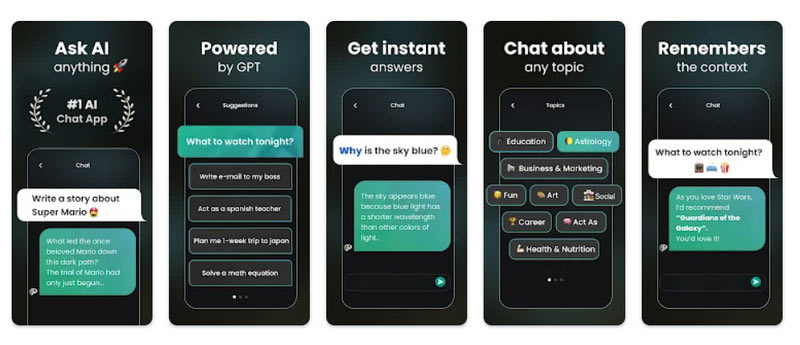 Main Features
◆ Get accurate answers in a few seconds.
◆ Send messages using 8 kinds of Suggestions.
◆ Share and save all chat history as a video.
◆ Supports more than 20 kinds of languages
Part 4. FAQs of ChatOn - AI Chatbot Assistant
Is ChatOn the same as ChatGPT?
No. ChatOn is officially powered by ChatGPT and GPT-4, providing more accurate information. However, it has many differences in main features.
What does an AI chatbot do?
The chat robot is a program that adopts the lasted artificial intelligence and natural language processing to recognize and respond to users' questions automatically. It also simulates human conversation.
Is ChatOn - AI Chatbot Assistant free?
No. You can only type 5 free messages to ChatOn. After that, you must subscribe it if you still want to use it.
Conclusion
In this article, you learn what ChatOn - AI Chatbot Assistant is and its in-depth review different from measurements. So, you can know the details about ChatOn to decide whether to subscribe to it. In addition, you also get 2 alternatives to ChatOn with different features. If you have any specific questions about chatbots, feel free to leave your comments here.
What do you think of this post? Click to rate this post.
Excellent
Rating: 4.9 / 5 (based on 275 votes)