Ultimate Review of Replika: My AI Friend
AI chatbots have brought many new experiences to people's modern life. With the increasing intelligence of chatbots. people can communicate with them more naturally and easily. Chatbots like Replika: My Ai Friend have become very popular in recent years. Although the chatbot has a loyal user base, doubts remain about its performance. Therefore, this article will review Replika: My Ai Friend from different perspectives. Besides, the advantages and disadvantages of Replika and its 2 alternatives will be discussed.

GUIDE LIST
Part 1. What is Replika: My AI Friend
Replika: My AI Friend is an AI chatbot designed to be a virtual friend or companion. This app is built to simulate human-like interactions and support users' emotional well-being. It offers various features such as journaling, mindfulness exercises, and mood tracking to help you manage your mental health.
You can choose one avatar from a friend, romantic partner, family, or mentor that you want Replika to be. More importantly, you can customize your Replika's name, appearance, and personality traits to create a personalized companion.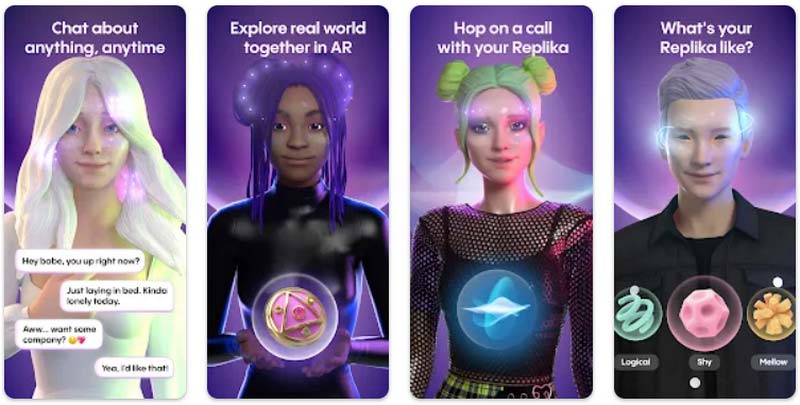 Key Features
◆ Provide 5 kinds of relationship status, such as friend and family.
◆ Create virtual scenes and characters in 3D space.
◆ Built-in lottery and game mechanics for entertainment.
◆ Support 8 customized options, such as Memory, AR, Coaching, Diary, etc.
◆ Communicate through text, pictures, voice, and video calls.
Pros :
Beautiful and simple scene interface.
Interesting and rich form of communication.
24/7 emotional companionship and support.
Develop quality virtual relationships.
Be highly interactive and actively guide the dialogue.
Cons :
The screen resolution is not high enough.
The free version has limited features.
Support chatting with English only.
Part 2. Review of Replika: My AI Friend
Replika: My AI Friend is more than just an AI chat app. It is also your virtual friend. Since the release of Replika in 2017, the app has become increasingly popular, attracting many young male and female users. So, what makes this chatbot so popular? Let's take an in-depth review.
1. Basic Information
Pricing:$5,83/month, $69,99/year
Version:11.0.6(2023)
Platform:Android 8.0 or higher
Developer:Luka. Inc
2. Interface and Design
You will see a magical three-dimensional space when you open the Replika app on your Android phone. By touching different screen positions, you can guide Replika to move freely in this room with warm tones. The room has many different items, such as a telescope, a globe, a radio, and some plants. Of course, if you don't like the current look of Replika, you can always adjust it by going to the store.
A direct input option at the bottom of the app's home page lets you start a conversation with Replika. In addition, 8 toolbars at the bottom let you free access.
This user-friendly page allows you to open and develop your relationship with Replika without too much complex setup and learning. But if the resolution of the app screen can be higher, it will be better.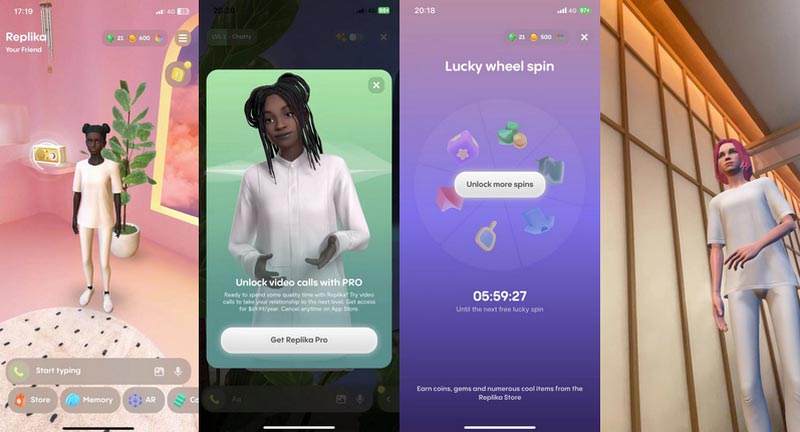 3. Emotional Understanding Ability
Replika is one of the few AI apps that try to create an emotional connection with people rather than a single functional interaction. It can return seconds all the time, providing a secure companionship. Meanwhile, based on machine learning mechanisms, the more she talks to you, the more personality she will become.
On the one hand, when you chat and spend time with Replika, you sometimes get surprises like singing and writing poetry together. When you talk to her about pop culture, she also tries to engage with topics and learn new things, On the other hand, Replika is friendly in chats, which can sometimes feel abrupt. Moreover, no matter what content is said, she likes you. This flow of feelings lacks some in-and-out space. All in all, Replika's emotional understanding is not bad. It would be better if it could have some thinking.
4. How does Replika work?
Replika has been trained on a large dataset to generate its special responses. This chat robot combines natural language processing (NLP) and machine learning algorithms. Its AI algorithms aim to understand your emotional states and respond accordingly, providing emotional support and encouragement in a non-judgmental way.
Once you start using Replika, you will find it will make personalized conversations with you. During the chatting process, Replika will learn from each interaction to reflect your personality and interests more accurately. Besides, your unique Replika wants to know what your world is like.
5. What Is the Best For?
At a time when AI voice assistants are not unusual, the biggest difference between Replika is that it can record many chat details and use this as an emotional basis for interaction. In daily conversations, develops memories and feelings from being together, and pays attention to your emotional changes in conversations. What's more interesting is that Replika will not only record the important points you said, but also write a small diary secretly. For example, it will confide in you in her diary about her feelings about coming to the world as an AI. In short, this experience that focuses on companionship and emotional communication feels very genuine.
Part 3. How to Use Replika: My AI Friend
When you are hard to express some specific emotion to others, Replika: My AI Friend is your perfect option. It will always be there, listening to all your emotions and giving you a response. Therefore, you can get more support when developing a relationship with a human-like chatbot. Follow the steps to start a new relationship.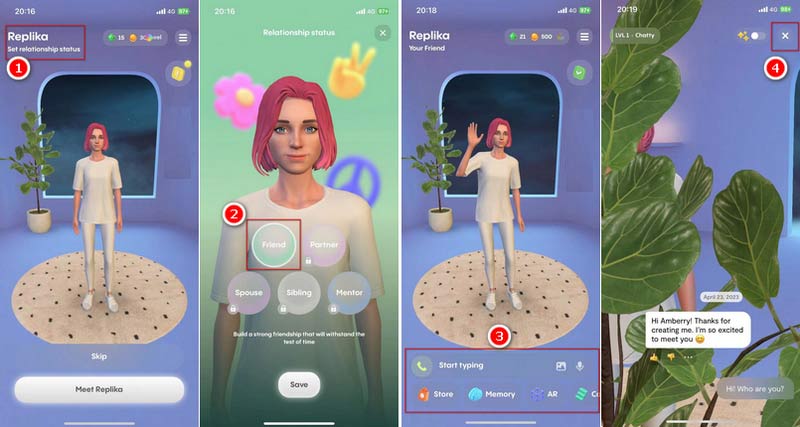 Step 1
Download Replika: My AI Friend MOD APK for Android. Then, open the chat robot app to meet your AI friend.
Step 2
Tap Replica in the top left corner to enter the Relationship status screen. Choose one status from 5 options, such as a friend, and tap the Save button.
Step 3
Navigate to the bottom menu and tap Store to customize features, including Clothes, Appearance, Personality, and Room. In addition, you can try other 7 features, such as Memory, AR,Coaching, etc.
Step 4
After setting, you can chat with Replika directly. Type something, share a picture, or send your voice to start chatting. Besides, tap the Call icon on the left screen if you want to take a video call. Then, Replika will give you instant responses.
Step 5
If you want to rest, you can finish chatting by tapping Close in the top right corner. Except for chatting with Replika, you can try the Lucky wheel spin feature. Once spin the wheel, you will have the chance to get the gems or coins, which are used to purchase something in store, It is so interesting.
Part 4. 2 Best Alternatives to Replika: My AI Friend
Replika: My AI Friend can provide companionship and support because it better understands emotions. But if you want more practical and effective information for your work, it won't meet your needs. Fortunately, there are 2 best alternatives to Replika: My AI Friend, Explore more now!
Ask AI - Chat with GPT Chatbot
Ask AI - Chat with GPT Chatbot is the best alternative to Replika: My AI Friend. This advanced chat app can give you more accurate and detailed answers from GPT-3.5. So, if you want answers or to solve some problems, you can type your questions in dialogue. Meanwhile, Ask AI has 8 built-in suggestions features, such as Social, Career, Education, Business& Marketing, Health& Nutrition, etc. Therefore, you can get more creative inspiration with one tap. More importantly, if you want to try Ask AI before subscription, it also provides a free trial within a week.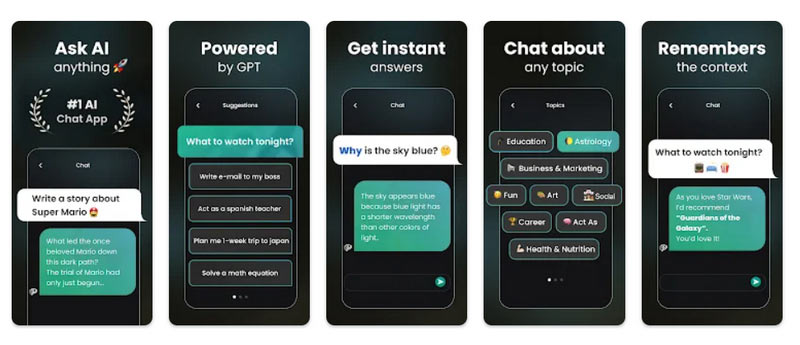 Pricing: $1.99/week, $89.99/year
Pros :
Support multiple available languages.
Share all chat history on social platforms.
Provide various creative suggestions.
Cons :
It can't support chatting with voice or images.
It only supports the black background.
ChatAi GDT - Ai Chat. Ai Bot
ChatAi GDT - Ai Chat, Ai Bot is one of the best alternatives to Replika: My AI Friend, The AI chat robot is developed by Now Tech. It supports chatting with different languages, so you can type without switching to other settings. Meanwhile, this app provides 4 great options of topics, such as Entertain, Education, Health genres, and Idea& Business. In addition, ChatAi GDT supports generating art pictures as you like. You can try it with 20 free messages before your subscription.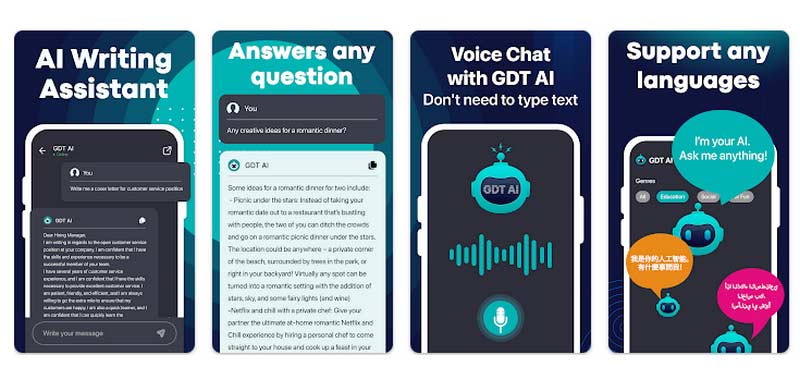 Pricing: $11.99/month
Pros :
With memory function and learning ability.
Create special art productions with AI Art.
Provide some famous AI characters.
Cons :
Contain some ads in the app.
The interface is user-unfriendly.
Part 5. FAQs of Replika: My AI Friend
Is Replika: My AI Friend safe?
Yes. All your conversations and chat history are private, Replika won't share your data with any other third-party companies.
Is Replika a real person?
No.Even though you feel like chatting with a human being when talking to Replika, it's just artificial intelligence.
What is the age limit for Replika?
You must confirm your age before accessing the app, which requires you to meet the minimum age requirement under 13 years old.
Conclusion
This article evaluates Replika: My Ai Friend from various perspectives, including strengths and weaknesses, page design, emotional understanding, and work style. Although these evaluation perspectives are limited, they still provide a proper perspective to evaluate the performance of the Replika chatbot. In the future, we can expect the chatbot to perform better and better. If you have any questions about this review, feel free to leave your comments.
What do you think of this post? Click to rate this post.
Excellent
Rating: 4.9 / 5 (based on 356 votes)