Lasted Review of Ask AI and Its Best Alternatives
The development of artificial intelligence technology has brought a lot of convenience to our life. Recently, there has been a boom in artificial intelligence chat robots. There are many chatbots on the market. This article will comprehensively review Ask AI - Chat with GPT Chatbot, a popular mobile app. By reading this article, you will know if it is worth your subscription and use. Besides, this article provides 2 best alternatives for you to make a better choice.

GUIDE LIST
Part 1. What is Ask AI - Chat with GPT Chatbot
Ask AI - Chat with GPT Chatbot is the best AI chatbot in your pocket. The advanced chat robot is developed by Codeway Dijital. This AI chat app is based on the power of ChatGPT and GPT-3, which lets you experience the lasted future of AI with conversations. It has various built-in Suggestions features, including Social, Fun, Education, Health& Nutrition, Business& Marketing, Career, and Act. So, you can type your conversations and get answers easily.
Ask AI has provided a free trial for you within a week. You can get the AI robot from the Google Play store and try it for free.
Key Features
◆ Ask any questions and get instant answers in a few seconds.
◆ Send messages and get inspired by 8 kinds of Suggestions.
◆ Save your dialogues in memory with AI technology.
◆ Share all chat and the last message easily with one click.
◆ A new way to chat, explain, write, translate, learn, code, etc.
Pros :
Available in all languages when chatting.
Easy to use and solve your questions.
Provide multiple creative content and suggestions.
With the most human-like chatting way.
With the most personalized recommendations.
Cons :
The app can't support chatting with your voice.
The conversations sometimes cut off without warning.
With limited features in the free trial, such as the dialogues number and ads.
Part 2. Review of Ask AI - Chat with GPT Chatbot
You know what Ask AI - Chat with GPT Chatbot is and its features, pros, and cons in part 1. Now, in this part, you will get the chatbot details from 6 aspects, including basic information, interface and design, key features, pros and cons, safety, and the best for you. Read the following review now.
1. Basic Information
Pricing:$1.99/week, $89.99/year
Version:1.0.8 (2023)
Platform:Android 8.0 or higher
Developer:Codeway Dijital
2. Interface and Design
In the Ask AI app's main interface, there is only one intuitive mode to start chatting. Due to the intuitive design and user-friendly interface, you can enjoy conversations with the AI chatbot, even if you are a beginner. It supports writing your message at the bottom of the chat box without switching to other pages. It allows you to type in different languages with no settings. Meanwhile, it also provides amazing suggestions to chat with the robot quickly with 3 steps.
However, you cannot change the default background of Ask AI, since it only supports the black color. For some users, this visual effect will easily bring visual fatigue and tedium to the eyes.
3. Information Processing Capability
Is it true the Ask AI campaign gets instant answers? In terms of timeliness, it has been tested and found that it can only provide information until September 2021 and not up-to-date information. Therefore, it cannot provide real-time information, such as weather and demographic data.
As a language model, Ask AI can recognize your content text relatively accurately and provide some viable solutions, such as some travel routes and creative inspiration. However, it has limited interactivity. So that you can only ask and interact with text messages. It cannot provide support if you need voice, video, or image interaction.
In conclusion, Ask AI provides content with high accuracy and richness when it comes to information content processing. It still needs to be improved regarding the timeliness of information and interaction. If only as a language processing tool, it is a good assistant for you.
4. Memory Ability and Practicality
After many consecutive conversations with Ask AI, you will find that it will answer each of your questions carefully. But no matter how many times you ask a question, it can't generate memories or create a semantic search library of similar text. This results in you having to type in exactly the instructions and tasks each time and sift through the information Ask AI provides you.
In general, the more specific the task goal is defined and the task instructions issued, the more accurate the answer given to you by Ask AI.
However, it has a maximum word count of 500 characters for text input. It leads to a certain degree of limiting the user's use and experience.
5. Is Ask AI Safe?
The developer says Ask AI won't share user data with third-party companies or organizations.
All of the chatting content is transferred over a secure connection. More importantly, it allows you to delete the chatting history manually.
6. What is the Best for You?
The Ask AI app supports various languages to ask AI a question. So, you can switch to different languages to improve your language skills. Keep practicing the dialogues; you will broaden your horizon and get more real-time information about other languages.
7. Best Questions to Ask AI
Is there really a Santa Claus in the world?
Is there any way to relieve insomnia?
Can you write a poem about spring?
Can you recommend 10 world-famous books for me?
If I want to travel to Greece for a week, can you recommend some places to visit?
Part 3. 2 Alternatives to Ask AI - Chat with GPT Chatbot
When you prefer to send voice when chatting. Ask AI - Chat with GPT Chatbot cannot meet your needs. Therefore, you can find some alternatives to Ask AI. Here are 2 chat robots with the voice feature below.
AI Chat: Apo Assistant Chatbot
Apo Assistant Chatbot is the best alternative to Ask AI - Chat with GPT Chatbot. The chatbot is developed by Smart Widget Labs Co Ltd. It has an intuitive design for you to start conversions. There are 2 subscriptions for you to select from ChatGPT (Remember conversation history for related results) and GPT-4 (Provide better results but not retain conversation history). Meanwhile, you will get 10 available messages when texting on the free trial.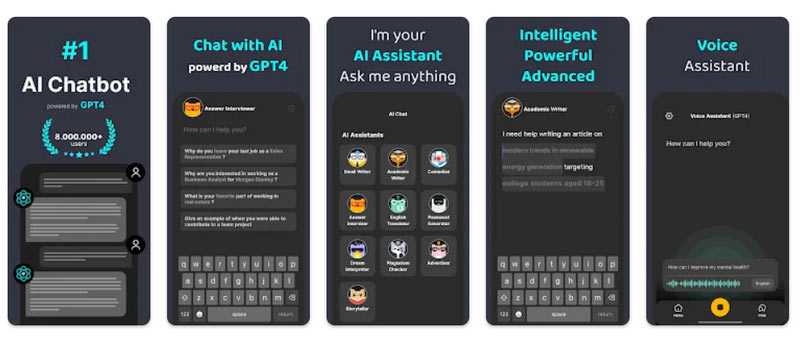 Pricing: $21.98/month
Pros :
Easy to use with a user-friendly interface.
Provide 6 Select Characters to set the background color.
Support chatting with professional AI Assistants and a Voice Assistant.
Cons :
Support English only.
Too many ads on the interface for a free trial.
ChatAi GDT - Ai Chat, Ai Bot
ChatAi GDT - Ai Chat, Ai Bot is another alternative to Ask AI - Chat with GPT Chatbot. The chat tool is developed by Now Tech. It has 4 options for choosing topics from Education, Entertain, Idea& Business, and Health genres. More importantly, it lets you switch to different languages easily. And it supports texting and speaking to Chat AI. Start exploring with 20 free messages.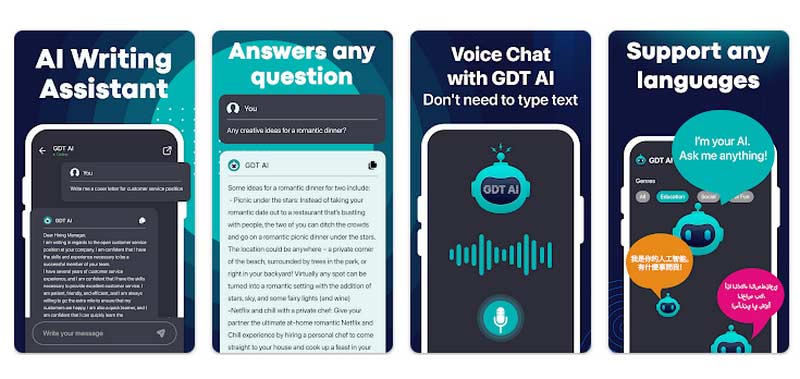 Pricing: $11.99/month
Pros :
Easy to create art images with AI Art.
Chatting with famous people with Character AI.
Support chatting with over 20 kinds of languages.
Cons :
Contain some ads in the app.
The interface is complex and user-unfriendly.
Part 4. FAQs of Ask AI - Chat with GPT Chatbot
How to ask a good question?
A good question requires three elements.
Firstly, define the task goal. Secondly, define the role of Ask AI. Thirdly, provide background information about the task.
Can I talk to an AI online for free?
Absolutely. Some free AI chatbots are available online, such as Google's Dialogflow and Microsoft's Bot Framework.
Is Siri a Chatbot?
Yes. Siri is viewed as a basic chatbot. It can give you some answers with sound smartly. However, Siri lacks natural language processing and human-like conversational ability to the more advanced AI chat robots.
Can AI be 100% accurate?
No. All the AI models have a special algorithm. The best algorithms can achieve 100% accuracy. However, all the AI tools cannot process complex enough data with complete accuracy.
Conclusion
This guide gives you the Ask AI review from different aspects. You can get the lasted information about the Ask AI chatbot. In addition, you get its 2 best alternatives to chat with AI. If you are a beginner at using AI tools, you can try the AI chatbots mentioned above in this guide. Leave your comments if you have any other questions about these AI tools.
What do you think of this post? Click to rate this post.
Excellent
Rating: 4.9 / 5 (based on 486 votes)