A Multi-Aspect Review of the ChatAI: Help You Better Apply AI Chatbots
If you follow Internet news, you must be familiar with the big hot topic of AI Chatbots. The chatbot AI, represented by ChatGPT, has continued to dominate the headlines for a long time. They can no longer accomplish simple problems like arithmetic and translation but can assist us in many ways with complex problems. As a strong and intelligent AI chatbot App, ChatAI can act like a personal assistant and answer any question you propose; even AI dating chatbot in the app store can pretend to be a partner to spend time with users. In this post, we will review it to help you understand and use it.

GUIDE LIST
Part 1. What is ChatAI: AI Chatbot App
What is ChatAI?
ChatAI, developed by Begamob Global, is an AI chatbot that uses API technology. It has been available since February 2023. ChatAI is built based on ChatGPT, GPT-3, GPT3.5, and GPT4 technology with a legal license. However, this App is not ChatGPT but only a program built on public open source from Open AI's GPT model. ChatAI assumes the personal assistant role, allowing users to ask questions on highly specific topics, such as linguistic knowledge, cooking, kitchen skills, programming languages, human history, etc. It provides automated searching, discussion, text completion, and other advanced chabot AI features. Its minimalistic and elegant page allows users to start interacting with the AI smoothly.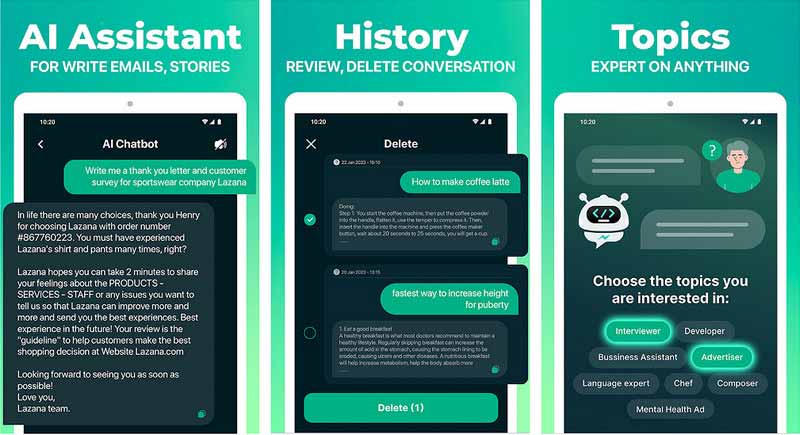 How Does ChatAI Work?
ChatAI is an application based on OpenAI's GPT paradigm, which is available for public use. As a language model, it is trained in the vast information sources like articles and textbooks on the internet. Then the AI is taught to replicate human speech and modes of information provided. OpenAI's human AI trainers create multiple conversations, and they will play both the role of the user and the AI chatbot to improve the quality of responses. It is important to note that using AI is a two-way learning process. While users get the answers to their questions, each chat with the AI allows them to train and learn speech patterns.
In terms of appearance, it is always presented as a chatbot. Users type their questions and press the Send button; the answers will be provided in a text box.
Part 2. Review of ChatAI: AI Chatbot App
The Key Features of ChatAI
ChatAI can do multiple tasks with GPT-3 Technology.
ChatAI can be seen as an excellent programmer. You can use it as a JavaScript assistant, debugger, and code writer. It can also provide you with good resources for learning programming skills and teach you how to be a good software developer.
ChatAI can help you with homework, translation, grammar checking, essay grading, and math problems. It can recommend you the best resources for learning, writing, and speaking skills.
ChatAI can be used to generate creatives by using your original ideas. When you feel depleted of inspiration or stuck in the creative process, ChatAI will offer you inspiration depending on your requirement. For example, you can write music, paint, or plan party themes with the help of AI art.
There are also several other features of ChatAI. For example, you can turn the themes and the color of text descriptions into your favorite ones. It can be a virtual expert in various fields or an AI chatbot for fun.
Pros of ChatAI
ChatAI provides a concise interface and design; all functions can be found quickly, so you can start using the App without any hindrance.
The most important part is, of course, the quality of the answers. This application can answer a wide range of questions. When you ask life questions, the AI will provide you with very objective and feasible advice; these answers are well thought out, sincere and honest. If you want to ask a question about your expertise, the AI will also gather a lot of information from the web and provide you with a detailed answer. You can even set the role of the AI you talk to, such as developer, language expert, interviewer, chef, etc. ChatAI provides some inbuilt questions for different roles that you can directly select and send.
This application also supports multiple languages. If you are a user of other languages, you can freely switch the interface texts to the language you are familiar with.
Furthermore, if you want to review past chats with AI, you can easily find them in the History module. You are free to manage them as you wish.
Limitations of ChatAI
During the use of this App, there will be a lot of advertisements popping up. This situation may interrupt their chatting process, thus making the user's experience much less enjoyable.
This software offers three free accesses per day. But more chances are needed for new users, who are often used to doing more tests to get a feel for how well it works when they first download the App. Three free messages need to be more to engage users and make them become loyal users fully.
The system could be more stable. Sometimes you type in your question, but the system makes an error with no answer provided. It still needs to be resolved even after several refreshes. The appearance of error is a complete waste of free opportunities for users who have yet to purchase the upgrade service. And for those who have purchased, getting no answer to their questions is irritating, even though they have paid money.
Compatibility Issues
Begamob Global, as the developer of ChatAI, has been an active Android developer since 2020. So ChatAI is only supported for devices with Android 5.0 and later systems installed. Don't worry if you are an Apple user, there are countless AI chatbot Apps for Apple systems, and you can easily find them in all major app stores.
The Price Plan of ChatAI
You have three free messages per day. You can pay for a premium upgrade if you need to ask more questions, gain more answers, and enjoy more advanced service from ChatAI.
Here is the price plan of ChatAI.
The price is $9.49 per week if you want to purchase weekly.
If you want to purchase monthly, the price is $14.99 per month.
Moreover, you can pay 38.99 dollars at a time and enjoy lifelong use rights.
Once you make the payment, you will enjoy the service of unlimited questions & answers without no advertisements bothering you.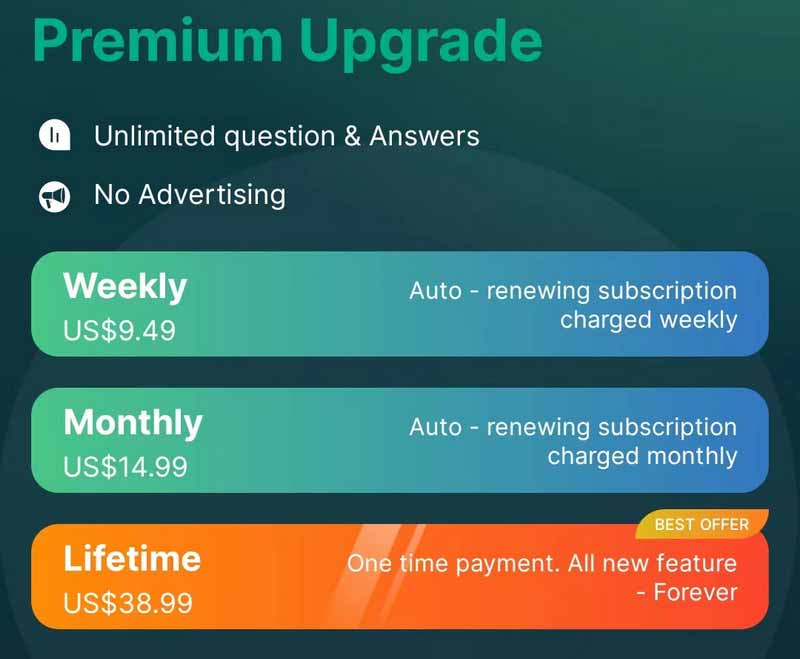 Part 3. Best Alternatives of ChatAI
A product could be better, even if it is excellent. It needs to be admitted that ChatAI still has a lot of shortcomings to make up for. For example, it has few free uses but many ads. This guide will list several alternatives for you, including the Ai chatbot platform and AI chatbot for website. They are also top AI chatbots. Just follow us, and let's chat with AI bots.
Ask AI
Ask AI is the most advanced chatbot available for everyone. It is supported by ChatGPT and GPT-3. No matter what your topic is, it will chat with you smoothly. AskAI offers personalized recommendations based on your preferences when you want to try something new. After analyzing the relevant information, it will provide suggestions you might be interested in. Ask AI can also easily help you with writing tasks such as stories, poems, song lyrics, etc. Besides, Ask AI can be used on both Apple and Android systems.
Bing Chat
Bing Chat is a free AI chatbot developed by Microsoft. It is supported by GPT4, and it is a new, next-generation OpenAI language model. Bing Chat can summarize information clearly and concisely, and knows how to ask appropriate follow-up questions. Bing AI can act as an AI chatbot online to write different types of content, from poetry, songs, and stories to reports. It provides you with information and insights about the website currently open in your browser. This chatbot is easy to use.
Part 4. FAQs of AI Chatbot
Is ChatAI safe?
ChatAI promises to protect your private information while you are using it. It will not collect or save any data used in the App. Also, no data will be shared with third parties. The data used is encrypted in transit You can request to delete them if you want.
Will AI be a threat to the workforce?
A small part of all employment will be at risk of being replaced. This trend is likely to affect those employees with a low level of education. Jobs involving high levels of human interaction or strategy development may not soon be replaced.
Should I use ChatAI for work?
ChatAI can help you with multiple issues about work. With this advanced AI chatbot, you can get inspiration for content marketing and e-mails for business. Also, if you find yourself stuck on a task, ChatAI can generate creatives depending on your original ideas.
Conclusion
This article answers the question of what is AI chatbot. We've given a general review of ChatAI and listed the pros and cons. Overall, ChatAI is a versatile chat app, and this custom AI chatbot has a high level of response. The detailed answers and objective attitude can assist you well with difficult questions. We also recommend several alternatives to make up for its shortcomings. You can download one and enjoy chatting with the AI on your own.
What do you think of this post? Click to rate this post.
Excellent
Rating: 4.9 / 5 (based on 321 votes)