Get Closer to Ask Me Anything – AI Chatbot: Features and Alternatives
AI-based applications have been quite a buzz in recent years and energized people's working efficiency with great benefits. Among a diversity of AI chatbots, Ask Me Anything – AI Chatbot finds its foothold with over 100k downloads. So how is it different from other AI chatbots? Is it worthy of a subscription for asking AI questions? We will give you a detailed introduction to Ask Me Anything -AI Chatbot and give you a reference as needed.

GUIDE LIST
Part 1. What Is Ask Me Anything- AI Chatbot
Ask Me Anything – AI Chatbot is an intelligent virtual assistant to chat and helps you tackle different questions. With a system driven by natural language processing and AI technology, it can understand and analyze the user's requirements and offer useful information with a wide knowledge base. Rather than offer short phrases and give limited descriptions, this chatbot is enabled with coherent and relevant logic by advanced machine learning. You can ask AI anything and take it as a high-tech search engine and also a companion product to meet more needs in daily life.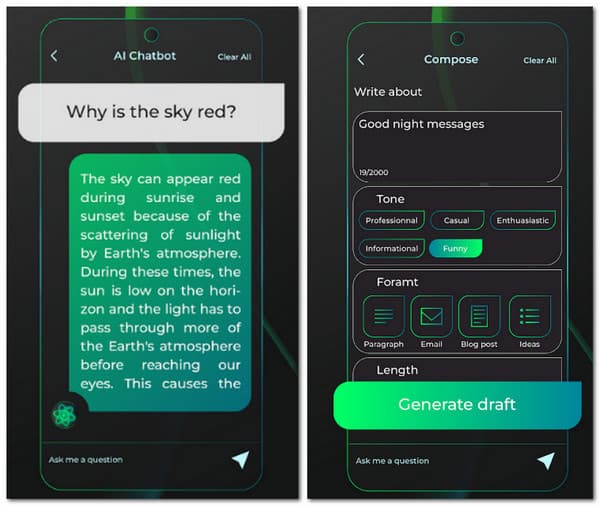 Part 2. Ask Me Anything- AI Chatbot Review
EVOLLY.APP PTE. Ltd made this AI chatbot available on February 21, 2023. Android users could access this AI application with 5.0 and higher systems and those with iOS 12.0 or later and macOS 11 and higher could download this application from the App Store. To help you make a wise choice on AI chatbots, this is what you need to know before you buy this application.
Pros :
Capable of giving quick answers before you finish the complete questions like a mind reader.
Brainstorm and provide creative and practical plans for users at school, office, business meetings and more.
A simple and straightforward user interface for all-level users to follow.
Provide answers to questions that Google and other online search engines fail to respond to.
Support dark mode to save energy for reading and improve the experience.
Able to memorize the previous input and give answers to follow-up questions.
Cons :
The In-app functions to go with a costly purchase plan, ranging from $6.49 to $ 74.99 per item to enjoy the premium version.
Functional errors would appear like frozen windows, forced requests for API key and credit card info, etc.
Limited options for voice tones and the answers given by the chatbot would vary little from online search engines sometimes.
Offer no entertaining options to support multiple participants and user's responses to the given answers,
The free trial is short, with three questions only to tap on the chatbot's potential.
Part 3. Ask Me Anything- AI Chatbot Alternatives
1. Genie - AI Chatbot
Genie is a powerful AI chatbot powered by ChatGPT. GPT-4 and GPT-3. Rather than simply text chatting and getting responses, you can record and share the chats with others and enjoy voice responses for a better experience. It can function as an intelligent mobile encyclopedia but offer professional and practical solutions. You can get logical and coherent answers with minor errors.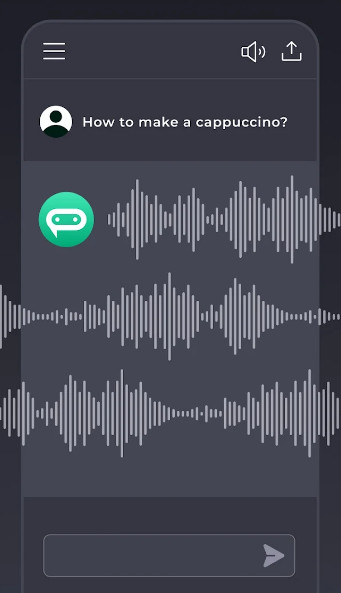 2. Chai – Chat with AI Friends
Chai – Chat with AI Friend is an entertaining and excellent alternative if you are seeking an AI chatbot in the tone of life. There would be users asking AI what god looks like and other fun questions. You can share the friend code or copy others to join yourself in different chats. There are options like More, Tumb-up, Tumb-down, or interesting emojis to give timely responses to your AI friends. And you are allowed to switch to different participants on the menu bar and manage your chatting easily.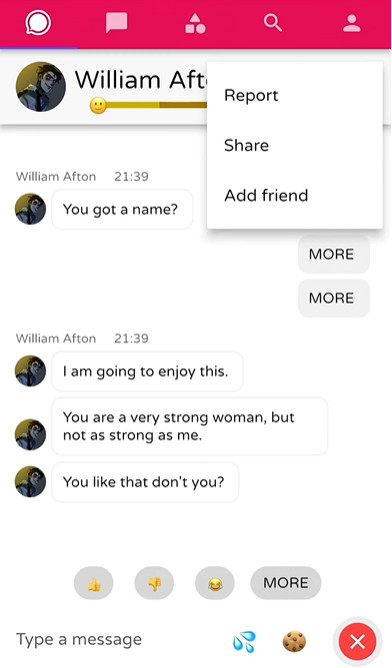 3. Nova AI – ChatGPT powered Chat
You can choose Nova as another alternative to Ask Me Anything chatbot. It supports more than 140 languages and works effectively to assist you in code problems. You can get a wide range of options at a quick speed in Nova and solve problems in an easy way. But this chatbot sometimes would not be offering accurate and high-quality content as the user puts forward a specific question.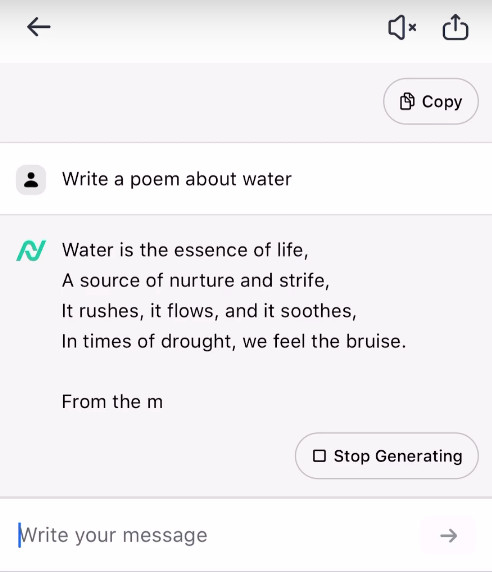 4. AI Chat Pro Chatbot Assistant
AI Chat Pro is also a good choice to take the place of Ask Me Anything if you are finding a chatbot appealing to the youth. You can create video content and ideas with its help rather than crack your brains for diverse topics. It can also help you write articles, emails and stories or polish the content you want. Although the subscription fee could be expensive, you can still give it a try.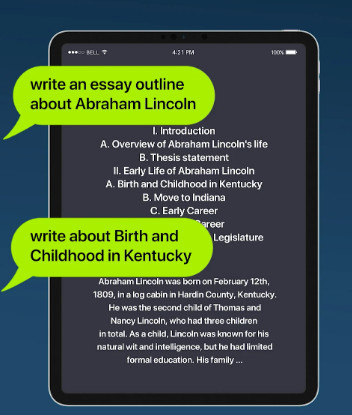 Part 4. FAQs about Ask Me Anything- AI Chatbot
How can I ask AI a question?
You can get an AI chatbot app to ask questions on your phone or access one online from your PC. Then follow the on-screen instructions to register and input your question and await the response. (BTW, you can also try the free trial version before you decide to buy one)
Are chatbots legit?
Most chatbots are secure and legitimate to use with official downloading links, and you can use chatbots to fulfill different needs.
Can I make money with chatbots?
The answer is yes, for sure. Chatbots are full of potential in many fields like business, movies, education, advertising, services, etc. You can monetize the information and content selectively with suitable arrangements and professional guidance.
Conclusion
This post has given you a review on Ask Me Anything – AI Chatbot with excellent alternatives. If you find it helpful, please share it with your friends or colleagues. You are welcome to contact us with any suggestions.
What do you think of this post? Click to rate this post.
Excellent
Rating: 4.9 / 5 (based on 218 votes)