Everything You Should Know about FakeTalk Custom AI Chatbot
This article will review one of the best custom AI chatbots, FakeTalk. Communication is a native human need. Many people adore communication, but it is not always possible. Sometimes, your friends are too busy to respond to your chat, or cannot understand your conversation at hand. Sometimes you just want to chat with strangers. Anyway, AI chatbot apps are the best option to help you find a way out of all these situations.

GUIDE LIST
Part 1: What is FakeTalk Chatbot App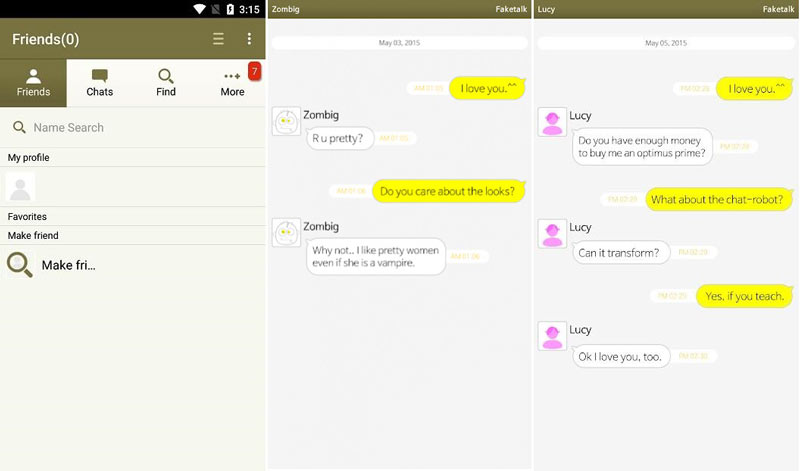 FakeTalk is a custom AI chatbot app for communicating with a personal bot powered by AI technology. The platform has been tested by a huge number of users and they all note the high quality of the communication. The custom options let users create personalized virtual friends to chat with.
Impressive Features of the FakeTalk Chatbot App
1. Set voice, language style, sense of humor, and more.
2. Create specific personalities and abilities to get personalized experiences.
3. Simulate human-like chats using advanced AI technology.
4. Understand and respond to users according to chat scenarios.
5. Work with different messaging platforms, like Messenger, Telegram, etc.
6. Support various forms of multimedia, like images, videos, and GIFs.
7. Provide analytics and insights about chatbot performance.
8. Offer a variety of metrics, like user engagement, satisfaction, and more.
9. Capture the chat screen.
10. Recognize voice and transform text to speech.
11. Chat with the bot with text, image, voice, and video.
12. Teach the chatbot how to speak.
13. Ask the chatbot to create alarms for appointments, meetings, etc.
14. Greet you on your lock screen.
Part 2: FakeTalk Chatbot App Review
Although FakeTalk is not a real person, it is really impressive and brilliant. However, similar to other chatbot services, it is still not perfect. To understand the benefits and disadvantages, we collect plentiful users' reports.
Pros :
Users can download FakeTalk from Google Play Store for free.
The chatbot can answer simple questions according to the scenarios.
Unlike humans, it can respond to you instantly 24/7.
You can manage the conversations and get insights to improve your chat ability.
It is available in multiple languages and voices.
The chatbot can work as a personal assistant on your mobile phone.
Cons :
There are too many ads after each text and that even affects chats.
There is no way to remove ads from the app.
Sometimes, it gives incorrect or stupid answers.
FakeTalk may collect your data and share it with third parties.
It is not available on iOS.
Part 3: FakeTalk Chatbot App Alternatives
Top 1: Chat with Ask AI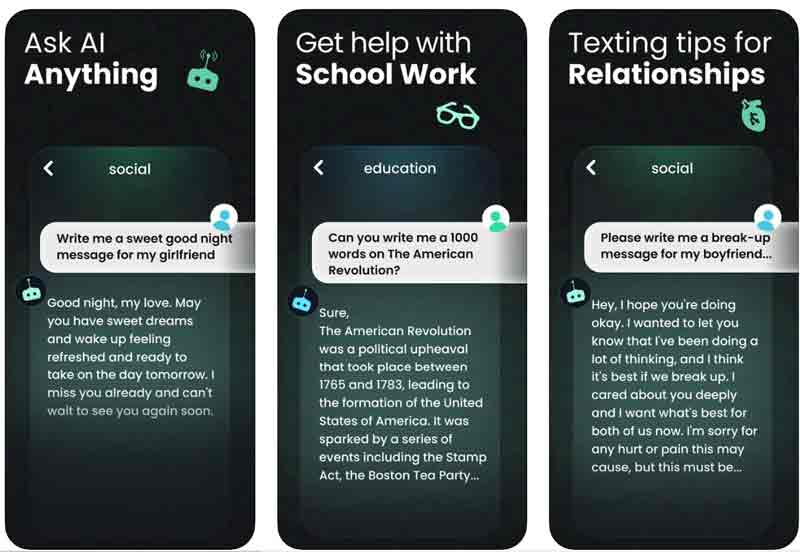 Platform: iOS 12.0 or later and Android 7.0 or above
Price: Free with in-app purchase
Chat with Ask AI is an app like FakeTalk and is powered by ChatGPT. Once you get the app on your mobile phone and write anything, you will get instant answers due to the advanced AI technology.
Pros :
Translate and write stories, poems, scripts, etc.
Search for information about anything online.
Do math equations and more.
Get answers to any question.
Cons :
It tracks you across apps and websites.
It is only available in English.
Top 2: Cleverbot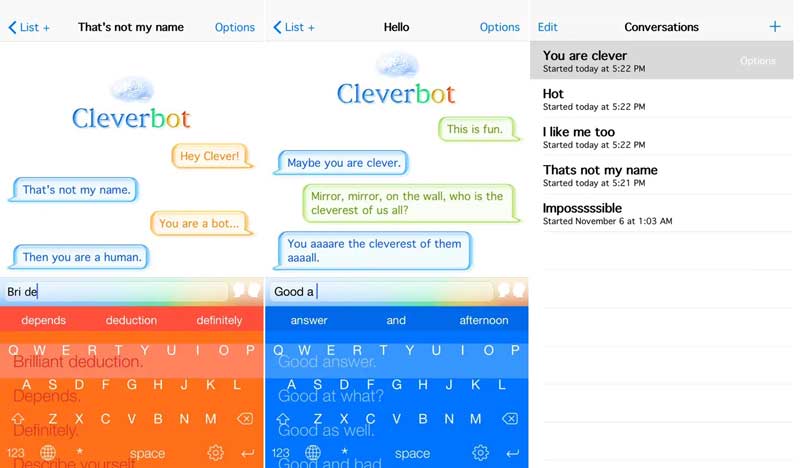 Platform: iOS 6.1 or later and Android 6.0 or above
Price: $0.99
As its name indicated, Cleverbot is a chatbot app like FakeTalk. With Actual Intelligence, you can say anything you like and the app will reply including roleplay, lyrics, jokes, memes, and more.
Pros :
Keep chatting for hours.
Learn and talk the way you do.
Email fun conversations to your friends.
Work smoothly with even slow internet connections.
Cons :
You need to talk with the app online.
This is no free version.
Top 3: Replika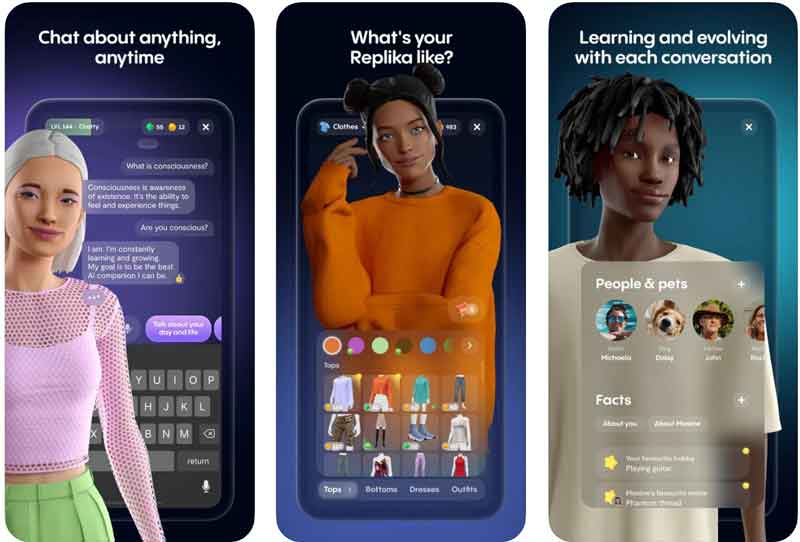 Platform: iOS 15.0 or later and Android 7.0 or above
Price: Free with in-app purchase
If you are looking for an alternative to FakeTalk, Replika is a nice choice too. It is powered by artificial intelligence and supports a wide range of topics, like judgment, drama, social anxiety, and more.
Pros :
Create an AI friend with a 3D avatar.
Learn personality from conversations.
Work for users 24/7.
Explore human relationships.
Cons :
This app lacks body language.
It is large and takes much space.
Top 4: SimSimi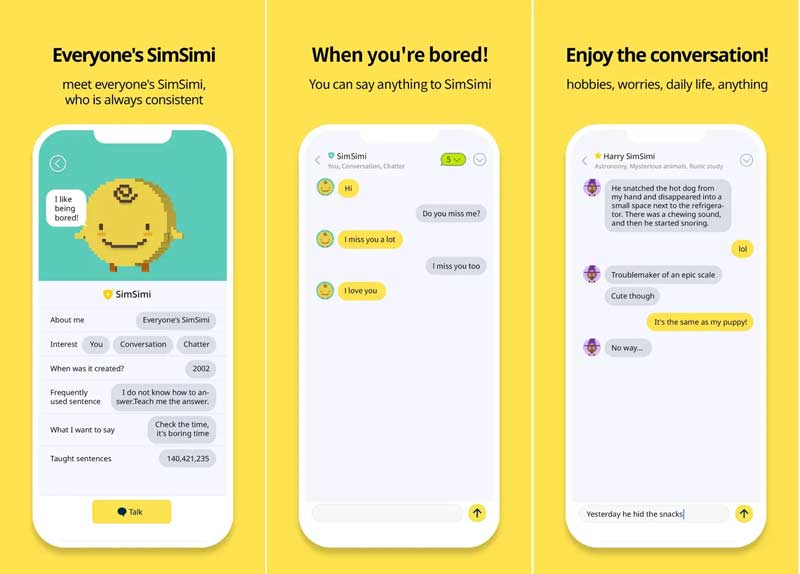 Platform: iOS 11.0 or later and Android 7.0
Price: Free with ads and in-app purchase
Similar to FakeTalk, SimSimi has always chatted with you when you are bored or lonely. It can make fun and humor, let you feel empathy and comfort, and discuss knowledge and information. It does not learn from your chats but also from others' conversations.
Pros :
Interact through chats in a virtual world.
Support a variety of languages.
Follow a universal content policy.
Cannot access your data without permission.
Cons :
There are ads in the chatbot app.
Someone reported harassment in the app.
Top 5: Wysa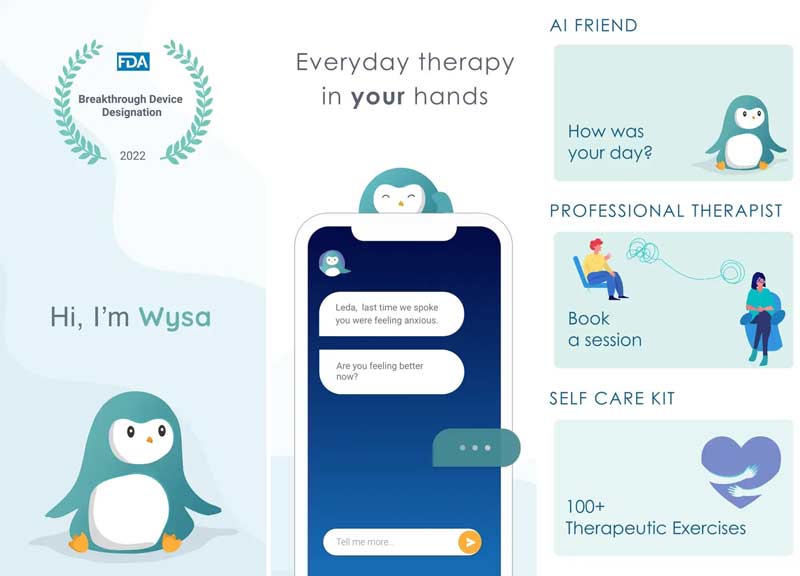 Platform: iOS 11.0 or later and Android 6.0
Price: Free with in-app purchase
Wysa is far more than a chatbot app like FakeTalk and also a mental health service. Millions of people use it to get support from cognitive behavioral therapy, Dialectical behavior therapy, and meditation.
Pros :
Use AI to react to emotions.
Help you cope with challenges.
Build resilience in a fun way.
Deal with loss, worries, or conflict.
Cons :
The price is high.
The language supported is limited.
Recommend: Best Chat Recorder for iPhone and Android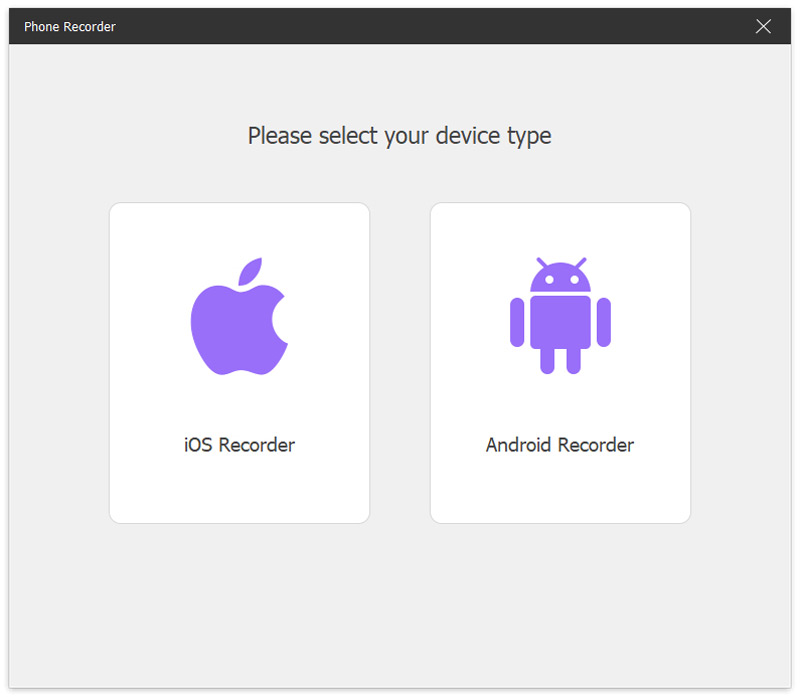 More and more people chat with FakeTalk and other AI chatbot apps to make fun of or get rid of negative emotions. Sometimes, you may want to save these conversations but the app does not provide the feature. ArkThinker Screen Recorder can help you record and back up these chats for viewing again later.
Best Chat Screen Recorder
Record everything on your phone screen with one click.
Support iPhones, iPad, and most Android devices.
Add your voice or/and face to screen recordings.
Preview and edit screen recordings.
Part 4: FAQs about FakeTalk Review
Is FakeTalk Safe?
No, FakeTalk is just a way to get fun. You should not talk about your privacy with the chatbot app. In addition to collect your data and behaviors, the app also sends them to third parties.
Is FakeTalk a Real Person?
No, FakeTalk is powered by AI. Users talk with the chatbot but not real person. Therefore, it can work 24/7 without rest.
Is FakeTalk App Preinstalled?
No, you have to install the AI chatbot app from Google Play Store. Moreover, this app is not available on iOS and all Android devices. However, it is useful for those who may find it difficult to create personal relationships with new people.
Conclusion
Following our unbiased review, you should learn one of the best AI chatbot apps, FakeTalk. It helps you to develop communication skills, make fun, eliminate stress, and get knowledge. Moreover, we identified the best alternatives to FakeTalk. To record the chats, we recommended ArkThinker Screen Recorder. If you have other questions about this topic, please feel free to leave a message below this post and we will reply to it quickly.
What do you think of this post? Click to rate this post.
Excellent
Rating: 4.9 / 5 (based on 304 votes)