Roboco GPT Review, User Experience, and Alternatives
If you are interested in AI chatbots or often use chats to generate speech, you may know ChatGPT. When you search for some apps powered by ChatGPT, you probably get the Roboco GPT recommendation. This post will give you a detailed Roboco GPT review. You can learn what the Roboco AI Chatbot Assistant app is, its pros and cons, rating, user experience, and associated AI-powered chatbot alternatives.

GUIDE LIST
Part 1. What Is Roboco GPT
Roboco GPT, or Roboco AI Chatbot Assistant, is an AI-powered chatbot app developed by Webtech International LP. It is powered by ChatGPT and GPT-4 to provide users with an interactive and conversational experience. Roboco GPT uses advanced machine learning and natural language processing algorithms to simplify and streamline various tasks. It is mainly used for giving advice, generating texts, finding answers and data, and more.
The Roboco AI Chatbot Assistant app lets you get information or assistance efficiently. You can use it to handle various tasks, including creative writing, language translation, data collation, etc. Thanks to its advanced natural language processing and machine learning algorithms, it can accurately understand your queries and reply with helpful answers. Roboco GPT offers mobile apps for both iOS and Android users. You can use it on an iPhone, iPad, or Android device.
Key features of Roboco GPT
Roboco GPT adopts the latest version of ChatGPT to guarantee top-notch performance and assistance. It can help to handle various daily tasks. With this ChatGPT-powered AI chatbot app, you can easily write creative articles and A+ essays, answer emails, organize to-do lists, get useful recommendations, make reservations, schedule appointments, engage in small talks, stay updated on important topics, and more. You can also use it to craft stories, poems, and lyrics.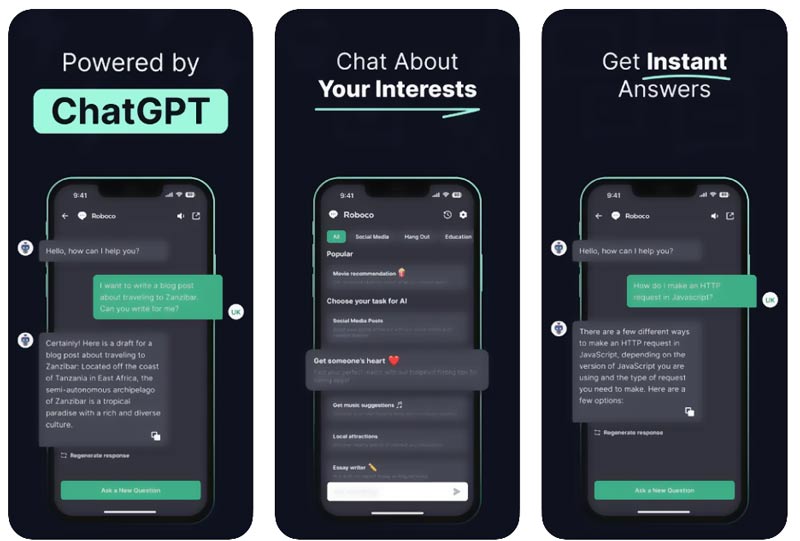 Roboco GPT can be used in different categories, including writing, education, translation, social media, and entertainment. You can access the future of AI chatbot technology with it. This AI chatbot app offers a convenient way to experience powerful ChatGPT integration anytime, anywhere. More importantly, it won't share your data with third parties. All valuable and personal contents are secure.
Part 2. Full Review of Roboco AI Chatbot Assistant
The basic introduction of Roboco GPT above lets you know its main functions and usages. This part gives a detailed Roboco AI Chatbot Assistant review. You can learn its price, pros and cons, rating, and user experiences.
Roboco AI Chatbot Assistant subscriptions
Roboco AI Chatbot Assistant is not a free app. You can free download it from App Store or Google Play Store to start a 3-day and 7-day free trial of its premium version. You only get one reply from the Roboco GPT app as a free account. You must complete a subscription like Weekly Pro or Yearly Pro to break the limit. The cost will be automatically charged to your Apple or Google account, which may vary depending on your country.
When you use the Premium version of Roboco AI Chatbot Assistant, you can access unlimited usage, faster processing, and with no ads. While the free trial, you must deselect the automatic subscription renewal option within 24 hours if you don't want to be charged. When you open the Roboco GPT and sign in to your account, you can select a preferred subscription based on your need.
Roboco GPT rating and user experience
The Roboco AI Chatbot Assistant app gets a relatively high rate in the App Store (4.6 out of 5) and Google Play Store (4.3 out of 5). You can see thousands of real user ratings and reviews there.
Roboco GPT is designed with a concise interface and easy-to-use features. You can enter your text in the Ask something field to get a high-degree interaction. Powered by the latest ChatGPT technology, its virtual assistant can accurately understand your words and offer informative replies. Moreover, it lists some recommended categories to quickly reach your target topics and tasks, such as Social Media, Education, Health, Hang out, Translation, Astrology, Text correction, Daily Horoscope, and others.
Roboco GPT has advanced machine learning functions that better analyze the interactions and generate effective responses. It has a Regenerate response feature to improve the response accuracy. Overall, Roboco GPT can give you an enjoyable and user-friendly user experience.
Some disadvantages of Roboco GPT
Roboco requires a subscription to start the 3-day free trial. As mentioned above, you can only talk about one thing without a Premium. Moreover, many users complained that it might charge a day early. What's worse, you may get an error prompting you that you have reached the usage limits even after you purchase the subscription.
Sometimes, you get an automated accepted message saying it can't answer your questions or perform your requests. Even powered by ChatGPT, this AI chatbot app still need time to give you a more helpful and valuable answer.
Part 3. Best Alternatives to Roboco GPT
If you are unsatisfied with Roboco GPT and like to try similar AI chatbot apps powered by ChatGPT and GPT-4, you can search the App Store or Google Play Store to search for them. This part introduces you to three popular and high-ranking alternatives to Roboco GPT.
ChatOn - AI Chat Bot Assistant
ChatOn carries similar features as Roboco GPT to help you craft essays and generate posts. It is powered by advanced ChatGPT and GPT-4 to offer a new level of human-like interaction. ChatOn can work as a reliable virtual assistant to give you fast answers to any questions. You can check the detailed features in App Store and Google Play. Like the Roboco AI Chatbot Assistant app, you must subscribe to a Weekly Premium to start the 3-day free trial.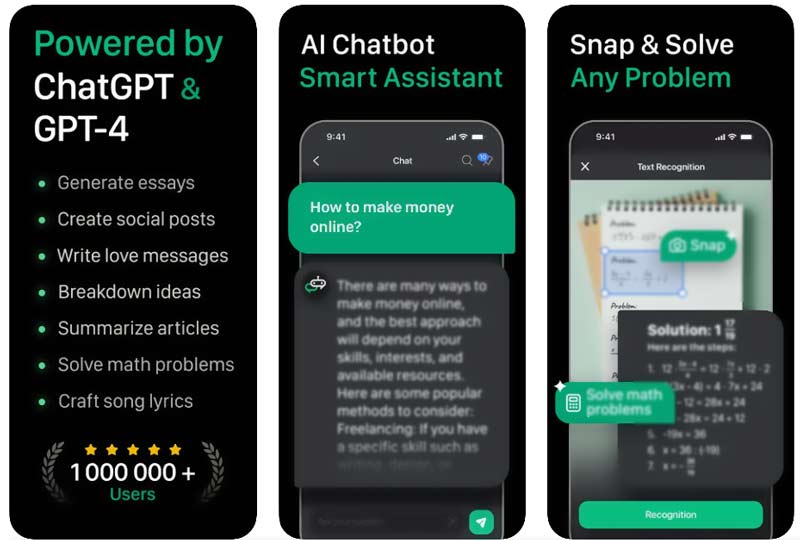 Chat AI Chatbot Assistant Plus
Chat AI is an AI-powered chatbot assistant app based on GPT-4 technology. It is available for both iOS and Android users. You can open it and freely ask anything to start a conversation. Chat AI can help you whenever needed as an AI assistant. Besides the basic question-answering function, it can help to find the data you need, correct your writing, get helpful advice, and more.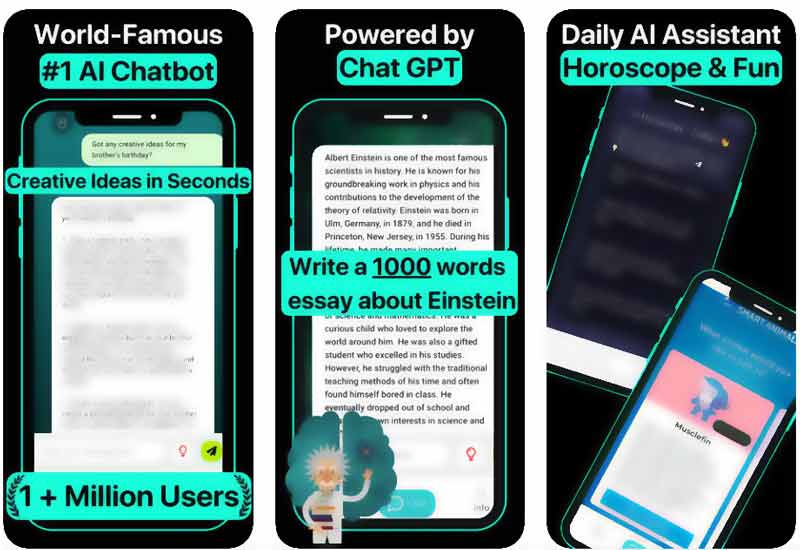 Aico AI
Aico AI is a powerful chatbot app designed to give quick and helpful answers to your questions. It adopts natural language processing and deep learning to understand your queries and reply with relevant information accurately. Aico AI may give you incorrect or biased responses occasionally. You should verify the accuracy of its responses.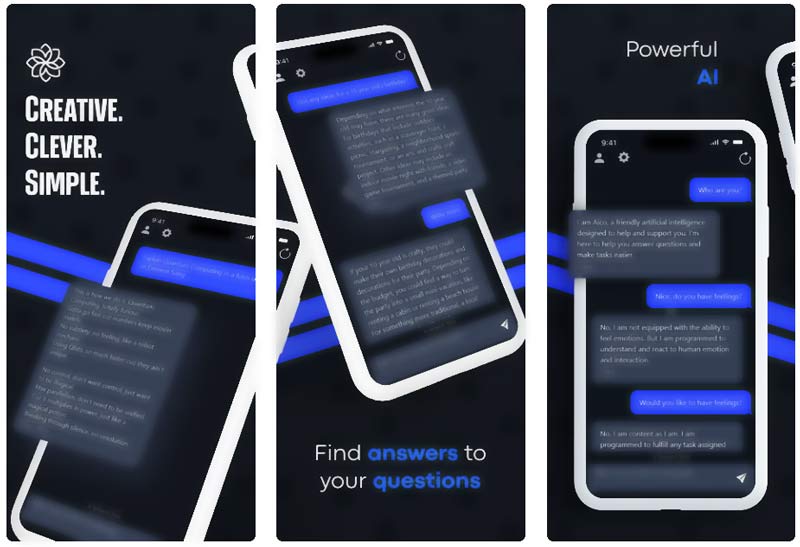 Part 4. FAQs of Roboco GPT and AI Chatbot Assistant
Is Roboco GPT safe?
Yes. The Roboco app is safe to use. Your questions and personal data are secured. Your conversations on Roboco GPT won't be shared with other third-party companies or organizations.
What is the age limit for Roboco AI Chatbot Assistant?
The confusing thing is Roboco sets different age limits in App Store and Google Play Store. The minimum age requirement for iOS users is 17+, while for Android is 3+.
What is the biggest disadvantage of AI chatbots?
You can only get limited responses from the AI chatbot. Some information and data are outdated and incorrect. You need to verify these responses manually.
Conclusion
Roboco GPT is an impressive virtual assistant app with a great AI interactive experience. It helps to simplify multiple tasks. After reading this post, you can better understand Roboco GPT. For more associated questions, you can message us.
What do you think of this post? Click to rate this post.
Excellent
Rating: 4.9 / 5 (based on 247 votes)