Full OpenAI GPT-3 Playground Review
Now you can access many AI chatbot tools OpenAI supports on the internet. Besides the hot ChatGPT, you may also know another famous artificial intelligence tool, GPT-3 Playground. It is a famous language model that can answer any question with quick responses.

This post will discuss the OpenAI GPT-3 Playground and give you a detailed review. You can learn GPT-3 Playground, its key features, pricing, pros & cons, and how to use it. Moreover, we will compare GPT-3 Playground with ChatGPT and recommend two great alternatives.
GUIDE LIST
Part 1. What Is GPT-3 Playground
GPT-3 Playground, or Generative Pre-trained Transformer 3, is an advanced language processing model developed on November 18, 2021, by OpenAI. This tool is one of the largest and most powerful language models currently. GPT-3 Playground uses powerful natural language processing technology to generate high-quality responses to questions. It has captured the attention of developers, writers, researchers, and more in different fields.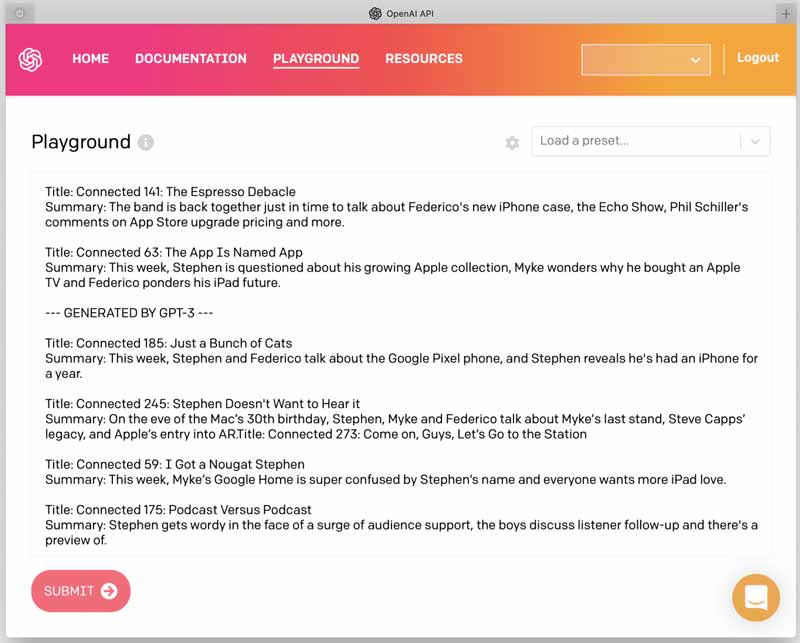 OpenAI Playground offers an easy way to interact with the GPT-3 model. GPT-3 Playground has been trained on a vast corpus of text data, including websites, books, and other online content. It adopts deep learning to better understand language patterns and structures and give accurate responses to wide-ranging prompts and queries.
With GPT-3 Playground, you can quickly create text content, such as essays, stories, poems, lyrics, posts, emails, etc. It can also give advice and specific responses to personalized customer services, product descriptions, and reviews.
Part 2. Full Review of OpenAI GPT-3 Playground
Developers can build applications based on OpenAI GPT-3 since the broadened availability of the OpenAI API service was announced on November 18, 2021. Previously, you had to sign up for a waitlist and get limited availability. Now OpenAI offers public access through GPT-3 Playground. You can sign up for an account and use its language model.
Key features of GPT-3 Playground
OpenAI GPT-3 Playground is a web-based tool mainly designed for testing the prompts and familiarizing the usage of API. It enables you to easily call an API without writing any code. Moreover, GPT-3 Playground can be integrated with other tools and platforms, including Twitter, GitHub, and Slack, to expand its functionality.
GPT-3 Playground has a user-friendly and intuitive interface to ensure users can interact with the model in real time. GPT-3 Playground can generate a response in plain English. It is applied in various applications, including AI chatbots, content writing, market analysis, and language translation. You are allowed to change the model to complete your request. GPT-3 Playground offers options to adjust settings to suit your specific needs, such as the confidence level and generated text length.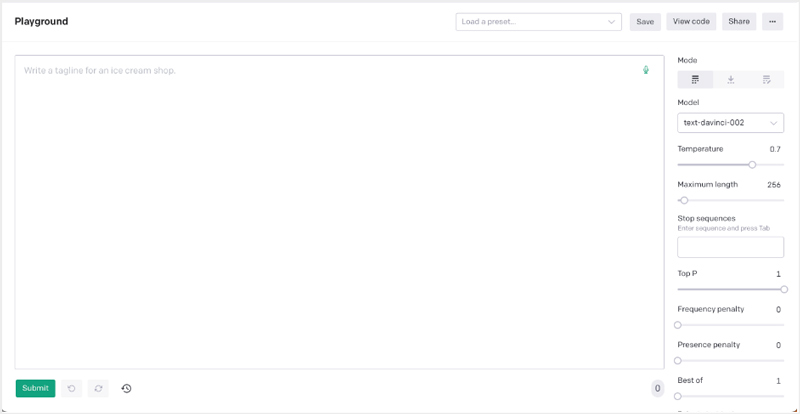 Is GPT-3 Playground free
Go to the official website of OpenAI, click the Get Started button, and sign in for an account with your email and phone number. Also, you should answer a quick question about why you want to use it. After that, click Playground from the navigation menu to use GPT-3 Playground. Even though OpenAI is a non-profit organization that develops artificial intelligence, GPT-3 Playground is only free for three months. When your free credit expires, you must upgrade to a paid account.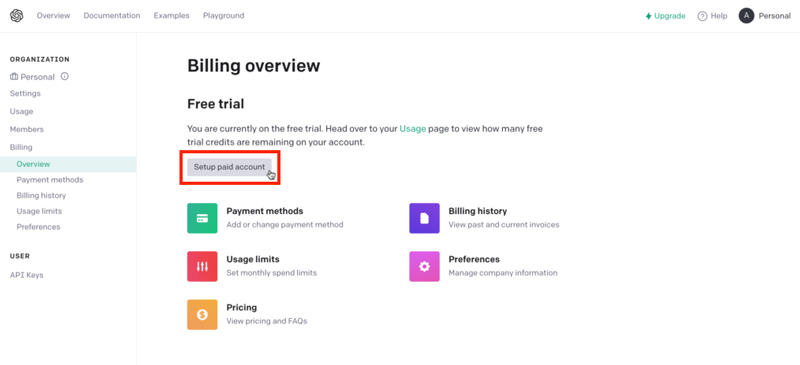 Pros and cons of GPT-3 Playground
GPT-3 Playground can generate high-quality language samples and be used for many applications. It can respond based on its understanding of the language and context. The GPT-3 model has been trained on a vast corpus of data, including writing styles, voices, and genres. It is designed with a concise interface. You can handily use it with limited technical knowledge.
Despite its advantages, GPT-3 Playground has its limitations. Due to its dependence on training data, it relies on large amounts of training data to perform accurately. That can be a challenge for specific domain knowledge. Another disadvantage is the risk of bias. You may see biases related to gender, race, and other factors. GPT-3 Playground also needs large computational resources to train and respond effectively.
Part 3. OpenAI GPT-3 Playground vs. ChatGPT
ChatGPT is a web-based artificial intelligence chatbot that lets users enter prompts using natural language. It is designed on top of GPT-3.5 and GPT-4 foundational large language models. OpenAI Playground allows you to select between several models. The main difference between ChatGPT and GPT-3 is their design purpose. GPT-3 Playground is mainly designed for users who like to access various OpenAI technologies. In contrast, the general public can use ChatGPT.
OpenAI Playground enables users to create their models from scratch. It offers several AI models. ChatGPT only allows you to access the GPT-3 model. You can only use a single-trained model.
Part 4. Best Alternatives to OpenAI GPT-3 Playground
GPT-3 Playground is a web-based tool that can only be accessed on web browsers. If you prefer an AI chatbot app to get similar services, you can use the two GPT-3 Playground alternatives below.
Chat with Ask AI
Chat with Ask AI is a great GPT-3 alternative app for iOS and Android users. You can free download it from App Store or Google Play to ask anything and get quick responses. You can use it to craft stories, essays, poems, lyrics, translate text, practice language, write code, and more. With its powerful AI capabilities, you can get answers to any questions.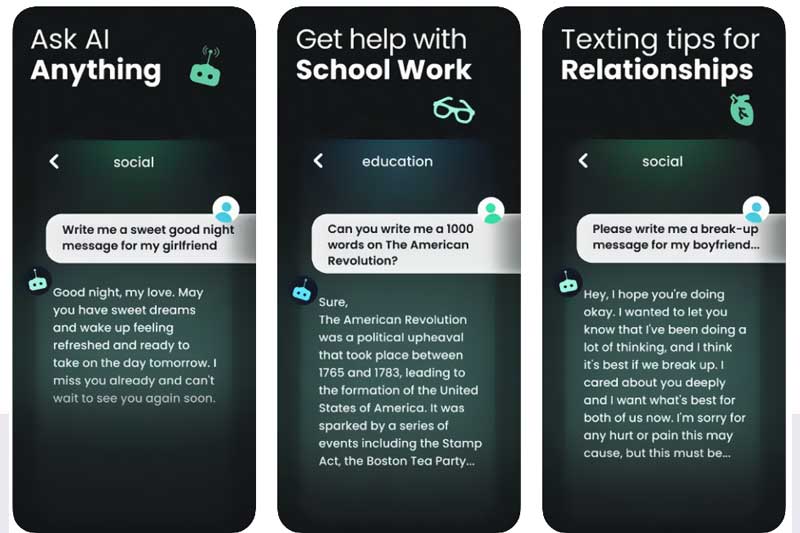 Roboco AI Chatbot Assistant
Roboco AI Chatbot Assistant is a popular AI-powered chatbot assistant app based on ChatGPT and GPT-4 technology. This GPT-3 alternative is available on iPhones, iPads, and Android phones. It uses advanced machine learning and natural language processing algorithms to respond highly to questions. You can use it to deal with tasks in various fields, including education, translation, writing, and social media.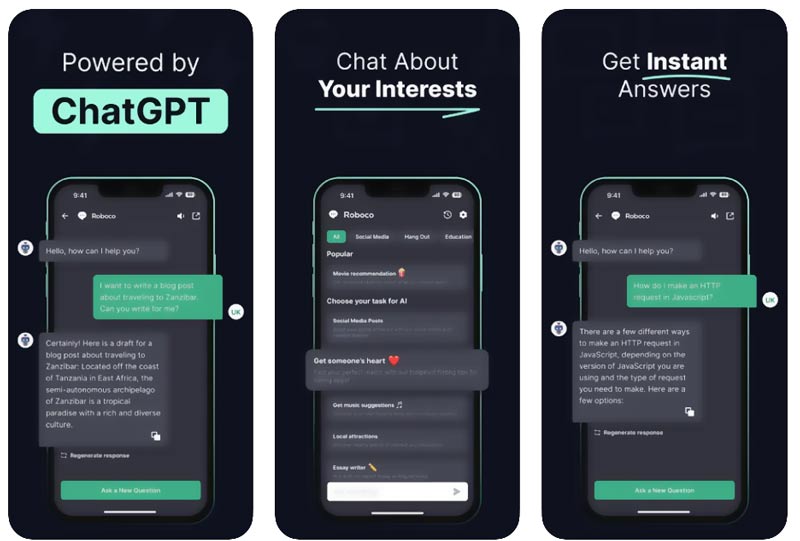 Part 5. FAQs of OpenAI GPT-3 Playground
Is GPT-3 Playground safe?
Yes. GPT-3 Playground is safe to use. But you need a verified account to use it. Your questions and personal information are secured.
What is OpenAI?
OpenAI is a non-profit organization founded in December 2015. It researches to develop artificial intelligence and aims to benefit humanity. OpenAI is privately owned by Elon Musk, Sam Altman, Greg Brockman, and Ilya Sutskever. But it has some major partnerships with other tech companies like Microsoft.
How to use ChatGPT?
You can navigate the official ChatGPT website and sign up for an account. After signing in to your account, you can start the conversation and enter your question in the chat box.
Conclusion
This post has mainly talked about GPT-3 Playground. Besides, you can learn some related information about OpenAI and ChatGPT. If you get a chance to use GPT-3 Playground and have any questions, leave us a message in the comments.
What do you think of this post? Click to rate this post.
Excellent
Rating: 4.9 / 5 (based on 457 votes)