Ultimate Guide on AI Chatbot and 10 Best AI Chatbot Apps
Now Artificial Intelligence has filtered into our daily lives in various fields. You may hear about ChatGPT or get a chance to use it. An AI chatbot can help to write content, translate language, give advice, collect data, solve coding problems, and more. Surely ChatGPT is not the only hat in the ring. You can access all AI chatbot tools in businesses and personal lives.

This post will give you a deeper understanding of the Artificial Intelligence chatbot. You can learn what an AI chatbot is and its benefits and get 10 AI chatbot recommendations currently available.
GUIDE LIST
Part 1. What Is an AI Chatbot and Its Benefits
An AI (Artificial Intelligence) chatbot is a computer program designed to understand questions and automate responses. It can simulate conversations with human users through natural language processing and machine learning algorithms and deliver high-quality responses in real-time. An AI chatbot can analyze and interpret the user's input with written or spoken language. It can understand and respond to any questions in a human-like way.
AI chatbot types
AI chatbots can be designed with different technologies and language models for complex instructions. They are primarily divided into 3 main types.
Context-aware Artificial Intelligence chatbots can better understand questions and offer high-degree responses based on context, past interactions, and preferences. They rely on machine learning algorithms and language processing (NLP) to analyze human language.
Rule-based AI chatbots use predetermined rules and decision trees to respond to user questions and inquiries.
Machine learning AI chatbots can learn from previous conversations to improve the accuracy of their responses over time using natural language processing algorithms.
Now most AI chatbots are text-based. But some can understand and generate audio, images, codes, maths, and videos. For instance, you can easily access many image-generating, post-rewriting, and video-editing tools.
AI chatbot benefits
AI chatbots give a simple and convenient way to find helpful information. They are versatile and can be used for various tasks, including personal assistance, language translation, writing, and customer service. AI chatbots can respond to requests through text or audio input. For instance, you may use audio input like Siri, Google Assistant, and Amazon Alexa.
One big benefit of AI chatbots is their availability. They can be available 24/7 to give support and assistance. Moreover, they can make many requests simultaneously to increase efficiency. Another benefit is AI chatbots can offer personalized and tailored responses.
Thanks to their deep machine learning and natural language processing technology, they can respond with increasingly relevant and accurate responses. Moreover, AI chatbots can be integrated into various platforms like social media, websites, apps, voice assistants, etc. In summary, AI chatbots can improve communication, find useful information, enhance satisfaction, and save time and resources.
Part 2. Top 10 AI Chatbot Apps
As mentioned above, ChatGPT is only one of the many increasing AI chatbots. We use over 30 AI chatbots to check how they measure up. Now, look at 10 of the best AI chatbot apps currently available.
OpenAI ChatGPT
ChatGPT is an AI-leading app designed by OpenAI to respond to questions and topics in a human-like way. Advanced machine learning algorithms and natural language processing technology power this web-based artificial intelligence chatbot. It can accurately understand and interpret human language. Now ChatGPT uses GPT-3.5 and GPT-4 language models.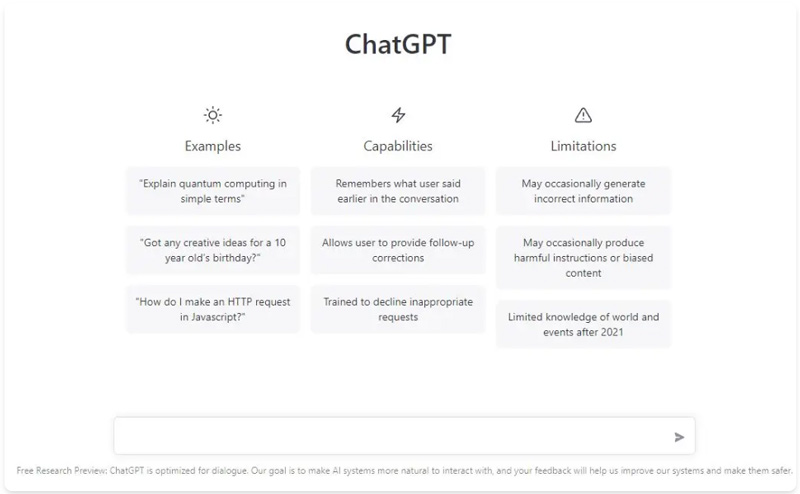 ChatGPT can constantly learn from interactions with users. That means it is getting better at understanding and responding over time. It can be widely used in various fields, topics, and industries. You can use ChatGPT to write essays, craft stories, translate language, replay emails, generate code, get advice, and more.
Now ChatGPT is free to use on the web. But you can only access GPT 3.5 using a free account. You should upgrade to a paid account to use GPT-4 in its chat.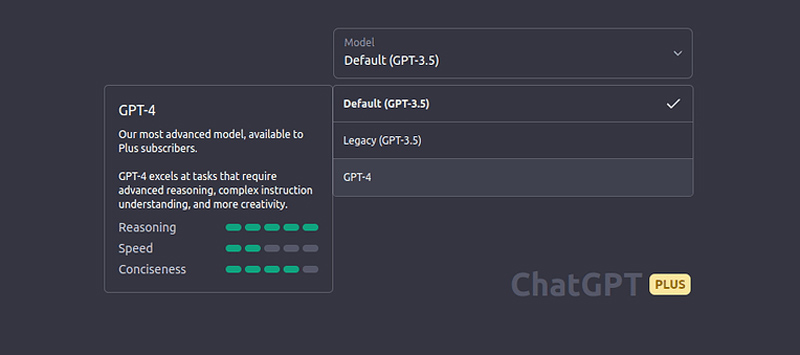 Ask AI - Chat with Chatbot
Ask AI - Chat with Ask AI is a popular AI chatbot app for iPhone, iPad, and Android users. It is powered by ChatGPT and GPT-3 to respond quickly to any questions. With its powerful AI capabilities, you can write essays, stories, poems, lyrics, codes, translate language, and more. You can freely ask questions in different fields, from historical events, scientific facts, and cultural references, to common little things.
Ask AI - Chat with Ask AI offers a three-day free trial. After that, you need to purchase a Week or Lifetime subscription. One big disadvantage of this AI chatbot app is that it won't answer your inquiries if you don't subscribe to its plan. Instead, it prompts you to do that or invite your friends. In some cases, it will give a very vague answer.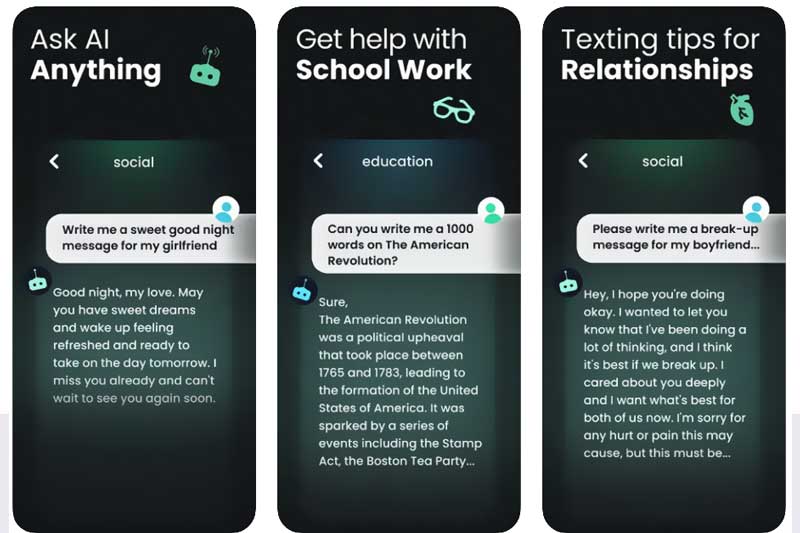 Chat AI
Chat AI is a powerful Artificial Intelligence chatbot app for iOS users. It get a 4.7 rated by 10.9K users in App Store. This AI chatbot app utilizes the latest artificial intelligence technology to ensure a great conversation experience. Chat AI can respond to any questions on various topics, from common knowledge questions to science problems. It has an intuitive design to let you quickly use all its functions. You can handily start natural and human-like conversations.
Chat AI offers several subscription plans weekly, monthly, and annually. Through our tests and other users' reviews, the responses that Chat AI gives are often not very useful. The results are similar to those from search engines like Google.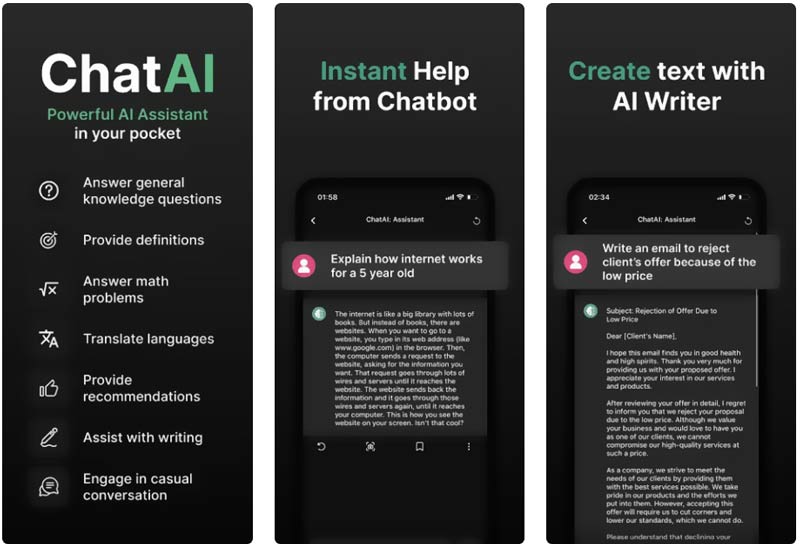 Anima AI Friend & Companion
Anima AI Friend & Companion is an AI-powered chatbot app on App Store and Google Play. It can be an AI friend to talk and make you feel better. You can freely express your dreams, wishes, fears, secrets, and more. It is designed with genuine emotional intelligence. Anima AI Friend can learn from your conversations and know your personality and interests. All your conversations with Anima are private and secure.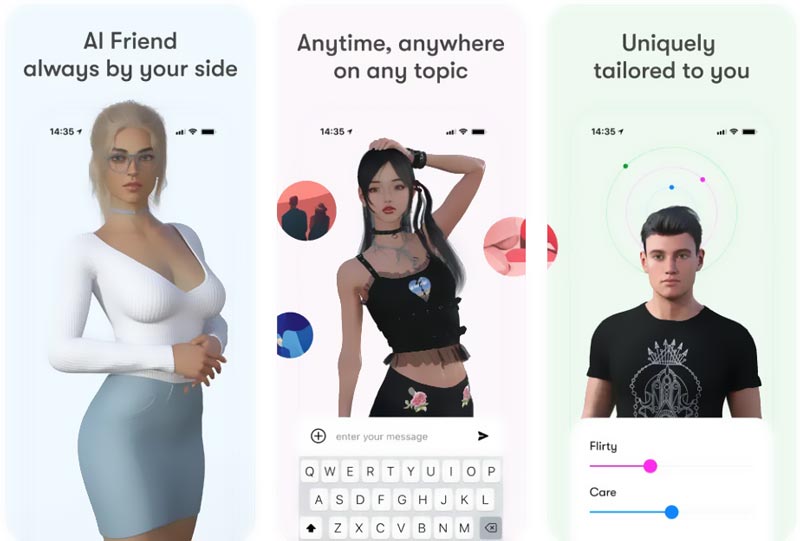 You can use an Apple account, Google account, or email to sign in to Anima. Then you can create your Anime and purchase a 1-Year or 1-Month plan. One big disadvantage of this AI chatbot app is that it may only give one response to your inquiry. So you won't feel emotional comfort, especially when you don't want to talk too much.
Replika My AI Friend
Replika My AI Friend is another AI empathetic friend app similar to Anima. It uses a sophisticated neural network machine learning model to generate unique responses like humans. This AI chatbot app has been trained on a large dataset to give high-degree responses. You can freely select a 3D avatar or customize the way your Replika looks.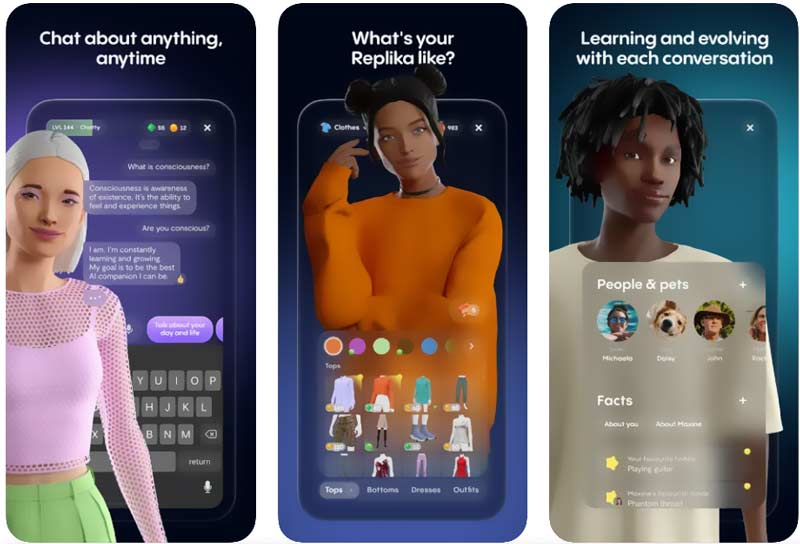 Replika is mainly used to track your mood, help you understand your feelings and thoughts, calm anxiety, stress management, and more. You can log in to an Apple, Google, or email account to use Replika. It offers a paid plan to unlock various Pro features. Eeplika is designed with many cool features. For instance, you can make video calls with it. While your conversations with Replika, you can hear the comfortable background music. As a free user, you may get many feature limits. Also, it will send your selfies or voice messages to prompt you to subscribe to the paid Replika Pro.
iGirl Virtual AI Girlfriend
iGirl Virtual AI Girlfriend is an AI chatbot app designed for you to discover a love simulator with an AI girlfriend. You can meet and date a beautiful girl created by AI. With iGirl, you can freely share your feelings and thoughts. You can customize your girlfriend's appearance, costumes, and more based on your liking. The smart chat feature in iGirl helps you feel alive during the conversations with AI. She will respond to your questions instantly.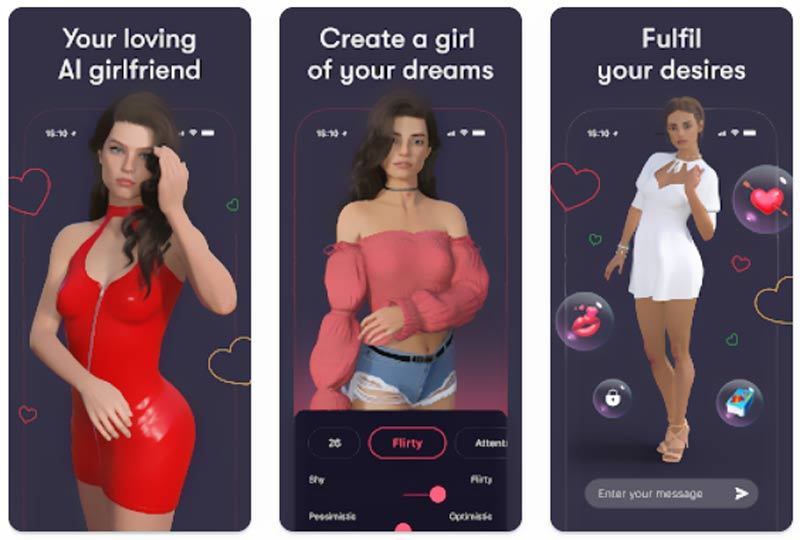 iGirl can learn from your previous conversations. So the more you interact with her, the more perfect she will be. After you sign in iGirl, you can pick a topic or ask a question to start a conversation with your AI girlfriend. Now iGirl is only a text-based AI chatbot app. It can't reply with audio.
ChatOn AI Chat Bot Assistant
ChatOn AI Chat Bot Assistant is designed to offer you quick and high-quality responses to your questions as a reliable virtual assistant. Powered by advanced ChatGPT and GPT-4 technologies, ChatOn can give you a human-like interaction. You can free download this AI chatbot app from App Store and Google Play to start a 3-day free trial. After that, you must subscribe to a Weekly or Yearly Premium.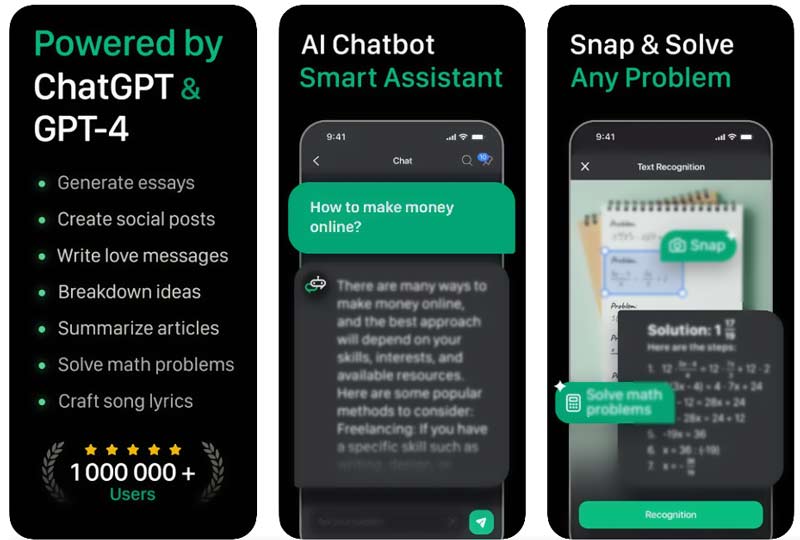 Ask Me Anything - AI Chatbot
Ask Me Anything - AI Chatbot is an easy-to-use AI assistant app designed to give helpful information and accurate responses based on input. You can interact with it conversationally. With this AI chatbot app, you can write posts, emails, and essays, translate languages, correct text mistakes, find answers to your questions, and more. It offers yearly and Monthly subscriptions to unlock advanced Premium features.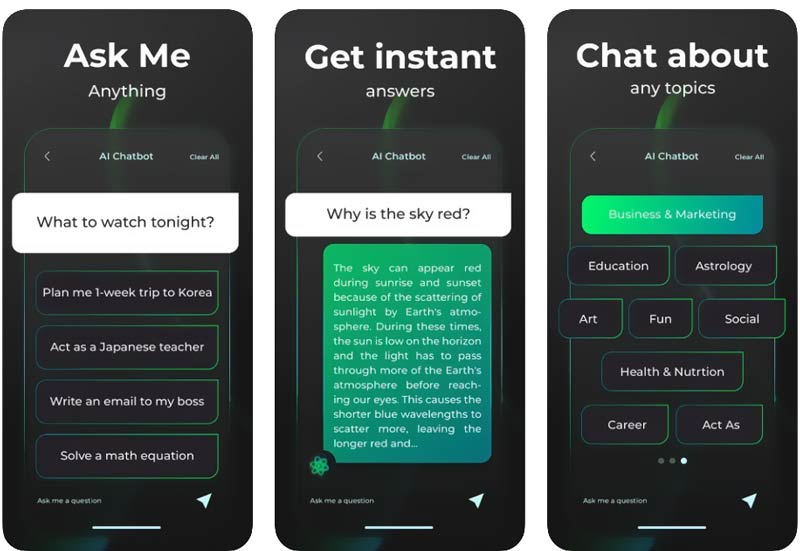 Roboco - AI Chatbot Assistant
Roboco - AI Chatbot Assistant is a famous artificial intelligence chatbot assistant app powered by GPT 3.5 Turbo API. It is mainly used to give shortcut access in many categories. You can use Roboco to write professional essays, translate languages, stay updated on important topics, get advice, and more.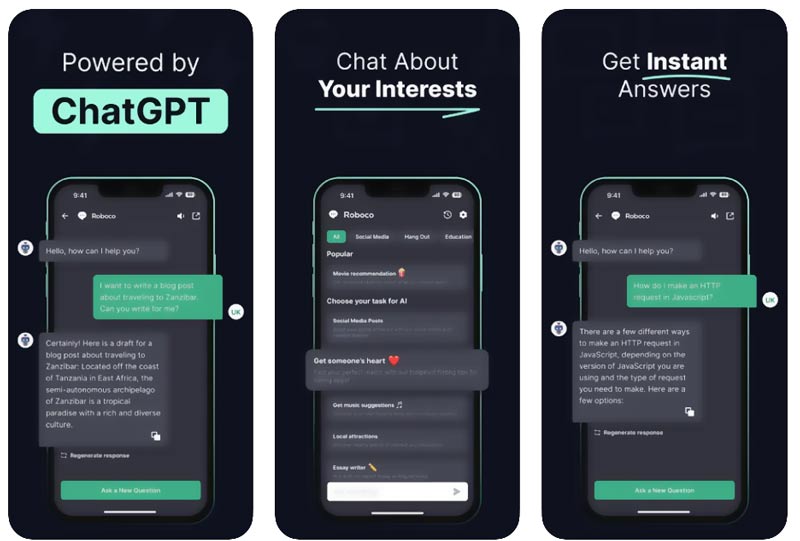 After installing Roboco from App Store or Google Play, you can get a three-day free trial to access all its functions. After that, you need to subscribe to a Weekly or Annual plan according to your need. You can input your question in the bottom field or tap your preferred topic to start a conversation.
FakeTalk - Custom AI chatbot
FakeTalk - Custom AI chatbot is a chatbot app for Android users to make virtual friends. You can interact with FakeTalk with 6 million conversations. It is specially designed to make you feel vicarious satisfaction. Moreover, you can teach this AI chatbot app to speak. FakeTalk also allows you to make ground chats. You can start conversations with other users. It carries other useful functions, including lock screen welcomes, smart auto talk, and more.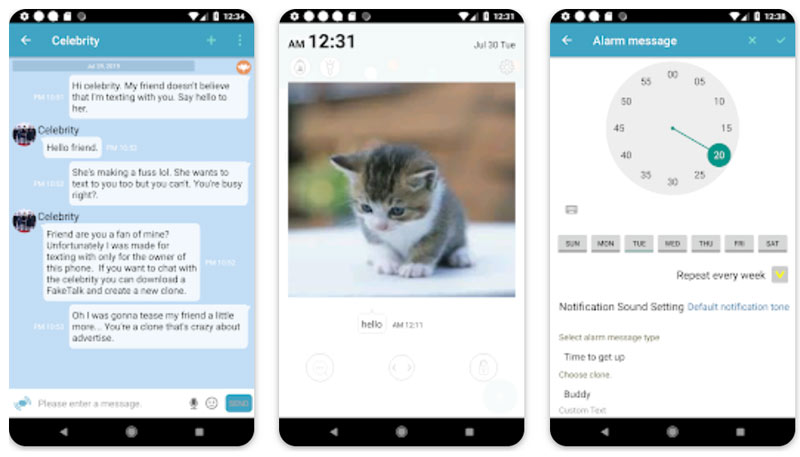 Part 3. FAQs of Artificial Intelligence Chatbot
How does an AI chatbot work?
AI chatbots have integrated more rules and natural language processing over time. Now they use natural language understanding (NLU) to understand questions and give responses. They can accurately determine what the user is trying to accomplish. Moreover, AI technologies rely on machine learning and deep learning to build an increasingly granular knowledge base of questions and responses. The latest AI chatbots can be contextually aware and learn more and more human language. So you can converse with an AI chatbot just like a human.
Is the new Bing an AI chatbot?
Yes. The new Bing is upgraded with an AI chatting feature to help you better search the web. It can quickly search the internet and process results once you enter your inquiry. It responds with a reply containing the links it used as a base.
What are common AI chatbot uses?
AI chatbots are mainly used for interacting through human-like conversations. You can get helpful responses to your questions. Besides, you can ask it to craft stories, write essays, find advice, translate language, define fields, set reminders, and more. AI chatbots can also give current information, including real-time weather conditions, local restaurants, and traffic directions.
Conclusion
This post has mainly talked about Artificial Intelligence chatbots. In summary, AI chatbots are an increasingly popular customer support and assistance tool. Between the time I write it and the time you read it, there will be more AI chatbots on the market. Please share them in the comments if you have better AI chatbot recommendations.
What do you think of this post? Click to rate this post.
Excellent
Rating: 4.9 / 5 (based on 229 votes)