3 Character AI Alternatives: Find Out the Best Software to Use
Character AI is software and a language model that can generate human-like text responses. However, there are some issues that users experience when using the Character AI. Also, its layout is unsuitable for some users. In that case, why don't you try to look for an excellent alternative to Character AI? Well, if you want software that has the same function as the Character AI with more features, come to this post. We are willing to help you by giving you the best Character AI alternatives to use.
GUIDE LIST
Part 1. What is Character AI
Many people may already encounter Character AI every time they are using their devices. But, if you are curious about the full definition of Character AI, then we are here to help you. Character AI was designed on a similar GPT model and advocated by OpenAI. One of its main purposes is to examine and expect the input of the words and generate text based on the given input. Also, Character AI is powered by reinforced learning, transformer architecture, and parameters. In addition, it is tested on a big data amount that includes various texts, like blogs, research, and articles. However, the Character AI is based on an outdated version of GPT and GPT-2. So, in terms of offering the latest information, it is only limited. Aside from that, when using the Character AI, there are some drawbacks you might encounter. It lacks originality, wherein the character it creates is not engaging enough. Also, it has a slow processing speed that may consume the time of the users.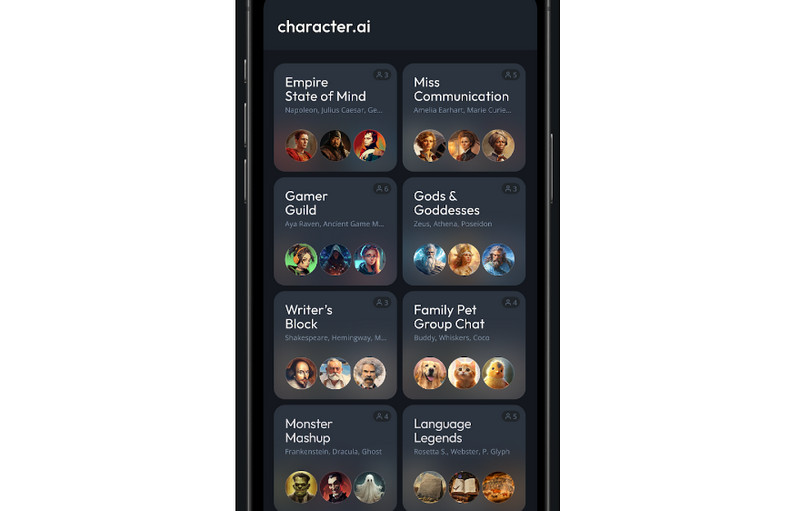 In that case, why don't you try to use an alternative for Character AI? Well, if you want to use another excellent software, you must proceed by reading the details. We are going to give you the best three Character AI alternatives to use.
Part 2. Charstar AI
One of the most effective Character AI alternatives to use is the Charstar AI. With this software, you can make a lifelike virtual character, which is useful for all users. Also, the Charstar AI is focusing on realism. It is perfect for designing characters with human-like behaviors and emotions/expressions. Aside from that, it is great for enhancing user experience in engaging apps like education, gaming, entertainment, and more. In addition to that, there is more reason why it is the best alternative to Character AI. The software is also capable of providing various characters you can use or talk to. Moreover, when using Charstar AI, you will experience its versatile integration. It can seamlessly integrate into different platforms and apps.
The software can prove its effectiveness and adaptability across use cases. It is even perfect for enriching experiences in video games, developing customer engagement, and more. However, even if you can create a character, the process is not simple. The free plan also has limited features, which may affect your operation when using Charstar AI. Aside from that, it is not great if you are valuing your data since the software can't ensure your information when using the software. To give you more details about the Charstar AI, go to the information below. We included more features, the advantages, and the drawbacks of this software.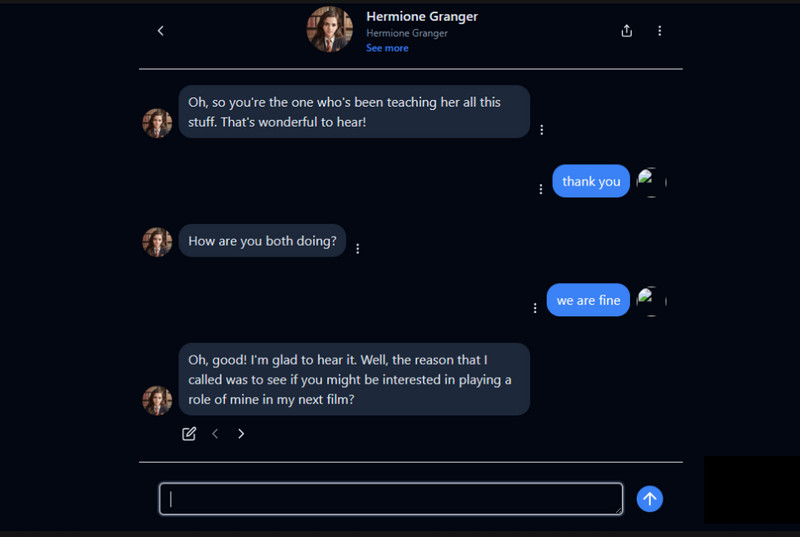 Features
◆ Create characters with great personalities and traits.
◆ It offers customization for perfecting a craft.
◆ It provides SFW and NSFW content.
Pros :
The software is perfect for character creation.
It is workable for almost all web platforms.
It offers a free plan to experience its usability.
Cons :
The process of creating a character is not simple.
Its free plan has limited features.
Purchasing the paid version is costly for users.
Poor in handling data and privacy.
Part 3. LivePerson
Besides Charstar AI, you can also use LivePerson as an alternative to Character AI. It is among the common and great conversational AI platforms for its customers. One of its main focuses is to make the user engaged with other individuals and businesses. Also, its main function is to allow businesses to have better conversations with customers with the help of live chat, messaging, or voice. Plus, there are more features you can enjoy while using LivePerson. It provides co-browsing, screen sharing, chatbots, and more. It is also accessible on various platforms, making it more workable for everyone. However, the problem with the app is that it is a paid platform. This means that you must purchase the software before using it. Also, its interface is hard to understand, making it not helpful for non-professional users.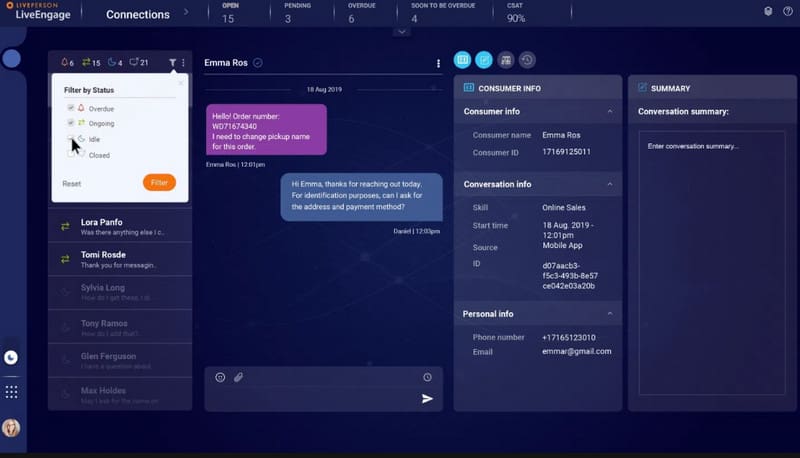 Features
◆ It can engage customers on various communication channels.
◆ The software can drive quicker resolutions through intelligent automation.
Pros :
It is available on almost all web platforms.
It can offer more functions, like chatbots, screen sharing, real-time chat, and more.
Cons :
You must buy the software if you want to operate it effectively.
The user interface of the software is hard to understand.
Part 4. CrushOn AI
Another website like Character AI to use is the CrushOn AI. So, what is this software for? CrushoOn AI represents an innovative platform. It leverages the capabilities of AI to reshape our comprehension of human connections. Employing state-of-the-art algorithms, it scrutinizes vast datasets of social exchanges and communication trends. This way, it lets users gain unmatched insights into their romantic relationships. Also, CrushOn AI evaluates compatibility on multiple levels. It encompasses emotional, intellectual, and lifestyle aspects. The platform provides personalized relationship guidance while securing user's privacy. Also, it can evolve and adapt as relationships change over time. Plus, CrushOn AI has a simple user interface. With this, no matter if you are a beginner, you can operate the software. However, using the CrushoOn AI, you must consider having an internet connection. Also, before using the software, it will require you to create an account, making it time-consuming for users. But you can still rely on this Character AI alternative with no filter for achieving your goal.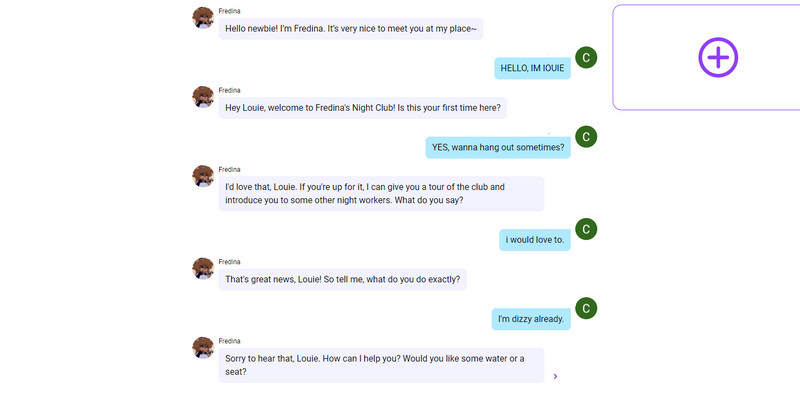 Features
◆ It can enhance creativity.
◆ The software can offer realistic and immersive characters.
◆ It provides unfiltered conversations.
Pros :
The main interface of the software is simple to understand.
It offers various characters with different personalities.
It is free to use.
Cons :
You must create an account first before utilizing the software.
An internet connection is required.
Part 5. Best Way to Capture Your Conversation with AI
There are times when you need to capture your conversation with an AI for some reason. It may be to have a record and keep it for further reservation. In that case, you might need the help of an excellent screen recorder. So, if you are searching for an excellent screen recorder for capturing your conversation with AI, use the ArkThinker Screen Recorder. Using this offline program, you can record your AI conversation effectively and successfully. Also, you won't get confused when using the software since it has a simple-to-understand user interface. With that, it is perfect for non-professional and advanced users. Aside from that, ArkThinker Screen Recorder can offer more functions you can enjoy. During the screen recording process, you can even take a screenshot. This way, you can have an image and video record of the conversion with an AI.
Moreover, the program is not only capable of recording screens. If you are willing to explore, you will discover that ArkThinker Screen Recorder is capable of recording videos, audio, gameplay, and more. With that, in terms of capturing everything on your screen, the program is the most reliable screen recorder you can operate. Furthermore, you can access the offline screen recorder on both Windows and Mac operating systems. Thus, no need to worry about its accessibility.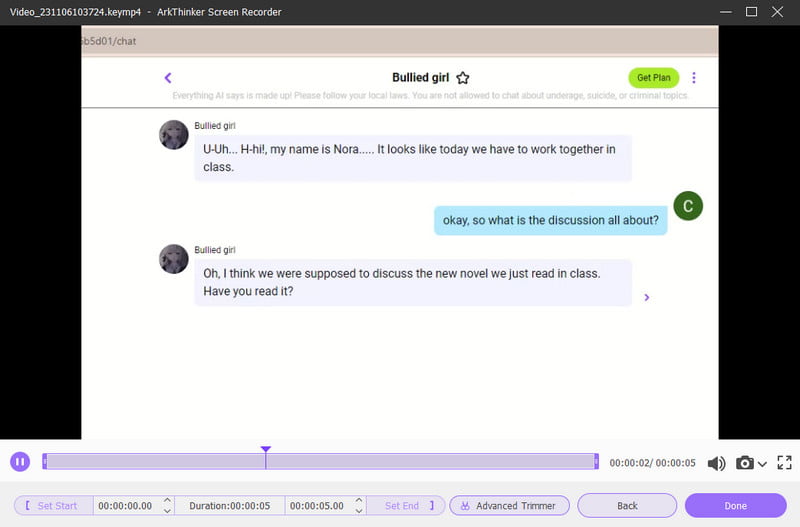 Part 6. FAQs about Character AI Alternative
How do I create an AI character?
If you want to create an AI character, the best way is to look for an excellent AI generator on the internet. Some of the tools you can use are Dream by WOMBO, Bing Image Creator, Midjourney, and more. With these tools, you can create the AI character you want.
Can you train an AI chatbot?
Definitely, yes. Training an AI chatbot is possible. The first thing to do is to determine the chatbot's use cases. You must know what the customer wants from the chatbot. You must also define the user intent so you can answer the questions of the people. Another important thing is to analyze the conversation history to have a great AI chatbot. There are more things to do to train an AI chatbot. It includes giving a chatbot a personality, adding media and GIFs, generating various user queries, and more.
Can you break Character AI's filter?
Yes, you can. To do that, you can just turn off the option from your filter. This way, you can break the Character AI's filter. However, it depends on the software you are using. One of the ways is to disable the "turn off censorship" option.
Conclusion
Now you have an idea about the best Character AI alternative to use. This way, you can create your character, talk to an AI character, and more. Also, if you are interested in recording your conversation with an AI chatbot, then the post has the best recorder to offer. You can use the ArkThinker Screen Recorder. This offline program is perfect for recording your computer screen, especially if you want to keep a record of your conversation. Also, it can record videos, audio, gameplay, and more, making it more suitable for all users.
What do you think of this post? Click to rate this post.
Excellent
Rating: 4.9 / 5 (based on 362 votes)