6 Best Ways to Edit Your Audio File Metadata for Beginners
This article identifies and reviews the best MP3 tag editors. MP3 tags, also called ID3 tags, are music files' metadata including song title, artist name, album name, and so on. The information is stored in a tiny companion container along with the music file. By default, you can view the tags without third-party tools. However, you will need a dedicated editor if you want to change them. Here is a top list to help you edit audio file metadata.

GUIDE LIST
Part 1: Top 4 MP3 Tag Editor Software
Top 1: ArkThinker Video Converter Ultimate
Even though both Windows and Mac have built-in music tag viewers for reading song information such as the title, genre, and album, they do not allow you to change the metadata. ArkThinker Video Converter Ultimate, on the other hand, is the easiest MP3 metadata editor available to both PCs and Mac machines.
Pros :
Change metadata for MP3, WMA, WAV, etc.
Add new tags to audio files.
Support almost all multimedia formats.
Available to Windows 11/10/8/7 and Mac OS X.
Include a wide range of bonus features.
Cons :
You have to purchase a license after the free trial.
How to Edit MP3 Tags like Professionals
Step 1
Open an MP3
Launch the best MP3 tag editor after you install it on your desktop. It is available to edit metadata of FLAC, AAC, OGG, and more. Turn to the Toolbox tab from the top of the window, and choose the Media Metadata Editor tool. Then drag and drop the target MP3 file onto the interface.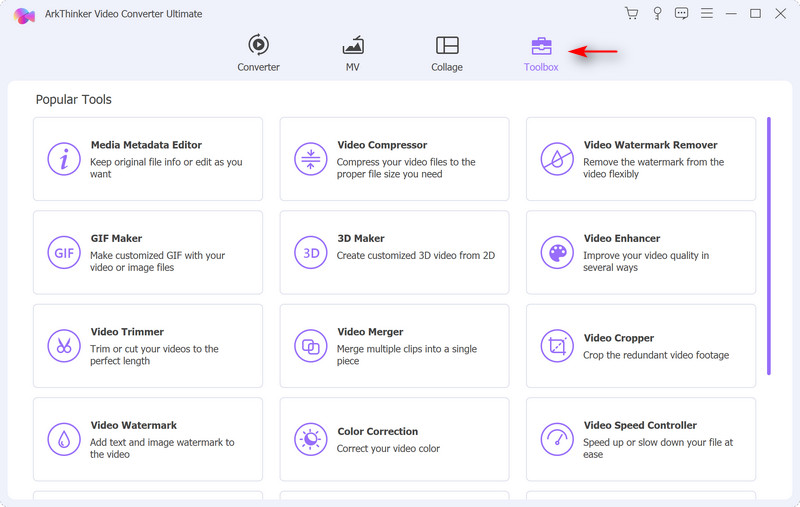 Step 2
Edit MP3 tags
Next, you will be presented with the MP3 tag editor screen. Change the information on the right side, such as Title, Artist, Album, etc. You can also add a cover for the music by hitting the Add icon on the left side. At last, click the Save button to confirm the changes.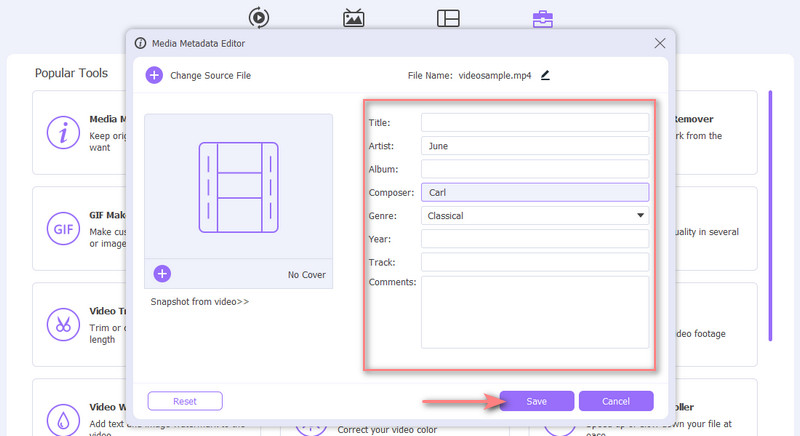 Top 2: MP3Tag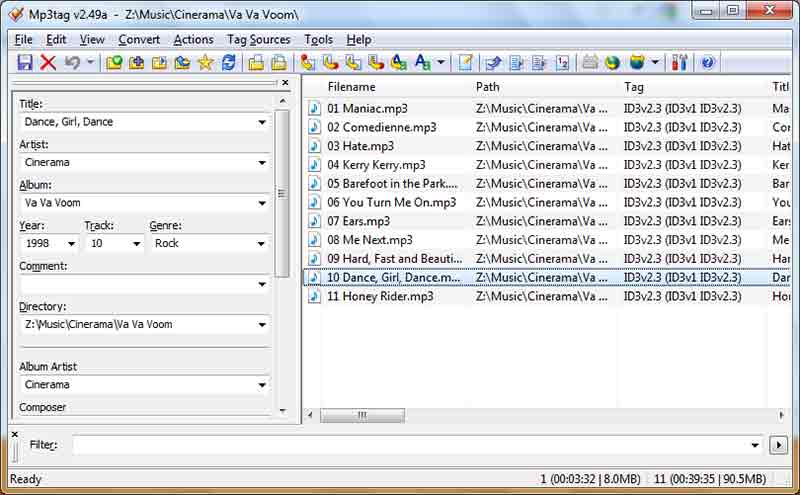 MP3Tag is a free MP3 tag editor for Windows 10 and earlier. It is well-known that MP3 supports a variety of metadata referring to information kept about data, like the artist, album, year of release, and similar. MP3Tag enables you to change the metadata on PCs and Mac computers easily.
Pros :
Change MP3 tags easily.
Open multiple music files at one time.
Lightweight and run fast.
Support a variety of tags.
Cons :
It only supports a part of audio formats.
You have to save the changes manually.
Top 3: MusicBrainz Picard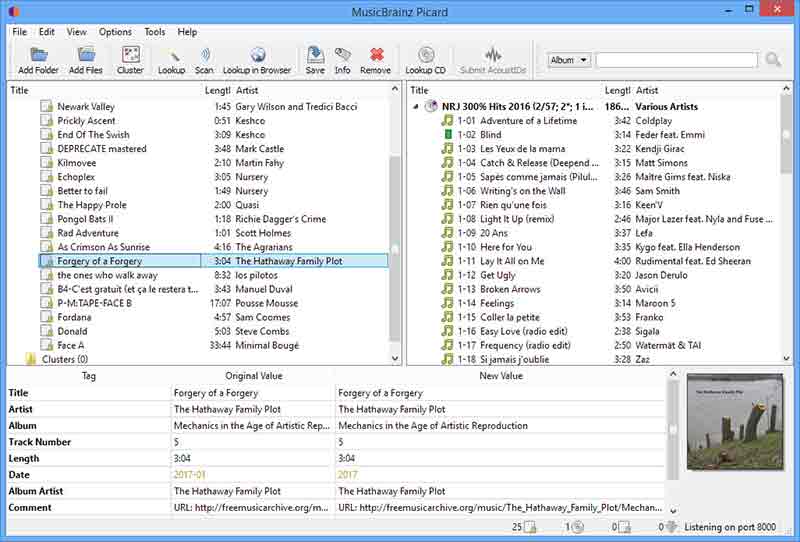 As an open-source project, MusicBrainz Picard lets you edit and fix MP3 metadata on Windows, Mac, and Linux for free. It is compatible with the most popular audio formats, like WAV, WMA, M4A, and FLAC. The software is designed to change tags in batch. Plus, it is also a simple way to manage your music based on tags.
Pros :
Search for music files' tags by AcoustID automatically.
Read tags for each audio file quickly.
Change MP3 tags without technical skills.
Completely free of charge.
Cons :
It cannot edit the metadata of video files.
It has not been updated for years.
Top 4: ID3 Editor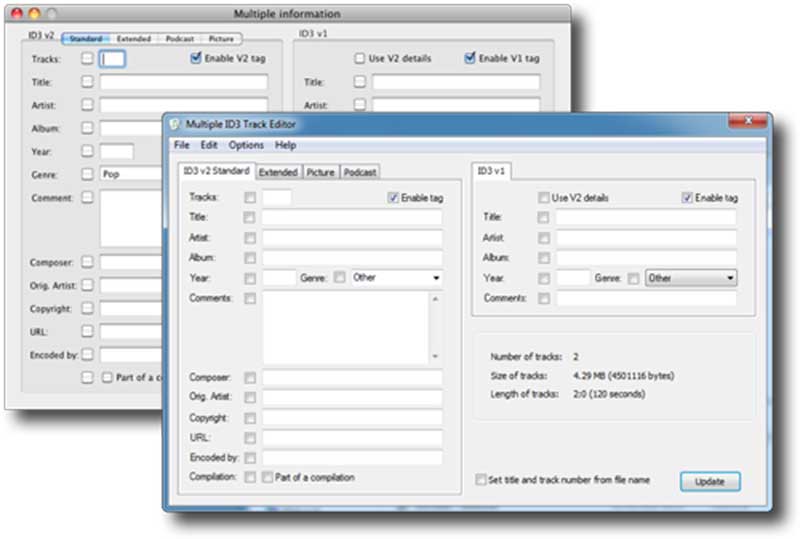 As its name indicated, ID3 Editor is a simple MP3 and AIFF ID3 tag editor. If you wish to change the metadata of a copyright-protected music file, you will find the software helpful. Plus, the tags added by the software can be read by most MP3 players and portable players, like iPods.
Pros :
Support both GUI and command lines.
Available to encrypted music files.
Add album covers to MP3 tracks.
Apply lyrics into audio files.
Cons :
It is not free and lacks a free trial.
Some features need improvement.
Part 2: Top 2 MP3 Tag Editors Online
Top 1: TAGMP3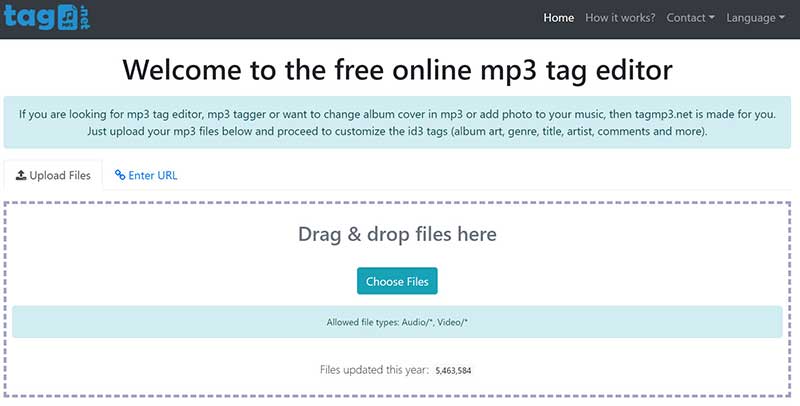 TAGMP3 is an MP3 tag editor online. Although it is called TAGMP3, the app is available for both music and video files. In addition to local music files, it is also available for online songs. It can display the metadata of the online music through the URL.
Pros :
Edit MP3 tags online for free.
Support both local and online music.
Detect ID3v1 and update to ID3v2 automatically.
Run fast in most web browsers.
Cons :
It cannot edit encrypted music.
The media formats supported are limited.
Top 2: Watermark Images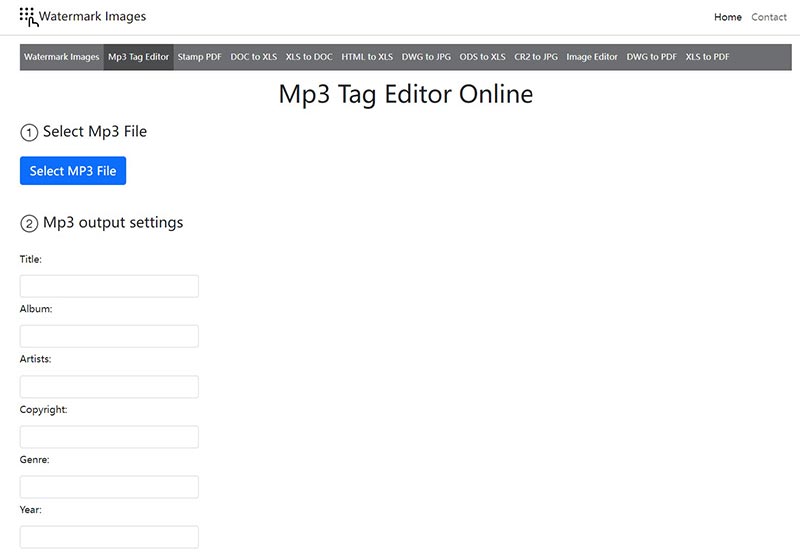 Watermark Images is a collection of online apps including an MP3 tag editor. Once you upload a music file, it will decode the information, such as the title, album, artist, copyright, and more. Then you can change them online.
Pros :
Free to use.
Come with an intuitive interface.
Support both ID3v1 and ID3v2.
Add an album cover to a song.
Cons :
It only supports MP3 format.
It won't search for tags.
Part 3: FAQs about Edit Audio File Metadata
Can VLC edit MP3 tags?
If you want to view and edit ID3 audio or MP3 tags, VLC Media Player can meet your need. The quickest way is by using the Ctrl +I shortcut key on your PC or by navigating to Tools and Media Information.
What makes a song meta?
Music metadata is the identifying data embedded in a music file, comprised of hundreds of text-based metatags that are attached via metadata containers. ID3v1 and ID3v2 are by far the most widespread.
Does Windows 10 have an MP3 tag editor?
To edit tags on Windows, open Windows Media Player, and locate the target song. Right-click on the music name in the Play tab, select Choose columns, tick the checkboxes next to the tags that you want to change, and click OK. Then you can do it directly.
Conclusion
Now, you should learn the top 6 best MP3 tag editors to help you edit audio file metadata on Windows, Mac, and Linux. Some of them are completely free of charge, such as MusicBrainz Picard. Others require payment but deliver reliable features, like ArkThinker Video Converter Ultimate. More questions? Please feel free to write them down below.
What do you think of this post? Click to rate this post.
Excellent
Rating: 4.9 / 5 (based on 259 votes)