Top 5 Music Metadata Editors for iPhone, Android, and Computer
For better organizing or sorting your music library, you need to edit music metadata. This post shares the five best music tag editors for editing various related music information like title, album, cover, file name, format, genre, and more.

GUIDE LIST
Part 1. Best Music Tag Editor to Edit Metadata on Windows PC and Mac
Music metadata can help to organize your songs. Generally, downloading a music file from an official source comes with the right metadata. However, if you get your music from unofficial sources, it usually carries no metadata and album artwork.
If you often manage music files on a computer, you can use the easy-to-use music tag editor, Video Converter Ultimate, to edit music tags easily. It supports all commonly used audio formats. Besides, its Media Metadata Editor allows you to edit video metadata.
Step 1
Free download this music tag editor on your Windows 10/11/8/7 PC or Mac. Launch it, click on the Toolbox tab, and choose Media Metadata Editor.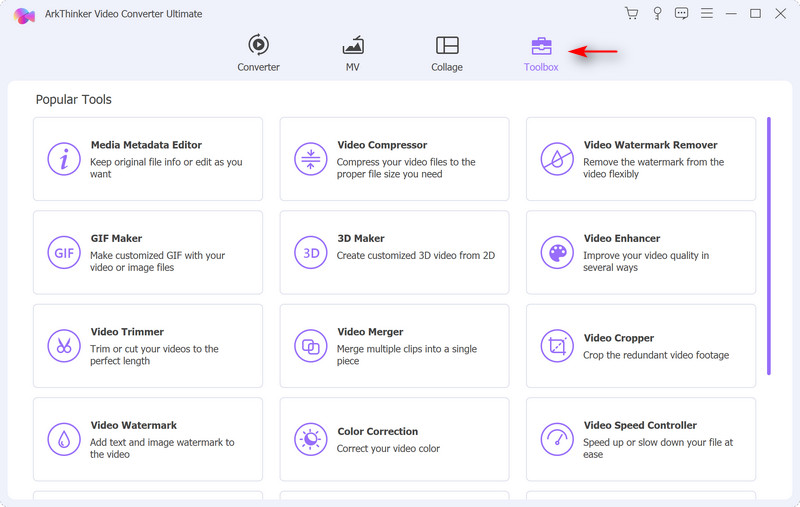 Step 2
Click on the + icon in the Media Metadata Editor popup to load your music file. As mentioned above, all commonly-used audio formats are supported, such as MP3, AAC, AIFF, WAV, M4A, FLAC, ALAC, and others.
Step 3
Now you can freely edit music metadata based on your need. This music tag editor enables you to edit title, cover, artist, album, genre, and more.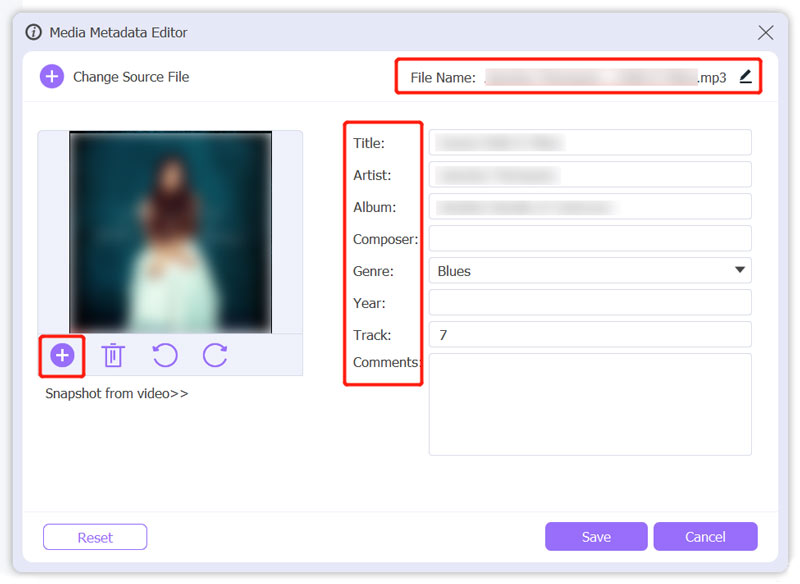 Step 4
After you edit music tags, you can click the Save button to sync the media information to your music. You can see a prompt saying that the media information of the source file has been modified.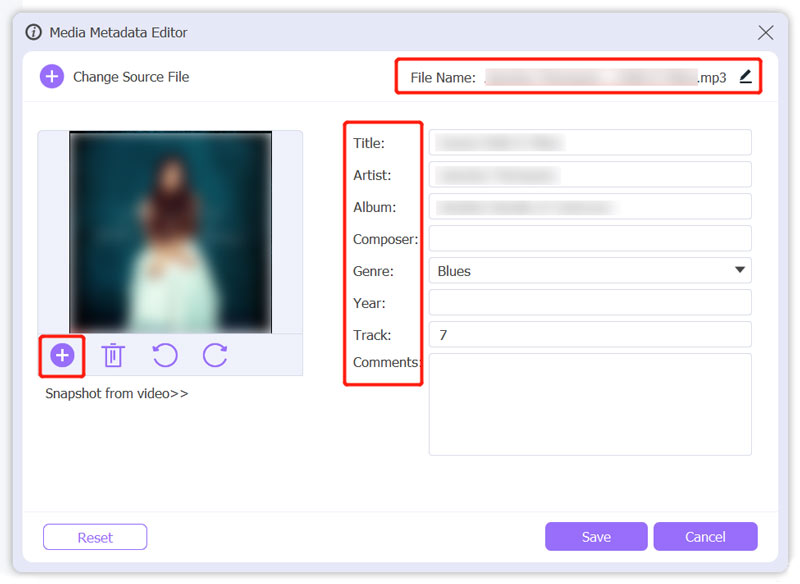 Part 2. Cross-platform Music Tag Editor for Windows, macOS, and Linux
MusicBrainz Picard is a cross-platform and open-source music tag editor. It is compatible with Windows 11/10/8/7, macOS, Linux, and other operating systems like Haiku, FreeBSD, and OpenBSD. It supports all popular music formats, including MP3, M4A, WMA, WAV, FLAC, OGG, and more. This music tag editor uses AcoustID audio fingerprints to edit music metadata.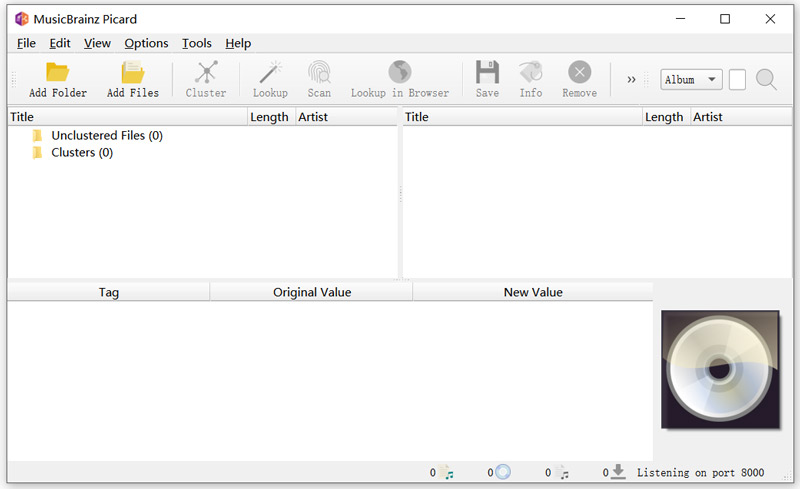 You can free download MusicBrainz Picard from its official website. When you want to edit your music metadata, you can launch this music tag editor, click Add Folder or Add Files to load your music to it, and then edit music tags under the New Value section. You can click the Show more details button to view all associated information.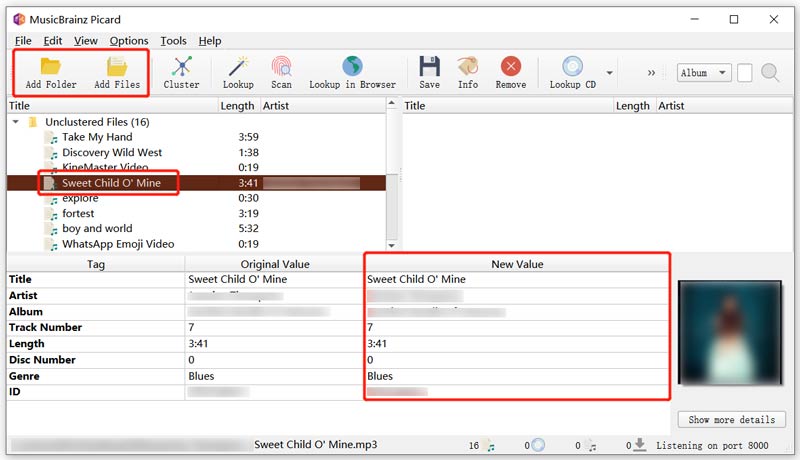 Part 3. Free Music Metadata Editor for Mac and Windows PC
Mp3tag is an easy-to-use music tag editor to edit the metadata of audio files. It supports batch tag-editing of iTunes MP4, WMA, Vorbis Comments, ID3v1, ID3v2.3, ID3v2.4, and APE Tags. It allows you to edit multiple music files at once, covering a variety of audio formats. With this free music metadata editor, you can import audio from Discogs, freedb, MusicBrainz, and more.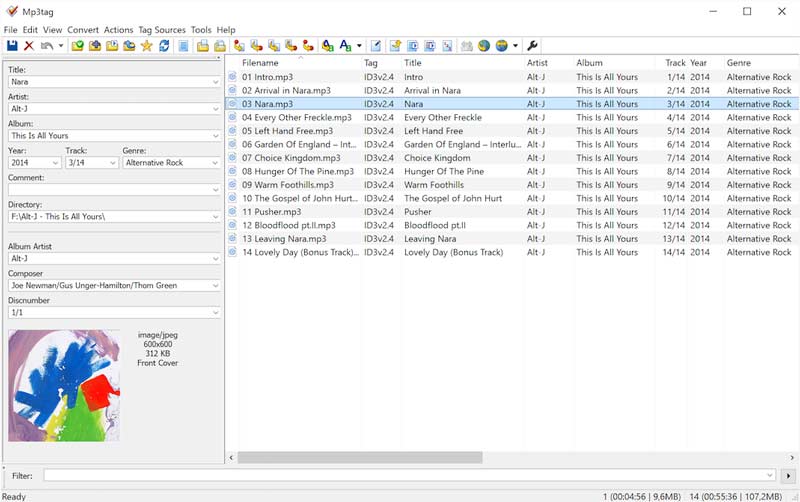 You can free download the correct Mp3tag version based on your system from its official website. It enables you to freely rename your music file based on the original tag information, replace characters or words in music tags, import or export tag information, create playlists, and more.
Part 4. Music Tag Editor Apps for iPhone and Android Phones
If you need to edit music tags on a portable iOS/Android device, you have to rely on some third-party music metadata editor apps. You can easily access many related apps in the App Store and Google Play Store. In case you don't know which one you should use, this part introduces you to 2 popular ones.
Automatic music tag editor app for iPhone and iPad
Evertag Music Tag Editor is specially designed for iOS users to edit the metadata of audio and video files. As a music metadata editor, it allows you to edit audio files in MP3, M4A, APE, FLAC, WAV, OGG, ASF, DSD, WMA, WMV, and more. It also supports various tag formats like ID3V1, ID3V2, iTunes-specific tags, APE Tag, Ogg Vorbis, Ogg Speex, and Ogg Flac. It allows you to modify metadata in batches.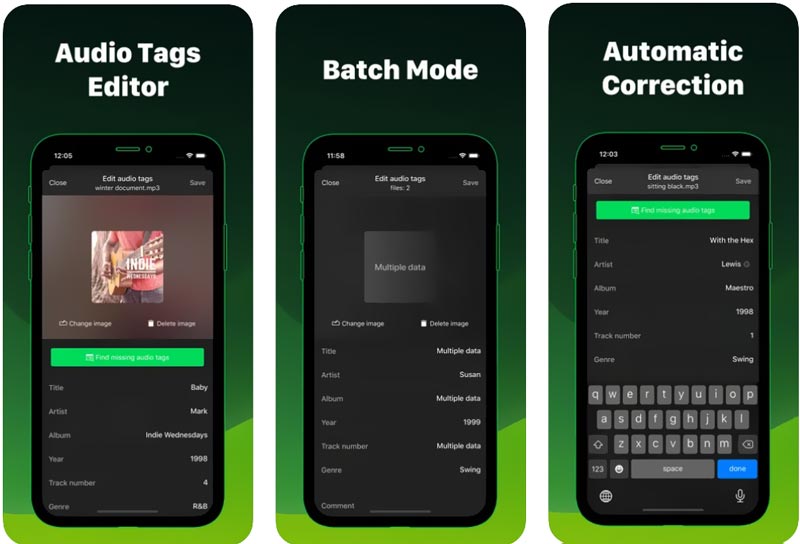 Automatic ID3 tag editor for Android
Star Music Tag Editor is mainly used to fix ID3 tags of music. It can analyze various metadata information on music and allow you to edit these music tags. Besides music metadata like title, album, artist, and genre, it also enables you to edit music album covers and lyrics. Similar to the recommended music tag editor app above, it also supports batch music metadata editing. The Star Music Tag Editor app supports music files saved on your Android device and external SD card.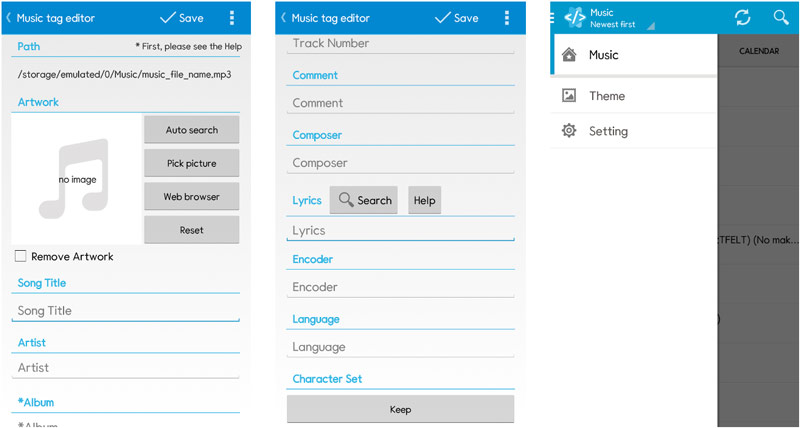 Part 4. FAQs of Music Tag Editor
What is a tag in music?
A tag in your music file is a term used to describe the metadata of the audio track. Music tags are contained in an ID3 metadata container, including all essential information, such as the artist, track title, name, album, genre, and more.
How do you edit music metadata using File Explorer?
Find your music file in File Explorer and right-click on it. Go to Properties, click the Details tab, and then free edit the music title, artist, album, genre, year, and more according to your need.
Can VLC edit the metadata of an MP3 song?
Yes. VLC Media Player can edit a few pieces of metadata information within an MP3 file. When playing music in VLC, you can click on the top Tools menu, choose Media Information from its dropdown, and edit music tags in a current Media Information window popup.
Conclusion
This post mainly talked about editing music tags on computers and mobile phones. Five music tag editors are recommended to edit your music metadata information freely.
What do you think of this post? Click to rate this post.
Excellent
Rating: 4.9 / 5 (based on 241 votes)