How to Slow Down a Video on iPhone Before or After the Recording
Advanced models of the iPhone may support the slo-mo feature but lack editing features in Photos, while the earlier models are hard to control the playback speed of a video on your iPhone. Hence, how to slow down a video on iPhone becomes a common problem for iPhone users. Except for the speed issue, you may have different preferences for the slow-down effect. Some want to slow down the finished video, or some prefer slowing down while recording to achieve dramatic effects. All these issues will no longer be your concern anymore since the post below offers you the most comprehensive tutorial on how to slow down a video on iPhone before and after recording.

GUIDE LIST
Part 1: Make a Video with Slow Motion on iPhone
Whether you are an amateur or a pro in the field of video editing, slowing down a video on iPhone before recording can be super easy with the built-in slo-mo feature on iPhone. The slo-mo feature inside the camera allows you to extend the moments to make the video funnier while recording. Here are the detailed steps of how to make a video in slow motion on iPhone.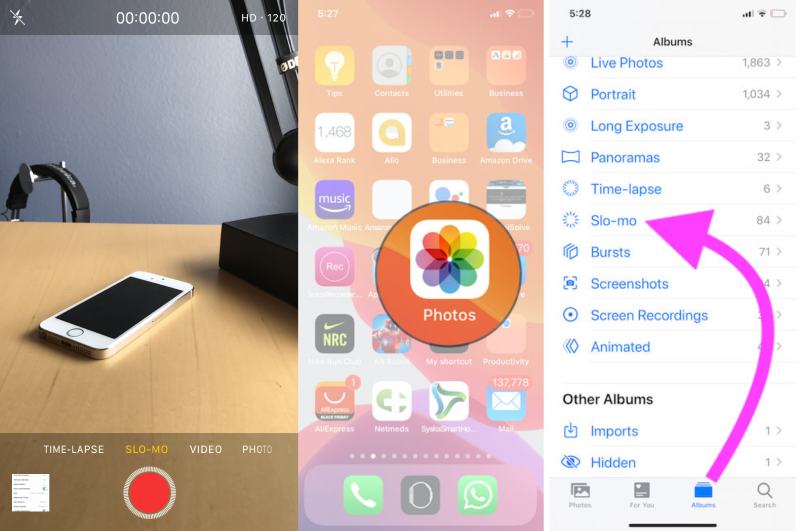 Step 1
Unlock your iPhone and open the Camera app
Step 2
Swipe to the left and tap the SLO-MO button above the red dot.
Step 3
After tapping, tap the Record button in the middle just like you record other regular videos.
Step 4
Tap the Record button again to stop filming. Then, you can tap the thumbnail in the left corner to view your video.
Tip: You can find your final video under the Slo-mo category in the Photos app. Then, you can edit videos and control which part of the video you want to slow down by tapping the Edit button. There, under the time bar, you can drag the sliders to slow down only a certain part while keeping other parts playing at regular speed.
Part 2: How to Slow Down a Video on iPhone After Recording
Is it possible to slow down a pre-made video on iPhone? Sure, it is. iMovie, the built-in video editor, enables you to slow down videos on iPhone after recording. As a powerful free video editor, iMovie holds many advanced features and allows users to do many editing to the video. In this program, you can either edit a slow-motion video or slow down a video with regular speed. Within a few taps, you can find a desirable speed for your video.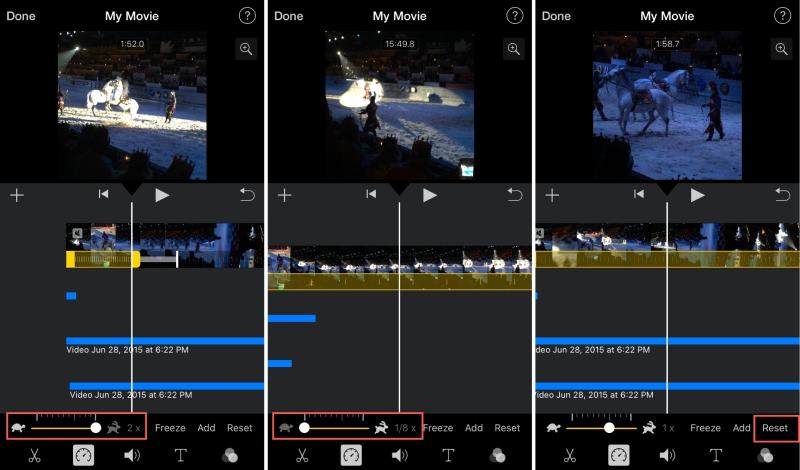 Step 1
Open the iMovie app. If you do not have one, you can get a free download from App Store.
Step 2
Tap the Create New Movie button and then the Movie button to set up a project.
Step 3
Choose a video clip or more from your Photos app. Then, tap the Speed button on the editing screen.
Step 4
A slider bar will show up with a turtle and rabbit icon on both sides. Drag the little dot to the left to slow down your video on iPhone.
Step 5
Once you find a satisfying speed, you can tap the Done button to finish. Next, tap the Share button below and you will see the Save Video option. Tap on it to store the video.
Bonus Tip: How to Slow Down a Video on Mac
iMovie might enable you to slow down video on your iPhone easily, but you cannot precisely control the playback speed of your video. Even if you are using iMovie to slow down the video on Mac, you only have a few options for speed control. Therefore, for those of you who want more choices and precise control for slowing down a video, you should definitely try the ArkThinker Video Converter Ultimate on your Mac. And besides controlling your video speed precisely, you can also trim video, extract audio from video and do more things on this program.
ArkThinker Video Converter Ultimate
Set start and end points to control a video precisely.
Choose from multiple options for playback speed.
Add a filter or after-effects for slow-motion videos.
Sync audio and pictures for videos at the wrong speed.
Step 1
Get a free download of this video editor on your computer. Then install and launch it. You will see Converter, MV, Collage, and Toolbox on the main interface. To adjust video speed, you need to click the Toolbox button, and then the Video Speed Controller button.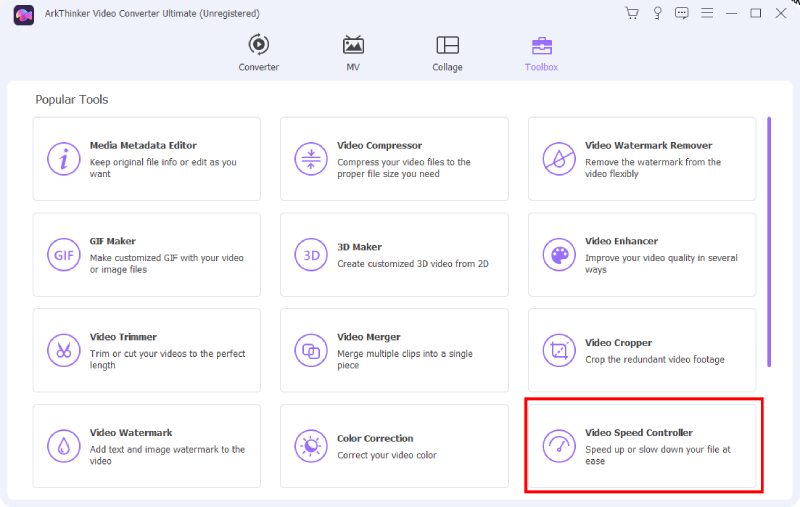 Step 2
Click the big Plus icon on the pop-up window. Then you can select a video you want to slow down from the folder that pops up and click the Open button to confirm your choice. After that, the Preview window of your video will show up.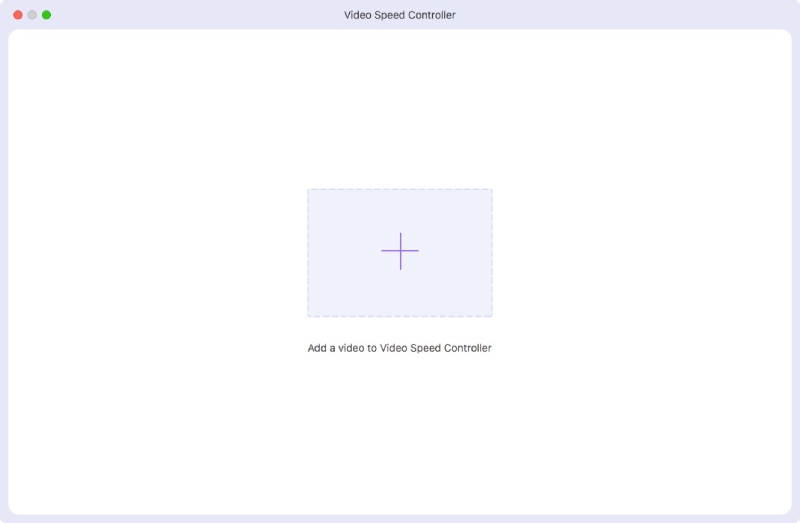 Step 3
Many options for speed appear on the window, you can click one of them to slow down. Once you decide the speed, you can click the Save To dropdown button to select a folder as the save path. Finally, click the Export button to wrap up.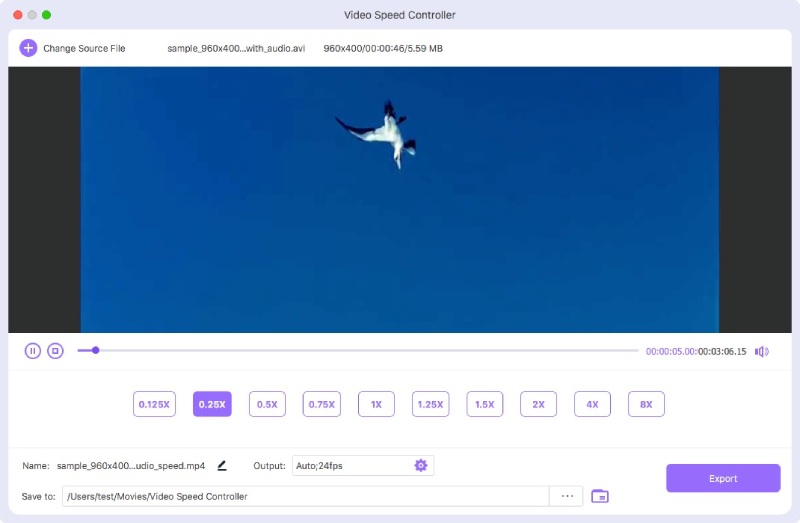 Part 3: FAQs about How to Slow Down Video on iPhone
Can I slow down a video on iPhone with Photos?
For some models of iPhone, you can use them to slow down a video in the Photos app. Once you open a video and tap Edit, a small preview bar with all the frames of your video will appear, and you will also see many lines above that preview bar. You can then mover the two sliders on that bar and make them far away from each other. Accordingly, the video speed slows down.
How can I slow down several videos together on iPhone?
If you want to apply the slow-motion effect for several video clips, iMovie on iPhone is the best choice for you. When creating a new project in iMovie, you can select as many clips as you want for your editing material. Then, you can follow the steps from the guide above to adjust their playback speed.
What is the lowest speed can I make for a video on iPhone with iMovie?
In iMovie, you can drag the speed slider bar and slow down your video to 1/8X of the normal speed at most. When dragging the slider bar, the current speed will show next to that bar. You can also preview the slow-down feature above.
To summarize, now you can grab your iPhone and open iMovie or Camera to make a video in slow motion on your iPhone. In this way, your video will surely become funnier or a certain moment in your video can be exaggerated. If you want more control of the playback speed, then feel free to try the ArkThinker Video Converter Ultimate to edit videos with more features.
What do you think of this post? Click to rate this post.
Excellent
Rating: 4.6 / 5 (based on 168 votes)