Top 5 Ringtone Cutters for Different Devices [Windows/Mac/Mobile]
How to create M4R ringtones for your iPhone? Use a ringtone cutter. Whether you want to generate a ringtone for iPhone, iPad, or Android, an excellent ringtone cutter should cover all common audio formats. Meanwhile, soon you can find the cutters are not only available on your mobile phones but also online and desktop. You can quickly get a clear comparison through the following features of several best ringtone cutters on different platforms. Whatever your requirements are, you shall find the preferred one below to help you cut music for ringtones.

GUIDE LIST
Part 1: Easiest Methods to Cut M4R Ringtone Online
Can you identify the caller as soon as your phone rings? Once you set up a unique ringtone for a particular contact on your phone, you sure can. Since iPhone and Android support different audio formats for the ringtone, you can't simply pick up a piece of music as your ringtone. Therefore, the ringtone cutters here are to rescue you.
1. 123APPS – Audio Cutter
123APPS is a one-stop website that solves multiple editing issues for video and audio files. This online audio cutter enables you to create free M4R ringtones for your iPhone easily. If you have music files from Google Drive, you can also connect to Google Drive on 123APPS and upload the file directly. What's more, other features like shift pitch and volume/speed change are also available on this online ringtone cutter.

Pros :
Offer fade-in/out effects for your ringtones.
Extract sound from a video as your ringtone.
All audio formats are supported for uploading
Cons :
The processing speed of upload audio is slow.
Exportation formats are limited.
2. ArkThinker Free Video Cutter Online
Although this is a free video cutter, the audio files are also acceptable on the web-based tool. Most importantly, you do not need an account to use this ringtone cutter, which supports over ten audio formats. The uploaded file should be less than 50MB, but you can sign in to upload larger audio files. Since the operations are simple, you can create M4R ringtones for your iPhone in seconds.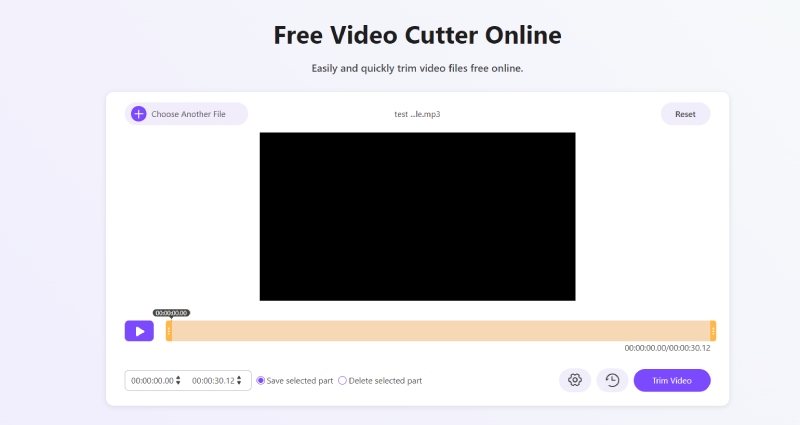 Pros :
Support several different audio formats.
Pre-listen to the ringtone before exporting it.
Export the audio clip to iPhone and Android format.
Cons :
Lack of advanced features.
You can't cut over one audio file simultaneously.
Part 2: Desktop Ringtone Cutter with Strong Compatibility
A powerful cutter must do more than just cut song ringtones; strong compatibility with different audio formats for both importing and exporting also matters. ArkThinker Video Converter Ultimate meets all these demands. Apart from cutting ringtones from music, you can tweak audio settings like bitrate, encoder, etc. Additionally, the format list in the ringtone cutter has multiple audio formats, which means you can export the trimmed ringtone file for both iPhone and Android.
ArkThinker Video Converter Ultimate
Split the music file for several even clips.
Combine different parts of the music for a ringtone.
Offer adjustment tool for audio settings.
Cut ringtones for mobile with different format options.
How to Cut Music for Ringtone in Video Converter Ultimate
Step 1
Download this ringtone cutter on your Windows or Mac computer. Then, install and launch it. Go to Toolbox and click the Video Trimmer tool. Although this is a trimmer for video, it can also cut audio files.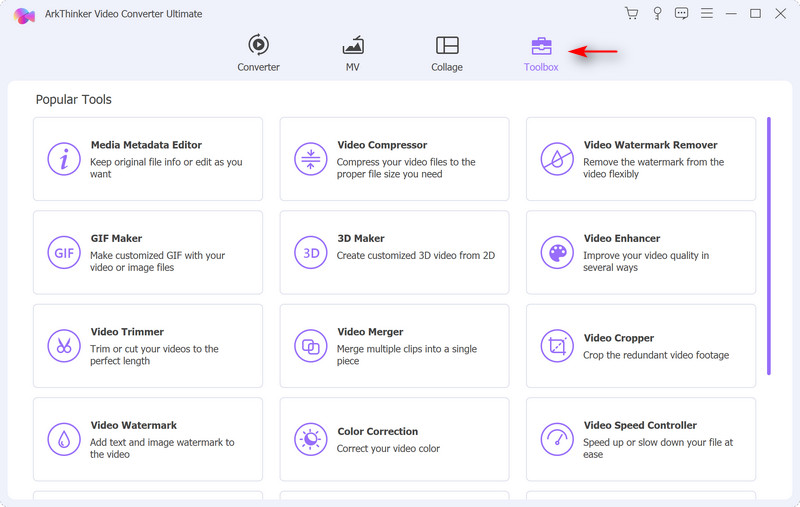 Step 2
Click the plus icon to import your music file on the pop-up. Your music will soon start playing. To trim it, click the Fast Split button, and you can cut it into even clips of the same duration. You can also drag the slider bar on the timeline to remove the unwanted segments.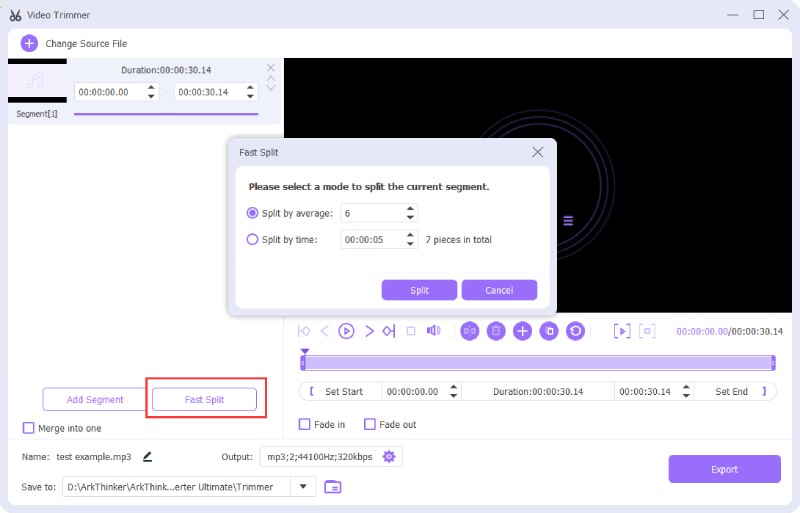 Step 3
If you want to make M4R ringtones, click the gear icon near the Output option. Click the Audio Export tab and the Format dropdown option. Choose the format you want and click the OK button to confirm. Next, click the Export button to save the ringtone.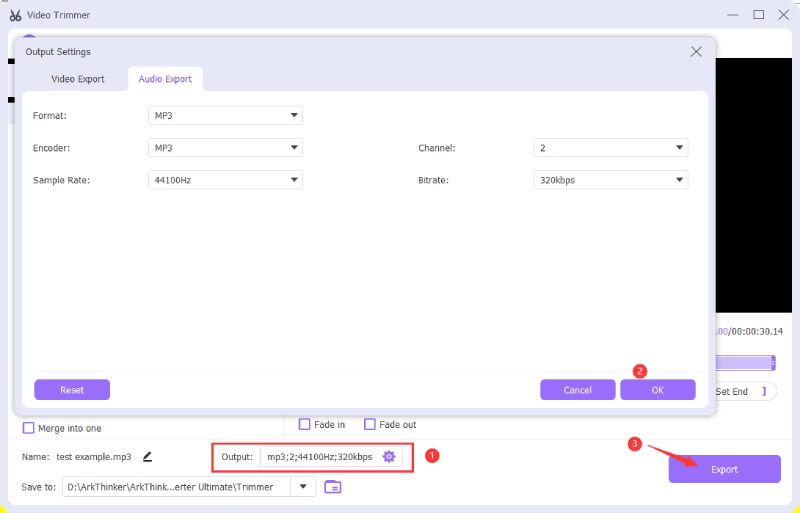 Tip: After trimming one song, you can repeat the above steps, cut more music, and combine these audio files in this program for a new ringtone.
Part 3: How to Cut Music for Ringtone [iPhone/Android]
Since the ringtones are about to be used for your mobile phone, knowing a few workable ringtone cutter apps would help greatly. Those cutters on iPhone or Android can be super professional and advanced, making trimming more convenient. Whether you want MP3 or M4R ringtones, the recommended audio cutters can fulfill your needs.
1. MP3 Cutter and Ringtone Maker [Android]
MP3 Cutter and Ringtone Maker is a high-rated ringtone maker in Google Play Store. This small app can be a multitasker on your Android phone, and you can use it as an audio cutter, merger, volume booster, etc. The best thing is that you can directly set a ringtone for your contacts in this app after trimming.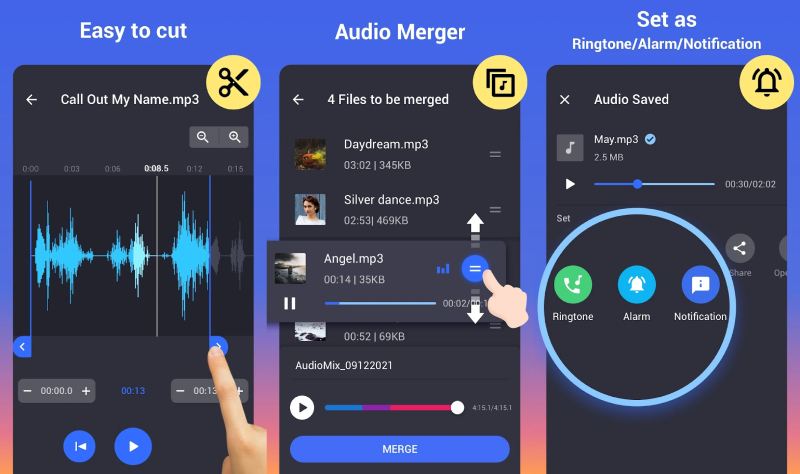 Pros :
Set trimmed audio as ringtone, alarm, and notification.
Display clear waveform of the audio file.
Fast import and trimming speed for the music file.
Mix and merge different audio files for a ringtone.
Cons :
It's hard to find the export file when transferring.
Too many ads during the trimming process in the free version.
Users complained that the ringtone would replace the source audio.
2. Music Player - Ringtone Cutter [iPhone]
Music Player – Ringtone Cutter combines a music player and an audio cutter. You can enjoy the music here and cut song ringtones for your iPhone and iPad. The sophisticated equalizer inside the app provides users with an editor of several music genres. Additionally, you can use it as a ringtone or add the music to a video in iMovie on your iPhone.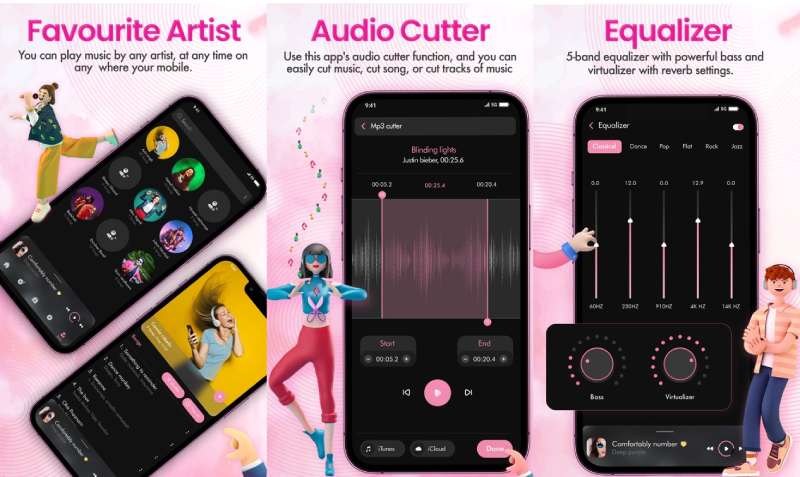 Pros :
Customizable UI designs with many options.
Save your trimmed ringtones on iCloud.
Offer advanced audio equalizer to adjust more settings.
Cons :
It contains ads for music playback.
Music listening is slow to start.
The app focuses more on music than ringtone cutting.
Part 4: FAQs about Ringtone Cutter
Can I make iPhone ringtones M4R files in GarageBand?
Yes, you can. GarageBand is a pre-installed professional music creator. You can create original songs there and directly share the music file to set it as your ringtone. Or you can assign the ringtone you generate for a particular contact.
How to cut ringtones from YouTube?
Some YouTubers would share free music on this video platform. If you have YouTube Premium, you can download the video, extract the audio from it, and trim the music in the above-mentioned ringtone cutters.
Where to find free M4R ringtones?
M4R is the suitable format for ringtones on the iPhone. Your new ringtones must be in M4R format, so you can change them. To find such free sources, you can visit Zedge and MobCup websites. These two offer free downloads of multiple M4R ringtones.
Conclusion
All in all, there are numerous ringtone cutters out there. You can keep searching for your preferred best one or settle down with the cutters above, for they all have great trimming features and simple operations. iPhone or Android users will find these cutters suitable for them all.
What do you think of this post? Click to rate this post.
Excellent
Rating: 4.9 / 5 (based on 322 votes)