Ways to Record Google Meets Using Built-in Screen Recorder
Do you often use Google meet to attend class, hold meetings or discuss your presentation? There are instances that you want to record the whole meeting to re-watch it and share it with anyone.
Google Meet is a video-communication service developed by Google and formerly known as Hangout Meet. It provides high-quality video calls and meetings that are accessible to use by everyone. You can use it on any device, whether on your desktop computer or mobile phone. This application is trusted by schools and businesses, as they commonly use it to have a meeting. The best part of it is that it takes up to 100 participants, holds longer video calls, and has a background cancellation. It also has a built-in feature that allows you to record your meeting. This post will teach you how to record google meet and present another recording tool you can use. To learn more, proceed to the following parts.

GUIDE LIST
Part 1. Can You Record a Google Meet?
Can you record a Google meet using another recording tool? The answer is - yes! To accomplish that, you need to look for a recording tool that does record not only audio but also the screen. Therefore, it can record your screen activities, including the movement of your cursor, with the audio incorporated.
Part 2. How to Record a Meeting in Google Meet
1. Using Google Meet Directly
Before recording your meeting using the built-in recording, you must first have a Google G Guite account. Google G suite is a paid service and version of Gmail and Google accounts, and the ownership is given to the person who created the account. In addition, check your Google Drive to see if it has enough space to save your recorded meeting. Remember that the organizer or accounts in the same organization only have access to the recording feature. To learn how to record Google meet, proceed to the guide below.
Step 1
First and foremost, open your Google Meet application on your preferred device, and sign in to your account. Afterward, proceed to create a new meeting or join an existing one.
Step 2
On the lower left of your screen, click the three-dots icon. From the applied list, select the Record Meeting button. After that, click Accept once an Ask for consent dialog appears on your screen. Once the recording starts, a notification will be sent to all the participants in the meeting. A notification will flash above their screen stating that the meeting is being recorded.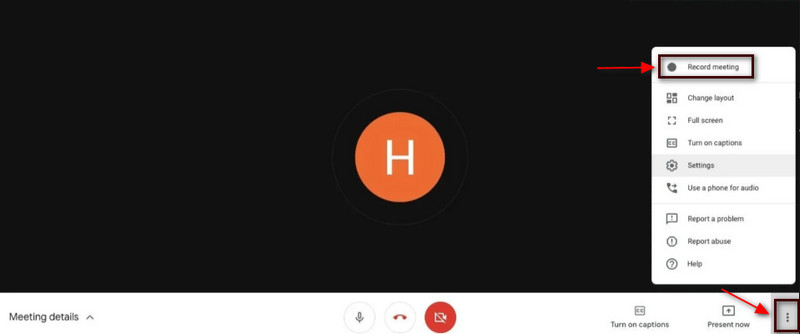 Step 3
If you want to stop the recording while the meeting is still ongoing, click the three-dots icon again. From the applied list, choose the Stop Recording button. In addition, if you want to record the whole meeting, the recording will stop automatically once the meeting is done.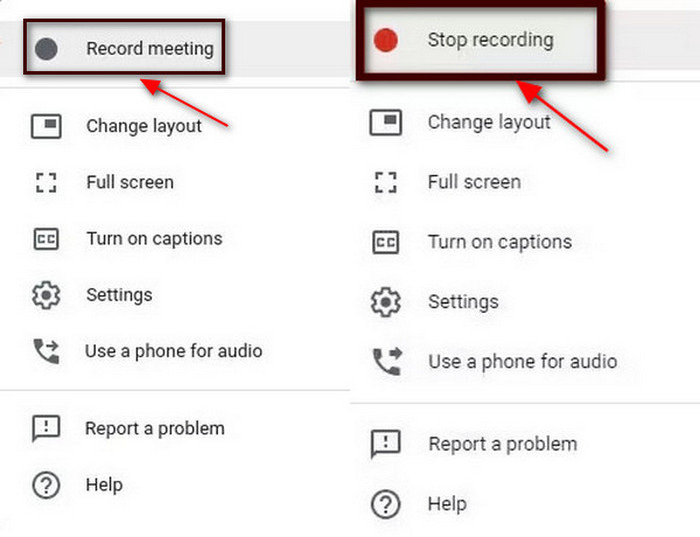 2. Using ArkThinker Screen Recorder
If you prefer to record your meeting without others being notified, you can use another program to help you. For non-organizers, you can rely on ArkThinker Screen Recorder. This program has a built-in feature to record video, audio, game, window, webcam, and phone. ArkThinker Screen Recorder is the best recording tool for recording your meeting on Google Meet. When you record your screen using this program, it allows you to choose your preferred screen size. It might be full screen, a portion from your screen, or choose from the available screen size. In addition, you can overlay your face and voice if you want to. Moreover, when using this program, Google cannot detect the recording. Also, it will not notify the participants that the meeting is being recorded. To record Google meet, follow the steps provided.
Step 1
Download and Install
To have complete access to the recording tool, download and install the program on your desktop computer. After the installation process, open the program to start the recording process.
Step 2
Record Google Meeting
You will see the program's built-in features from the main interface and select the Video Recorder button. Once you click that button, the Video Recorder section will appear on your screen. Turn on the Display, and choose your preferred screen size that can only be recorded by the tool. You can record the full screen and select a portion from your screen or another available screen size. In addition, you can add exclusions that you want to incorporate into your recording. Next, turn on the System Sound, and adjust the volume. In addition, if you want to include your face and audio in the recording, turn on Webcam and Microphone. After turning on the settings you need, hit the REC button to start recording your meeting in Google Meet.

Step 3
Stop Recording Google Meet
When you want to stop the recording, click the Stop button, and the preview window will appear on your screen. If you want to remove unnecessary parts from your recording, click the Advanced Trimmer button. You can cut manually on the timeline by moving the sliders or setting the time on the Set Start and Set End options. After that, click the Trim button to cut the unwanted parts successfully.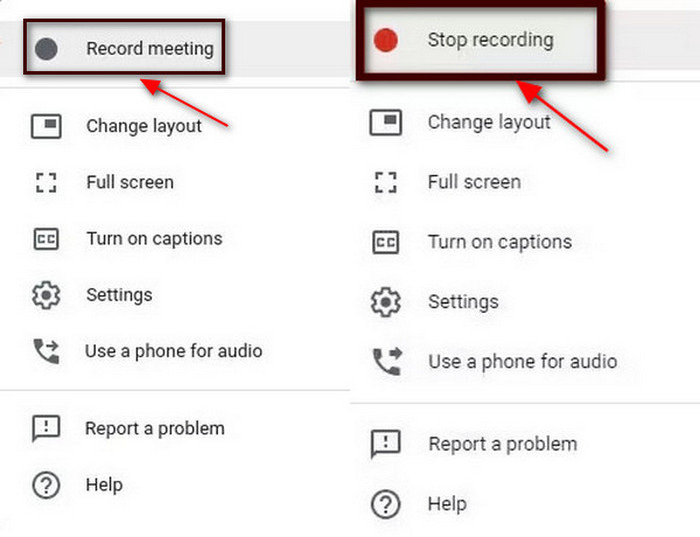 Step 4
Save Recorded Meeting
Once satisfied with your recorded meeting, click the Done button, and your video will be placed on the top of the recorded history. You can play it on your computer media player and locate it in your folder.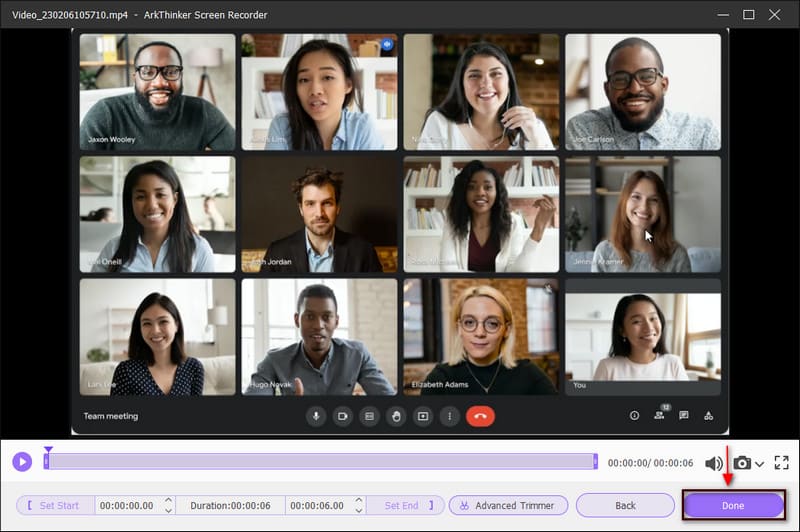 Part 3. What You Should Know About Google Meet Recording
This part will provide insightful information about the Google Meet recording that might be helpful for you.
◆ To record a meeting, you must be the meeting host, co-host from the host organization, or a teacher or co-teacher.
◆ The participants will be notified once the recording begins and ends. People outside the organization, mobile device users, and participants who dial in using their phone cant control the recording.
◆ Inside the recording, it includes the speaker and anything showcased on the screen. In addition, other windows or notifications are not included. Also, pinning a participant would not be an issue in the recording.
◆ The recorded meeting will automatically be saved on My Drive, so ensure you have enough space.
◆ Recording your meeting is useful when you want to review it again and share it with people who did not attend.
◆ You can only record your meeting if you are using the application using a computer. In addition, a meeting can only hold for 8 hours, and after that, it will end automatically.
Part 4. FAQs about Google Meet
Is Google Meet easy to use?
Google Meet has a beginner-friendly interface that is easy to use and control. Even without prior knowledge, you can easily understand how to host and attend a meeting. In addition, you can create meetings in a matter of seconds and send the meeting link to your participants. You can send the meeting link using your messaging platforms.
Can I use Google Meet without a Gmail account?
If you want to attend a Google Meet meeting, it is optional to use or sign in to your Google account. The host must grant you access if you want to attend the meeting. In addition, if you did not sign in to your Google account, you cannot attend a meeting using your mobile device.
Is Google Meet good for interviews?
Using Google Meet, it is possible to set and schedule an interview. First, set the schedule of the interview in Google Calendar. After that, it will automatically create a Google Meet event. Second, send the meeting link to the interviewee.
Conclusion
Google Meet has been used as a platform for meetings. Schools commonly use it to let their students attend online, and small businesses have a meeting there. It is widely used to connect to other people on an online platform. This web-based and desktop tool offers an excellent experience to the meeting participants. In addition, Google Meet allows the participants to save important meetings through the help of recording. Learn how to record meeting using the built-in feature of Google Meet and ArkThinker Screen Recorder.
What do you think of this post? Click to rate this post.
Excellent
Rating: 4.9 / 5 (based on 245 votes)