How to Screen Record on Snapchat Without Them Knowing [Valid Ways]
Snapchat is a popular messaging application that allows users to start conversations, make video calls, and view stories. This application is also widely used to send pictures or videos to your friends, family, or anyone you are connected with. However, these pictures or videos will automatically disappear after a day or can be deleted after seeing them. In addition, it does not allow users to save pictures or videos sent by anyone regarding the application's privacy policy. Therewithal, it will not permit you to screenshot or record any picture video because if you do, it will notify the other person. The question is, is there any way to screen record on Snapchat without notifying the users?
This post will present different ways to screen-record Snapchat pictures and videos. In addition, it will provide helpful information that can help you record on Snapchat without others knowing. To learn more about this information and ways, continue reading the post.

GUIDE LIST
Part 1. How to Screen Record on Snapchat Without Them Knowing
If you want to screen-record pictures or videos from Snapchat without the other users knowing, you can rely on ArkThinker Screen Recorder. This program's intuitive interface makes it easy for users to control and master it. This software has several built-in recording features to record your screen activities. It has video, audio, game, window, webcam, and phone recorder that produce a high-quality output. The good thing is that you can select your desired screen size. You can choose from the full screen, a specific portion of your screen, or the list. Through that, it will only capture the part of your screen you need.
In addition, you can incorporate your face and audio if it is needed in your screen-recording process. Besides that, it has an option that enables users to set a task schedule to start and stop recording screen activities. Surprisingly, it will not embed a watermark on your screen-recording output. Refer to the instructional steps to learn how to screen-record on Snapchat without them knowing.
Step 1
Download and Install ArkThinker Screen Recorder
Download and Install the program to your desktop device to have complete access. After the installation process, launch the software to begin the process.
Step 2
Choose Phone Recorder
Head to the Phone recorder inside the box placed on the right corner of your screen. It will ask you to select your device type. Hit the iOS Recorder or Android Recorder, depending on your mobile device. Then, installing the Fonelab Mirror application on your mobile device is necessary to continue the recording process. Note that your mobile device and desktop should be connected to the same internet. After that, open your mobile device, and select a method to cast the screen. Select the Detect, QR code, or PIN from the list presented. Then, your mobile device screen will be mirrored to the program.

Step 3
Start Recording Snapchat
Hit the Record button to start the recording process. If you need to stop for a while, click the Pause option to stop. When you plan to continue the recording, click the Resume option. Once done, hit the Stop button; once you are done recording Snapchat's pictures or videos.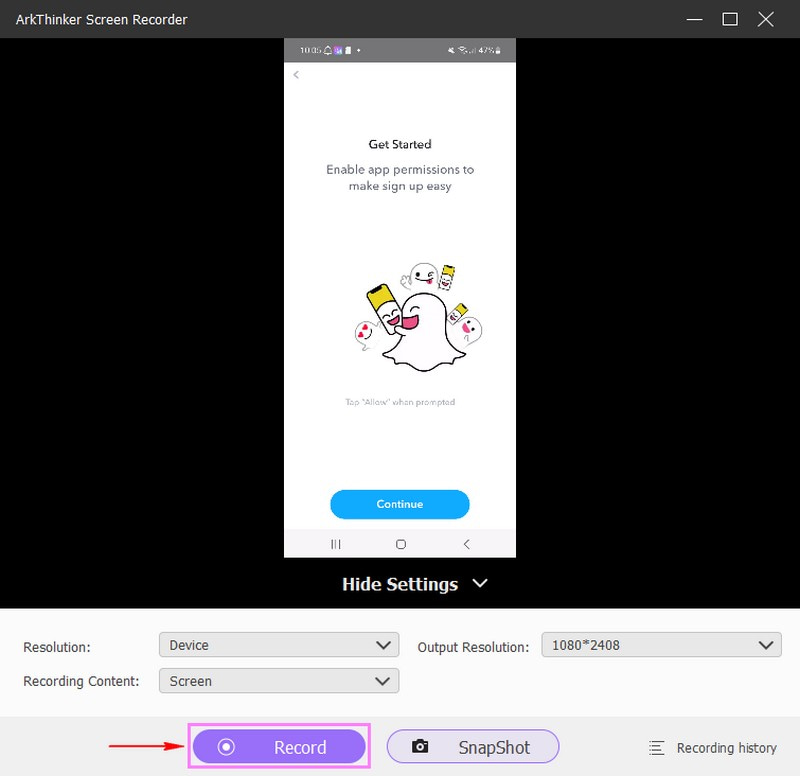 Step 4
Save Snapchat's Screen-Recorded Output
If there are unnecessary parts to your recording, use the Advanced Trimmer option to leave them out. After that, it will only retain the parts you only need. When you are satisfied, hit the Done button to save your recording. Then, you can see your recorded output on the recording history or your desktop folder.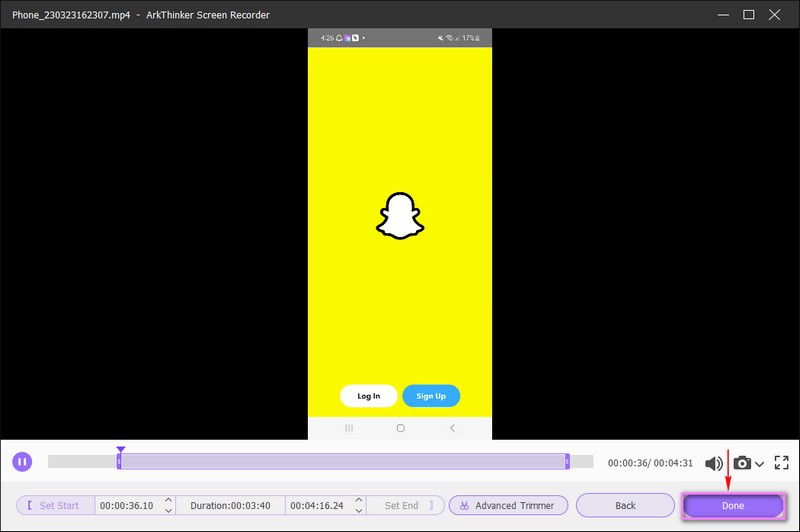 Part 2. How to Screen Record Snapchat on Your Phone
Screen Recorder - XRecorder is a screen recorder that can record without time limitations. No root is needed, and no watermark is embedded in your screen recording output. It enables you to capture clear and smooth screen videos and produce high-quality screen-recorded outputs. In addition, it has a floating ball feature that makes it easier for the users to record quickly. The question is, can you screen record Snapchat using this recording application? Rely on the steps provided to see if it can record your screen.
Step 1
First and foremost, download and install the screen recorder to your mobile device. After the process, the recording features will appear on the notification bar of your mobile screen. Next, enable the floating circle button from your phone's settings to appear on your home screen.
Step 2
Launch the Snapchat application on your mobile device. Then, head to the snaps from one of the users you are connected to. Hit the Record button to record the pictures or videos you want to save. You will see a floating circle placed on the right corner of your phone's screen. Through this feature, you can check if the recording has started or not and how long the recording is.
Step 3
Once you are done recording the snaps, click the floating circle to end the recording process. After that, your screen-recorded output will appear on your screen. Click that to save it in your folder.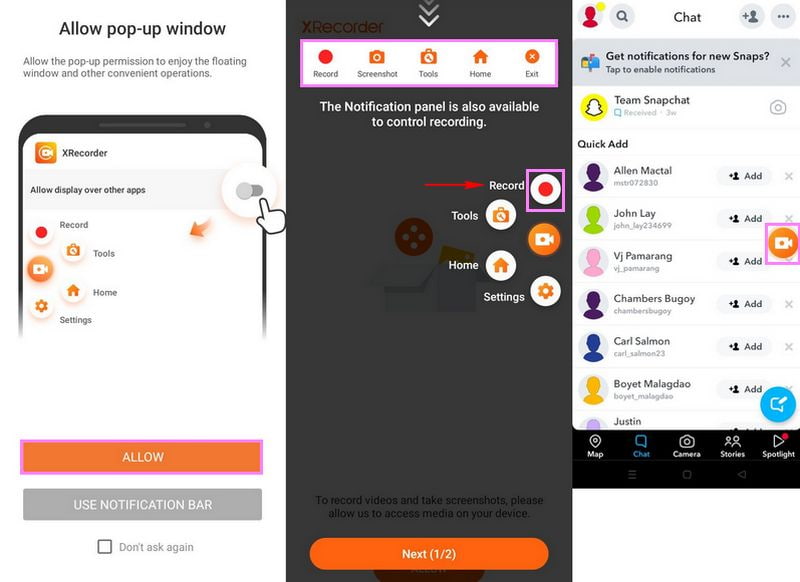 Part 3. FAQs about Snapchat
Why can't I take screenshot on Snapchat?
Launch your Snapchat application, and proceed to the snap, but wait to open it. Next, head to your phone's settings, and enable Airplane Mode while the application runs in the background.
How to tell if someone screenshots your Snapchat conversation?
When you take a screenshot of a photo or video, a chat screenshot with "you took a screenshot" will appear in your conversation. And when you take a screenshot in a story, a screenshot icon will be displayed in the viewer's section.
Why can't I secretly screenshot Snapchat?
The suggested method to screenshot someone's snap without other users being notified is to use another device or application. If you are an Android user, you can use screen recording or Google Assistant to take a screenshot discreetly. If you use an iPhone, you can use a screen mirror using a Mac or other monitor to take a screenshot without them knowing.
What happens if I screen record someone's Snap story?
If this happens, turn off your internet connection, cellular data, or anything that keeps your mobile device connected. In addition, activate the airplane mode from your phone's settings. Afterward, return to the snap, click it, take your screenshot, wait around thirty seconds, and on your internet connection. With that, it will notify the sender about the screenshot.
Conclusion
Can Snapchat detect screen recorder applications? The answer is no; Snapchat cannot detect third-party screen recorders, so you can record it without other users being notified. You have learned that it is possible to screen-record Snapchat pictures or videos using the abovementioned ways. You can record your screen activities using your mobile or desktop devices. But if you plan to use a screen recorder packed with numerous features, you can rely on ArkThinker Screen Recorder. This time, you can take a screenshot or screen record without other users knowing.
What do you think of this post? Click to rate this post.
Excellent
Rating: 4.9 / 5 (based on 344 votes)