Dependable Game Recorder Software to Capture Your Gameplay
Are you one of those people who like to play online or offline games? And have you ever thought of recording your gameplay to share it on social media?
Nowadays, it is common for us to see different gameplay videos online. It is also content you can share on online platforms to earn money. In the gameplays that we watch, not only the gameplay watched; usually, the player's video is incorporated so that they can see how he plays. That way, the viewer will be entertained by what he sees on the screen. Do you want to learn how to record your gameplay and know what applications you can use? This post will provide information that will benefit you the most. It will present various game recorders you can count on to record your gameplay. Are you ready to get to know them? If so, proceed to the following parts to learn more.

GUIDE LIST
Part 1. Why You Need to Record Gameplay
There are lists of reasons to record gameplay; it depends on the creator for what reason or what made up their mind. This post will lay out four reasons why you need to record gameplay based on the common reasons or benefits they can have. To learn these reasons, proceed to the following information.
◆ You must record your gameplay to upload and share it to the following social media sites.
◆ The reason to record your gameplay is to earn money. Uploading gameplay on social media sites is content you can create. By sharing your gameplay, you can gain thousands of viewers, which can let you earn money.
◆ If you have the skills regarding your game, it would be better to record your gameplay to show off your skills. With that, other players will recognize you and create your name in the game.
◆ Recording your gameplay to create tutorials or how-to processes regarding the game is necessary. With that, first-time players will have prior knowledge or understanding of how to play the game.
Part 2. Best Game Recorders for All Platforms
1. ArkThinker Screen Recorder

If you are looking for the best game recording software, you can count on ArkThinker Screen Recorder. This application has a beginner-friendly interface that is easy to use and control. Whether a beginner or professional in this field, you can master the program hassle-free. This program has numerous built-in features capable of recording your screen activities and audio. It has a screen, audio, phone, window, webcam, and game recorder you can access easily. The built-in game recorder can help you accomplish your goal of recording your gameplay. The game recorder section only asks you to select the game you will record on the desktop. Afterward, it lets you turn on the webcam, system sound, and microphone to incorporate your face and audio. Once settled, you can start recording your gameplay without worrying about the time limitation.
Pros :
It has a built-in screen game recorder to record your gameplay
It supports numerous file media formats
It enables users to add their face and audio
It enables users to set a schedule to record using a particular recorder
No watermark is presented on your screen-recorded video output
It is accessible using Mac or Windows PC
Cons :
Avail of the paid version to have complete access to the program
2. SCREENAPP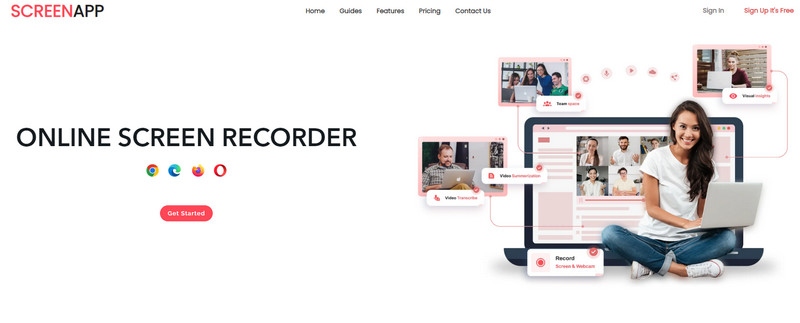 If you prefer to record your gameplay straight online, you can rely on ScreenApp. This web-based screen recorder enables users to record gameplay, save and share it on social media. It can record the full screen, application window, browser tab, and webcam with or without audio incorporated. The trim and merge options can remove unnecessary parts on your screen-recorded gameplay. ScreenApp is a free screen-recording tool that can quickly save your recording to your computer. It is free to use and does not require you to download anything.
Pros :
It is accessible online, no payment is required, and no program downloads
It is capable of recording gameplay
It has an unlimited recordings feature
It enables users to edit their screen-recorded video output
Cons :
It requires you to sign in to your account
The free version can only record up to 20 minutes
The 14-day trial or Premium version can only record up to 3 hours
3. FlexClip

FlexClip is another web-based screen-recording tool you can access online. It lets you capture anything on your screen. You can record webinars, presentations, video tutorials, and gameplay hassle-free. Also, it is an all-in-one screen recorder and video editor, which permits you to edit your recordings. Once you are done recording your gameplay, you can highlight important parts and add annotations, subtitles, and overlays to your video.
Pros :
It has an easy-to-use interface that is easy to understand
It has a selection to record screen and webcam, screen and webcam only
It has editing functions to edit screen-recorded video output
Cons :
It requires you to sign in to your account
It has a time recording limit
4. AZ Screen Recorder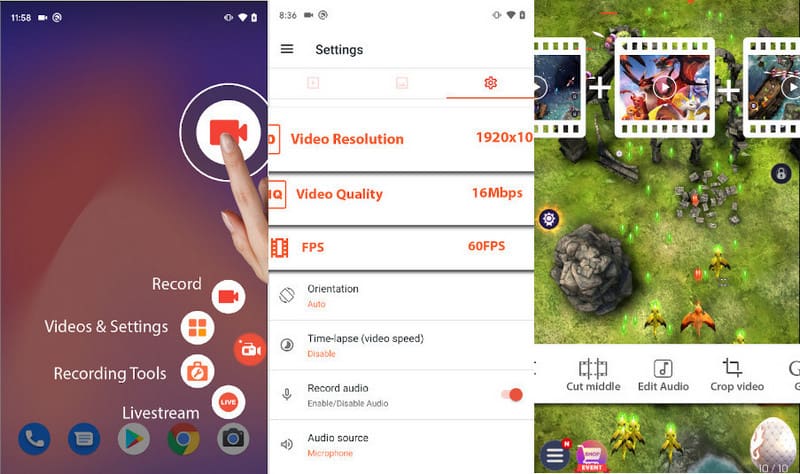 If you want to record your gameplay using your phone, you can use AZ Screen Recorder. This mobile application is for you if you are playing using your phone. With that, you can record your screen activities while you are playing. This screen-recording application enables you to record high-quality gameplay without the watermark presented. While recording, it has the option to pause and resume. On top of that, it allows you to overlay your face using the front cam of your camera. Also, it permits you to record your audio using a microphone to incorporate into your recording. It has an editing feature to draw and trim your screen-recorded video for tutorial purposes.
Pros :
It is available on Android
It is capable of recording gameplay and can incorporate face and audio
It has editing functions
Cons :
Ads frequently popping on the screen
Subscribe to the pro version to remove the advertisement
Part 3. FAQs about Game Recorder
What game recorder do Youtuber use?
The Youtuber's commonly used game recording program is OBS. It is a screen recording application popular for gamers and streamers, with built-in features that can smoothly record gameplay. On top of that, it is an open-source program that is easy to understand and use.
Does recording affect game performance?
When you record while playing, it does affect your gaming performance. It affects your gameplay in different factors. It will affect your gaming performance if you are using a GPU-bound encoder. But if you are using less CPU intensive, it would not affect your gaming performance.
What is the purpose of screen recording?
The purpose of recording is to capture what is being presented on your screen for future playback. You can record your screen whether you are watching a presentation, webinar, or presenting video game tutorial.
Should I stream or record gameplay?
It would be better to consider both, either stream or record gameplay. When you record your gameplay, you can edit it later to create content that you can share. Also, when you live stream, it can go on for several hours, consuming much of your time when you edit.
Conclusion
With the numerous screen recording applications in the market, you are still determining the best application you will use. These days, recording and sharing video gameplay is booming content on social media platforms. If you want to become part of them, you need a recording application to capture your screen. This post will help you choose the best gaming recording application you can count on. But if you prefer recording software for gaming, the best tool you can rely on is ArkThinker Screen Recorder. Its built-in feature can record your gameplay and help you achieve a high-quality video output.
What do you think of this post? Click to rate this post.
Excellent
Rating: 4.9 / 5 (based on 185 votes)