10 Best Screen Recorders for Computers and Phones
Screen recorder is the screen recording or casting software used for capturing anything displayed on your computer or phone. Recording meetings, webinars, gameplay, webcams, and online content are useful and necessary.
You need a screen recorder to show your screen activities, describe problems, deliver instructions, share knowledge, and more. Indeed you have specific feature requirements for the desired screen recording software, including the 4K capturing, transitions, and editing. What is the best screen recorder?

This post lists the 10 best screen recorders for Windows 11/10/8/7 computers, Mac, iPhone, iPad, and Android devices. We have tested over 50 recorder apps to ensure you won't get poor-designed ones or low-quality recordings.
GUIDE LIST
Part 1. Best Screen Recording Software for Windows and Mac
You can easily access lots of screen recorders for computers on the internet. However, only some recommendations may fit your recording needs. Considering that, this part lists key features and limits of four worth-trying screen captures. You can pick your preferred one to record your computer screen.
ArkThinker Screen Recorder
ArkThinker Screen Recorder is the all-featured screen recording software for Windows and Mac computers. It carries all commonly-used recording functions to capture any activities that happened on your computer with high quality. It lets you record gameplay, videos, audio, webcam, window, etc. Better than many screen recorders, it can capture sound from system audio, microphone, or both based on your need.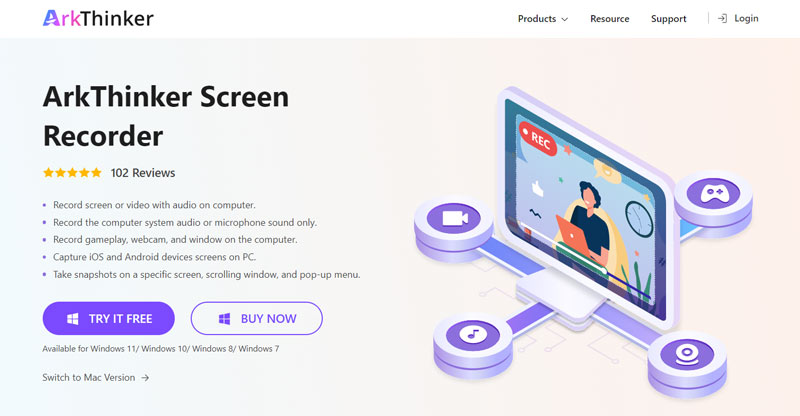 ArkThinker Screen Recorder supports 4K recording. It can be your best choice if you need high-resolution video recording, primarily when you use a 4K monitor. More importantly, it allows you to export 4K recordings in many formats. One significant advantage of this Windows and Mac screen recorder is that it adopts advanced hardware acceleration technology to ensure you can record high-quality videos smoothly. It can work as a gameplay recorder to select and record the specific gaming window without delay.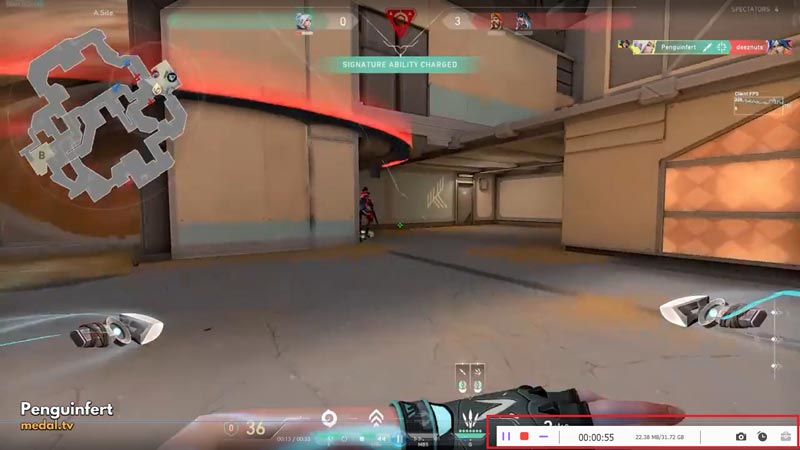 More than just a screen recorder for Windows and macOS users, it can capture your iPhone and Android screen. In addition, it is equipped with many editing features, including trim, crop, rotate, merge, compress, watermark, and more.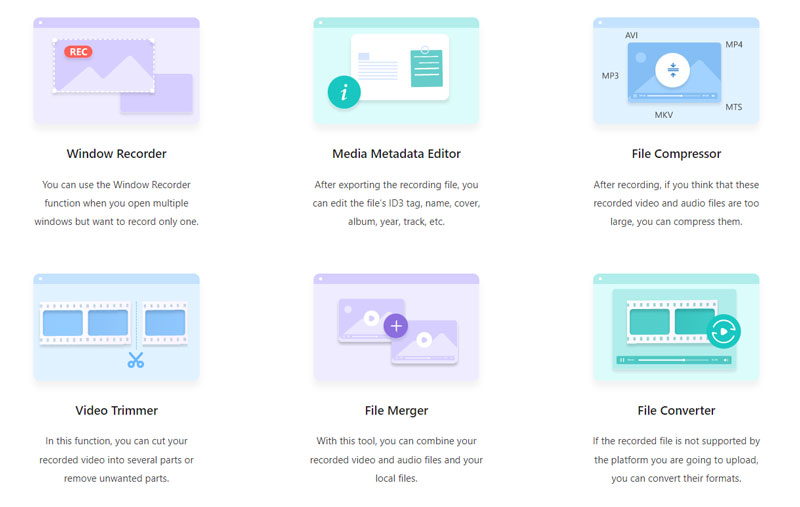 You can free download this screen recording software on your computer and select Video Recorder, Audio Recorder, Game Recorder, Webcam, or Phone to start your recording easily.

OBS Studio - Open source screen recording software
OBS Studio (Open Broadcaster Software) is a famous open-source screen-capturing tool for Windows 11/10/8/7, macOS, and Linux users. It can help to capture any activities happening on your computer without limits. What's more, it gives you a live-streaming service. This free screen recorder offers high-performance real-time video capturing and mixing. You can make scenes with multiple sources, such as window recordings, pictures, text, webcams, and more.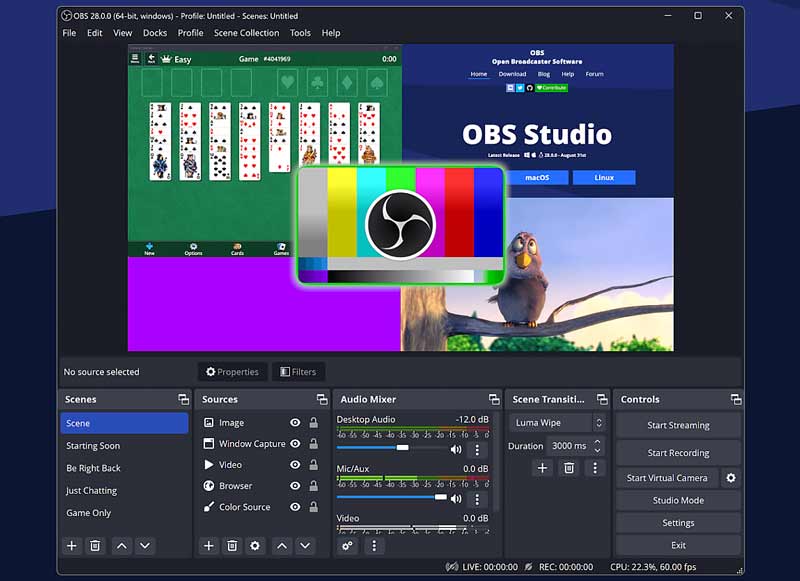 OBS Studio can capture your computer screen with full screen or selected region. It captures sound from the microphone. Content creators and live streamers mainly use this recording tool. It carries an audio mixer with some per-source filters, including noise gate, noise suppression and gain, and others. You can free download it from the official OBS website. It won't insert a watermark into your output recording. One disadvantage is it designs many features in its interface. You may free complex to locate the specific function you need and use it.

Free Cam - Free screen recorder for Windows 10/8/7
Free Cam is a popular Windows screen recorder that can make screencasts, edit recordings, and share them on YouTube. It is designed with simple video and audio recording functions. It can capture the entire computer screen, a selected area, or one window according to your need. Free Cam allows you to capture a voiceover from your microphone while the screen recording.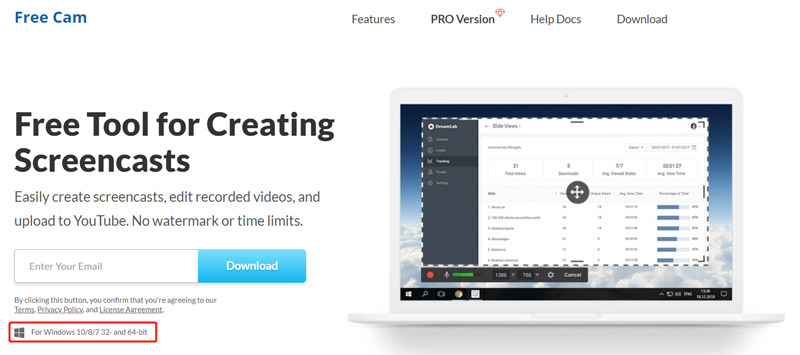 Free Cam has no feature or recording time limits as a free screen recorder for Windows. It won't prompt annoying ads or insert a watermark into your captured video. It has a Trim feature to remove unwanted video fragments. Moreover, it allows you to upload your recording to YouTube directly.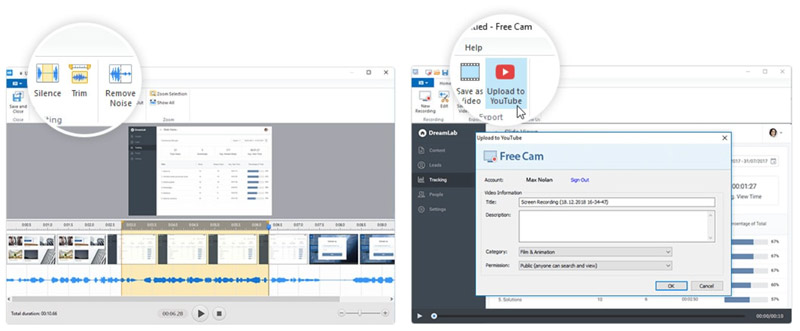 Free Cam comes with limited recording functions. It's very user-friendly for new users to start their recordings. However, it can't support you if you want more features like webcam capturing or editing features. What's worse, it only allows you to record 720p WMV videos. It offers a Pro version that offers more functions. For instance, its Pro version can output MP4 recordings. However, it is still limited compared with other screen recorders.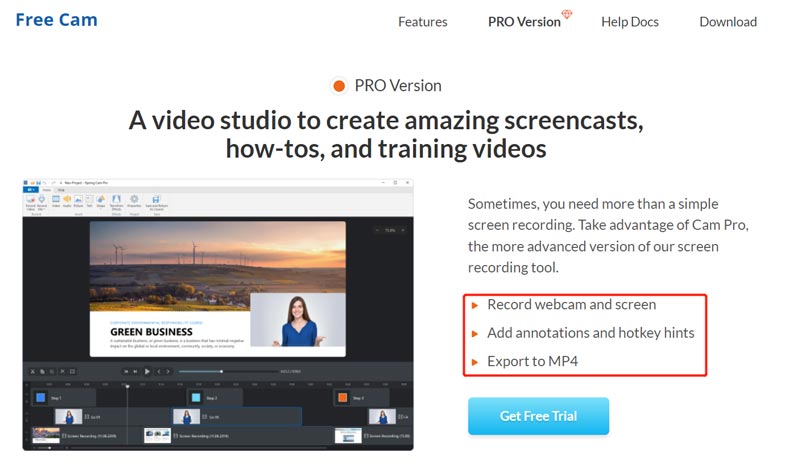 Camtasia - Advanced and expensive screen recorder
Camtasia is one of the most expensive screen recording software compatible with Windows and macOS. Besides basic video and audio editing functions, it offers advanced video editing tools. Camtasia can capture your computer screen with full screen or any selected portion. Moreover, it allows you to record webcams. After recording a video, it enables you to edit it and apply a library of royalty-free audio effects.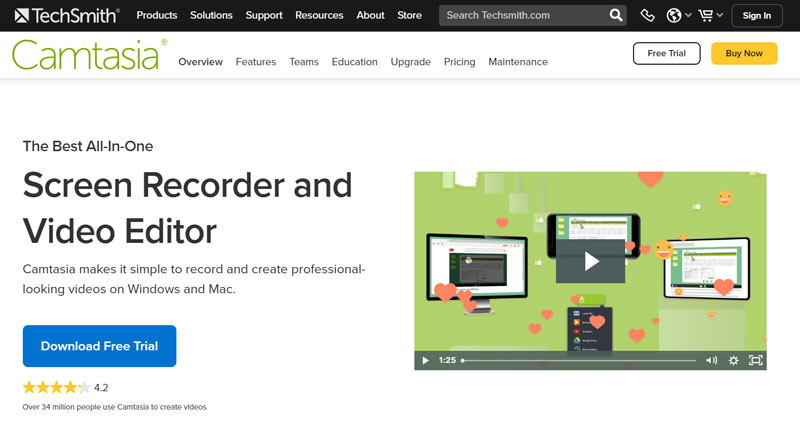 Camtasia has a significant advantage. It allows you to edit video, audio, and cursor tracks separately. In addition, it supports imports of videos, music, pictures, and even PowerPoint slides. Camtasia offers a 30-day free trial to access its recording features. Many users complained that Camtasia responds very slowly when they do large and heavy projects. Through our tests, it may also get your computer to freeze while recording and to a black screen while installing.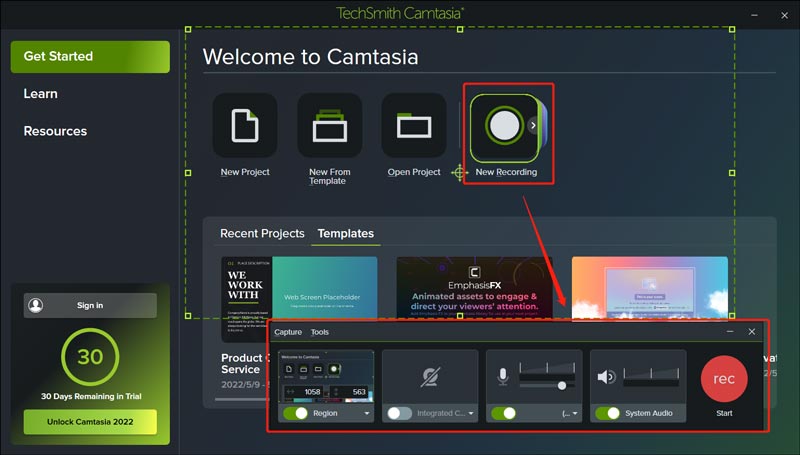 Part 2. Free Online Screen Recorders to Capture Your Computer and Phone Screen
Many online screen recorders offered on the internet can help you capture your computer screen or webcam for free. In contrast, we have to admit that most free screen recording tools don't offer a good and stable recording experience. Worse, they will limit your output recording quality or add a watermark. This part recommends four worth-trying online screen recorders for you.
Apowersoft Free Screen Recorder Online
Apowersoft Free Screen Recorder Online is a popular web-based video and audio recording tool that can help you capture screens on your browser. It requires no Java Applet or account sign-in. But you need to install a launch to start the recording. It allows you to record full screen or selected regions according to your need. After capturing a video, you can view it and then choose to save or upload it. It enables you to export your recording as a video or GIF file.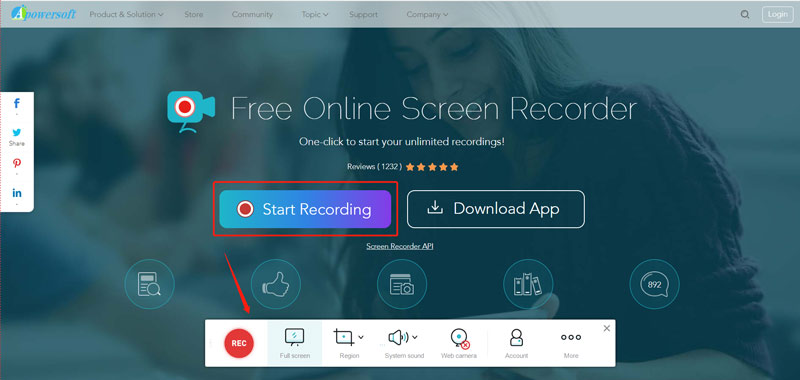 This screen capture online does not offer any editing features. It also offers a desktop version called ApowerREC. Apowersoft Free Online Screen Recorder doesn't require signing in to an account. However, it may collect your data through IP addresses and other websites you have signed. Your name would appear as the Director even if you didn't tell it.
Aiseesoft Free Screen Recorder Online
Aiseesoft Free Screen Recorder Online offers a convenient way to capture video and audio on your computers and mobile phones. Like Apowersoft, you must install a launcher to start the screen recording. You don't need to sign in to your account. Moreover, it does not set any feature or recording time limits. It allows you to record high-resolution videos up to 1920 x 1080. You are allowed to check the captured video size while recording. Your screen recording will be automatically saved in MP4 format.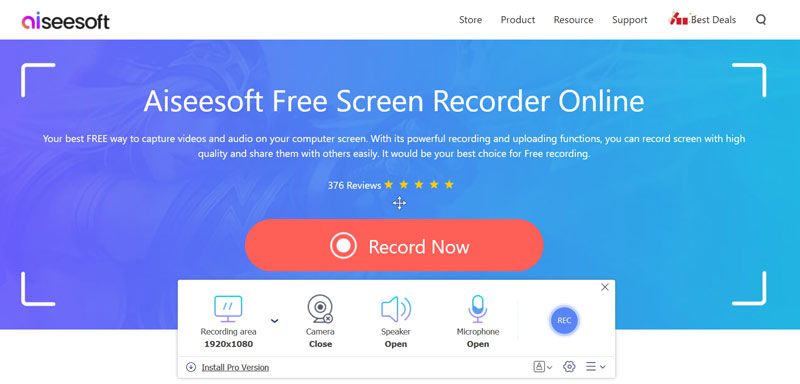 FlexClip Free Online Screen Recorder
FlexClip's free screen recorder gives you a one-click way to start your screen recording online. It can capture your computer screen, webcam, and voice quickly. You don't need to install any browser extension, plugin, or launcher. You can visit its official website, click the Start Recording button, and select a suitable recording mode. It does not allow viewing the screen recording until you stop the process.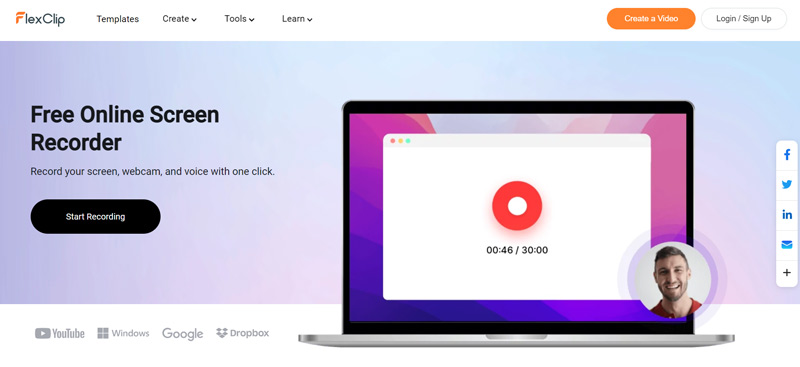 VEED.IO Screen Recorder
VEED.IO offers a free online screen recorder for users to capture computer screens and cameras. It is compatible with Windows computers and Macs. This online screen capture has no software download or plugin required. You can choose Screen or Screen & Camera and click the Start Recording button. After the video recording, you can click Edit to display and edit its video editor. Or you can click Done and save it. VEED.IO also allows you to generate a link for sharing.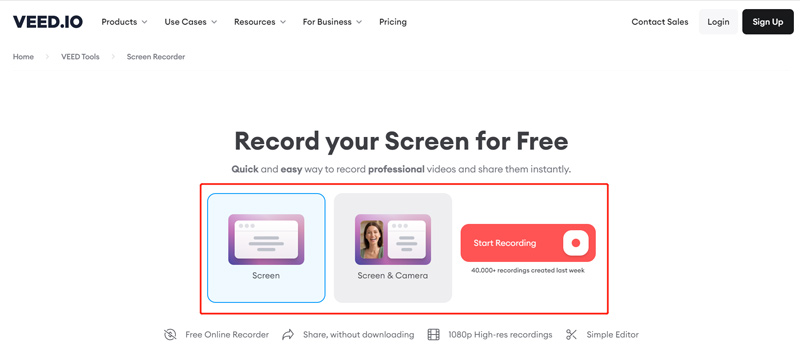 Part 3. Screen Recorder Apps for iPhone and Android Phones
If your phone's system runs iOS 11, Android 12, or a later version, you can use its built-in screen recording feature on your iPhone or Android phone to capture the screen with high quality. If you prefer a third-party screen recorder app, check the two easy-to-use ones below.
DU Recorder - Screen recorder for Android and iPhone
DU Recorder is a popular screen recorder app for both iOS and Android users. And you can use it to screen record on iPhone. It also offers desktop versions for Windows and macOS. It supports high-quality screen and audio recordings. Moreover, it allows you to live stream your screen to different platforms, including YouTube, Facebook, and Twitch. This screen capture app also carries basic editing features. You can free install it from App Store or Google Play Store.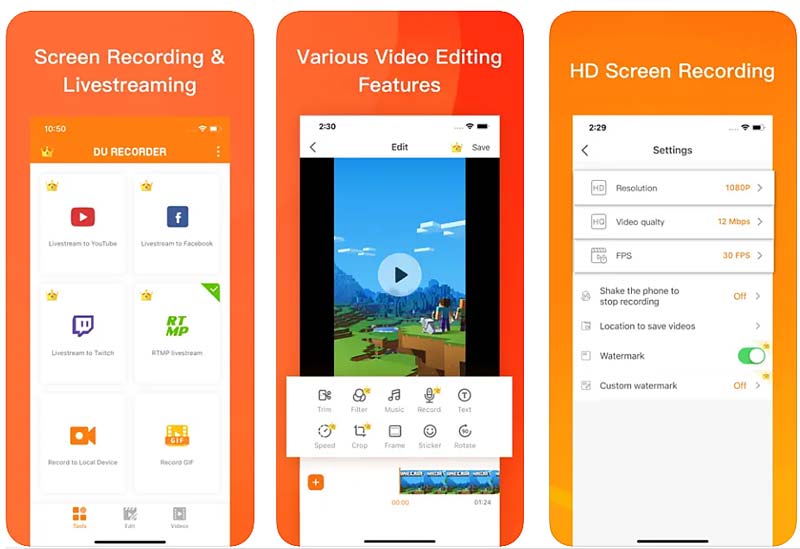 Google Play Games - Android screen and sound recorder
Google Play Games is specially designed for Android users to capture gameplay. It can capture many games played on Android devices with high quality. This app recommends games, from action to puzzles. It also allows you to play built-in games with no installation. This gameplay recorder enables you to record and share your best gameplay moments easily. If you don't have the Google Play Games app installed, you can free download it from Google Play Store.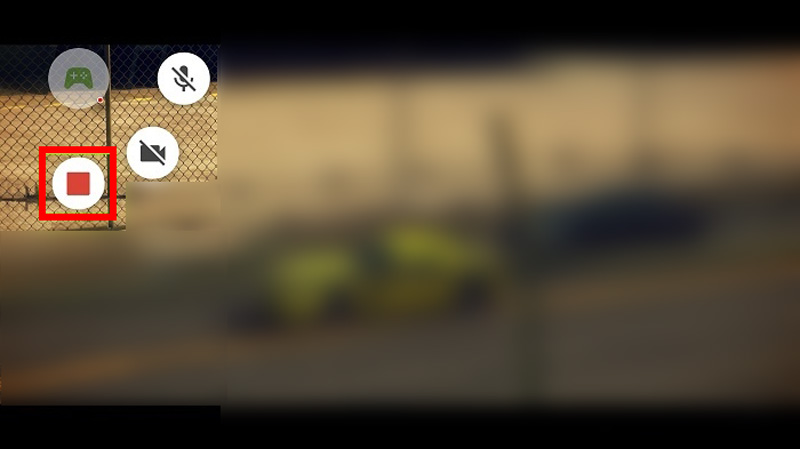 Part 4. FAQs of Best Screen Recorder for Computer and Phone
How do you free record your iPhone screen?
Go to the Control Center of your iPhone and tap the Screen Recording icon. After a three-second countdown, a built-in iOS screen recorder will start to capture anything displayed on the screen.
How can I record my Mac screen for free?
You can select a free screen recorder above to capture your Mac screen. Also, you can rely on its built-in screen recording tool, QuickTime Player, to record videos smoothly. After you launch QuickTime, click the File menu on the top and then select the New Screen Recording option from its dropdown.
Does Windows 11/10 have a built-in screen recorder?
Windows 11/10 does have a built-in screen recorder for capturing gaming content. It is pre-installed on any Windows 10 computer. You can directly launch the Xbox Game Bar to record your gameplay.
Conclusion
A screen recorder can serve many purposes. You can select your preferred screen recording software based on your specific needs and the operating system you are using. Please share them in the comment if you have better screen recorder recommendations.
What do you think of this post? Click to rate this post.
Excellent
Rating: 4.9 / 5 (based on 166 votes)