Ways How to Screen Record on Vimeo + Alternative Screen Recorder
Vimeo is a web-based video-sharing platform that lets users view, upload, and share video content within the sites. It has a built-in recorder that can be enabled using a chrome extension to record screen, face, and audio. With this recorder, users can make various tutorials and presentations, show a demo version of their product, and more. The screen permits users to share video files and use tools to organize, manage, and publish their projects.
This post will present information about Vimeo Screen Recorder that will benefit you if you use this web-based recorder. Also, it will lay out instructional steps on how to use the recording platform to record your screen activities. Besides that, it will introduce an alternative screen recorder you can access offline. Do you want to learn them? If so, proceed to the following parts of this post.

GUIDE LIST
Part 1. Does Vimeo Have a Screen Recorder
Vimeo is a well-known video posting and sharing platform which enables users to watch and upload their video content. Many videos with various themes are presented on the website, offering numerous selections for users.
Vimeo has a built-in recorder capable of recording your screen activities. It is free to use and has unlimited screen and video recording features. The screen recorder's straightforward interface makes it easier for users to control it. It provides various screen sizes, allowing users to select their preferred size. Therewithal, it enables users to add and incorporate their faces and voice. When something unexpected happens, for instance, the recording will still be saved if they experience an internet connection loss. However, the recording is only limited to two hours per video.
Part 2. How to Use Vimeo Screen Recorder
To learn how to use Vimeos Screen Recorder, proceed to the following information:
Step 1
First and foremost, the Vimeo Record Chrome extension works only on Google Chrome Browsers. If you do not have it, download, install, and launch it to proceed with the recording process. After that, download the Video Record Chrome Extension using Google Chrome Browsers. Then, it will require you to create your account, which permits you to have access to the recording.
Step 2
Next, click the Video Screen Recorder icon in the extension button on your screen's upper right. Click the Open Vimeo Record button on the main interface to start recording. It will ask whether to record the current or the entire tab screen. Therewithal, you can incorporate footage of yourself both in the current tab or full screen. Turn on the webcam if you decide to incorporate yourself into the screen recording process. You can drag and drop the camera preview to the corner of your screen you want to record.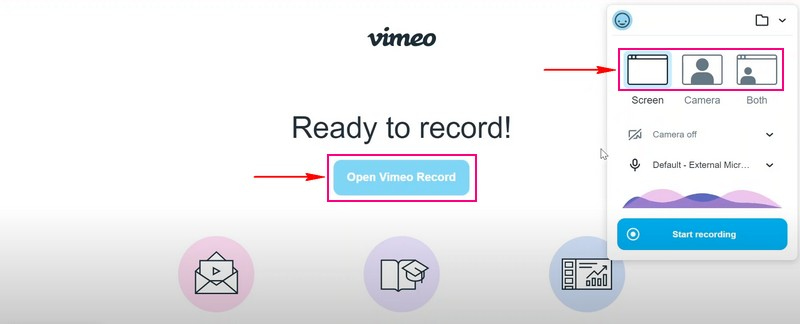 Step 3
Then, hit the Start recording button to start recording your screen. While the screen is being recorded, you can use other tools to unleash your creativity. Also, you can capture the actions presented on your screen.
Note: The recording will be saved if unexpected scenarios happen, like internet connection loss. But the recording process will stop if the extension loses access to the screen, camera, or even your microphone.
Step 4
Once you are done recording your screen, click the Stop sharing button at the lower corner. After that, click the Save button, and your recorded screen video will be saved in your desktop folder. Also, you can share your screen-recorded video output to any of the distribution options that the recorded supports. To do that, copy the link at the lower part of the screen to share it. In addition, it is automatically saved on your account, which you can locate under the Recordings folder.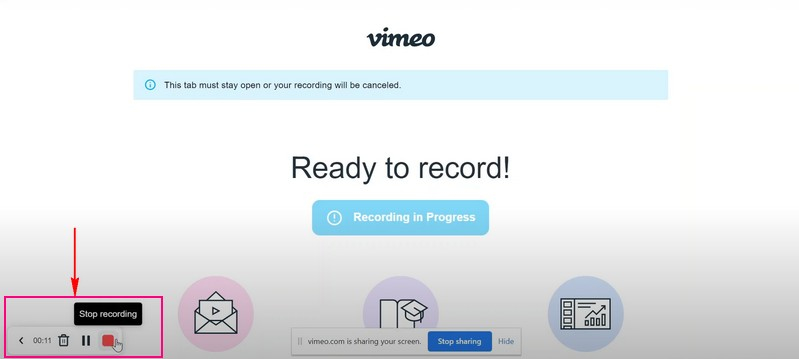 Part 3. Vimeo Record Chrome Extension
The chrome extension is built on web technologies that enabe users to customize the Chrome browsing experience. It is commonly used to enhance your browsing experience, which can help you block ads, protect your privacy, and block annoying ads.
The Vimeo Recorder will run using a Chrome extension, ensuring you do not need to worry about compatibility. Video Record Chrome Extension permits users to record screen activities. It lets users record the entire screen or a specific tab and record videos and their webcam simultaneously. In addition, users can record their voices using the built-in microphone or external microphone. This add-on allows users to log in to Vimeo and create a new account if they do not have an existing one.

Part 4. Best Vimeo Screen Recorder Alternative
A screen recorder is considered best if it can record your screen hassle-free and provides various screen recorder options. It can record any video on your screen, your voice when singing, your gameplay, or your phone's screen without exerting much effort. With that, the best alternative you can use that checks all the mentioned traits is ArkThinker Screen Recorder. This recorder has a straightforward interface, immediately presenting the built-in recorder features on your screen. It has a recorder capable of recording video, audio, game, window, webcam, phone, and more. Besides that, it has auto-stop and task schedule recording features enabling users to control the recording time length and set a schedule.
This program enables users to select whether to record the entire screen, a specific portion, or a screen size from the list. Therewithal, users can incorporate their faces and voice while the recording is in process. On top of that, no watermark is presented on your screen-recording video output.
Below are the steps on how to record your screen using ArkThinker Screen Recorder:
Step 1
Download and Install
Download and install the program on your desktop device. After the installation, launch the screen recorder to start recording your screen.
Step 2
Select Video Recorder
Choose the Video Recorder from the built-in features presented on your screen. After clicking that, it will bring you to the main recording section. Turn on the Display button, and choose your preferred screen size. Choose the size that can record the entire or only a part of your screen from the list presented. Then, turn on the System Sound, and modify the volume based on your preference. Also, turn on the Webcam and Microphone to include your footage and voice in the recording process. When settled, hit the REC button to begin the screen recording process.

Step 3
Stop Recording Process
When you are done recording the screen activities, press the Stop button, and the preview window will appear on your screen. Click the Advanced Trimmer if there are parts from your recording you want to remove. You can remove the parts straight on the timeline using the operating sliders. When settled, click the Trim button to remain the highlighted parts and remove the unhighlighted ones.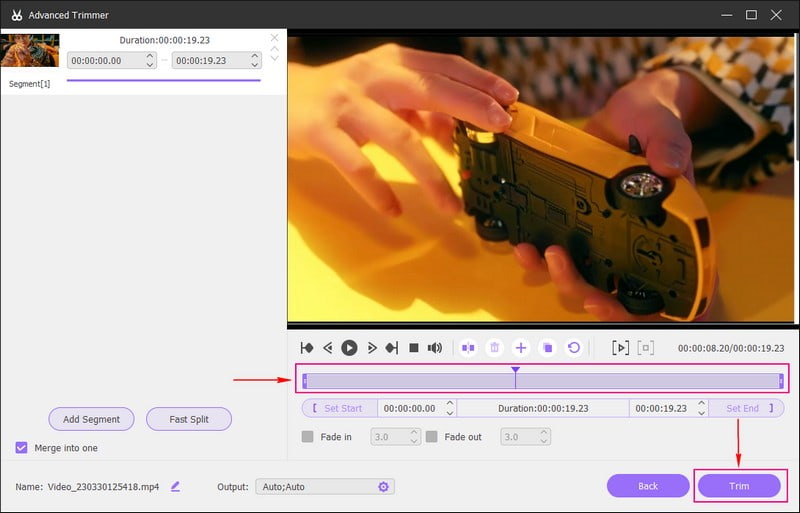 Step 4
Save Screen Recorded Video
Once done, click the Done button to save your screen-recorded video in the recording history and your computer folder.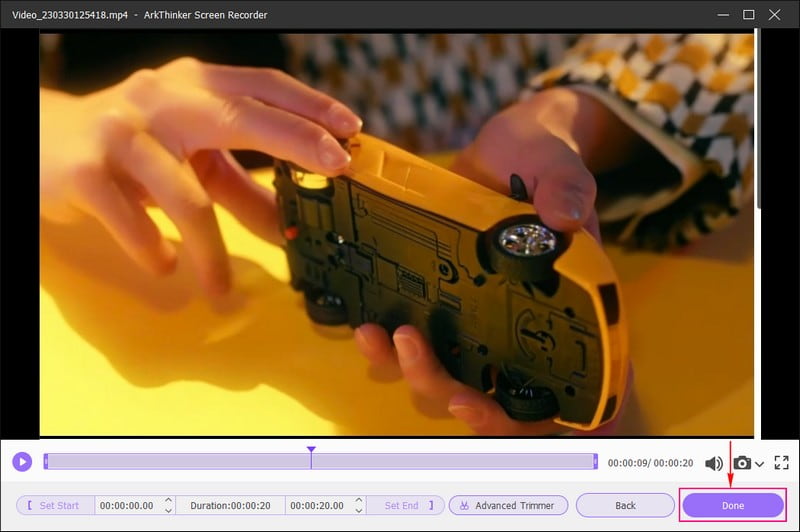 Part 5. FAQs about Vimeo Recorder
Are Vimeo recordings private?
Vimeo recorder lets users choose whether to share their videos with specific people, hide them from anyone, or lock them using a password. The recorder allows users to control who will have access before uploading the recorded output.
Does Vimeo record give you unlimited recordings?
Vimeo Recorder allows users to record as many as they want because it is unlimited and free.
Where do Vimeo recordings go?
All of the recorded videos will be placed under your Vimeo personal account. It offers you a variety of tools like organizing videos, customizing the player, sharing videos, and more.
Vimeo has a built-in screen recorder that is accessible using a chrome extension. It offers unlimited recordings but can only record a maximum of two hours per video. This post presented ways how to screen record in Vimeo, which you can use to record your screen activities. Also, you can use ArkThinker Screen Recorder, which is packed with several built-in features and editing tools you can use. It offers unlimited recordings and no time limitation supported, letting you record as many as you want without considering the time limit.